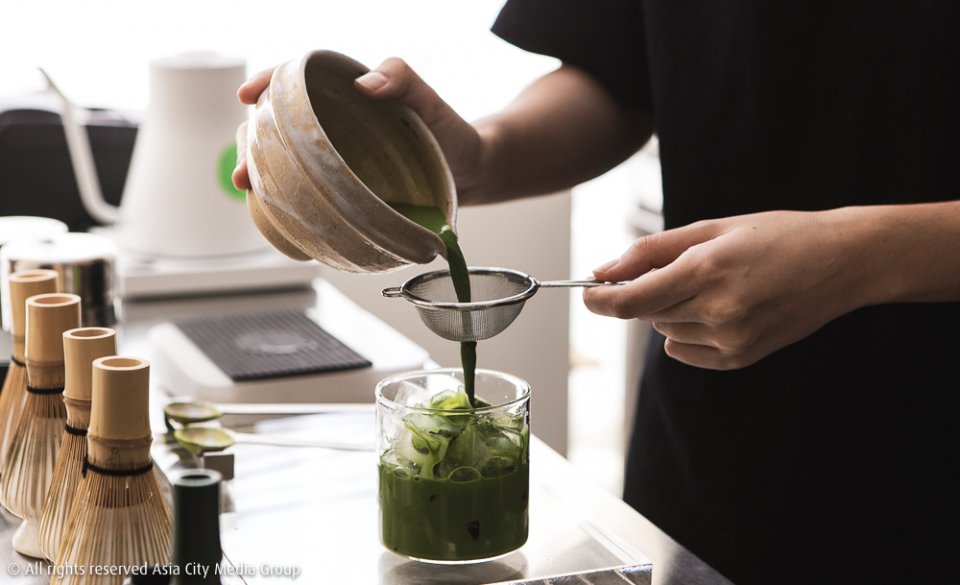 With light filtering through a thin white curtain onto the stainless steel counter, Ari's contemporary matcha bar strikes a cool contrast to traditional wood-dominated tea rooms. The carefully curated selection of nine single cultivar matcha varieties from Japan are put to creative use in drinks like the Sparkling Ujihikari (B120), which blends creamy matcha from Japan's green tea capital, Uji, and soda, and the Watermelon MTCH (B130), a refreshing mix of watermelon juice and Samidori tea. The desserts are not to be missed. Try the MTCH Cheesecake (B200), redolent of the rich aroma of smokey Yabukita tea.
118 Phahon Yothin Soi 2, 065-691-3584. Open Wed-Sun 10am-7pm

This minimal affair is all about quality coffee—no fuss or frills. Beans come courtesy of top local roasters like Ceresia and Brave, with blends as well as single origins from Kenya and Colombia available as latte, flat white, or hot and cold drip. Make yourself at home in the petite space with brekkie dishes like mixed berry yogurt and scrambled eggs on toast with salmon. Be sure to order the banana and caramel on waffle with ice cream just enough for two and one of the classic brownies for the road.
Phahon Yothin Soi 5, 062-416-7746. Open daily 7am-6pm

This German/Austrian bakery is known for its next-level bread and pastries, as well as its cute garden made for lazy days. The concrete and steel baking oven turns out wonderful wheat bread, which you can sample with the open breakfast sandwich, piled with scrambled eggs, spinach, tomatoes and mushrooms. For an Austrian classic, get the cheese bread stick, which is tangy and crisp with slightly burnt cheese. Enjoy with a piping hot Americano or a frothy cappuccino.
18 Phahon Yothin Soi 5, 021-650-322. Open Tue-Sun 7am-7pm

While dozens of Bangkok restaurants like to claim their "farm-to-table" credentials, this Ari institution goes the extra mile and actually runs its own farm. The owners grow everything from morning glory to melons on a patch of land west of Petchaburi to provide fresh ingredients for Pla Dib's strange Japan-meets-Italy-meets-Thailand cuisine. Long over a decade since opening, reservations remain a must.
1/1 Ari Samphan Soi 7, Rama 6 Rd., 02-279-8185. Open Tue-Sun 8am-3pm (coffee and brunch), 5-11pm (dinner)

This picture-perfect haven runs under the concept of "nothing but avocado" and busts out simple dishes with added (read: avocado) surprises, like their pad kaprao with a side of deep-fried avocado encrusted in golden basil batter or the avocado-bacon pancake topped with a big, fluffy, cloud-like egg. Dessert sees colorful concoctions like the avocado cheesecake parfait and chocolate bundt cake drenched in a thick avocado and dark cocoa powder ganache. Come nighttime, the cafe transformed into the neon-lit Fruit Bar, with a line-up of fruity umeshu (plum wine) and avocado-based cocktails.
1/1 Ari Samphan Soi 4, 089-497-8926. Open Mon-Thu 10am-8pm, Fri-Sun 10am-midnight

Part cafe, part candy-peach cocktail bar that draws from the Art Deco rulebook: curved bars (one inside, one outside overlooking the pool) slashed with vertical and horizontal lines. During the day, sip on a Bubble Latte with fried gyoza, before partaking in the colorful cocktail menu later. This works for a day-time date or a romantic gleaming night.
1/F, Craftsman Hotel, Phahon Yothin Soi 11, 02-279-7299 ext. 55. Open Mon-Fri 11am-midight; Sat-Sun 10am-midnight

Synonymous with neo-Victorian furnishings and all-day brunch, Bar Storia is at its most photogenic down this leafy side-street. Polished floors, wood panels and retro greens set the stage for Western classics.
13 Ari Soi 4 Nua, 02-057-9448. Open Sun-Thu 9am-11pm; Fri-Sat 9am-midnight
| | |
| --- | --- |
| | Exclusively for Citi credit card members Get complimentary Tiramisu valued THB 259 when spending THB 1,000 or more /sales slip (for dine in only) (limit 1 dish /card /table /sales slip) 01 Jun '19 - 30 May '20 |
Credit: Daydream Believer Facebook
Occupying a pair of huge plant-strewn glasshouses, a 60-year-old house and a sculpted English garden, this cafe offers a calming ambience few can match. Find your own quiet nook and tuck into fusion fare like pesto pasta with shrimp and avocado, fried rice with salted mackerel and eggs Benedict with smoked salmon. They also offer aromatic house-baked goods and refreshing sodas.
436/1 Phahon Yothin Soi 12, 062-569-7946. Open Tue-Sun 10am-9:30pm