With all the Mexican joints popping up around Bangkok, it's become almost impossible to choose where to get your taco fix. To make things easier, we've tried and tested some of the best tacos this fine city has to offer.
Note: Traditionally, all Mexican tacos are served with yellow or white corn tortillas. (Flour tortillas are used for quesadillas and burritos, if you must.) In Thailand, you'll mostly come across yellow corn tortillas, which are coarser and more likely to crack when rolled. So best eat your tacos fresh! Hard, crunchy shells? Leave that to Taco Bell. The fact of the matter in Bangkok is that many restaurants outsource their corn and flour tortillas from the likes of El Charro, a Mexican-run food company around since 1992.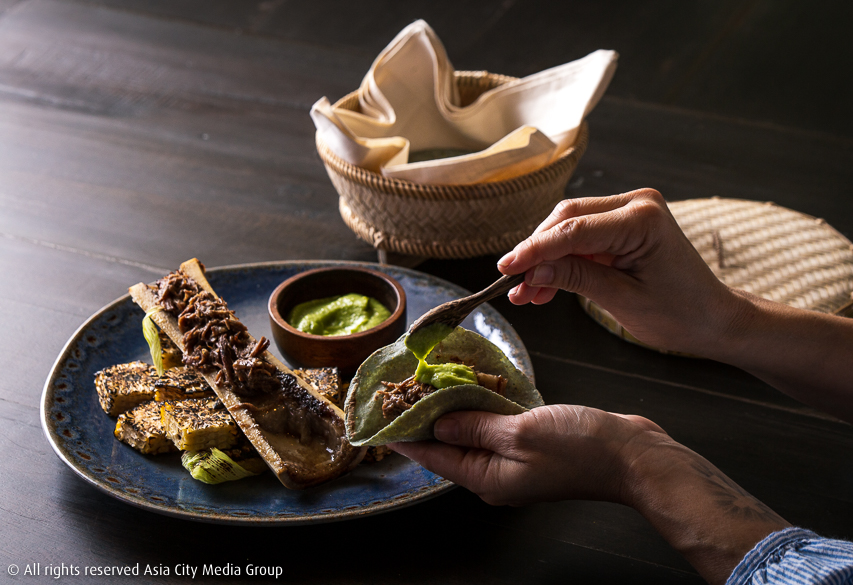 Who: This new, flame-focused restaurant might not be strictly Mexican but it offers up some dishes that compete with Bangkok's best.
Tortillas: The corn tortillas are house made using maseca flour.
Get this: The roasted bone marrow (B450) is chock-full of umami thanks to its make-your-own combo of tender braised brisket, avocado green salsa and fresh corn tortillas. Order your own because, trust us, you won't want to share.
32/2 Sukhumvit Soi 23, 066-069-2288
Credit: La Cocina
Who: After the surprising closure of Barrio Bonito, La Cocina soon took over the restaurant's spot in The Commons, bringing an all-new, health-conscious menu.
Tortillas: The house-made corn tortillas are made using organic corn flour and are tinged orange or purple by the addition of sweet potato.
Get this: We absolutely love the Guerrero Taco (B140/piece), which comes loaded with griddled cheese, grilled cactus, kale, avocado salsa verde and pickled veggies—eating healthy never tasted so good.
Delivery: Available for pick-up or delivery via phone, Facebook Messenger, Instagram or Line @lacocina.
The Commons, 335 Thonglor Soi 17, 02-006-3225
Who: Originally famed for its stringently traditional approach, this spot has taken a more relaxed turn over the past year under the direction of a new chef.
Tortillas: Made in house from scratch.
Get this: Keep it interesting with their tender smoked pork belly tacos (B100 each) topped with a juicy marinade and sprinkled with onion and coriander.
Delivery: Available from 5-10:30pm daily. Free for the Sathorn area. Order directly through Facebook messenger.
2/F, Revolucion, 50 Sathorn Soi 10, 02-235-4822
Who: Formerly based way out in Srinakarin, this husband-and-wife team recently relocated to Phra Khanong, bringing their home-style meals and fun specials like all-you-can-eat Taco Tuesdays (B349) to the hungry masses.
Tortillas: Made in-house from beginning to end, including the process of nixtamalization (a method of soaking corn in an alkaline solution to improve nutritional quality).
Get this: The grilled chicken tacos (B100/two pcs.) are a great choice: corn or flour tortillas with a generous helping of smoky, chopped chicken, topped with onion, cilantro, lime and homemade salsa.
Delivery: Available for takeout and delivery Tue-Sun via phone, Line @Emtbkkth, Lineman and Wongnai.
1470 Sukhumvit Rd., 097-179-6429
Credit: Mexicano
Who: Rembrandt Hotel's long-running Mexican restaurant has been pleasing the Sunday brunch crowds for years thanks to its all-you-can-eat menu of classic tacos, salsas and small platillos.
Tortillas: All of the tortillas are sourced through El Charro.
Get this: Go for the Tacos Baja (B380), packed with deep-fried, line-caught sea bass, tangy jalapeno cream sauce, chunks of creamy avocado, pickled onion and chopped coriander.
Delivery: Available every day from noon-8:30pm on Foodpanda or directly via Line @rembrandtdeliver.
1/F, Rembrandt Hotel Bangkok, 19 Sukhumvit Soi 18, 02-261-7100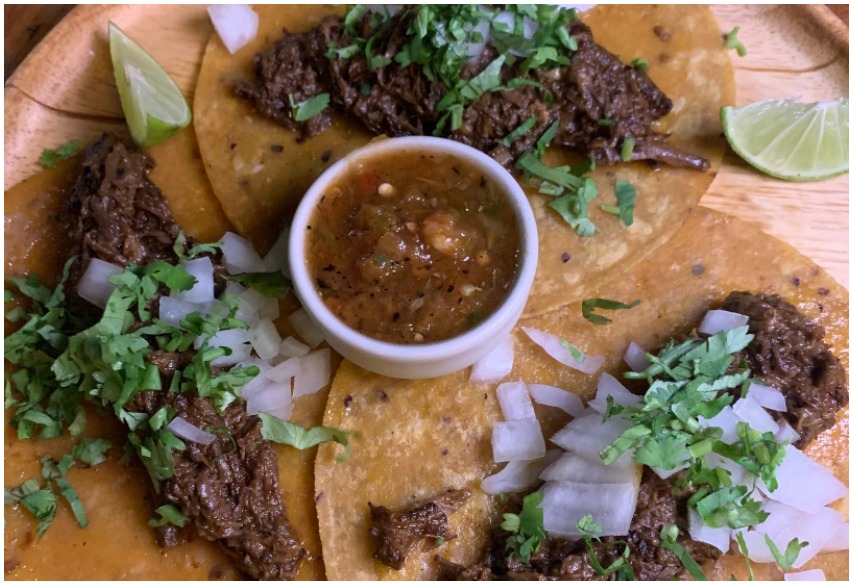 Who: From a shipping container-turned-kitchen, two dedicated Mexican brothers serve up traditional Yucatan cuisine to a sprinkling of tables in the garden.
Tortillas: All the tortillas are sourced through El Charro, a Mexican-run tortilla company that has been long present in Thailand.
Get this: For a true taste of northern Mexico, you can't miss the tacos de barbacoa (B300), featuring tender, flavorful lamb leg that has been marinated in an assortment of Mexican chiles and spices and then simmered for over six hours before being served over warm corn tortillas.
Delivery: Available daily noon-8pm via phone and Line @themissingburro. For details, see here.
145 Thonglor Soi 7, 090-913-2131
Who: Sukhumvit's enduring favorite for an after-work burrito and beer. The vivid decor gives every indication of the super-flavorful quesadillas and tacos on offer.
Tortillas: The corn tortillas are made in-house and have a pliable texture perfect for rolling up. El Charro's flour tortillas are no let-down either.
Get this: This year, La Monita introduced the mother of all tacos. Filled with mushroom carnitas (B210/two pcs.), this revelatory creation sees braised king mushrooms shredded, marinated and fried for such a meaty texture that even the staunchest of carnivores would be fooled. Top it with their homemade salsa and you are golden.
Delivery: They deliver within a 30km radius of downtown Bangkok. Fees start at B25. Order here.
888/25-26 Ploen Chit Rd., 02-651-5605. Other branches: EmQuartier, Siam Paragon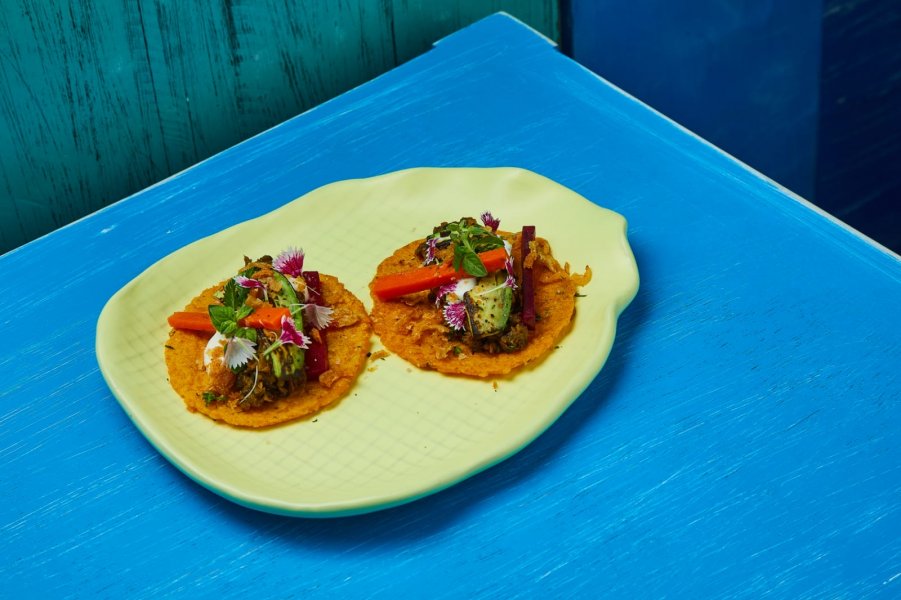 Who: Chef Gaggan Anand quietly opened this vibrant Indian-meets-Mexico spot in March, where he and his team serve up an eccentric mix of bold-flavored tacos and curries that have got everyone talking.
Tortillas: All tortillas here are homemade using masa corn flour with an added touch of achiote, a red condiment native to Mexico.
Get this: We are obsessed with the vegetarian-friendly Eggplant Avocado Tacos (B300), loaded with smoky, burnt eggplant that has been slow-roasted overnight, tangy pickles, smashed avocado and Indian mustard oil.
Delivery: Call 062-424-1000 or 091-698-6688, or order via Line @mariaandsingh
Ekkamai Soi 6, 091-698-6688
Who: Part of the same thriving Suk 23 commune as Whisgars cigar lounge and Craft beer terrace, this Mexican restaurant has a happening cantina vibe thanks to a corrugated iron-clad dining room complete with vibrant murals and a thumping Latino club soundtrack.
Tortillas: They make all their own tortillas in house. The corn tortillas are pliable but not recommended for delivery as they tend to turn mushy.
Get this: Our go-to here is the carnitas taco. Their fail-proof recipe leaves the pork juicy and tender while still retaining a crispy texture, which is mandatory for any good carnitas.
16 Sukhumvit Soi 23, 02-258-0546
Who: This bright and bold spot has been serving Mexican specialties on Soi 18 for some time now. Though its charm has faded a little, it still has a few bites worth checking out.Tacos & Salsa
Tortillas: All of the tortillas are sourced through El Charro.
Get this: Ignore the hit-and-miss service and tuck into their savory chicken tinga tacos (B220/four pcs. with corn tortillas or for two pcs. with flour tortillas)— shredded chicken simmered in a tomato and adobo sauce, which makes for a juicy, smokey and slightly spicy taco delight. Refresh your palate for the next round with a glass of their Jamaica juice (pronounced "Ha-mai-ka;" B60).
Delivery: Free delivery available by calling 096-915-9264 or contact through Facebook Messenger.
21/3 Sukhumvit Soi 18, 02-663-6366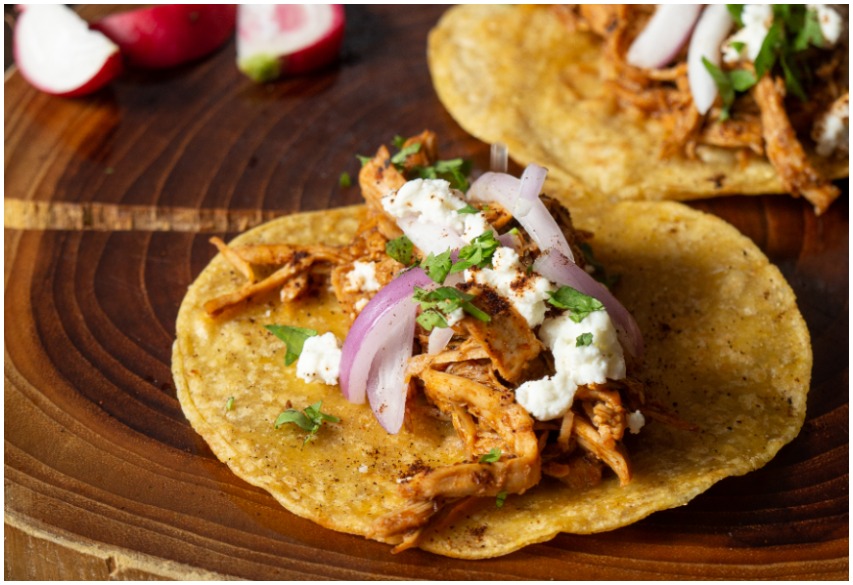 Who: Located at Thonglor's 72 Courtyard, this Aussie Mexican joint was beginning to look like it had seen better days. However, Arnie Marcella (previously of Bunker) and his team have recently completely revamped its menu, with a view to bringing the Latino street culture of LA to our very own City of Angels.
Tortillas: The corn tortillas are made using organic masa and pressed in house.
Get this: Arnie sticks to classic, honest Mexican flavors in the tacos al pastor (B220/two pcs.), in which he opts for pork neck marinated in achiote, orange and various spices, grilled over an open flame. The result is tender, juicy, smoky pork, piled on a fresh corn tortilla and topped with a tangy pineapple and habanero salsa. Delicioso and addictive.
1/F, 72 Courtyard, 72 Sukhumvit Soi 55 (Thonglor), 092-539-0990
---
Honorable Mentions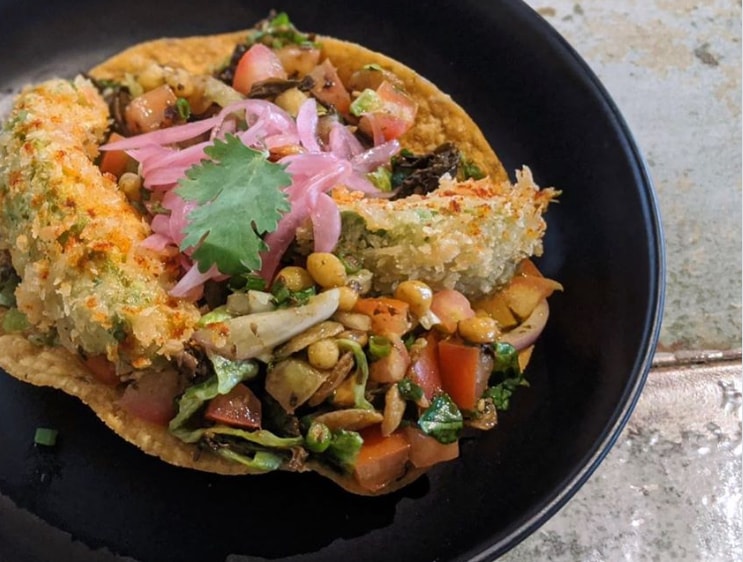 Credit: Vistro
Who: Packed with green plants and natural light, this vegan bistro deals in vibrant and creative dishes, including some cool taco treats.
Tortilla: Fried corn tostadas from El Charro.
Get this: We are kind of obsessed with Vistro's Myanmar take on a Mexican tostada. Their Burmese Tostadas (B240) feature crispy corn tostadas topped with spicy fermented tea leaf salad, avocado tempura and pickled red onions. Genius!
46/1 Sukhumvit Soi 24, 065-998-2201
Who: Sorry, not sorry. When Taco Bell arrived in Bangkok, the people went stir crazy, especially when beef was left off the menu. Now that all is forgiven and forgotten, we just had to include this American junk taco because, well, you all know you love it.
Tortilla: Their own brand.
Get this: Our favorite is the original hard shell taco loaded with seasoned ground beef, lettuce and cheese (B69). Top tip: ask for the meat to be non-spicy for the nostalgic taste of the American version and load up on the little packs of vinegary hot sauce—so bad it's good.
G/F, MercuryVille, 540 Phloen Chit Rd. Other branch: Sukhumvit Soi 11