---
RESTAURANTS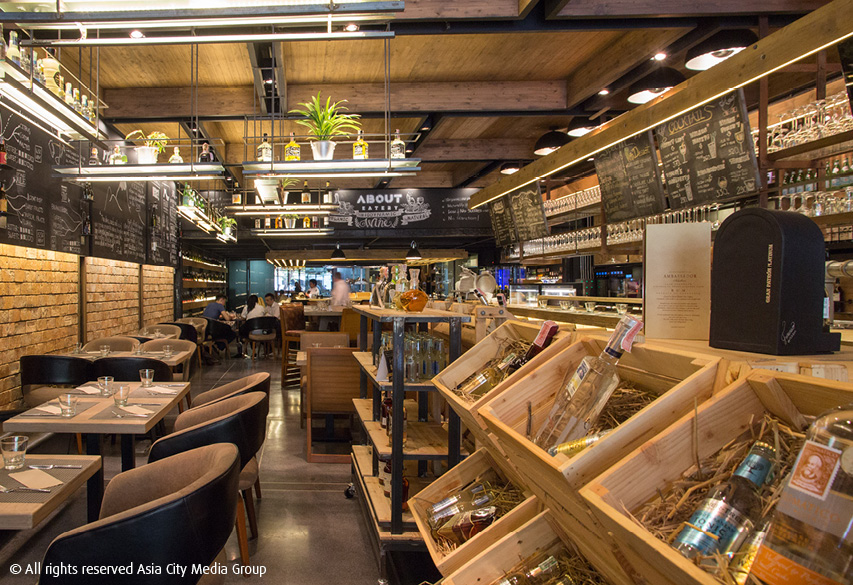 This is city's first attempt at a "natural" wine bar offers only bottles from organic and biodynamic producers, or ones who use trusted natural winemaking processes. There's also plenty to eat with a cold-cuts counter and raw bar alongside tapas plates and more substantial dishes like chickpea soup, cucumber and zucchini salad with Greek yogurt sauce, house-made pasta and oven steamed sea bass with white wine. Not into wine? Go for one of the Italian craft beers.
G/F, Ocean Tower 2, Asoke Soi 3, 02-665-2771. Open Mon-Fri 9-1am; Sat 5pm-1am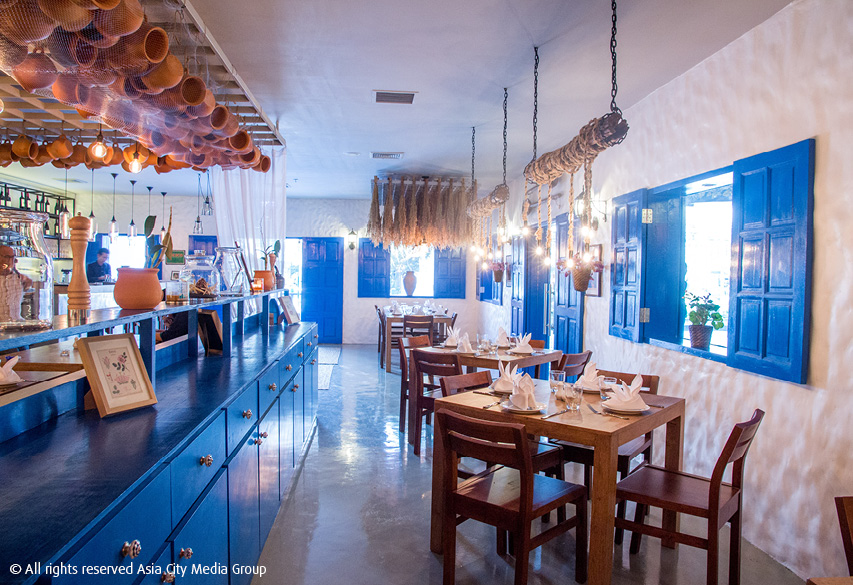 Run by Greek owners, and helmed by a Greek chef, this Santorini-evoking restaurant promises authentic Mediterranean flavors. The pita bread is some of the softest in town, and comes with delicious best friends tzatziki (yogurt dip), melitzanosalata (eggplant dip), fava (split peas dip) and taramas (cod roe dip). Mains span moussaka (layered minced beef with eggplant, potato and zucchini) and gyros kotopoulo (grilled chicken kebab with onion and tomato).
G/F, Lotus Hotel, Sukhumvit Soi 33, 02-258-2877. Open Mon-Fri 11am-2pm; daily 6-11pm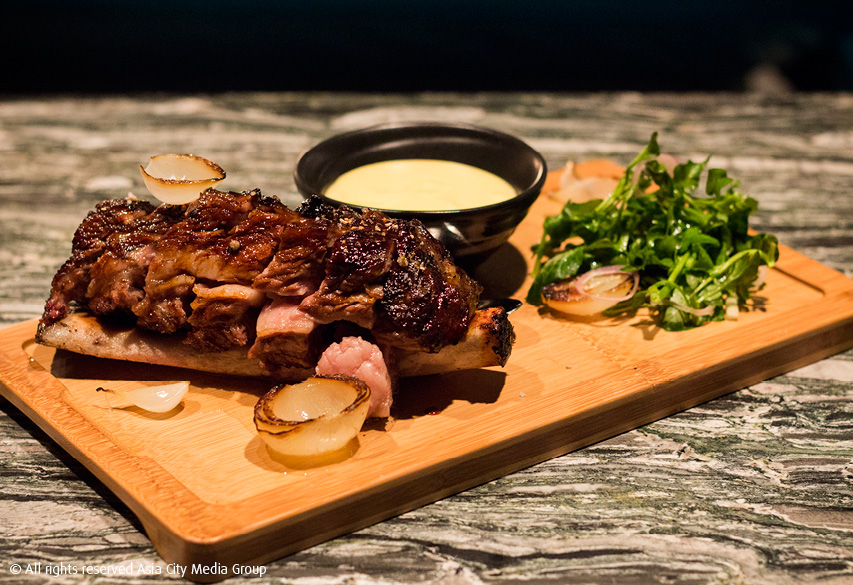 Fresh, simple, well-executed, original yet devoid of gimmicks, there's a reason why the food at Bunker has been more hotly anticipated than any other restaurant this year. Some of the menu's 16 dishes verge on tapas portions, but the flavors are anything but small: the wagyu beef tartar is spiked with daikon radish and radish sprouts; the cured foie gras torchon paired with candied cashew and chili mango; the smoky plate of fatty wagyu short rib falls from the bone in perfectly glazed, inch-thick slices. The space's craggy concrete lines are also something of a novelty, softened by turquoise banquettes and octogonal globes of light.
118/2 Sathorn Soi 12, 092-563-9991. Open Tue-Sun 6pm-1am
Good food takes center stage at Thonglor's loft-like, open-plan new community mall. Its ground floor spans vendors including Maison Jean Philippe (bread), Roots (coffee), Peppina (pizza), Meat & Bones (ribs), The Beer Cap (craft beer), Xiao Chi (Taiwanese buns) and Eastbound (Vietnamese). Its communal dining area is always packed to the rafters with Bangkok's coolest young kids, who after dining head upstairs for shopping and desserts.
335 Thonglor Soi 17, 089-152-2677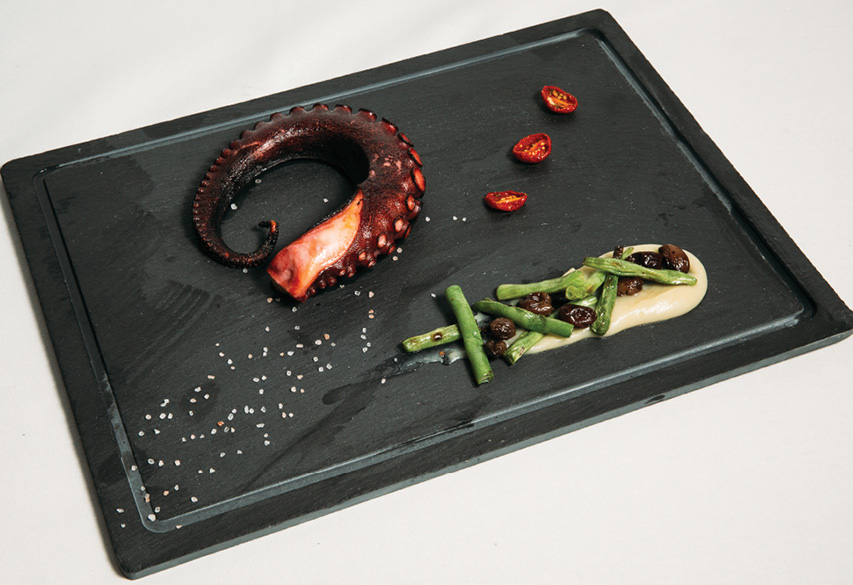 This grand old villa reborn as a cocktails and Italian grill restaurant boasts some of Europe's most prized meats, including Galician beef and prosciutto and pork neck from the Ca' Lumaco Estate (between Modena and Bologna). On top of this, fresh seafood is also on the menu, cooked on big wood-fired ovens and then grilled to accompany pasta or risotto. Overall, there's a lightness of touch here that makes this much more than just an ordinary steak house. Bartender Pailin "Milk" Sajjanit was just named Southeast Asia Bartender of the Year in Diageo's World Class competition, too.
1098/2 Rama 4 Rd., 02-286-8833. Open daily 6pm-1am
Despite the consultation of Eduard Bosch, a former chef de cuisine at one of the most prestigious modern kitchens El Bulli in Spain, Islero does something far more traditional. Head chef Pedro Serrano dishes out authentic Spanish food like Iberico ham croquettes, grilled octopus tentacles served with beans in Castilian stew, baked fish fillet with potatoes and almonds and the highlight Josper-grilled, Segovian-style suckling pig. There are still some nods to El Bulli's modernism, like olive spheres and deconstructed Spanish omelet served in the form of cream and espuma in a martini glass.
Athenee Tower, 63 Wireless Rd., 02-1688100. Open daily 5pm-midnight
The highlight of Thonglor's hip 72 Courtyard is this casual, European tavern-referencing barbecue specialist. Amid tiled walls, rich leather dining chairs and geometric lighting sculptures, the kitchen dishes out things such as tomahawk steak and salt-baked fish alongside delicious and creative veggie dishes like smoked burrata with charred kale, air-dried mullet roe and sourdough toast. The cocktails are also excellent. Pre-dinner, try the Bitter Frenchman (Hennessy V.S, umeshu, Aperol and bitters).
72 Courtyard, 72 Sukhumvit Soi 55 (Thonglor), 02-392-7626. Open Tue-Sun 6pm-midnight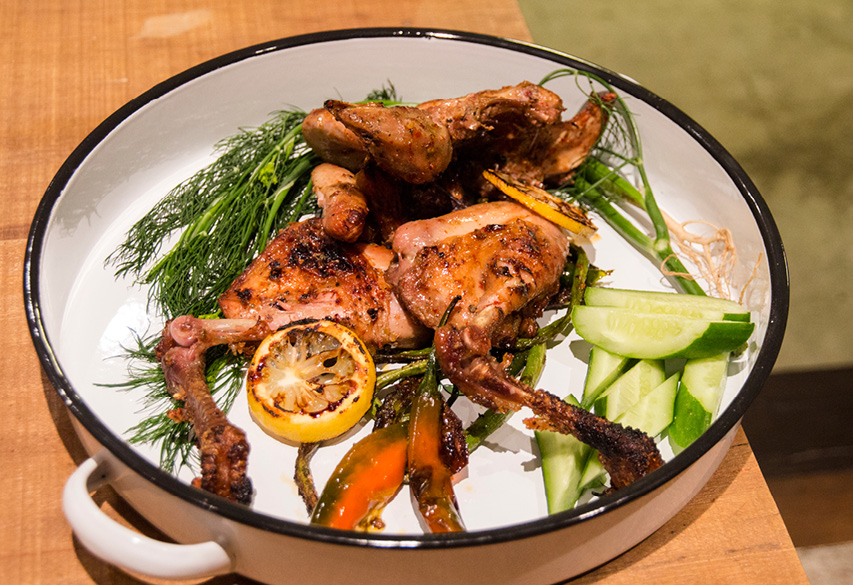 Gaggan Anand, culinary whiz behind this continent's best restaurant according to the voters of Asia's 50 Best, went down a totally different route with this steakhouse. Forget about a wine list and head straight for the beers, because nothing else quite cuts in when eating succulent meat cooked on wood-fired ovens. Here the name says it all with a wide menu ranging from premium Japanese beef to some funkier creations like the "foie grass breakfast"—foie gras mousse served like a creme brulee alongside brioche and cherry compote.
8 Ekkamai Soi 6, 091-698-6688. Open daily 6pm-midnight
This Indian fine-dining chain has chosen Bangkok for its third destination outside of the motherland following Abu Dhabi and Singapore, where Punjab Grill even made it to the Top 10 in SG Magazine's Top Tables 2015. Indian chef Bharath Bhat draws on his experience at five-star hotels and Michelin-star openings to present the likes of avocado papdi chaat, which tastes like an Indian version of guacamole served in flour roll cones, as well as classics such as kebabs like grilled tiger prawns, chicken tikka and lamb chops, all cooked in the tandoori oven. Formidable competition to upstarts like Charcoal and Maya.
Radisson Suites, 23/2-3 Sukhumvit Soi 13, 02-645-4952. Open daily 6-11:30pm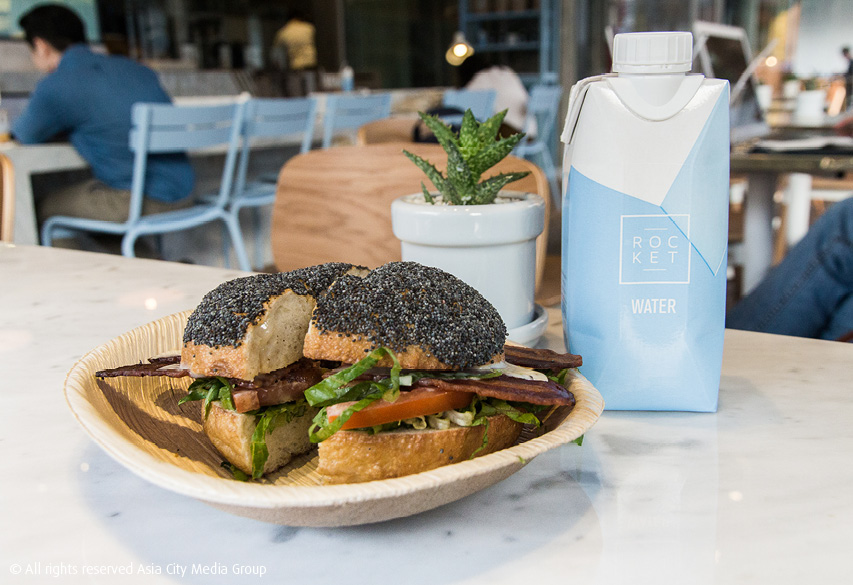 The fourth branch of the chic Scandinavian brunch and coffee spot Rocket comes in the form of a quick "grab and go" pit-stop at Thonglor's 72 Courtyard community mall. Alongside the always-quality takeaway coffee, the food menu has been condensed to suit the express style, including salads, sandwiches, various breakfast pastries and the newly launched bagel range.
G/F, 72 Courtyard, Sukhumvit Soi 55 (Thonglor), 02-635-0404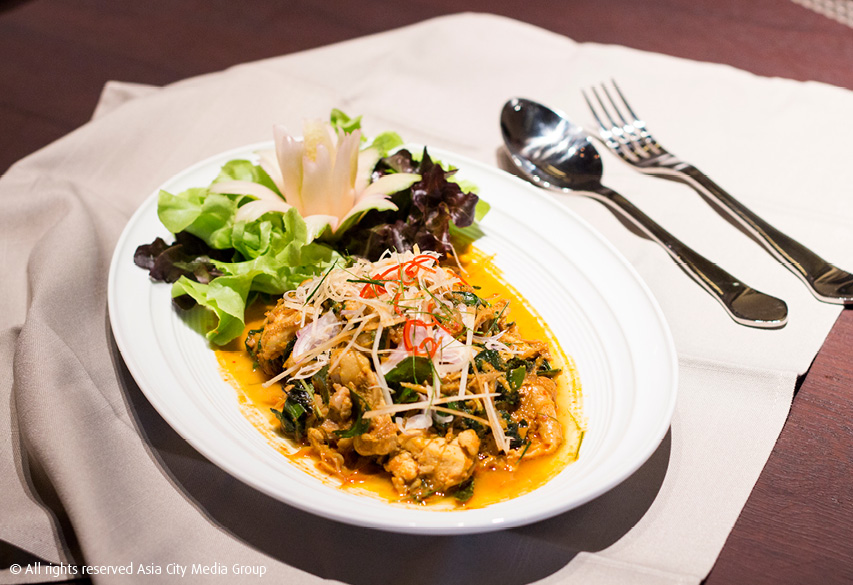 Amid grand, contemporary decor, Saneh Jaan delivers refined Thai traditional cuisine based on old recipes. The sizable, high-ceilinged main dining area features photos of attractions from around the country, while there are three other private rooms and a lounge. Expect rare dishes made using premium ingredients like Northern-style gai baan kua bai jan (stir-fried free range chicken with wild basil leaves) and gaeng ranjuan (shrimp paste pork soup) made with kurobuta pork tendons.
Glasshouse at Sindhorn, 130-132 Wireless Rd., 02-650-9880. Open daily 6-10pm
The debut restaurant of twin German chefs Thomas and Mathias Suhring follows their departure from Mezzaluna, the ultra-fine-dining restaurant at LeBua hotel. It's been a hot topic among Bangkok's foodie community. Partly because they've opened in partnership with Gaggan Anand—owner of the top restaurant in Asia's 50 Best two years in a row—and partly because the twins have always cooked superb food. At Suhring, the chefs introduce diners to a different perspective of German food that's not just about hearty chunks of pork knuckle, sausages and sauerkraut, with tasting menus spread across your choice of seven- or nine-courses, all served in a beautiful mid-century house.
10 Yen Akat Soi 3, Yen Akat Rd., 02-287-1799. Open daily 6pm-midnight
While working as head chef at New York's Jewel Bako, Japan-native Masato Shimizu became the youngest chef in NYC ever to win a Michelin star at just 29. Now he's moved to Bangkok and opened this omakase (chef's selections) sushi restaurant serving just 20 diners a night. Having trained from the age of 18-25 in Tokyo's toughest kitchens, the results are superb. Reservations essential long in advance.
3/22 Sukhumvit 31 Soi 1, 02-040-0015. Open Tue-Sun 5:30-10pm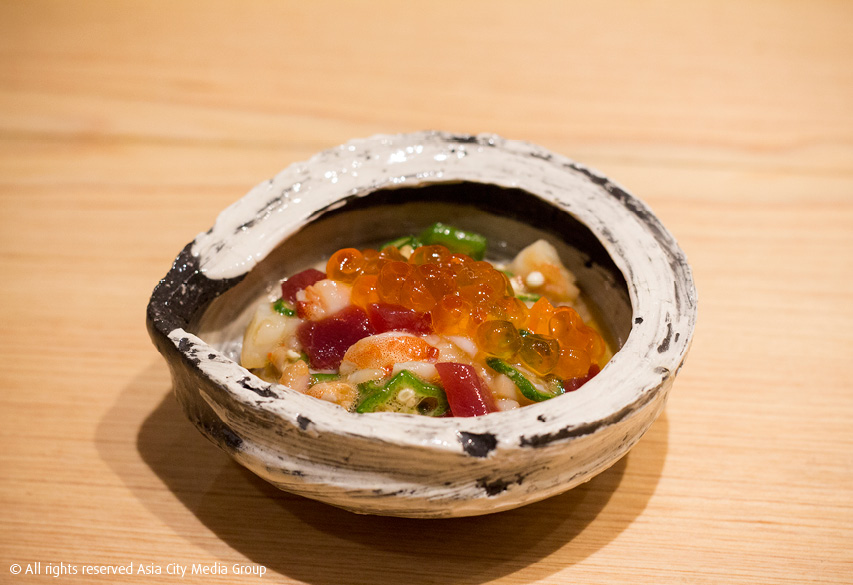 This omakase opening is helmed by chef Seiji Sudo, previously head chef of the Bangkok branch of Ginza Sushi Ichi, who here serves up something far different. Offering what's known as a "Sushi Sho style" omakase experience, the prettily-plated, delectable courses aren't limited to a sequence of nigiri but rather switch in items like conch, iwashi roll, grilled mixed rice with hairy crab meat and uni and Seiji's signature sushi soup.
M/F, Piman 49, 46/10 Sukhumvit Soi 49, 091-871-0666. Open Tue-Sun 6-10:30pm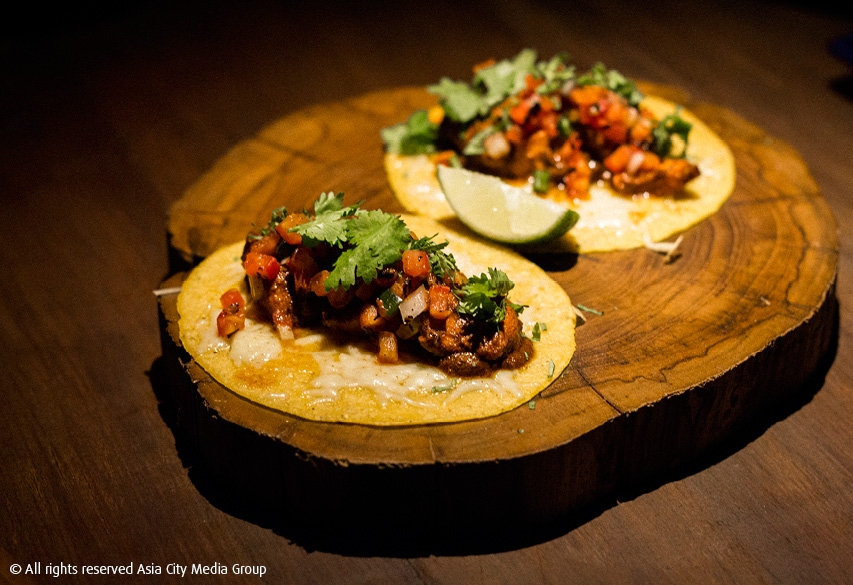 This Australian-hailing bar and restaurant is a trendy blend of Mexican booze, street art and hip hop tunes. Aside from the serious bar, Touche Hombre also serves reliable, substantial food that adds twists to traditional fare like guacamole, tacos, Mexican-style salads and meat dishes. They highlight a range of imported chilies as well as house-made essentials like tortillas and chips. Don't miss the signature elotes callejeros (B120), grilled corn on the cob with chipotle mayo, cotija cheese and lime, or their delicious tacos (from B225/2 pieces). The bar does a dangerously good line of tequila and mezcal, too.
72 Courtyard, 72 Sukhumvit Soi 55 (Thonglor).
---
BARS
Thonglor's showpiece nightclub is truly world class, featuring Asia's first "body kinetic" dance floor that shakes vibrations into dancers' feet. The style is minimal, raw, casual and loud. The lounge area, dubbed the Dalmatian Room, promises easy-going electronic beats and future hip-hop (think Flume, Disclosure, Jamie XX, James Blake, Snakehips​, and more), while the main room upstairs brings quality, energetic, deep house and techno tracks from live DJs.
1/F, 72 Courtyard, Sukhumvit Soi 55 (Thonglor), 02-392-7750. Open Wed-Sat 9pm-2am
This bar began as a lifestyle website featuring stories about cute cafes, crafty local brands and beer. Now, the same team has found a permanent spot by the Chao Phraya River to pour craft brews on tap alongside burgers. There are 10 taps on offer at the huge industrial, bare cement bar including picks from Outlaw Brewing, Sandport and Triple Pearl.
113 Charan Sanit Wong Soi 92, 098-260-9292. Open daily 5pm-midnight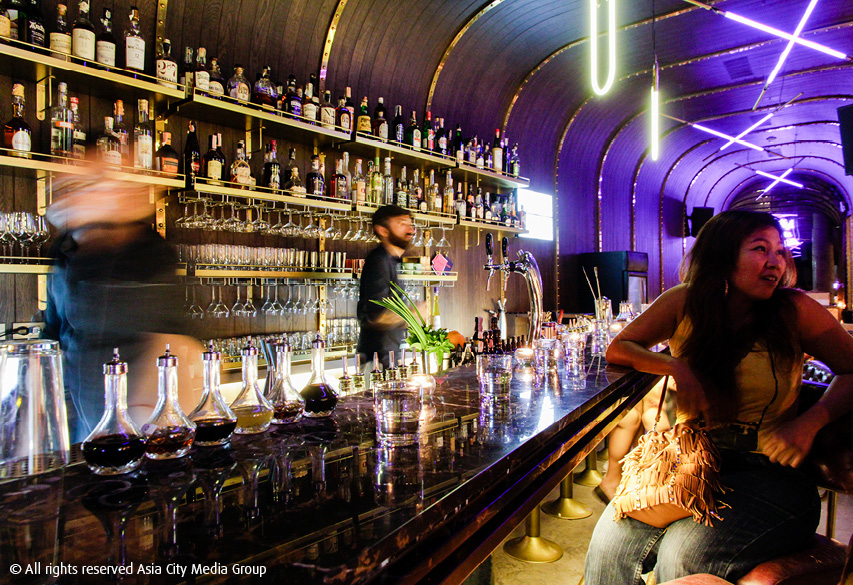 72 Courtyard's ground-floor bar is themed after a 1950s American diner, with purple and blue neon lights illuminating a well-polished space. New-in-town bartender Liam Baer whips up creative twists on classic cocktails. Look out for special house-made spirit bottles, too. Try and make it there foir Wed-Sat to check out the live jazz band.
G/F, 72 Courtyard, 72 Sukhumvit Soi 55 (Thonglor), 02-392-7740
Lightroom
Dark Bar's opposite number is now in business with a blend of white decor, sci-fi lighting, cool customers and heavy basslines. Owner Nodnuanwan "Nod" Tatong shook up the Ekkamai after-hours scene when she opened Dark Bar at the end of 2014, with this latest opening promising to keep the buzz at Ekamai Mall going.
Ekamai Mall, Ekkamai Soi 10, 095-050-9095. Open Wed-Sat, 9:30-midnight
The head designer of fashion label Issue Kai London is responsible for the mature, industrial-meets-gentlemen's-club style at this whiskey-specializing bar. You'll find over 100 bottles from all over the world, categorized by country and region, but what we really recommend are the cocktails, made by Suchada "Fahbeer" Sopajaree, one of 2016's 12 finalists at Diageo World Class Thailand Competition.
Sukhumvit Soi 61. Open daily 5pm-2am
Step inside the inconspicuous wooden door wedged between Ainu Japanese bar and Ramen Ajisai and you'll find a charming, red-lit narrow bar staffed by two veteran Diaego World Class cocktail competition. Don't miss their White Truffle Martini, which they make using truffle oil-infused Tanqueray Gin chilled to -18 degrees Celsius. Get there early if you want a seat at the bar on a Friday night.
125 Sukhumvit Soi 55 (Thonglor). 081-822-3392, 098-969-1335. Open daily 7pm-2am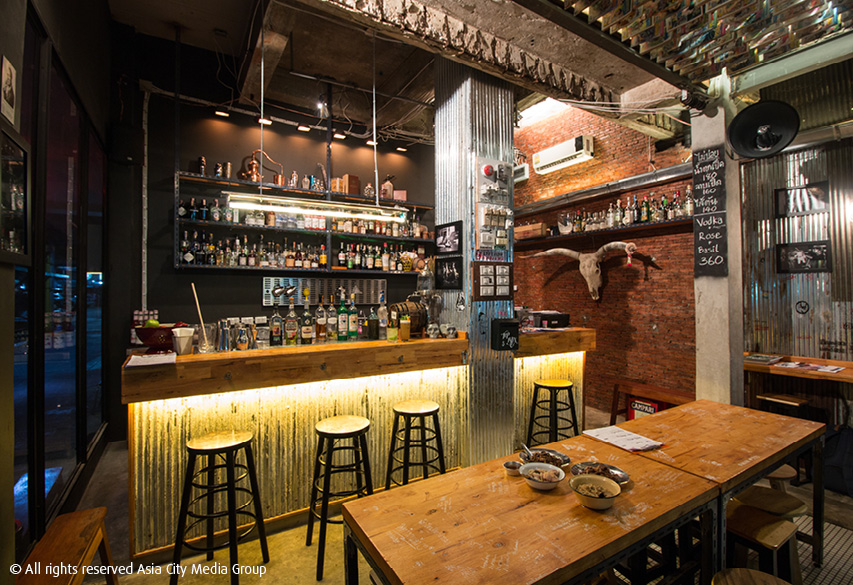 This latest opening by the duo behind Escapade is a fun, compact space with a bit of a construction site feel—stickered and sprayed zinc roof sheets and bare, cracked concrete. Here, the focus is on the well-stocked bar, with a short list of rotating cocktails and customized drinks as highlights. Inspired by the food you can find in traditional larb restaurants, chef Van plays with Thai dishes that draw on his Isaan roots and countrywide research.
Phra Athit Road, 081-406-3773. Open Tue-Sun 5pm-midnight
This tiny, loft-style bare cement room brings the local craft beer craze to Lad Phrao. Four rotating taps are available at any one time—check their Facebook page or chalkboard on every visit.
Ladprao Wanghin, 094-548-2326. Open daily 5pm-midnight
---
SHOPS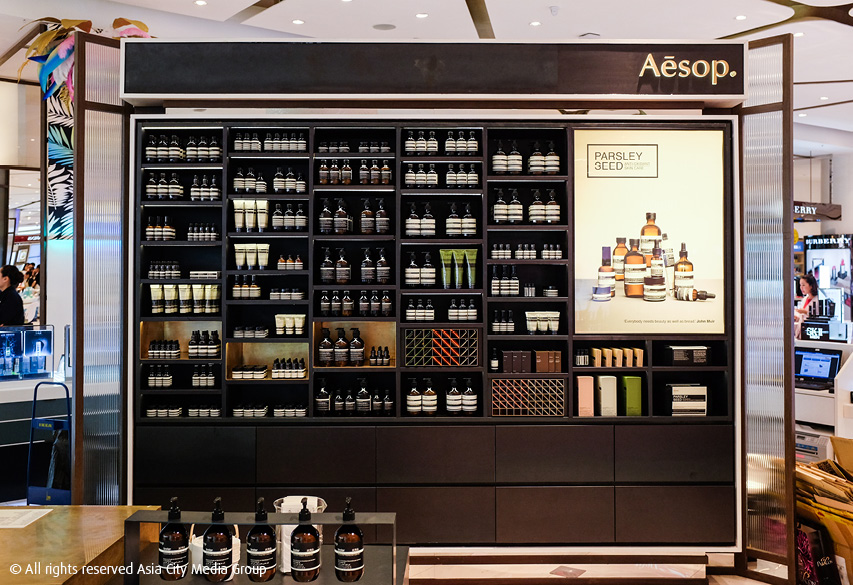 No more asking friends to use up precious check-in luggage space for bottles of Parsley Seed Anti-Oxidant Serum when they visit Melbourne. This Australian cult natural skincare brand is known for its aromatic skin, hair and body care products made from all sorts of healthy botanicals—think citrus-rind body balms and rose petal-infused mists. Price tags are slightly higher than in Australia, but that's the cost of convenience.
M/F, Siam Paragon, Rama 1 Rd., 02-610-7747. Open daily 10am-10pm. BTS Siam
Record collector Suchon Boonkong follows up his previous stall at Chatuchak weekend market with this bigger, cozier record store in a three-story townhouse originally meant to be his home. The vinyl sits on the second floor, while an additional space has been turned into a bar. The selection largely focuses on old Thai molam and luk thung with names like Waipoj Petchsupan and Suraphol Sombatcharoen through to the current Zudrangma's Paradise Bangkok.
Ladprao Wanghin Soi 48, 090-984-8756. Open daily 2pm-midnight
This multi-label streetwear mainstay has branched out to a bigger location on Siam Square Soi 7 with the addition of a coffee corner supplied by Brave Roasters. Unlike Carnival's other branches, this white-washed venue focuses exclusively on sneakers from Nike, Adidas and Vans, with some special limited editions available only at this branch. The apparel and accessories shelf also stocks brands like Atmos, Nike and Californian streetwear brand Publish as well as shoe cleaner kits from Jason Markk.
Siam Square Soi 7 (next to Hard Rock Cafe), 02-252-4215, 081-173-4560. Open daily noon-9pm. BTS Siam
This new independent bookstore is another reason to visit the riverside. A huge map of Bangkok's Old Town separates the store's two wings, whose floor-to-ceiling bookshelves and display tables showcase a selection that's geared towards local art and culture. Owned by Shane Suvikapakornkul (Serindia Gallery, Good Design Store), the collection spans coffee table books on cycling and cafe culture, as well as more in-depth reads on Thai history through to Monet's impressionism.
Tha Maharaj, Trok Mahathat Maharaj Rd., 092-248-1566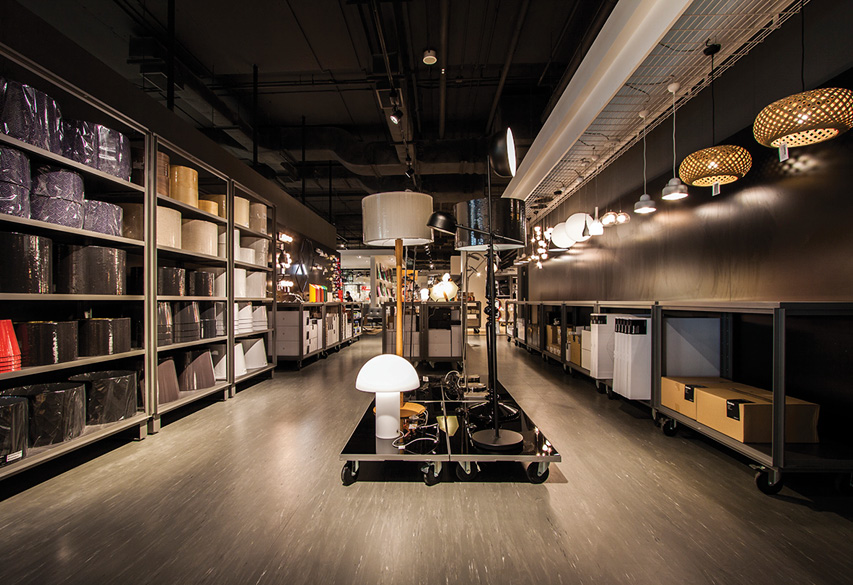 London-based designer Terence Conran's stylish high-street decor brand made a big impression in Bangkok before shutting up shop and leaving our shores a long six years ago. The good news is the brand is now back, opening three new branches at Siam Discovery, Crystal Design Center and The Crystal SB Ratchapruek. Known for its contemporary and minimalist designs, Habitat offers a wide range of products including beds, armchairs, consoles, rugs, cushions, tables, kitchenware and even stationery. Free delivery for purchases exceeding B5,000.
Address:
2/F, Crystal Design Center, 02-515-0594. Open daily 10am-9pm
The Crystal SB Ratchapruek, 64/99 Ratchapruek Road, Tambon Mahasawat,Bangkruay, Nonthaburi, Open daily 10am-9pm
Siam Discovery, Rama 1 Rd. Open daily daily 10am-10pm. BTS Siam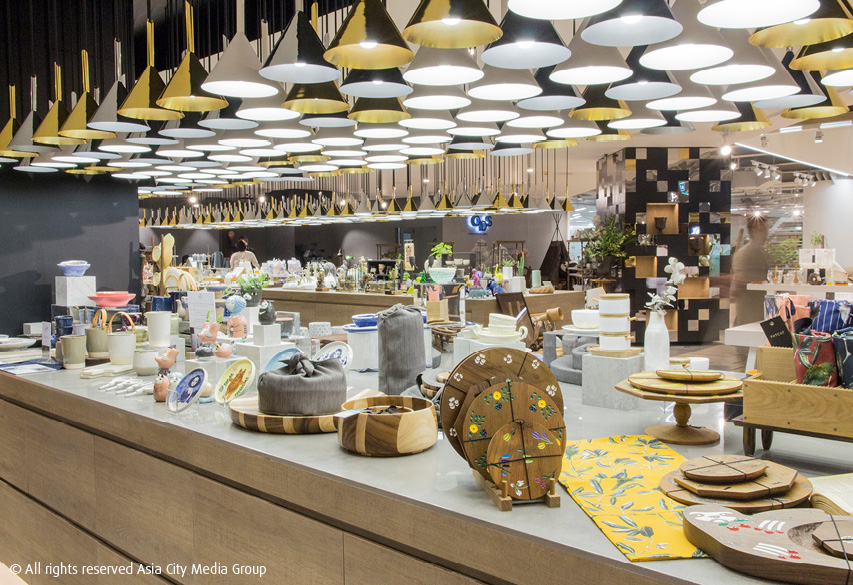 This collaboration with the Department of Export Promotion stocks lifestyle products and home decor from some 160 award-winning and emerging Thai designers. Our top picks include jewelry and accessories from Demark Award-winning labels Trimode and Plural Designs, ceramics from Yarnnakarn Art & Craft Studio, and pop art-inspired furniture from 56th Studio and Cast.
3/F, Siam Discovery, Rama 1 Rd. Open daily daily 10am-10pm. BTS Siam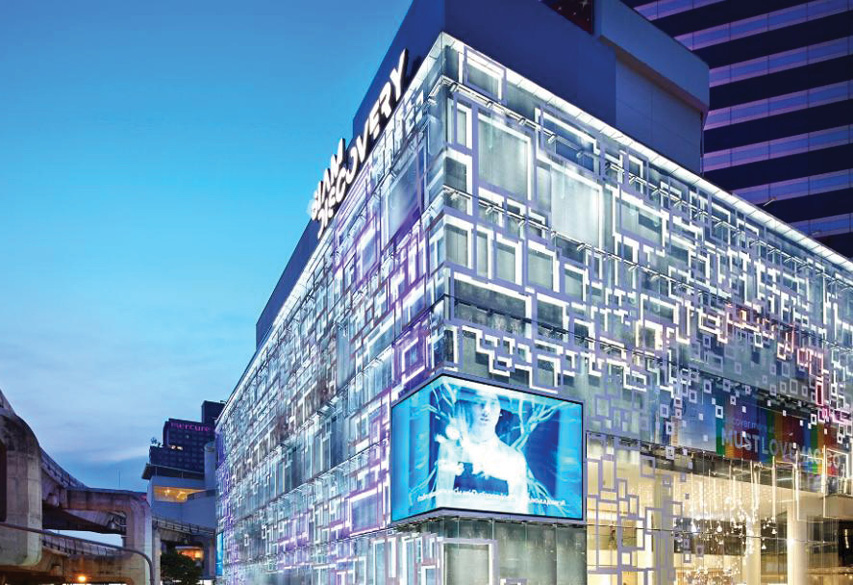 After a year of renovations, this mall reopened with a bright, futuristic design courtesy of Japanese designer Oki Sato. The new-look mall attempts to offer shoppers a more interactive experience, whether through the huge co-working space in collaboration with Hubba, the online personal shopper service or two floors taken up by a branch of Virgin Active Fitness. Fashion focuses onon Thai and Asian designers. On top of Japanese cult labels like Dress Undressed and Discord by Yoji Yamamoto, you can expect new-in-town European names like Hackett (England) and innovative home decorative products from Hay (Denmark) and Tom Dixon (England).
Rama 1 Rd., 02-658-1000. Open 10am-10pm. BTS Siam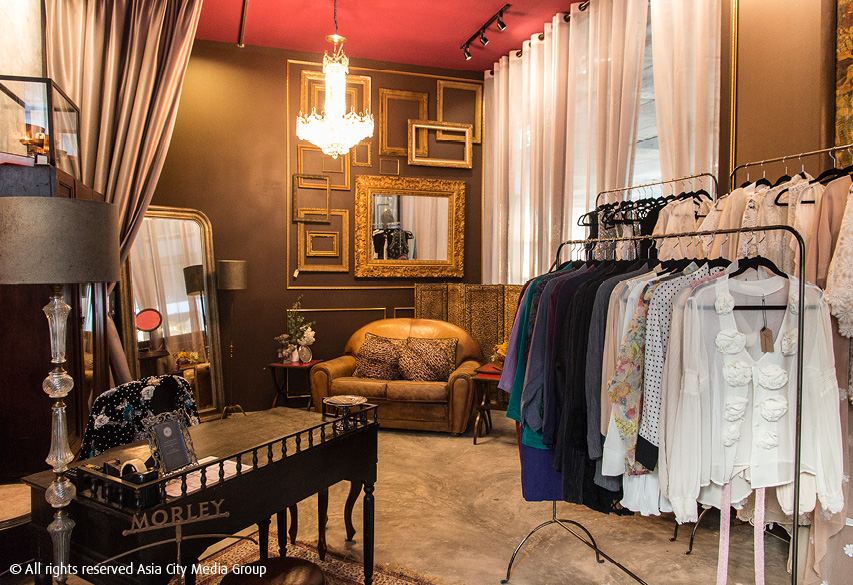 The latest hidden-gem for vintage lovers is run by celebrity and vintage collector Nita Tejapaibul, the store focuses mainly on elegant luxury night-wear. Nita says that every item is one of a kind, mostly sourced from the UK, France and Italy, while they also offer a tailor service to ensure the perfect fit. Expect lots of handcrafted details like sequins, embroidery and lace. And it's not just women's jackets and gowns. Guys will find some nice shirts and blazers too.
1/F, The Commons, 335 Thonglor Soi 17, 084-665-5626, 098-595-9959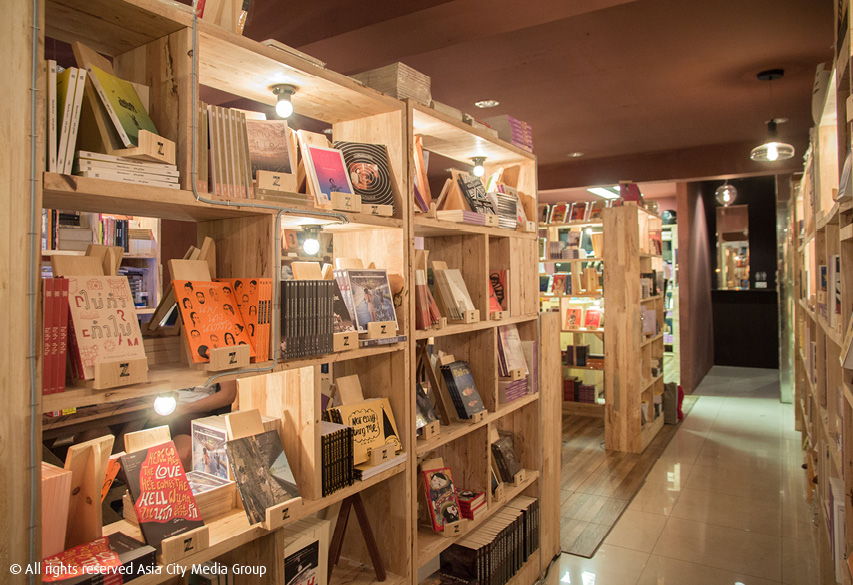 Is it a book shop? Is it a bar? This RCA opening is both, with a gallery and co-working space thrown in too. The single-room bookstore features mostly Thai literature, translations of international books and the occasional English title depending on the owner's preference. Need a place to read? Head up to the second floor for a co-working-slash-exhibition space. The third floor is home to 1970s Bar, which offers live bands from Fri-Sat.
RCA Block D, 21/118 Soi Soonvijai, Rama 9 Rd., Mon 10:30am-9pm; Tue-Sun 10:30am-midnight
---
GALLERIES
Sathorn's latest contemporary art gallery comes in the form of a large, open space with airy high ceilings perfect for welcoming large-scale artworks. The opening exhibition saw Chiang-Mai based artist Mit Jai Inn cover the walls, floor and ceiling of the space with his abstract paintings.
Narathiwat Ratchanakarin Soi 22, 089-988-5890. Open Wed-Sun noon-6pm
MoST Gallery
The creative agency of the same name that works with brands like Gucci, Vogue, GQ, Monocle and Dior now has a space dedicated to showcasing their custom photography, graphic and illustrative works. After hosting exhibitions at various galleries around town in the past, the new gallery now joins the artsy street of Charoenkrung and promises work from many big names.
672-36 Charoenkrung Soi 26, 02-639-6582
---
Health/Wellness
This new fitness complex is huge—easily one of the biggest in the city—and offers all kinds of different classes. It's like a community space for fitness freaks, all hinged around Thai boxing, dance classes (911 The Studio), yoga (911 The Bloc) and open gym (Smash Gym). In the same facility you'll also find a clean-eating restaurant (Calories Project), cafe (The Coffee Society) and a barber shop.
56 Prasertmanukij Rd., 02-157-1715, 087-595-5559. Open daily 9-10pm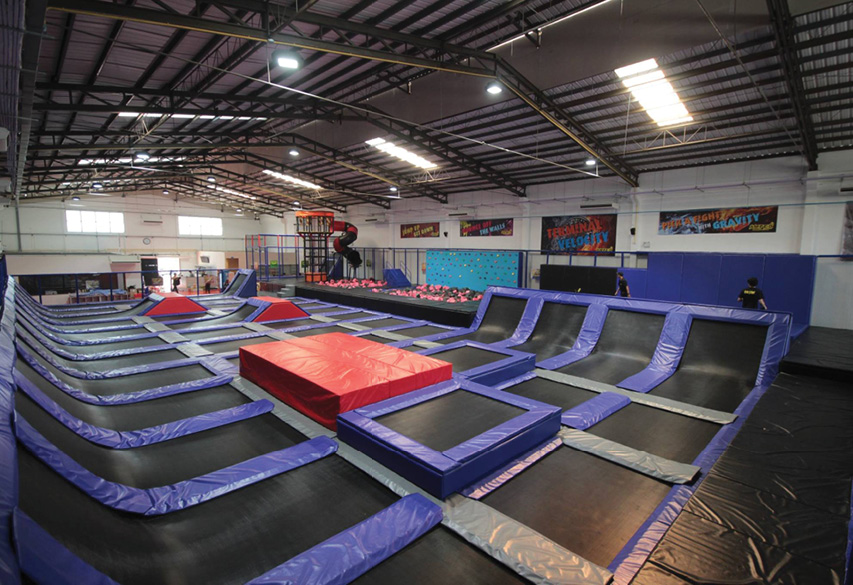 Traveling all the way from Singapore, this trampoline park joins the gym community Training Ground, in the form of a friendly, intimate atmosphere compared to Bangkok's other huge arenas. Split between a public zone and three primate rooms for group sessions and events, trained staff are always available to teach customers basic moves free of charge.
Chavanich Building, 36/3 Sukhumvit Soi 69, 02-136-7858. Open Mon 10am-7pm; Tue 3-10pm; Wed-Fri 10am-10pm; Sat 9am-10pm
he city's first tanning salon offers sun-deprived city dwellers that instant surfer glow, whether from sun beds or spray-on booths imported from the US. Skin testing is required before using the machine to determine the recommended duration of use (average 4-6 minutes, maximum 10 minutes), and it takes up to 3-4 times to see outstanding results. You should take at least two days break between sessions.
2/9 Sukhumvit Soi 34, 02-003-3333. Open Mon-Fri 10:30am-9pm; Sat-Sun 10am-6pm
At Asia's biggest trampoline park, you can bounce about in a giant room packed with 80 interconnecting trampolines—whether it's for serious exercise or simply to have some fun. The Free Jumping zone lets you ping around at leisure or practice some pro moves, while the Bounce Fit zone shows you just about the most fun way possible to keep in shape.
5/F, The Street Ratchada, New Ratchadapisek Rd., 02-014-2446. Open daily 10am-10pm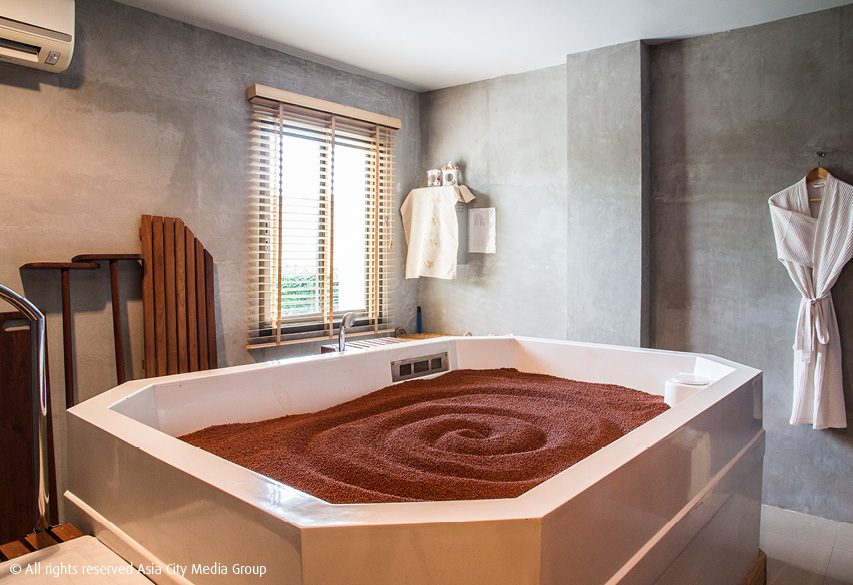 This spa offers hot sand tubs which use volcanic Japanese sand selected for its larger than average grains. They claim that the 50 essential vitamins and minerals contained within this sand will improve your immune system, stave off signs of aging, detoxify your system and improve blood circulation.
The One Residence, 319 Sri Nakarin Rd., 02-185-6364, 085-140-5454. Open daily 1-9pm
Hit the city's first ski training playground before planning that trip to Niseko. The training slope here is imported from Netherlands that's just the right gradient for beginners. The three Alpine Endless Revolving Slopes offer 6x11-meter running surfaces suited to adults, while the kids' playground zone caters to children over three years old. Need lessons? There's a Canadian ski trainer with over 40 years' experience.
3/F, ZPELL at Future Park Rangsit, 94 Phahonyothin Rd., 02-150-9045/46. Open Mon-Thu 10:30am-9:30pm; Fri 10:30am-10pm; Sat-Sun 10am-10pm