Arroz de Pato at Il Fumo
Arroz de pato is Portugal's duck-laced answer to paella. Reading it on the menu of fine-dining restaurant Il Fumo, you know that you're not going to get the hearty casserole of a thing that arroz de pato usually implies. And there's a moment, just as the chef delivers your delicately plated reinterpretation of the dish and proudly says, "And we replaced the bacon with puffed rice," that your heart sinks. But then you tuck into the sticky globs of stewed rice, each one thick from the weight of a punchy duck stock. Then you discover the abundance of intense, salty shreds of macerated, crispy duck meat. Then you take a bite of the succulently pink, perfectly rendered duck breast. Then you succumb to the fact that this is a dunk-your-head-in-it delicious dish—if only there were enough of it to do so. But now the bad news: it's not on the menu yet, but should be soon.
Viva Thonglor finds Jess Barnes (aka Mr. Opposite Mess Hall) taking a step back from "being edgy" to go down the full comfort-food route. That's resulted in a menu of Caesar salads, salmon croissants, pork chops and crinkle-cut fries. That's not to say he's playing it safe. One deliciously hefty must-try comes in the form of Chonburi goat shoulder braised in milk and wine: juicy, caramelized meat that'll have you gnawing the bone. It's served with gnocchi made from the goat's own milk—morsels of pure salty goodness. Our grainy iPhone pics couldn't do the whole thing justice—just take our word for it, or check back in a couple weeks for the full BK write-up.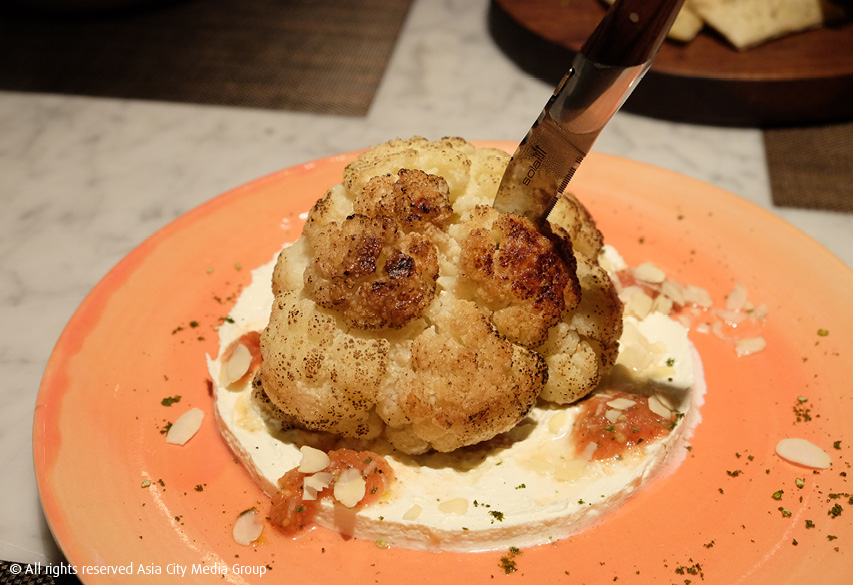 Cauliflower Steak (B370) at Via Maris
The explosive turquoise and orange walls of Convent Road's Mediterranean newcomer meets its match in head chef Francesco Deian's vibrant menu. Of course, it's no surprise that a Sardinian chef knows how to weave flavors into his pan-fried mackerel, his slow-cooked chicken arabesque—but cauliflower? Skeptics, hold up. Poached in milk and spiced with za'atar, the half head of vegetable is seared until its underside is a crunchy brown before being plated on a bed of smooth labneh and dressed with a punchy cumin-tomato paste. Cheekily, it's served speared with a steak knife, a challenge to all you who believed you'd never eat a vegetable as satisfying and juicy as a slab of medium-rare. That said, the braised lamb shoulder with couscous is not to be missed, either.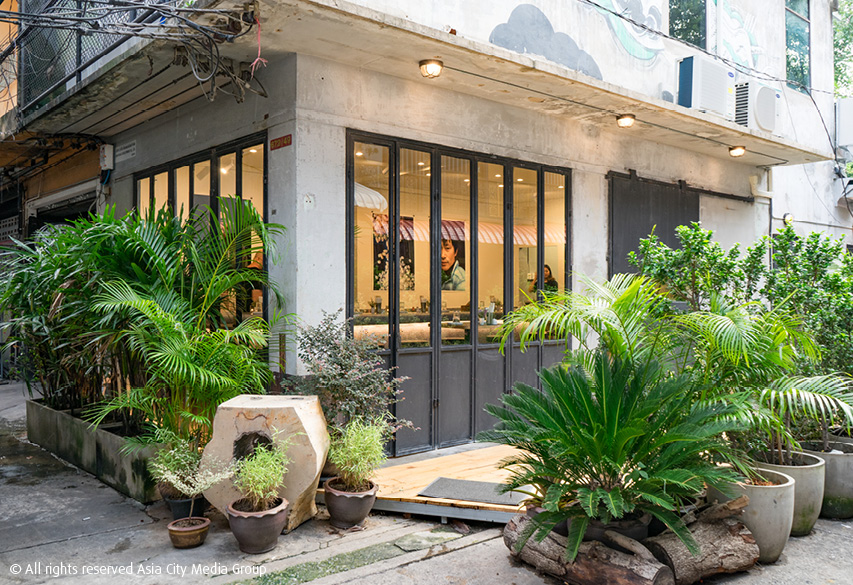 Grilled Chicken Heart (B80) at Jua
There were a lot of high points when we visited yakitori specialist Jua this month. Like most who do Japan's patented style of grilled skewers properly, nearly everything you can order—from sizzling pork belly to buttery banana prawns—is bursting with so much succulent flavor that running through the entire menu is a rather fearless affair. What's that one "you gotta give this a try" dish? The grilled chicken heart basted with tare sauce. Picky eaters probably wouldn't give it a second look, but, trust us, give it a shot. It's one of the menu's absolute high points—deviously tender, well-seasoned and absolutely delicious. It's the kind of thing that will make your picky, conservative friends think they are actually being adventurous with food for once. Jua's yakitori menu is only 12 items long, so you'll likely go through all of it in one dinner anyway, but if you're only there to grab some cocktails and light bites then chicken hearts should be on your shortlist.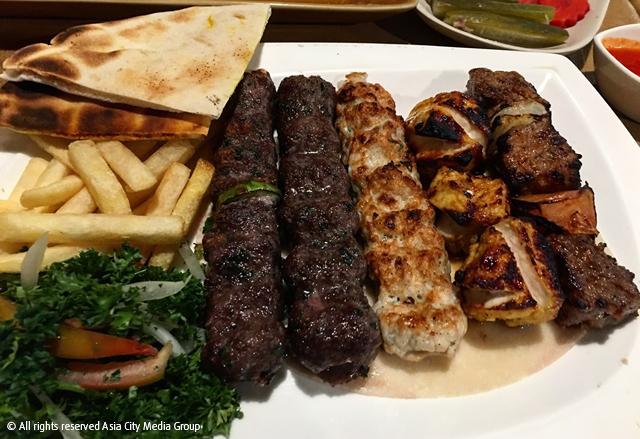 Labneh (B160) and hummus (B140) at Al Rawche
It's safe to judge Al Rawche by its cover: tacky food photos, glaring fluorescence, a man in a fez peddling sticky ice cream—you know going in that the food's going to be hole-in-the-wall authentic. The Lebanese corner restaurant does the complicated stuff (minced meat kebabs and boat-shaped stuffed pastries) well, but the real artistry is in the simple deliciousness of the hummus and labneh dips. The smooth, zesty hummus wafts toasted tahini while the labneh (a yogurt dip topped with a glug of olive oil) is rich and tangy. Both make a perfect bite when slathered on a chunk of the sesame bread that's served piping hot out of the ovens.
Thai tea creme brulee (B140) at Oh Chic
True to its Asian-twisted European cuisine, Ekkamai's new all-in-one nightlife stop serves a Thai tea creme brulee, and it's worth every single calorie. A creation of executive chef Pairoh Arunngam, a former MasterChef Taiwan competitor, this dessert combines two classics: creme brulee, an early adoptee of mainstream Thai sweet chains, and Thai tea, which has colored all our childhoods with its creamy orange goodness. And this dessert isn't just a mash-up of favorites, the flavors are clearly calibrated to maintain the custard notes of the French classic while introducing a hint of the smoky, rich taste of Thai tea.