BANGKOK RESTAURANT
Via Maris
Mediterranean flavors from North Africa, Spain and Southern Italy in a familiar space.
There's only one thing that remains the same at this North-Africa-meets-Mediterranean restaurant as when it traded as Vesper: Sicilian-born head chef Francesco Deiana. Now though he plays with flavors drawn from North Africa, Spain and Southern Italy—carrots roasted in cumin and harrisa, lamb shoulder tajine, balls of sumac-spiced crabmeat. The dining room's explosion of turquoise, orange and vibrant tiles ensures a fun time.
For years, Convent Road's Vesper was the area's preeminent afterhours cocktail bar and European bistro. Then it shuttered for a month-long renovation at the end of 2017, piquing the interest of Bangkok's food clique. When the construction tape came off the venue had split in two—on the left was a trimmed down, slender Vesper, and the right a shiny new Mediterranean bistro named Via Maris.
If you are familiar with owners Chotipong Leenutapong and Debby Tang (the restaurateurs behind Italian eateries Il Fumo and La Dotta), you'll be at home in Via Maris—it has their style written all over it. Its vibrant turquoise and orange facade sticks out like a sore thumb on Convent's street food-crammed walkway. Inside, colorful murals pop out among marble-topped tables and dim lighting while blues hits and golden oldies set a catchy, upbeat vibe.
The head chef, Sardinian-born Francesco Deiana, remains the same as in the restaurant's Vesper days. This time he dishes out a mixture of Mediterranean flavors from North Africa, Spain and Southern Italy. Good Mediterranean food is simple and produce-focused.
Just like Vesper, the ingredients here are top notch. Simple plates like the creamy burrata and strawberry salad (B460) and the cauliflower steak (a single, huge piece of cauliflower in a bed of rich labneh, B370) feel substantial enough to be meat-free mains. Same goes with more traditional staples like the fileja pasta (B390) with its fall-off-the-bone pork ribs and peppery nduja-spiced meat sauce or the Spanish surf and turf (B590) with succulent pan-fried Basque mackerel and spicy txistorra chorizo sausage.
Good produce will get you far, but the menu here still plays it relatively safe and is far from perfect, meaning your palate might get bored after a few dishes. On our last visit, the namesake Via Maris Octopus (B550) came out as fresh and Instagram-worthy as you want it to be, but ended up chewy, dry and lacking any memorable flavor. The basbousa (a Middle Eastern semolina cake with orange yogurt, B290) fell into the same good-looking-but-dry-and-boring category. Not the best meal-capper.
Those quibbles are far from deal-breakers, though. Via Maris puts together a nice package. The service is slick and professional, the wine list is unpretentious and affordable (wines by the glass run from B190 Australians to B240 Italians—not bad!) and the tuneful atmosphere is exactly what you want out of a Med-leaning bistro. Is Via Maris a game-changer? No. Is it a worthy successor to Vesper? Yes.
---
This review took place in March 2018 and is based on a visit to the restaurant without the restaurant's knowledge. For more on BK's review policy, click here.
---
| | |
| --- | --- |
| | Via Maris is listed in Top Tables 2018, BK Magazine's guide to Bangkok's best fine-dining restaurants. See the full list at www.bktoptables.com |
---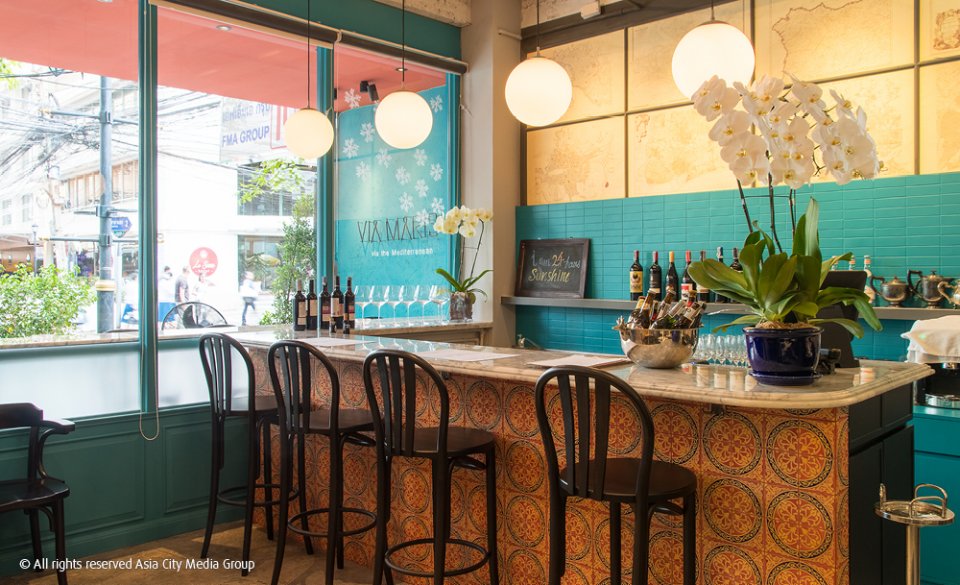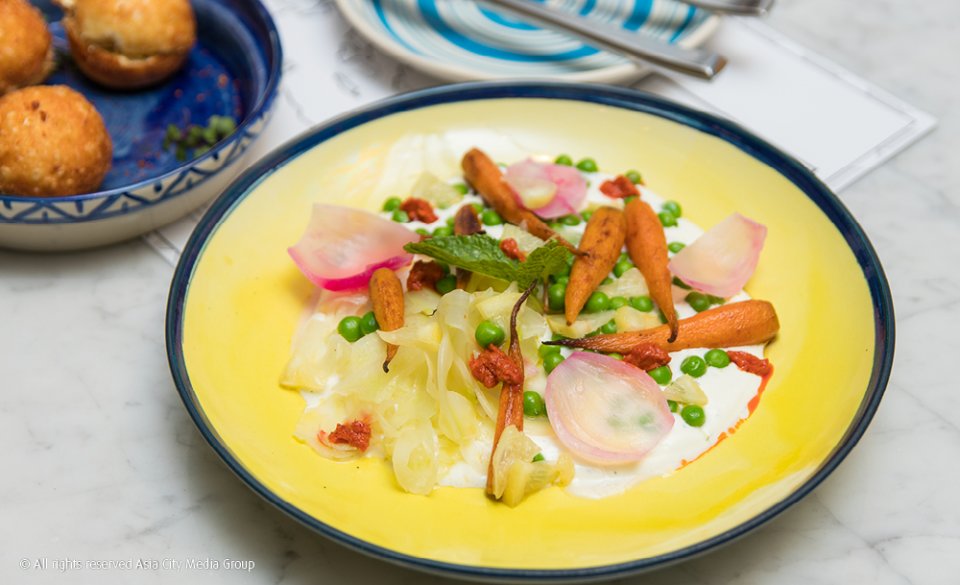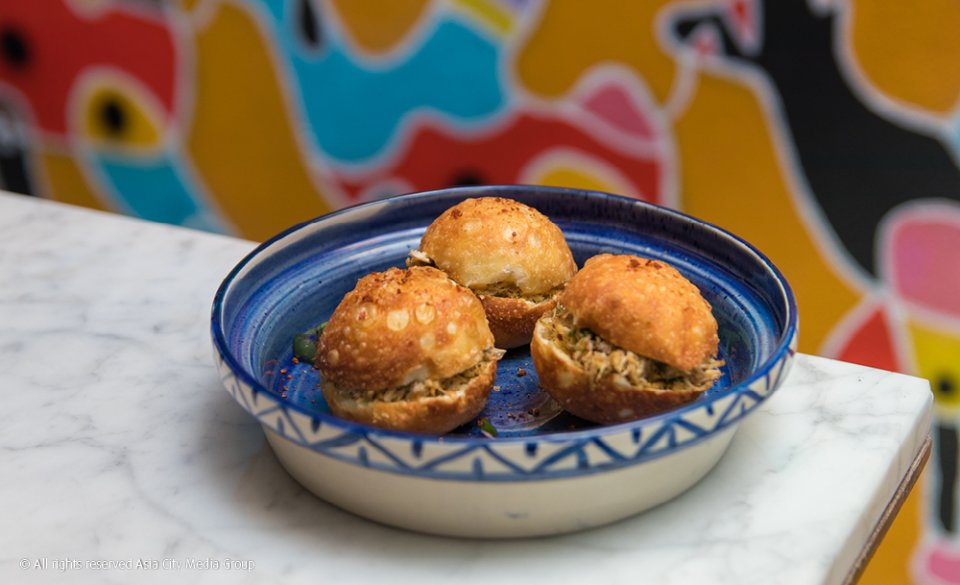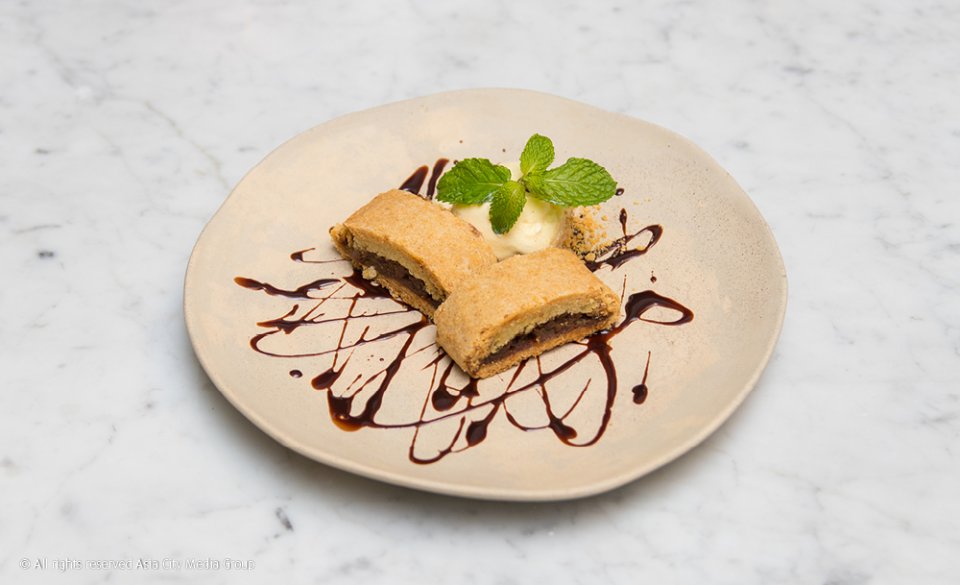 Venue Details
Address:
Via Maris, Convent Rd., Bangkok, Thailand
Phone:
02-236-5558
Website:
www.facebook.com/viamarisbkk
Area:
Silom
Cuisine:
Mediterranean
Price Range:
BBB

Open since:
December, 2017
Opening hours:

daily

4:30-10pm

;

Mon-Fri

11am-1pm

Report a correction