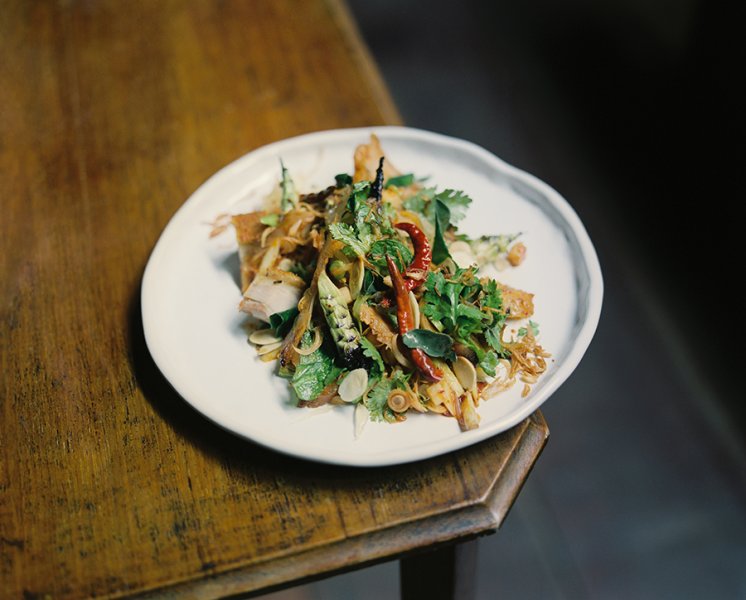 With warm wood furnishings, multi-dimensional oil paintings of an old-school Thai kitchen, and covers of vintage funk records as the soundtrack, this restaurant really sets the tone from the moment you walk through the door. The food, refined Thai classics made from fresh seasonal ingredients, takes the experience to another level. Diners sign up for 5-course degustation menus (starting at B3,280 per person) with dishes that change quarterly, depending on what seasonal ingredients the restaurant team is able to procure from local farmers or grow on site. The meal kicks off with Bo.lan's signature house-made yadong (Thai herbal infused whiskey) as an aperitif, and then there are four options for drinks: wine by the glass (starting B380), champagne and sparkling wine (starting at B2,200), craft beer (starting at B980) and fresh juice mocktails (starting at B680).
24 Sukhumvit Soi 53, 02-260-2962. Open Wed-Sat 6-10pm; Thu-Sun noon-2pm. BTS Thong Lo
Exclusively for Citi credit card members:
Come 4 pay 3 for Set Lunch Menu on Thu – Fri
1 Sep '19 – 31 Mar '20
Situated in the heart of Sukhumvit, this plant-based vegan restaurant emphasizes social and environmental awareness. Along with the relaxing atmosphere, the menu is full of East-meets-West dishes, ranging from items like the signature Broccoli Quinoa Charcoal Burger (with a side of homemade healthy fries, B290) to their Chia seed Pad Thai (B180). Other options include organic cold-pressed juice and a smoothie bar, with highlights like the Juice Number 1 (B190) made with organic kale sourced from a small farm in the northern part of Thailand.
899 Sukhumvit Soi 49, 02-662-5001, 095-2519-799. Open Mon-Fri 9am-10pm; Sat-Sun 7am-10pm. BTS Thong Lo
Exclusively for Citi credit card members:
Get 10% discount on food only when spending THB 500 or more /sales slip
1 Aug '19 – 30 Jun '20
Texas-hailing chef Riley Sanders delivers highly inventive dishes packed with powerful flavors. His gluten-free shrimp noodles (B360) are dressed in one of the most intensely flavorful seafood sauces we've encountered, their kaffir lime and a gentle dose of chili providing a familiar yet totally unique local kick. The crayfish (B440), charred with heady wood-fired notes, plays a similar local-flavor card in its dressing of lime-and-basil foam. The drinks menu is downright awesome, too, spirit-forward cocktails (B320-400) from the team at Rabbit Hole.
113/9-10 Sukhumvit Soi 55, 099-614-1158. Open daily 5-9pm. BTS Thong Lo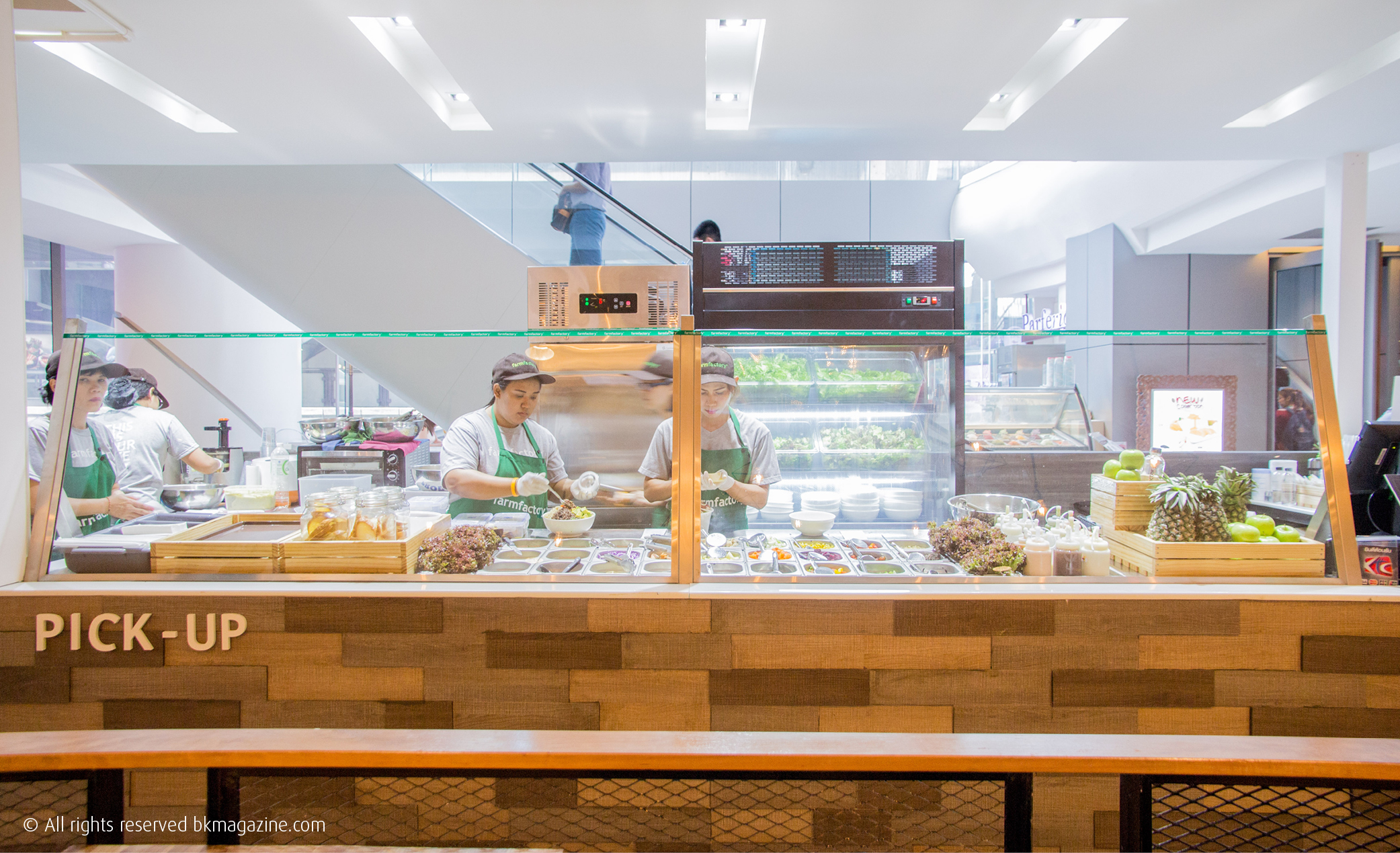 Hailing from Phuket, this salad-only joint uses the best quality veggies sourced both locally and from overseas, and matches them with the brand's own range of dressings. Menu highlights include the Avocobb (B159 for medium size, B239 for factory size) featuring a full bowl of crispy greens, carrots, sun-dried tomatoes, corn, pecan, avocado, quinoa, garlic bread and homemade avocado dressing. You can also customize your own salad and pair it with the array of freshly made cold-pressed juices on offer.
2/F, Silom Complex, Silom Rd., 063-215-1015. BTS Sala Daeng.
Exclusively for Citi credit card members:
Get 10% discount when spending THB 300 or more /sales slip or get 15% discount when spending THB 1000 or more /sales slip
1 Jan – 31 Dec '20

Two indian chefs, Deepanker Khosla (formerly of Charcoal Tandoor Grill & Mixology) and Tarun Bhatia (winner of San Pellegrino's Young Chef 2016 in Southeast Asia) created Haoma around the pillars of zero waste, urban farming and sustainability. All of the 37 different edible greens grown in the kitchen go into high-wired dishes whose the presentation drills home the farm-to-table concept. This is high-wire stuff, with dinner tasting menus ranging from nine to 13 courses, and lunch clocks in at 7 courses. Each course comes with a highlight herb or veg grown in the on-site farm.
231/3 Sukhumvit Soi 31, 02-038-5821. Open Tue-Sun 6pm-midnight; Sat and Sun (lunch) noon-3pm. BTS Phrom Phong
Exclusively for Citi credit card members:
Get 20% discount on the Second 13 course tasting menu or get THB 500 when spending THB 2,000 or more /sales slip or get 15% discount on second bottle of wine
1 Mar '19 – TBH
Crumbling walls, rickety old bicycles, and bouquets of dried flowers gives Harvest a very rustic backdrop to serve up its European-leaning menu. Highlights include the grilled Iberico pork secreto (B1,680) topped with sharp, slightly sweet braised fennel and truffle, as well as the mussels in a white wine and capers sauce (B780). The drinks menu showcases craft spirits and creative cocktails, while the wine list features organic, biodynamic and natural wines from around the world with a few options by the glass.
24/1 Sukhumvit Soi 31, 02-262-0762. Open daily 5:30pm-12 am. BTS Phrom Phong
Exclusively for Citi credit card members:
Get a complimentary Sticky Toffee Pudding valued THB 300 when spending THB 1,500 or more /sales slip (limit 1 dish /card /table /sales slip)
1 Oct '19 – 30 Sep '20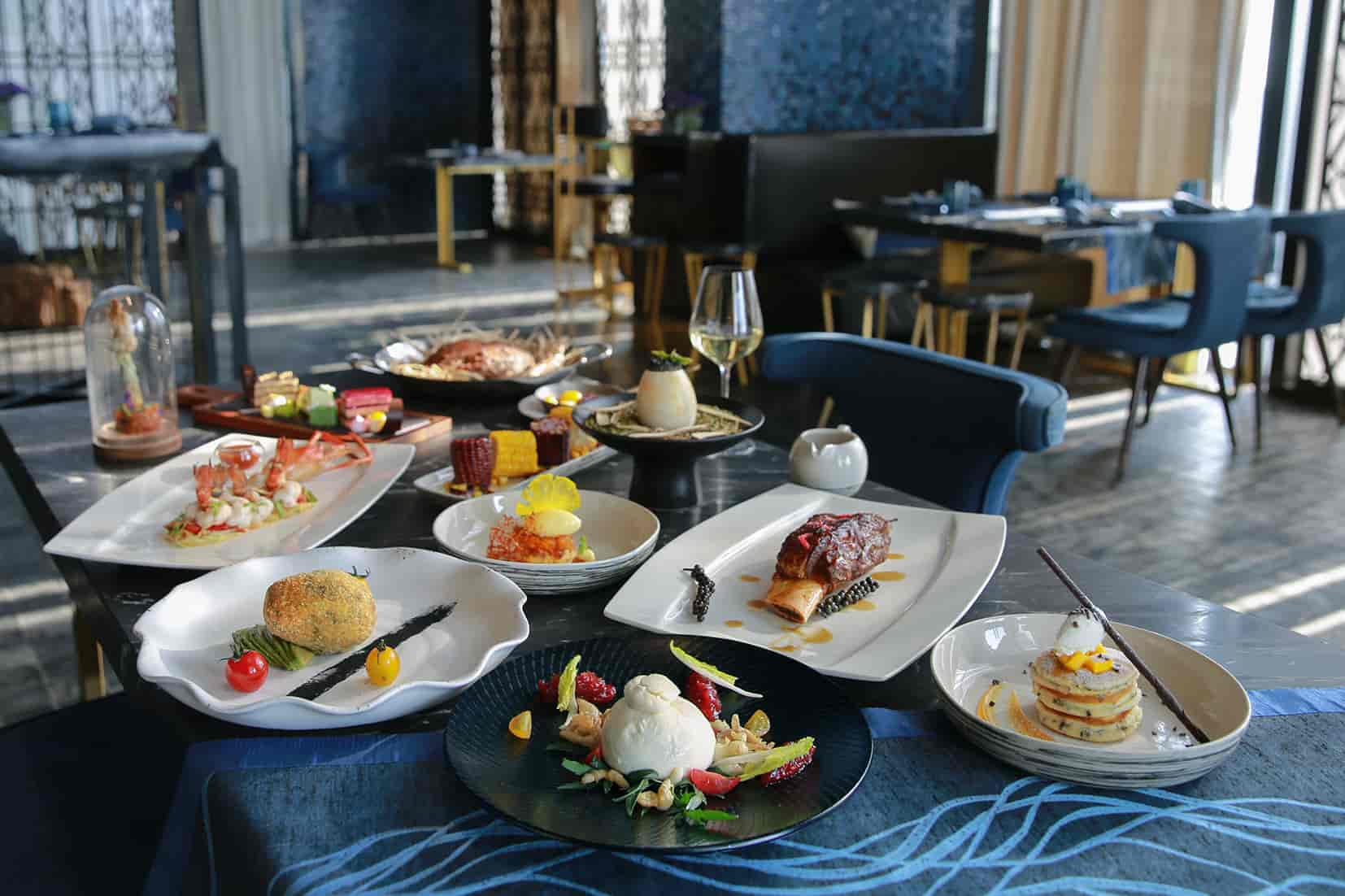 Nimitr
Located 27 floors above Phrom Phong, this Asian fusion restaurant is taking a farm-to-plate focus in the form of brunch. Step through the antique wooden doors to be welcomed by elegant blue tile floors and floor-to-ceiling windows. The brunch includes dishes like the whole avocado in shrimp crust with egg yolk confit (B380), braised beef ribs in mulberry and green peppercorn sauce (B870), and duck cocotte with kumquat sauce (B750). Desserts include a pandan custard crepe suzette flambéed with Grand Marnier (B340) and roasted baby pineapples flambéed with Isaan rum (B220).
27/F 137 Pillars Suites & Residences Bangkok, 59/1 Sukhumvit Soi 39, 02-079-7000. Open daily 2-11pm.
Operated by a few vegan activists, Veganerie serves dairy-free and egg-free dishes that go well beyond salads. Highlights include Italian tomato sauce spaghetti (zucchini pasta with tomato sauce and vegan sausage, B290) and a pulled pork burger made with mushrooms (B290). Desserts include the cashew nut paste-based cheese pies (B140), mixed berry crumble bar (B140), as well as smoothies (starting from B140). Gluten-free products, such as the chocolate fudge cake (B135), are also available.

35/2 Soi Methi Niwet, Sukhumvit Rd., 02-258-8489. BTS Phrom Phong
Exclusively for Citi credit card members:
Get a complimentary drink valued up to THB 110 when spending THB 300 or more /sales slip (limit 1 drink /card /table /sales slip)
1 Nov '19 – 30 Nov '20
Sponsored by: