Whether you like it seedy or classy, you don't have to play dress up to get into the swing of these Bangkok bars.
If you're a fan of Fifty Shades of Grey, chances are you're going to enjoy every sip and vibe at this bar. Sitting above upscale French restaurant Stage, this speakeasy in Ekkamai is for the kinky, with mysterious red hues and dramatic curved gold accents, not to mention naughty S&M decor items like chains and wearable handcuffs. The drinks also follow the concept with some sexy names and illustrations like All Night, Virgin or Not, and Mr. Grey.
2/F, 359/2, Sukhumvit Soi 63. 080-278-7808, Open daily 6pm-late.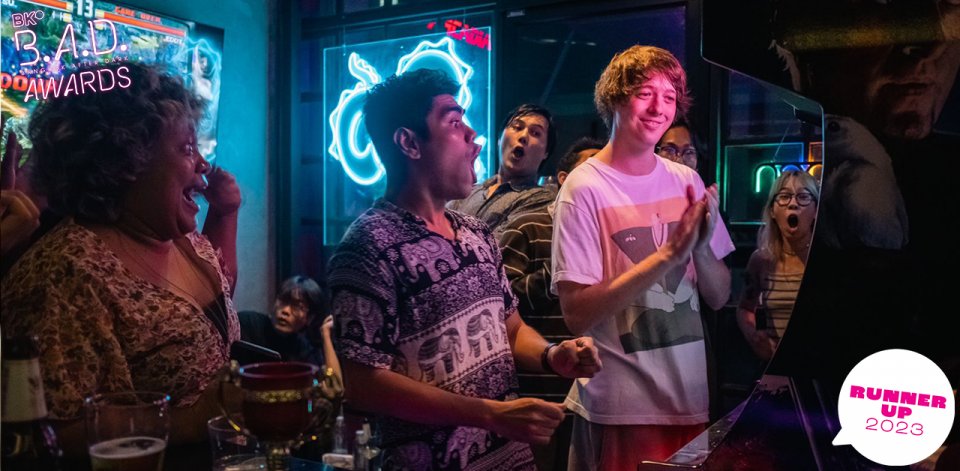 With all the '80s vibes a retro gamer could hope for, you'll know the theme of Arcadia Barcade before ever walking inside. With arcade machines handmade by owner Todd Ruiz of Coconuts Bangkok, drop a coin and get to Tekken-ing or head to the face-to-face machine for co-op and competition. If you prefer to game soused, visit the beer fridge for a few craft brews or a kratom soda. Climb up to the rooftop for games, movies, and events.
1112/24, Soi Sukhumvit Plus, 064-949-9744. Open Tue-Sun 10am-late.
Bangkok's only voodoo bar emerged from the Covid gloom in February of 2022, bringing cocktails (potions) made on a ouija board, frog noises on the porch, and bedazzled skulls and voodoo dolls under the gaze of Baron Samedi. Something Wicked is found behind a blood red door squeezed between shophouses in On Nut. Inside, blues play over black woods and red sofas. The unusual design of this hot new swamp spot comes from the macabre mind behind Hair of the Dog.
629, Sukhumvit Soi 8, 02-103-1574. Open Wed-Sun 7pm-late.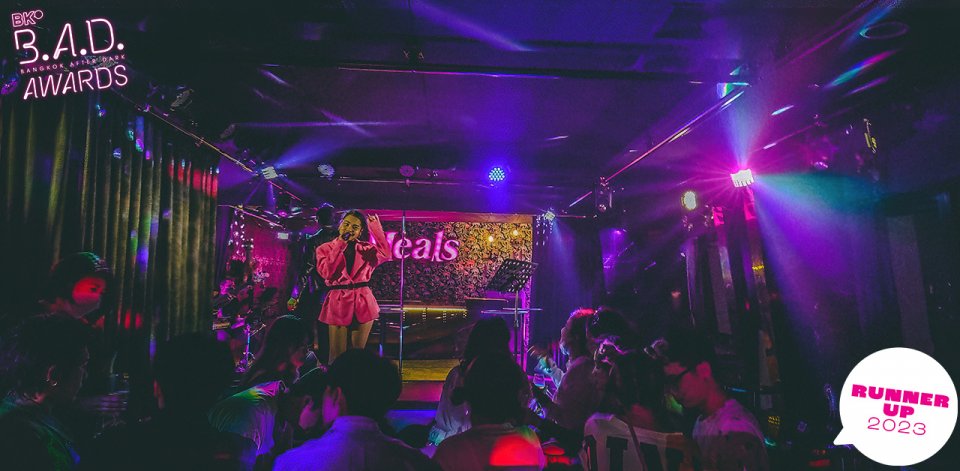 If you're looking for somewhere to let loose, dance, and sing your head off, then this drag showbar is the place for you. Run by legendary drag queen and Drag Race Thailand host Pangina Heals (Pan Pan Narkprasert), this boisterous spot is all about creating a fun, safe space for all, complete with dramatic spotlights and quirky decor with a backdrop of drag shows by big local names and DJs.
33/F, Renaissance Bangkok Ratchaprasong Hotel, 518/8 Ploen Chit Rd., 099-336-6262. Open Wed-Mon 8pm-late.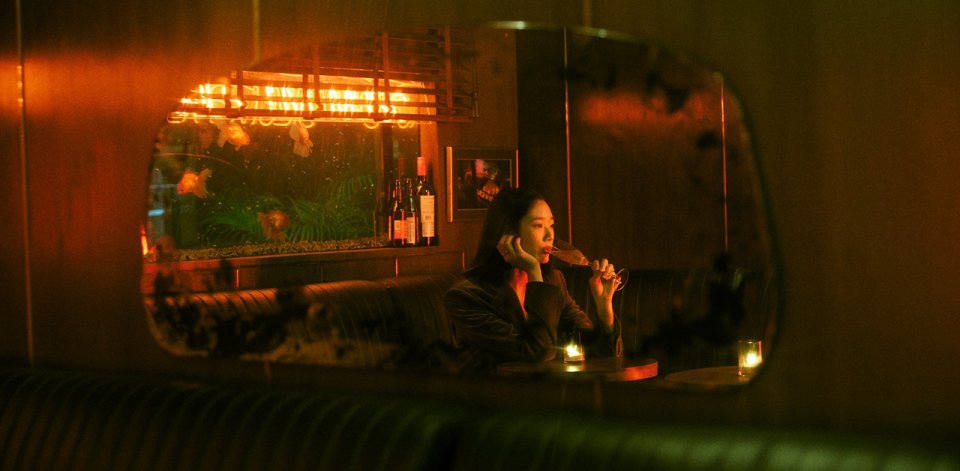 If you love Wong Kar Wai's latest produced film One for the Road, this is for you. In fact, it's the very first bar that Kar Wai has sponsored and co-owned. Thai film director Nattawut "Baz" Poonpiriya decided to bring that bar from the movie alive. The place draws heavy cinematic references from Kar Wai's films—think a mix of conserved modernist architecture like the ones from "In the Mood for Love" and "Happy Together."
245/11 Ground Floor Sukhumvit 31 (Sawasdee), 02-004-2429. Open Tue-Sun 5pm-11pm.
Here's your portal to pre-revolution Cuba—and a lot of dancing. The finely-concocted story goes that Havana Social was once a hip hangout back in the Cuban capital's 1950s heyday. This spot is for the serious Soi 11 crowd who like to party. It's a little bit of a club, a little bit of a bar, and a whole lot of character.
1/1, Sukhumvit Soi 11, 080-467-7409. Open daily 6pm-late.
This is one train where you should dress to the nines. The long, narrow space replicates a classic railway carriage dining car with a '20s New York vibe. To go along with the theme, customers can get a little passport book with 52 cocktail cards to line up with the space's expertly crafted cocktails.
235/13 Sukhumvit Soi 21, 02-664-1445. Open Tue-Sat 7pm-late.
This "gangster" spot is literally underground. You'll find it in the basement of The Coach hotel on Sukhumvit Soi 14—Abandoned Mansion resonates the nostalgia of 1930s prohibition mobsters with a matching cocktails menu. Since the hotel is located in a residential area of Asoke (hence no high-rises), the hotel dug down two floors and where you'll find a very extravagant space underground. The space is filled with armchairs and big sofas combined with live music up on their high stage above the bar.
Basement, 41 Sukhumvit Soi 14. 02-259-7007, Tue-Sun 6pm-2am.
Less about the space than the drinks, this spot launched a new cocktail menu last year in four acts. The first is the beginning of the play where the four main characters run into the magical forest embroiled in their love-addled drama. Try the Reflection of the Forest (B420, gin, chamomile soda, grape and mint jelly, soda, B420), inspired by the spirit of Puck and the eldritch forest. In the second scene the conflict starts with the Drop of the Enchanted (B420, gin, salted sakura syrup, vermouth, lemon, sakura bitters). The next two scenes build on resolution themes but you can explore those yourself. "Take pains. Be perfect. Adieu."
62/1 Thonglor Soi 1 (Sukhumvit 55), 082-646-0949. Open daily 6pm-midnight.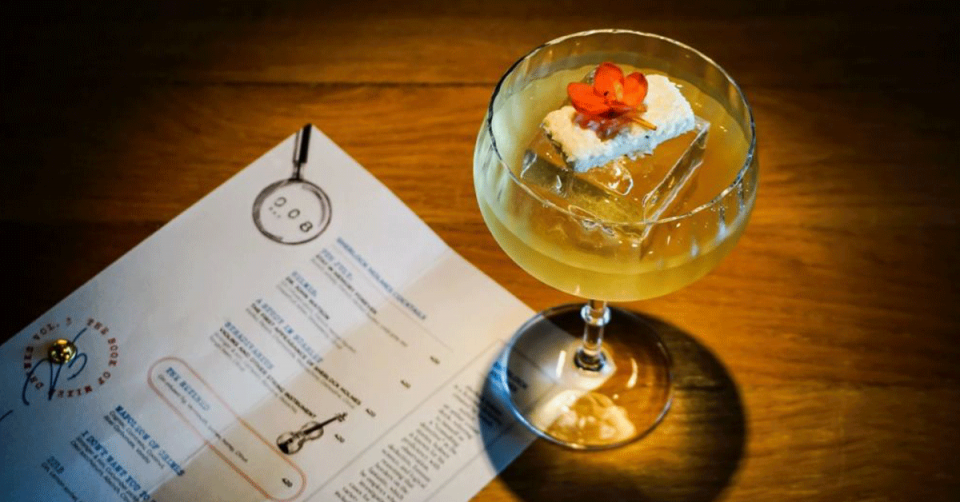 You could argue this is another slice of prohibition bar speakeasy, but what sets 008 apart is its fun cocktails, at last check in based on Sherlock Holmes-inspired cocktails. From head bartender Supaktorn "Oak", the theme suits the cool masculine vibe—dark brown woods, leather wingback armchairs, and a large bar spreading across the room.
88/332 11th Floor, Thonglor Rd., 02-392-8959. Open daily 5pm-midnight.