You may already know
008 Bar
from our story in 2018–yes, that bar you need to open through the unmarked door on the 11th floor of Akyra Hotel in Thonglor. Though it's not so secret anymore, the bar has something new 2022 that's anything but elementary: Sherlock Holmes-inspired cocktails.
The theme suits the cool masculine vibe—dark brown woods, leather wingback armchairs, and a large bar spreading across the room. Head bartender Supaktorn "Oak" tells BK Magazine he has always been a devoted fan of Conan Doyle's work—reading and watching every Holmes-related novel and series—and wants to transform his devotee to something that he can share with the guests.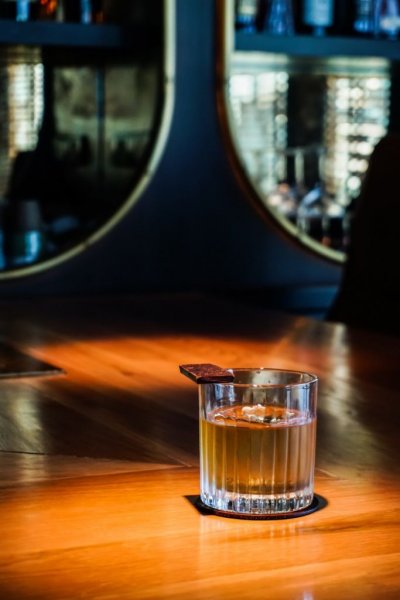 7th July. Photo: Chayanit Itthipongmaetee / Coconuts Bangkok
The new concept drinks draw heavy references from, you guessed it, Sherlock Holmes and everything that revolves around the character. We have 7th July (B420) to pay homage to Dolye's last day. It's a mix of Scotch whiskey, French herbal liqueur, and lady gray tea, topped with a chocolate bar for more depth of flavor in every sip you take. And then there's A Study in Scarlet (B420), another tribute to Sherlock Holmes first appearance, blending vodka, maraschino liqueur, grenadine syrup, and a slice of peach.
A Study in Scarlet. Photo: Chayanit Itthipongmaetee / Coconuts Bangkok
Our favorite, however, is the Stradivarius (B420), which combines a slightly subtle hint of spice from Stranger and Son's gin, Campari, banana, pistachio, and tonga bean. The drink is then topped with a coconut white chocolate waffle that offers a fun bite to the taste.
Stradivarius. Photo: Chayanit Itthipongmaetee / Coconuts Bangkok
11/F, Akyra Hotel, Sukhumvit Soi 55 (Thonglor), 02-392-8959