Thursday (Jun 1)
An intimate gig with the popular Thai-British singer songwriter who has collaborated with huge international artists like Beyonce and Jay Z, with an after party from DJ Kurrypup and Dave Divani.
Jun 1. Maggie Choo's, underground/F, Hotel Novotel Bangkok Fenix Silom, 320 Silom Rd.
---
After getting pulled from cinemas in March, the film finally screens for one week only. The movie is the long-awaited sequel to the popular film Trainspotting, directed by Danny Boyle and featuring Ewan McGregor, with this edition following heroin addict Mark as he returns to scotland to reunite with his friends.
June 1-7. House RCA, Rama 9 Rd.
---
Friday (Jun 2)
US-born mixologist and brand ambassador for Iron Balls gin, Carson Quinn, join forces with Brand Connect Thailand brand ambassador Rapee Kenneth Sirisinha to take over the bar with their original creations alongside beats from DJ Pichy.
Jun 2. Toro, 72 Courtyard, Sukhumvit Soi 55
---

A self-depreciating spin on the popular Ted Talks where 8 guest speakers will take on the stage for 15 minutes to discuss their hopeless failures in life under comedic topics like "First world problems of being a hiso," "I used to be cool, now no one knows me", "I'm not that drunk, why do you have to check my urine?" and more. Talks held in Thai only .
Jun 2. Whiteline, 3rd Floor, Silom Soi 8.
---
Saturday (Jun 3)

The popular techno and house party returns with an open-air edition by the river, featuring tracks from the Kolour resident DJs alongside arts and crafts vendors and beer pong.
Jun 3. Mango Tree, Yodpiman River Walk, Atsadang Rd.
---

The British DJ and record producer, known forcombining elements of hip-hop, house, soul, jazz and beyond, takes over the decks for one night only.
Jun 3. Beam, 72 Courtyard, Sukhumvit Soi 55
---

Bid farewell to the popular bar before it shuts down permanently with one last party featuring music from DJs Krit Morton, Mae Happyair, Sarayu, Marmosets, Kontraband, Kova O Sarin and more.
Jun 3. Dark Bar, Ekkamai Soi 10
---

A music festival dedicated to top acts from around Asia, including Rain from S. Korea, Son Tung M-TP from Vietnam, Exile The Second, AKB48 Flower from Japan, Burin Grooverider from Thailand and more.
Jun 3. Show DC Oasis Outdoor Arena, Rama 9 Rd.
---

Now in its sixth installment, the music-focused flea market returns under the concept of "Precycle," encouraging festival-goers to produce the least amount of trash possible. Expect to find stalls selling crafts, CDs and music-related paraphernalia, food and drink.
Jun 3-4. Museum Siam, Sanam Chai Rd., Phra Nakhon.
---

The popular film festival that launched in 2015 returns, providing a platform for independent, emerging filmmakers across a variety of genres including documentary, drama, video art, animation, experimental and feature film. This year's selection includes films like My Buddha is Punk, Flummoxed Cocoon, Every Little Thing's Gonna be Alright and more.
Jun 3-4. The Noise Market 6, Museum Siam, Sanam Chai Rd., Phra Nakhon.
---

Popular photographer Harit Srikhao's latest collection explores repression under the current military regime and the constant dismissal of injustice for those who have lost their lives to political instability.
Jun 3-Jul 22. Gallery Ver, Narathiwat Ratchanakarin Soi 22
---

Canadian photographer Tim Pelling's latest exhibition captures the daily lives of those who live along Bangkok's khlongs in an attempt to depict the degradation of the city's waterways.
Jun 3-24. Soy Sauce Factory, 11/1 Charoen Krung Soi 24
---

Ful Fat Theater presents a performance written and directed by Nophand Boonyai featuring three stories about coexistence and awareness. It all takes place at Duangrit Bunnag's brand new creative district by the river.
Jun 3-11. Warehouse 30, Charoenkrung Rd.
---
Sunday (Jun 4)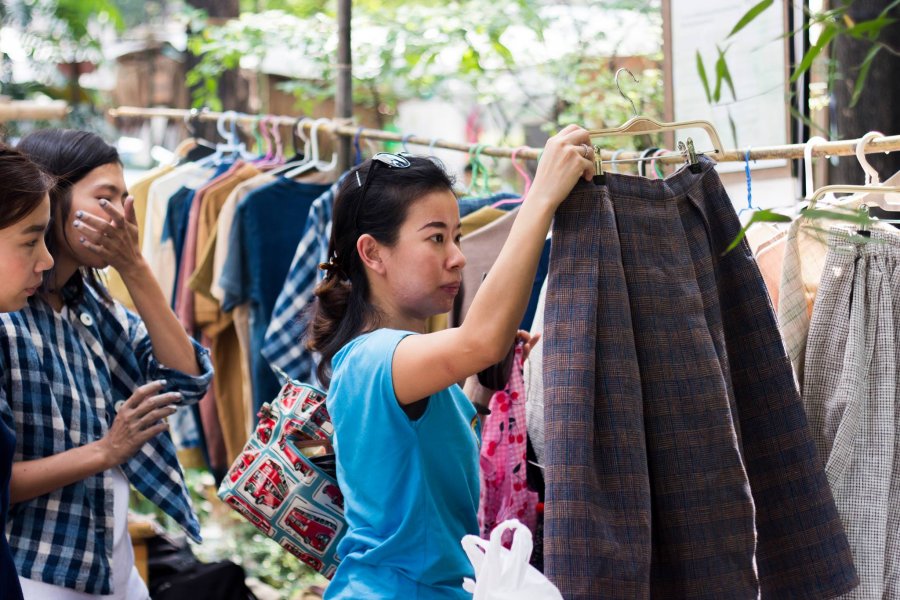 Social enterprise Ma:D hosts a day all about reducing waste, including shopping booths selling second-hand items and handmade goods, soap-making workshops, as well as talks on tips for living a waste-free daily lifestyle.
Jun 4. Ma.D Club for Better Society, Ekkamai Soi 4