For a long time, Thais have started their year by making merit at nine temples. Why nine? We might never know the real answer, but nine is an auspicious number and the "kao" pronunciation is the same as "kao na"—meaning moving forward, stepping up, progressing.
Even if you don't believe in merit making, spirituality, or religion, this is still a good chance to check out Bangkok's different neighborhoods and the art and architecture of these historic temples.
Here is how you can finish nine temples in one day, stress-free:
Take the BTS to Chidlom, and walk to Gaysorn Tower for the Maha Lakshmi Mahadevi shrine on the fourth floor.
Good for: Wealth and love.
Note: Bring eight lotuses and five red apples as an offering. There are no flower stalls for lotuses in the area. Wear bright colors.
Walk from Gaysorn Tower to the Ratchaprasong intersection for Erawan shrine.
Good for: Overall.
Note: Offerings sold on the spot and often crowded, no need to bring anything.
Lunch break: There's a Thai restaurant inside the Grand Hyatt Hotel right next door to Erawan Shrine, You and Mee, with solid ka prao khai dao that is a must (B310). Other must-trys are hoi jor (deep-fried crab rolls, B210) and pork noodles in longan soup (B400).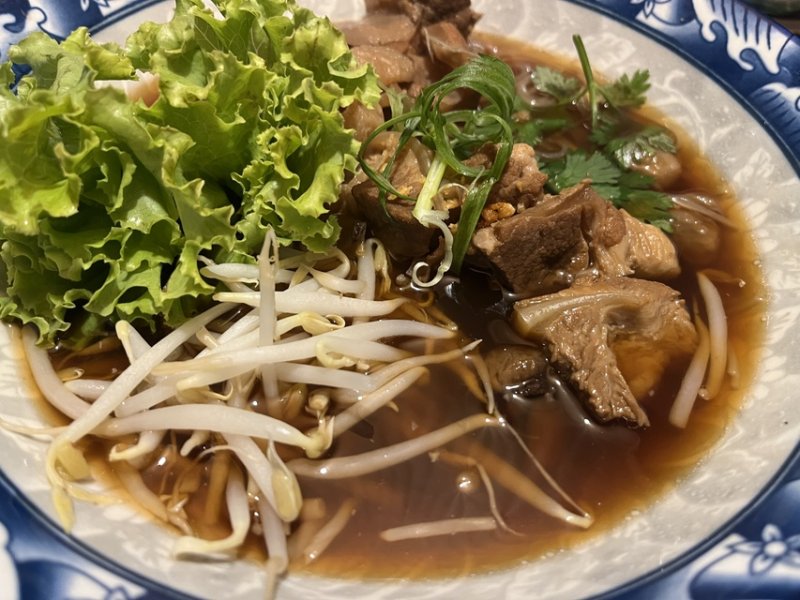 Taxi to Wat Hua Lamphong, but instead of stopping at the actual space temple, tell the driver to go past it to the intersection, take the far left lane, turn left, and you'll find Ruamkatanyu Foundation Hua Lamphong where you can donate coffins for those who died without families.
Good for: Thais believe that donating coffins for those in need is one of the greatest merits you can make.
Taxi to Wat Suthat Thepwararam Ratchaworamahawihan. Built in 1807, make sure to take some time to walk around and check out the architecture while paying your respects and making merit.
Good for: Work and success. Flowers are sold at the temple for donations.
Walk to Hindu temple, Devasthan. Even if you're not religious, this place is a must visit; the Hindu statues are breathtaking.
Note: There are instructions on which Hindu god to pray to first, and there's no need to bring any offerings—but please remember to dress appropriately.
Walk to
Mont Nom Sod
for an afternoon snack break. A classic Thai dessert place since 1964, serving hot toast with jam or pandan (B20/piece) as well as different types of sweet milk tea (B35-40).
Taxi to Wat Chana Songkhram Ratchaworamahawihan. Built in the 1780s, the name means "winning wars" and dates back to Thailand martial victories.
Good for: Power over enemies.
Taxi to Bangkok City Pillar Shrine. It's believed that the angels and gods of the city here protect Bangkok, and if you live in Bangkok, it's recommended to pray your respects here so you can be protected, too.
Good for: Success and power.
Walk to Wat Pho. By the time you've reached this destination, the sun will be setting, so a walk along Wat Phra Kaew during sunset to Wat Pho is recommended. Wat Phra Chetuphon, commonly known as Wat Pho, is now one of Bangkok's main tourist attractions so be prepared for a big crowd. This is where the big reclining gold buddha is.
Good for: Overall success.
Lastly, taxi to Sri Maha Mariamman Temple, more commonly known as Wat Khaek, and pray to the Hindu gods again.
Good for: The Maha Uma Devi goddess is known for bringing you luck in love, but you'd have to be very specific in what you want.
Have dinner
at
Sri Ananda Bhawan
, an underrated and affordable south Indian place. Start with Panipuri (B80) as your appetizer and order one of their thali sets (B230-550 depending on the meat option) for your main.
Start at 10am at Gaysorn Tower, and you will finish dinner around 7:30pm. And, now, with your soul warmed, you're ready to hit the bars of
Silom/Sathorn
—
Vesper
,
Mezcal
,
Mahaniyom
, and Sinnerman, to name a few.
Additional reporting by Raenuka Fangtong and Pongsatorn Jaroenngarmsamer.