BAR
Mezcal Bar
Come for the tacos, but stay (very) late for all the strong and smoky drinks.
The buzz: If you love strong, smoky cocktails, Sathorn's latest boozer, Mezcal Bar, should be on your bar-hopping list next time you are in the neighborhood.
The vibe: Even if you don't like mezcal, it's still worth turning up. The venue is tiny and you'll need to squeeze your way past cigarette smokers sitting at the outdoor tables to get inside, but once you're through, you'll love it. The extravagant decorations and cirque du soleil shows on the bar counter (quite literally people swinging through hoops above the bar and dancing) go hand in hand with stiff drinks.
The drinks: All the signature cocktails are mezcal-based and come with the latest in mixology gimmicks from smoke-filled bubbles to chili on the rim. For something creamy and flowery, grab the gardenia fizz (Mezcal Joven, passionfruit, heavy cream, and soda, B380) or a simple "double bark" (Tequila Reposado, strega, orgeat, and bitters B340). Shots and sips of tequila neat come in jicara—small, woody containers commonly used to drink mezcal and other beverages in Latin America.
The food: The food is refreshingly traditional but with some big twists. If you're here for the 'gram, you'd be mad not to try the giant tiger prawn taco (B895)—a huge prawn with onion escabeche and chipotle hot sauce on your choice of tortilla. For something a little less intense, grab the pork pibil (B225) or the beef birria (B245).
Why we'd come back: While the food menu is only a fraction of the size of the drinks menu, it's so worth coming back just to keep eating all those (admittedly pricey) tacos. Pair the food with a stiff shot of mezcal, and your weekend is all set.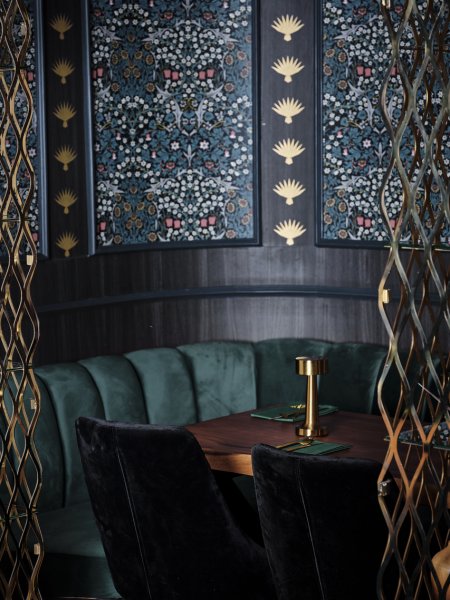 Venue Details
Address:
Mezcal Bar, Rainbow 101, 101 North Sathorn Rd., , Thailand
Phone:
06-1281-6969
Opening hours:

Wed-Sun

6pm-midnight

Report a correction