When Speedy Grandma gallery opened on Charoenkrung Road in 2012, it might as well have been in Nonthaburi for a young, downtown population raised on the social life of Sukhumvit and Silom. The area felt like a different world. Charoenkrung was for hotel brunches. It was where you headed to get on little boats shaped like temples to ferry you over to the Peninsula. It was for eating in hole-in-the-wall duck noodle restaurants. It was for peering in the window of antique shops and thinking "maybe, one day." It was not for going out partying.
But a community emerged. Through regular openings that would morph into wild parties, Speedy Grandma turned its tiny little Charoenkrung back soi into a byword for an alternative crowd happy to have found a creative community blossoming in a part of town that felt raw and exciting.
In the intervening years, Charoenkrung has shaken off its out-of-the-way reputation. Most of the action has focused on Soi Nana—not actually on Charoenkrung, but just off it on Yaowarat—and the Talad Noi area, where the team who introduced live music venue Soulbar also opened Foojohn just up the road at the start of this year.

Foojohn
Now, though, the neighborhood feels like it's on the precipice of real change. As architect Duangrit Bunnag opens the doors to his Warehouse 30 project, which sees a collection of old World War II-era storage facilities overhauled into designer boutiques and coffee shops, he's joined by a wave of independent bars, restaurants and creative spaces just one street over on Charoenkrung Soi 28, the little alley where Speedy Grandma continues to host some of the city's most challenging art exhibitions.
---
Start of Something
Duangrit has long championed Charoenkrung's potential as a "creative district." And even before him, you could hear the same phrase from Pieter Compernol, the Belgian furniture-maker behind P.Tendercool's tables (stationed in the same complex as Warehouse 30). Compernol has been living and working in the area since long before even Speedy Grandma opened—in fact, the gallery's located in his old family house. Recently, though, his "creative district" prophecy has really started to feel like it's coming true. With the neighborhood's old, cavernous buildings and low rents (three stories for B20,000 is still a reality in these parts) attracting more and more young entrepreneurs, it's with good reason that people are murmuring things about this strip of Charoenkrung like "Bangkok's Soho." Supplement cast iron loft apartments for narrow, crumbling shop-houses, and the similarities are there.
"I think there's definite truth in that," says Chet Adkins, a Florida native who first came to Bangkok in 2013 as the executive chef of Ku De Ta (now Ce La Vi), the glamorous Japanese restaurant that sits atop Sathorn Square skyscraper. Now, Adkins is preparing to open his own sake bar and upscale izakaya, Jua, right beside Speedy Grandma, in partnership with Bangkok-based photographer Jason Lang. "It gets to a point when areas of a city are saturated and artists don't want to be around them. It's not great to be a creative in an atmosphere like that, so looking for someplace else is a natural progression."
These days, the first thing that greets you when you arrive on Charoenkrung Soi 28 is the bright neon pink sign of Chet's other business, a coffee shop and burger joint called Little Market. It's a lone pop of color from between the classic Charoenkrung patina of weather-worn walls, dust-covered potted palms, skinny street cats and scooters. That is until you look across the street. Directly opposite Little Market shines the newly painted, colorful mural of Tropic City, a rum-specializing cocktail bar from a pair of Swedish bartenders who made their names pouring the drinks in Sapparot Group's swanky Thonglor and Sathorn haunts, Lady Brett, UNCLE and Rocket Coffeebar.
"We actually planned on doing something along Sukhumvit," says Sebastian De La Cruz, one half of the bar's cocktail-making team. It's a Wednesday afternoon, two days before the bar's unofficial opening, and Seb and his business partner, Philip Stefanescu, are on-site to pose in Hawaiian shirts for photos that'll run in another magazine quick to sweep up the news of a new Charoenkrung bar.
"We've never loved Sukhumvit. But just as we were about to sign the contract, we found this through the guys at 80/20," he continues, referring to the Thai-influenced tapas restaurant which sits just at the corner of Soi 28, another formative player in this stretch of Charoenkrung's creative reinvention, and a restaurant whose talents have quickly won the admiration of Bangkok's foodies.
"It's a big risk moving here," adds Philip, equally as down-to-earth and beardy as his cocktail-making other half. "We actually knew nothing about the neighborhood. People would say to us six months ago, 'Why!?' Now those same people are like, 'Oh, you were right, that area is so cool right now.' But we love the area, it's so much more calm than central Bangkok."
With its tropical flower motifs, white-washed brick walls, mid-century appointments and colorful Portuguese tiles, the bar is a lesson in "now"—a medley of tasteful trends tied together with a boozy menu that hopes to kick it with the very best cocktail bars in town. In the same building, right above Tropic City, sits Black Pig tattoo studio, where Japanese-American artist Luke Satoru took up residence a little over a year ago, around the time that 80/20 was opening.
"We looked at a number of buildings around Nana and here but our main focus was to get off Sukhumvit and be somewhere with community," says Satoru. "When you're trying to do something unique and special, you don't want to get lost in the noise. This destination is not run of the mill."
Far from it. Soi 28's buildings—some old factories, some storage units, others later, red-brick residential additions—are unusual even for Charoenkrung. The corner property where Jua will soon open was, until recently, an illegal casino. "There was a guy living there, running the games," says Adkins. "They had to get the police to get him out about one year before we took it over. It was in disarray."
---
Old Meets New
For the best part of post-war Bangkok history, the neighborhood has been home to merchants, tailors' factories, gem stores and street vendors who still make up the vast social mix of this part of Charoenkrung. Even now, when Tropic City opens for business at nightfall, it's mirrored by the bright strobes of a tailoring facility, the workers at their sewing machines standing in total contrast to the cool young things swigging B350 pina coladas across the street.
It lends drinking on Tropic City's terrace the kind of under-the-radar, exciting edge that all the faux-secret bars in town would pay for. But it also raises the concern that, with the extra spending power and social cache that businesses like Tropic City bring to the neighborhood, might they risk driving out the old community vibe that made it feel so special in the first place?
"I don't think this area is in any danger of losing its atmosphere so long as we have the same goal: keeping good relations," says Adkins. "I think the heritage of this area is so carved into it. If the prices go up then maybe this situation might change, but I don't see that happening for a long time. I get so surprised every time I come down here by how beautiful this area is, and how different from Sukhumvit."
Not everyone shares his optimism. Lee Anantawat, the founder of Speedy Grandma, says that, while in general the community has been welcoming of the recent openings, the rising costs that come with a gentrified area are beginning to rear their head.
"There has started to be some problems here," says Lee. "The landlord of one block of buildings is going to raise the rent drastically in one go. So it has been quite a shock for the people living there. The landlord was quite nasty about it, just said if you can't pay then go away. So I'm not sure in terms of this creative district thing, this gentrification thing… how concerned are they really about the local people who've been living here for 30 years? The reason people want to move here is because this area has local communities. It won't be the same if it's just bars and shops. I hope TCDC [Thailand Creative & Design Center] can use its influence to somehow make the landlords more generous."
The relocation of TCDC, Bangkok's foremost design library and creative resource center, from Sukhumvit to Charoenkrung is another of the neighborhood's recent coups. Duangrit Bunnag, the architect behind five-star resorts nationwide and founder of the riverside's other success story, Jam Factory, is not ignorant to the changes that TCDC and his latest project, Warehouse 30, will bring to the area.
"We've been having a controversial conversation about that," says Duangrit, in reaction to Lee's concerns. "Cities change all the time. Local businesses are still here and doing quite well. Actually, food businesses will be better than before, thanks to more people and foot traffic coming to the district. It's an organic, natural change."
Still, he tries not to be too sentimental about what he sees as inevitable, and not always worse, consequences for the area's social fabric. "The city and world economy are always moving," explains Duangrit. "We cannot keep everything the same. Community businesses also have to change themselves. The creative district idea is a polemic way to push them to be better. It's not fair that people get kicked out and land prices get higher, but if that happens here, there is also opportunity; they can think from the domain of creativity and how they can fit in here."
---
Foreign Bodies
One of the major changes to fall on the neighborhood is the arrival of Western foreigners. There is no disguising the fact that expats are behind much of the entrepreneurial drive happening on Charoenkrung. While the Bangkok born-and-bred Duangrit may have implemented the big-budget projects like Warehouse 30 and TCDC, it's largely Scandinavians, Americans, Australians, French and Spanish who are taking over the shop-houses.
Lee sees this as purely economical. "I guess it's the rent," she says. "I think in general most Thai artists can't afford to rent their own art studio here. They would rather live in their family house. Thinking about creating a business by themselves is even harder. And then, in terms of bigger businesses, Thai business people don't like this kind of area—in an alleyway, no parking lot—it doesn't suit their business model."
Among the first foreigners to spot the potential in Charoenkrung's cheap rents and characterful shop-houses was French national Thomas Menard. Once a tenant (and still a partner) at Lee's Speedy Grandma, he went on to open art space Soy Sauce Factory one block across, and has his hand in other Charoenkrung businesses from Jua to Soulbar.
"In Thonglor, you can spend a lot of money on a place and in the first year things will be buzzing, you'll make a lot of that back, but it's hard to make it last," Menard told us back in 2015, when he was just about to open Soy Sauce. "Here, rent and renovations can be cheaper, you can charge B200 for cocktails, not B300, but you have to be in it for the long haul. I have my team and we did all the renovations ourselves. Soy Sauce took about four months, but it's very minimalist. The most expensive thing was adding air-con."
To Duangrit, the creative drive from Bangkok's expat community fits in with a pattern of past Bangkok development. "People from the outside have a different perspective," says the architect, in a speech that would feel at home on a Ted Talk stage. "Foreigners have the capacity to see an old building and think, wow that can be a bar. They've lived in a different context and haven't seen this every day. If you track the commercial aspects in Thailand, it all started that way: foreigners starting something new and later Thais embracing the idea and deciding to develop it in their own way. It's natural."
The community forming on the Chao Phraya's eastern bank could not be more different from the big-scale, government-led changes to reinvent the Thonburi side of the river into the Bangkok River Promenade. With 5,400 concrete pillars set to be pile-driven into the river to build what Duangrit describes as "an expressway for pedestrians," the city has already lost the potential for riverside regeneration that the architect envisioned when he opened the Jam Factory. Over on the Charoenkrung side, however, things have the potential to keep developing at the pace they have been. With five-star hotels robbing the shop-houses of riverside views, and no MRT station earmarked for direct access to the neighborhood, big business has so far looked on the area with a consistent, "meh." And while the occasional Seb or Chet might cause rents to rise, at least they don't arrive in bulldozers.
---
HIP HAPPENINGS ON CHAROENKRUNG OVER THE LAST SIX YEARS
2011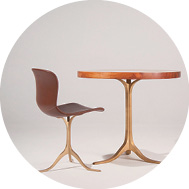 P.Tendercool
2012
Speedy Grandma
2014
Soy Sauce
2015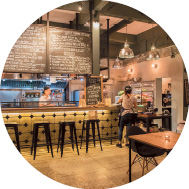 80/20
2016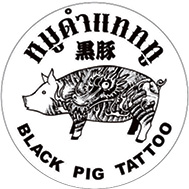 Black Pig
Foojohn
2017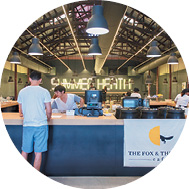 Warehouse 30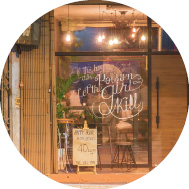 Tropic City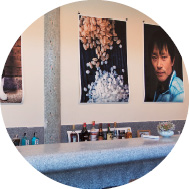 Jua