---
From its cool restaurants and buzzworthy cocktail bars to its stylish co-working space and contemporary art gallery, this is why Sukhumvit Soi 49 is one of Bangkok's most livable 'hoods.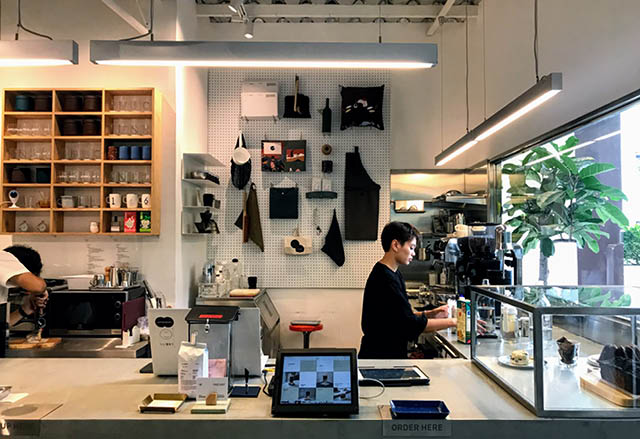 Coincidence House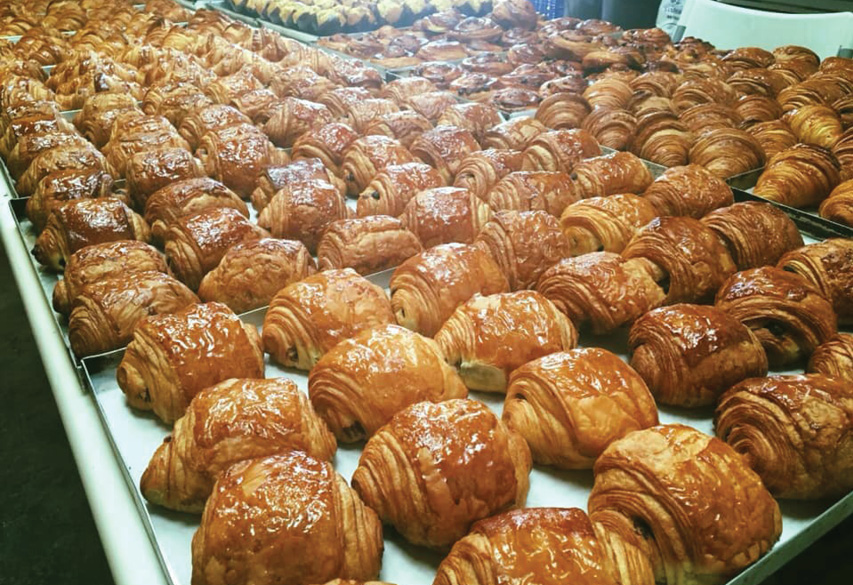 Conkey's Bakery
Coffee & Breakfast
Start the day with a frothy black and cream (B140) coffee at
Coincidence House
(Sukhumvit Soi 49, 063-425-6018) or with a flat white (B115) at
D'Ark
(Piman Soi 49, 02-662-7900) and then get your fill of daily-baked crusty baguettes (B120) or buttery brioche (B380) at
Conkey's Bakery
(The 49 Terrace, 083-040-5911). For something more filling, head to
The Coffee Club
(Piman 49, 02-221-4413) for smashed avocado with poached eggs (B260), or the pastel perfect
Haus of Kanom
(Sukhumvit Soi 49, 02-391-2428) for hearty Hong Kong congee with soft-boiled eggs and
pa tong go
(B90). Looking to indulge?
Sweet Chu
(Sukhumvit Soi 49) serves tasty milk tea and Milo shaved ice (from B100) while
Peace Oriental Teahouse
(47 Sukhumvit Soi 49/1, 063-637-0508) offers its tooth-rattling Houjicha Extremist ice cream (B240).
Broccoli Revolution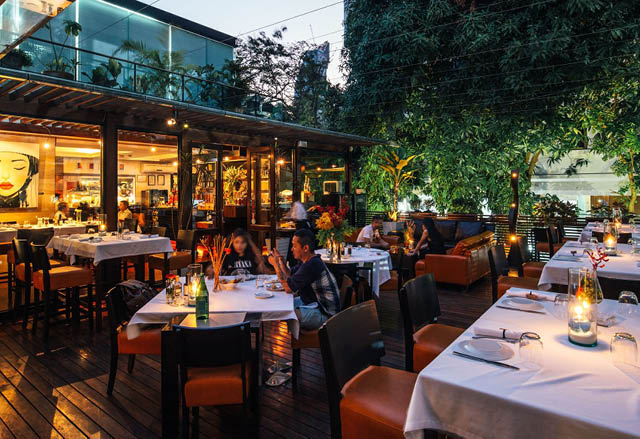 La Bottega di Luca
Lunch & Dinner
Sukhumvit Soi 49 is lined with great spots to fill up, including some killer vegetarian places. Go to
Broccoli Revolution
(899 Sukhumvit Soi 49, 095-251-9799) for the broccoli quinoa charcoal burger (B290) and tofu satay (B160) or
The Hass Bistro
(1/6 Sukhumvit Soi 49, 099-192-9626) for vegan avocado toast with truffle oil (B145). The meat-inclined should hit up
Pizza Massilia
(1/8 Sukhumvit Soi 49, 02-015-0297) for the mouth-watering Fassone beef carpaccio pizza (B590),
Andong Jjimdak
(3 Sukhumvit Soi 49, 061-505-5252) for
dolsot bibimbap
(B250) or
Teddy's Burgers
(Sukhumvit Soi 49, 02-004-1065) for no-nonsense, Hawaiian-style cheese burgers (B220 for pork; B265 for beef). Go on a Japanese food trek from
Tempura-Ya
(5/3 Sukhumvit Soi 49, 02-662-4255) for
anago
(salt-water eel) tempura rice bowl (B499);
Peko Hokkaido Kitchen
(5/15 Sukhumvit Soi 49, 083-542-3199) for Ohira beef stew (B650);
Shugetsu
(The 49 Terrace, 097-115-5157) for spicy kara miso ramen (B195); or
Umi
(46/4 Sukhumvit Soi 49, 02-662-6661) for the full omakase experience (B5,000 for around 20 items). For authentic fine dining of a different stripe, look no further than long-standing Italian,
La Bottega di Luca
(The 49 Terrace, 02-204-1731).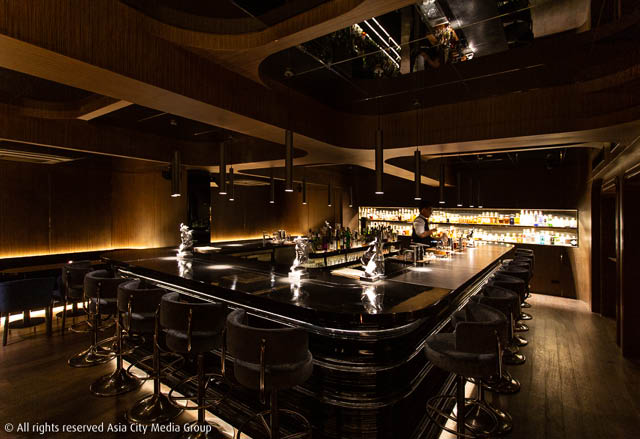 Liberation
Drinks
Don't miss Liberation (Piman 49, 093-654-2500), arguably the most advanced cocktail bar in Bangkok right now (all signature cocktails are priced at B390), then much on Hong Kong-style comfort food at Chu Restaurant and Bar (1/4 Sukhumvit Soi 49, 061-056-5636) while sipping on Chinese-inspired cocktails.
Transport
BTS Thong Lo is less than 10 minutes' walk from the start of the soi.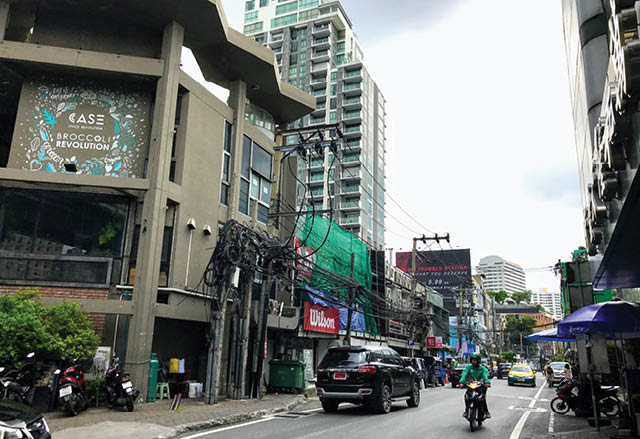 Accommodation
Aequa Residence (19/1 Sukhumvit Soi 49, 092-838-8895) offers 60-sq-meter one bedrooms starting from B42,000/month, while two-bedroom apartments at Liv@49 (9 Sukhumvit Soi 49, 02-662-5357) start at B30,000/month. Close by, Via 49 (Sukhumvit Soi 49, 02-662-8370) offers 85 units from B17,000 to 85,000/month.
Case Space Revolution
Norse Republics
The Hive
Visit
Relax and unwind at Calm Cottage (Sukhumvit Soi 49, 02-077-7172; B3,550 for Cottage Rejuvenation Package) or soak it up at Kashikiri Soda Onsen (Sukhumvit Soi 49, 081-268-4624; B2,800 for the signature Onsen and Scrub). Get work done at The Hive co-working space (Piman 49, 02-662-6062); shop for stylish mid-century Scandinavian furniture at Norse Republics (Sukhumvit Soi 49, 02-062-1211); and take in quality art at Case Space Revolution (2/F, Broccoli Revolution, Sukhumvit Soi 49, 02-662-5002).
---
BK ASKS
What's special about Sukhumvit Soi 49?

San Sephu, co-founder of Coincidence House
"This peaceful soi is an interesting cultural hub with lots of cool international cuisines and hangout spots. Getting around is really convenient, too."

Michael Conkey, owner of Conkey's Bakery
"There's a great mix of people here—Japanese, French, Korean and more. Our little shop feels like a mini UN! Restaurants and bars are also all in walking distance."
Naya Ehrlich-Adam, founder and managing director of Broccoli Revolution
"It's a hidden gem for many locals. You can find cute and charming restaurants, bars and shops, plus many small sub-sois that connect to other sois in Sukhumvit."