---

Top 5 Albums
Inspirative—Mysteriously Awaken

Final Kid
The second album from the veteran post-rockers is even more intense than what preceded it. The album is almost entirely instrumental, but the melodies say more than most words.
Best songs: "U Mong Wayla," "Kae Adeed" and "After 27 Years, I'm Alive"
This vintage pop band keeps going from strength to strength, even if some of the songs here are a few years old (see below). Packed with toe-tipping ditties about getting away from it all, this is the perfect road trip album.
Best songs: "Vacation Time," "Would You Mind" and "No Way No."
DCNXTR—DCNXTR

Comet Records
Their single "Beautiful Moment" was one of our favorites of 2014. Now the synth duo (fleshed out to a four-piece live) have released an album full of '80s-inspired electro. No wonder they've scored all the plum support slots (Neon Indian, Battles) this year-end.
Best songs: "P./Again," "Summer Rain" and "Beautiful Moment."
Slur—B

Smallroom
Though they're not the young, freewheeling rockers of the early years, this album is a return to oldschool Slur songwriting after their last experimental release. First single "Popular Vote" is an instant classic.
Best songs: "Heart Joy," "Us" and "Barking Dog."
Wednesday—Lazarus

Colorcode Records
Put Suksriwan is the drummer in the indie super-group Basement Tape. His previous solo album was a hushed exercise in looping. This is an altogether noisier beast, filled with programmed drums and screeching guitars—coming off like some psychedelic soundtrack to deep space exploration.
---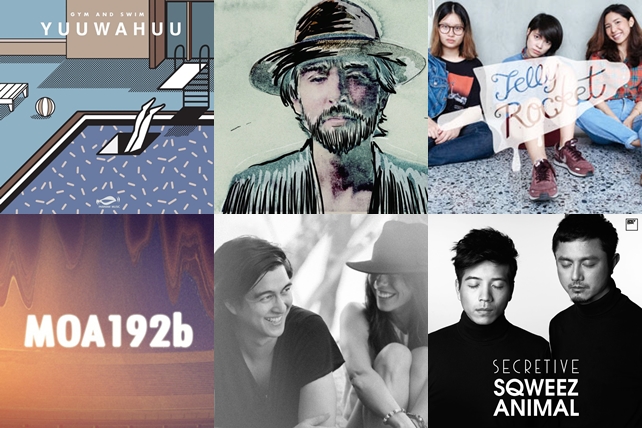 Top 10 Singles
Sqweez Animal—"Secretive"
The duo's final single before the untimely passing of guitarist Singha hinted at a seductive electro-pop direction. Heartbreaking.
UNDA—"Kowloon"
Comet Records' second compilation gathered pretty much all our favorite electro acts in the capital. One track that really stands out comes from this Atlanta-via-Bangkok producer/ emcee. Fusing R'n'B, electronica and soul, "Kowloon" is unlike anything we've heard out of Thailand.
Modern Dog—"Today Last Year"
Who needs to teach a dog new tricks when the old ones work so well? This is the same heart-on-sleeve post-rock we've come to expect, as polished as ever.
Solitude is Bliss—"Rich Man's War Poor Man's Blood"
This Chiang Mai-based alt-rock band first came to our attention earlier this year for their blistering live show. This first single from their new studio album, Her Social Anxiety, adds a touch of country (and politics) to the formula.
Lala—"MOA192b"
This duo do some of the strangest psych-pop you'll hear in Bangkok. Gorgeously produced, we were sold on this motorik-style track after just one listen.
Hugo Chakrabongse— "Hailstorms"
The lead cut from Hugo's second studio album blends country with a dose of smoky, old-school R'n'B.
Montonn & Hana—"Be True"
Montonn Jira was deeply involved in Hugo's latest well-composed album (see above). This year he also teamed up with Swedish singer Hanna L. Bengtsson for this slice of folksy pop that's simply way too pretty.
Jelly Rocket—"Luem [Forgotten]"
We wrote about these guys non-stop in 2014. And they started the year on fire with this single which seems to take more influence from modern R'n'B than the usual dream-pop touchstones.
The Yers—"Seb Tid Kwam Jeb Puad"
The punk-rockers returned with possibly their most head-banging track to date, which ended up scoring a slot on the soundtrack to Hormones The Final Season.
Gym and Swim— "Yuuwahuu"
This synth-pop band's second single of the year was somehow even catchier and more upbeat than previous offerings.
---
Top 5 Gigs
The Hostess Club (Feb 19)
The arrival of this Japanese minifestival provided the perfect start to the year for indie-heads. Two nights jam-packed with the likes of Belle and Sebastian, The Thurston Moore Band, Tune-Yards, Real Estate and, our picks, Caribou and Temples.
Pete Doherty, Moose (Feb 12)
We knew the Libertines' bad boy had been in Thailand for rehab and to record new music with his best bud Carl Barat. But out of the blue, he announced an intimate gig at Moose. Tickets sold out in one night for the chance to see Doherty in all his sweaty, poetic glory. Next time at BITEC, please.
How to Dress Well, Overtone RCA (Feb 17)
In one of the rare instances when Dudesweet threw a party that wasn't to celebrate Dudesweet, they brought in American singer/songwriter Tom Krell, whose fractured R&B-indebted tunes reduced the sold-out crowd to awe-inspired silence (well, bar one loudmouthed lawyer).
Peel Slowly and See by The World May Never Know, Moose (Apr 5)
The tiny venue was shaking at this gig showcasing the hottest sounds of young Thailand, from psychedelic (Tugsuk, Chladni Chandi, Chiang Mai's Ugly Mountain) to all-girl punk (Bobkat) and buzzing noise-pop (Triggs & the Longest Day). Intense.
Neon Indian, Live RCA (Nov 26)
Talk about mind melting. Alan Palomo's synth-led chillwave tracks like "Deadbeat Summer" and "Should Have Taken Acid With You" more than lived up to their names and worked the crowd into a frenzy.
Special mentions:
Awesome Tapes from Africa
(Studio Lam), Gilles Peterson (Sing Sing), Hinds (Grease), Lifafa, Yaan and Lala (Jam), The Prodigy (BITEC)
---
Decade of the Year
The '90s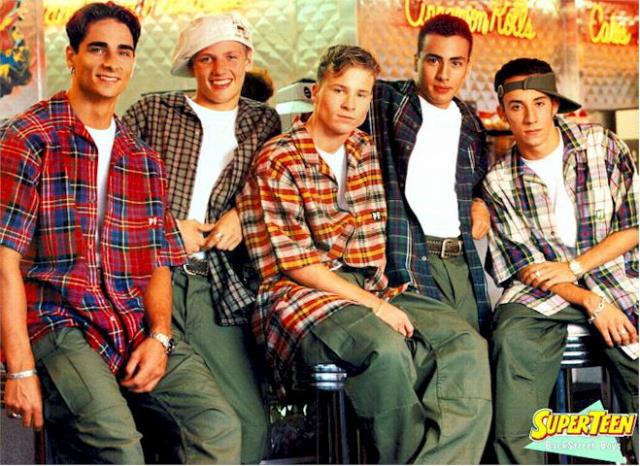 Just let it go. Were we the only ones a little jaded by all the '90s reunion concerts and comebacks this year? If it wasn't local post-rockers Goose, grunge queen Ornaree or alt-rock vets Death of a Salesman returning to the stage it was electronic pioneers like Kidnappers and Mr. Z rolling out new singles. And then there were tours from
Backstreet Boys
, Boyzone, Blue and Michael Learns to Rock. And just how many more times can
Joyce Triumph Kingdom
be plugged as a "surprise guest"?
---
Music Video of The Year
Singto Numchoke—"Chan Ja Mee Ter Yu"
It's a music video formula you've seen a million times before: singer-songwriter gets other people to sing his song. But it works. We had goosebumps seeing Singto performing in front of a white screen as snippets of his fans' cover versions flicker by.
---
Best New Music Media
Fungjai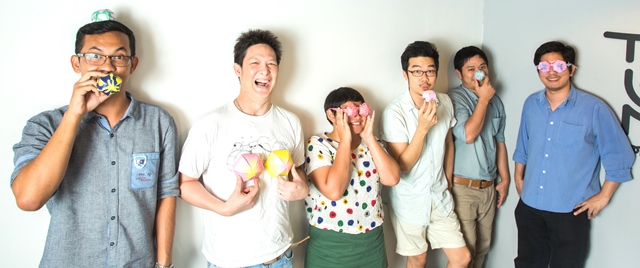 This online music streaming service soft-launched in the middle of last year, but 2015 was the year Fungjai proved that it's more than just the Thai version of Spotify. Its website is now the go-to spot for news about new and unsigned bands from around the country. They also throw a hell of a good gig, as demonstrated by last week's Fungjai Loy (Dec 4) at Bangkok City City Galley.
www.fungjai.com
---
Busiest Music Promoters
It was a big year of international touring acts. Mind the Gap made their long-awaited comeback with the likes of Canadian experimental dream-pop band Braids, beat poet Jeffery Lewis & The Jrams and American experimental rockers Battles (Dec 9). The unbeatable Have You Heard? were also on top-form, especially towards the end of the year, with US lo-fi twins The Garden, psychedelic pop act Neon Indian and Perfume Genius (Dec 8). Now whenever regional festivals announce their lineups, we keep our fingers crossed for good news from these two.
---
Festival Whore Award
(AKA Best Bands That Appeared Way Too Often in BK Now)
---
Best Comeback
Well, you can hardly call it a comeback. But we
heaped praise
on these guys when they first popped up in 2013. And then everything went quiet. Now, the band has signed to new label Tigger Music with a more mature (yet still rocking) single "Coming of Age." A full album is slated for next February, when we expect them to go massive.
---
Most Consistently Awesome Live Act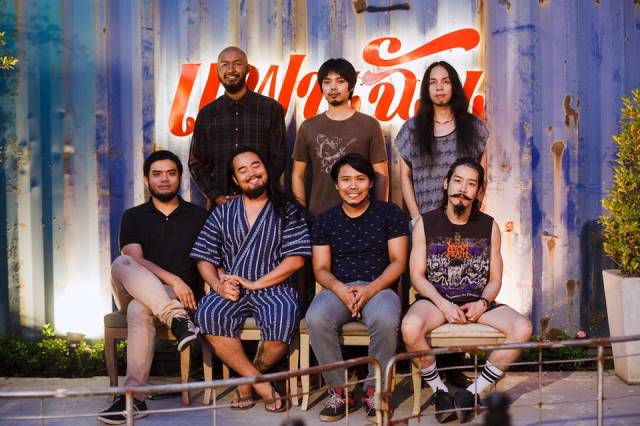 It's fair to say metal doesn't get a lot of love in BK. But this motley seven-piece are pushing the boundaries of heavy rock to almost operatic levels. The dual frontmen know how to work a crowd, while their rousing set lists are just as likely to entangle in a circlepit as have you crying into your beer. Catch them this weekend at Khao Yai's Grass Tone music festival or stay tuned for a new music video before the end of the year.
---
The Biggest Losses to the Thai Music Industry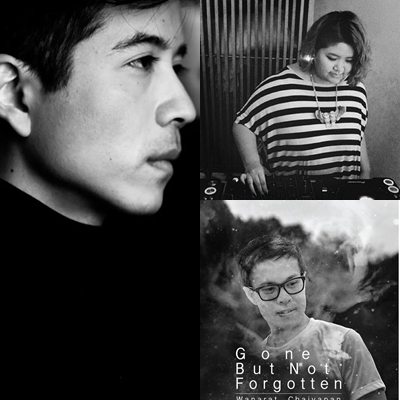 Despite all the cool new music, 2015 was also a sad year for the industry. A fond farewell to those who left us this year: Prachatip "Singha" Musigapong, the super-talented Sqweez Animal guitarist; Wanarat Chaiyapan, vocalist and guitarist for Assajan Jakrawan; and Songsumon Poshyanonda, also known as DJ Pom Pom, one half of the electronic band Diet Pills.
---
The Stop Already Award
Silly Fools
While original frontman
Toe Sattaying now sells amazingly cheap tomahawk steak
(as Company B), the rest of the legendary '90s alt-rock band Sillyfools show no sign of giving up the ghost. Following Benjamin Tuffnell's injury in October, they're now on to singer number three. They're trying to keep things kind of secret (the new guy wears a Getsunova-style mask), but it's all just getting a bit silly.
---
Best New Places for Live Music

This semi-alfresco, Marrakesh-inspired bar has different styles of rock-driven live music daily, including highly-touted acts Young Man and The Sea and Jinta.
164 Soonvijai Soi 14, 02-318-1415
This bare shop-house has been transformed into a hub for art, concerts and craft beer meet-ups. Come the weekend, you're assured everything from the recurring YoMoFo gigs to Dudesweet parties, plus international acts like Have You Heard? presents The Garden.
Silom Soi 8, 087-061-1117, BTS Sala Daeng
This intimate Charoenkrung bar never fails to disappoint with its live soul from Tue-Sat. Recently, they've also branched out with food trucks and more diverse gigs like last month's visit from Indonesia's retro pop act White Shoes & the Couples Company.
945 Charoenkrung Rd., 095-521-1541
---
Massive Hits We Had Enough of in 2015
The Parkinson—"Ja Bok Ter Wa Rak [Tell Her That I Love]"
Yep, we preferred it when you stuck to Maroon 5 covers rather than songs that sound exactly like Maroon 5.
Part Time Musicians—"Vacation Time"
OK, the album just came out. But this single is two years old, people. Two. Years. Old. There's only so much jangly cuteness we can take.
Getsunova –"Stay [OST. Saga, I'll Miss You]"
Welcome back, Getsunova! However, listening to this remake of Palmy's 2003 hit makes us realize just how better music is when it has just a hint of real emotion.
---