Best 2014 Albums (Top 5)
The Paradise Bangkok Molam International Band - 21st Century Molam
The Isaan revival showed no let-up in 2014, with the launch of record label-cum-live venue Studio Lam, Parking Toys Watt and, this, the debut album for Maft Sai and Chris Menist's globe-trotting molam project. Showing just why they've become a must-watch act on the Europe touring circuit, molam has never sounded quite so progressive as on dance-oriented deep cuts like 'Lam San Disco.'
Vinegar Syndrome - Coming of Age
We got to know the alt-rock duo Wuttinun Chamchoi and Korn Mahadumrongkul of Vinegar Syndrome back in April 2013, thanks to their single "Koey Koey" being used on the soundtrack to the film Boundary. Their first full-length album proves that this band can not only produce a fully-formed rock sound, but also well-written, poetic lyrics. Quite a rarity on the Thai music scene.
Hariguem Zaboy - Thick Mink
The band has been rocking out shoegaze and synth music at Harmonica ever since they first formed in 2006—in fact they were some of the first to bring such dreamy rock stylings to Bangkok. Despite that, they only got round to their debut full-length this year, which is filled with toe-tapping tunes like "Anybody Feels" and the floaty "Tender Mind."
Degaruda - s/t
Self-written and produced by members of Japanese-Thai rock sensation Aire and hardcore punksters Lowfat; this is in-your-face stoner rock that feels alive, unpretentious and dirty. Be sure to catch them live at one of their many live gigs, detailed on their Facebook page.
Yellow Fang - The Greatest
The independent, all-girl group are another band who marked their name well before 2014, but this long-awaited debut release of dreamy garage-pop/rock was worth the wait. As well as old hits like "Keb-pa," it also features new tracks like "I Don't Know" and "Doo-Si-Long" feat. Gene Mahasamut.
Best Singles of 2014 (Top 5)
Polycat - "Chapter 3"
It's a guilty pleasure to tell people we really like Polycat's music. This track alone is evidence of how strongly 80s-inspired synth-pop took over the mainstream this year. It's super catchy, but in a good way, with a strong arrangement and snappy lyrics. Not what we expected from this band.
Triggs & the Longest Day - "By the Sea"
Tokin Teekanun's side project basically features the biggest hipsters in Bangkok, which did make us wary at first, but with "By the Sea" we were won over. Yup, it's as painfully hip as you might expect (with an MV to match), but they just manage to pull it off.
The Whitest Crow - "Give up on Love"
One of our picks as a band to watch in 2013. Rats Records' third signing are a young, psychedelic rock band who emerged with a somewhat trie-hard first single, "Be With You." All is forgiven with this groove-laden third release that's full of swagger. We also love the video's artful look at Pattaya's less-than salubrious nightlife.
DCNXTR - "Beautiful Moment"
In a year that spelled dreamy and electronic, these guys were some of the dreamiest and most electronic out there. After a quiet debut in 2012, tucked away on a Comet Records compilation, the band finally made their mark with "Beautiful Moment"—a toe-tapping oddity that samples Charlie Chaplin in The Great Dictator.
Plot - "Mai Mee Arai Mai, Mang Kor Kao Mod [There's Nothing New]"
The phenomenon of director Nawapol Thamrongrattanarit's Mary is Happy, Mary is Happy carried well into 2014, and made its impression on the music scene with this, the most convincing record to come out of the various indie acts who composed songs from Mary Malony tweets. Be sure not to miss seeing this three-piece live.
Best Gigs (Top 5)
Lee (asano+ryuhei), Jam
Lee Asano is a Japanese artist living in Bangkok who likes to put on art exhibitions and get naked. A lot. He also makes beautiful music that pulls from disparate directions: hip-hop, folktronica, glorious old samples. This night as part of the awesome-but-short-lived Thursday-night CRM sessions was a real sense of occasion. Packed out and with plenty of nudity.
Pop Circuit Vol. 1, Badmotel
Badmotel invented the free mini-concert night Pop Circuit this year, and kicked it off with a bang thanks to DCNXTR and Cut the Crab. The second-floor room was not only packed with people, but also quality music from two of the best live electronic acts in the city.
Deerhoof, Harmonica
The San Fran noise-punk act tore up Harmonica from one of the beloved venue's final gigs. Seeing Greg Saunier drum live was a revelation.
The Paradise Bangkok International Molam Band, Parking Toys Watt
California might have Greg Saunier, but Bangkok's got Arm Phusana, who, along with the rest of this world-conquering molam group, never performed better than at Parking Toys Watt's inaugural concert.
Wild Beasts, Mongkol Studio RCA
The British electro-pop four-piece had previously announced a gig in Ho Chi Minh City, Vietnam, on Nov 12, and it looked like we'd miss out. But thanks to a last-minute cancelation and the efforts of Have You Heard?, they came to our shore. And totally killed it.
Dune Rats, Play Yard by Studio Bar
Popscene was the most hyperactive gig organizer of the year, but this concert from the Aussie surf-punk trio was their best. Small, at just about 100 people, but filled with energy.
The Worst No-shows: Rumors that Never Came True

Chvrches
Despite skipping Bangkok in their first Asian tour of the year back in January, Chvrches attoned when our city appeared on their website with a promised appearance in November. Shame they never followed it up.

Chet Faker
Australia's down-tempo master was going to be one of the highlights of Wonderfruit. Until his name joined New Order in being dropped from the lineup.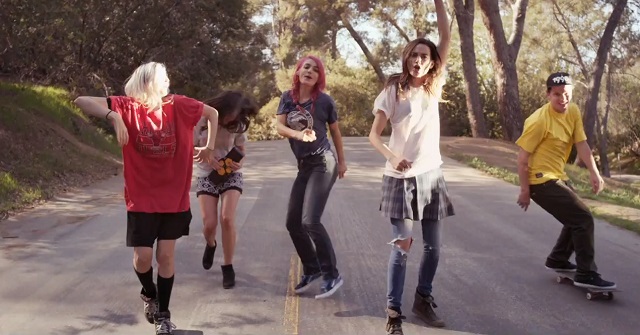 Warpaint
Warpaint live in Bangkok?! No. Just the unsubstantiated rumor of Warpaint live in Bangkok.
Best Music Documentary
Y/our Music


Dir: Waraluck Hiransrettawat Every and David Reeve

A fascinating look at Thailand's leftfield music scene that used the country's various styles of music as a metaphor for the divide between urban and rural life. www.fb.com/yourmusicmovie

Y-our Music trailer from King Chain on Vimeo.
Best Emerging Artist We Wrote too Much About in 2014
My Life as Ali Thomas / Jelly Rocket (Tied)
In 2013 it was Yellow Fang (who didn't even get round to releasing an album till now—see above); this year it was the folk-indie stylings of Kunyapak "Pie" Wuttara under the competent production of Tigger Twins records. And even though we once called Jelly Rocket's lyrics "straight from a teenage diary," that didn't stop us listening to, and talking about, their music way too often.
Festival Whore Award

Sqweez Animal / Lipta (Tied)
Obv's.
Best Comeback
Moderndog / Slur (Tied)
Alt-kings Moderndog were back after six years away from music while Slur redeemed themselves from the confusion of 2010's Boong. We can't wait for their next gig.
Best Music Video
Napat Snidvongs - "Kor Hai Ter"
Lomosonic's "Kor" might have been the big viral hit of 2014, but we were much more convinced by director Warut Snidvongs' Michel Gondry-esque production for his brother.