Big Fish
Hua Hin's newest resort's seaside restaurant focuses on charcoal grilling local seafood like whole black garoupa and slow-roasted meats like the 20-hour-cooked Australian wagyu short ribs. Also be sure to order the iced seafood tower, packed with oysters, prawns, mantis shrimps and green mussels, served with Thai-style green seafood sauce. You'll find indoor and outdoor seating, both of which benefit from beach views.
Hua Hin Marriott Resort & Spa, 107 Phetkasem Rd., 032-904-666. Open daily 11am-11pm. goo.gl/lThM0N
Spread around a giant black Thai pavilion right beside the beach, Baan Dum's vast lawn comes complete with laidback seating overlooking the water and live jazz music. Dishes here relate to the color of the house—black. That means squid-ink aplenty in creations like fried squid with squid eggs marinated in fish sauce (pla muek khai pad nam pla) and the seafood "Pizza Baan Dum." They also serve fresh seafood as well.
1d+ Day Artist
This minimal, tiny restaurant is the brainchild of a cool group of local designers who run the brand 100000d (san-d). Though they've brought their signature black-and-white aesthetic to the space, the Thai food is mouth-wateringly traditional—think crispy Thai-style omelet with spicy prawn soup (khao khai khon tom yam goong) and spicy minced pork fritters (larb moo tod). Do try the smoothie made from Thailand's herbal black jelly, chao guay.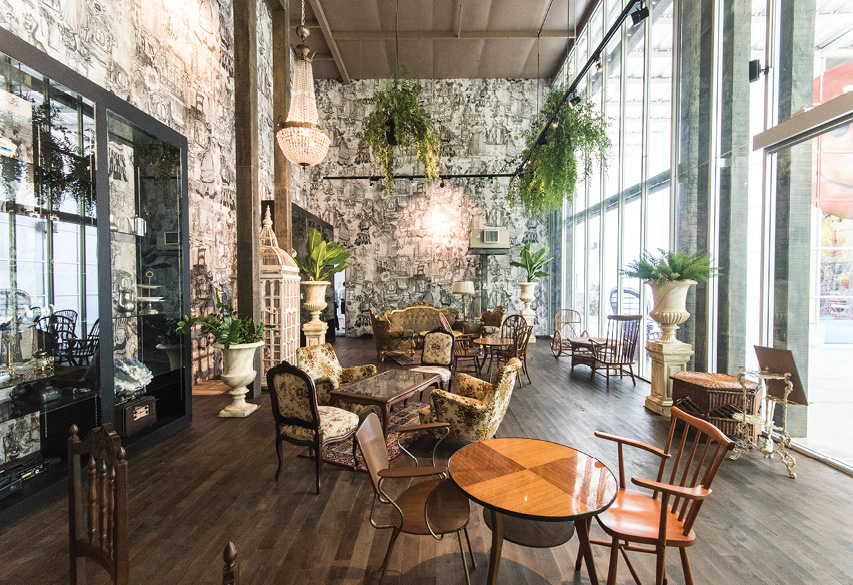 The Tea House
The latest addition to the giant FN outlet mall contrasts its shiny modern shopping mall surroundings with grandiose decor. An antique Indian wooden arched facade frames the tea counter, on top of which resides a prowling ostrich skeleton, while over in another corner stands a suit of armor. Tea comes from Paris's Mariage Freres, while the food menu highlights pastries made with French flour and butter.
Recently shortlisted for the INSIDE World Festival of Interiors 2016, this aviation-inspired eatery features a stunning interior dominated by a full-scale model of the world's first ever aircraft, the 1903 Wright Flyer. The all-Thai menu is designed by one of Bangkok's favorite chefs, Supanut "Ann" Kanarak (previously head of Four Season's Spice Market). Highlights include pomelo salad on fried wild betel leaves (miang som o) and some serious coffee sourced from Northern Thailand.
---
PLAY
Hobs
Hobs is a hugely successful chain of Bangkok beer houses which serve European drafts and craft beer bottles. This latest beachside branch replicates the same formula—easy-going pub-style atmosphere, young local drinking crowd—and transports it to a contemporary beachside development. To go with your brew, grab a bowl of beer-marinated Chilean blue mussels or the house specialty: hot dogs.
SO Sofitel Beach Club
Bangkok's well-heeled and deign savvy have always booked their beach jaunts at this flawlessly chic property first designed by local starchitect Duangrit Bunnag. As such, the new beach club (which comes as part of a recent rebrand to SO Sofitel) attracts an urbane crowd which knows how a good G&T should be served. Once every month they hold a big blow-out party—keep an eye on their Facebook for dates.
---
SHOPPING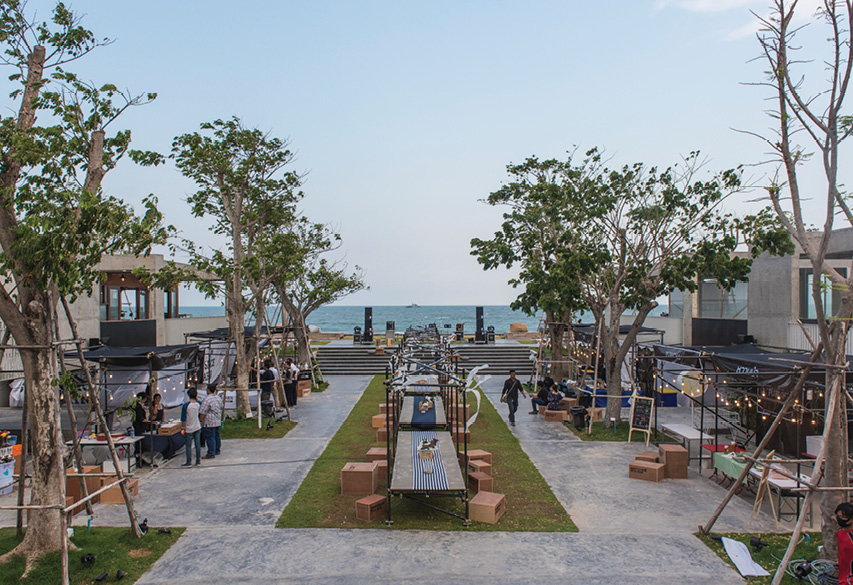 Seenspace Hua Hin
Seenspace Hua Hin Ditch Hua Hin's main tourist drag and head here to root out Thai-made designer finds. Across 7,200 sq meters of cool, interlocking concrete blocks, open-air walkways and criss-crossed grass rooftops, you'll find a host of little boutiques with a focus on fashion. Names like Greyhound Original, Seek35 and Seek Happening, Lalalove London and Sretsis are all worth looking out for.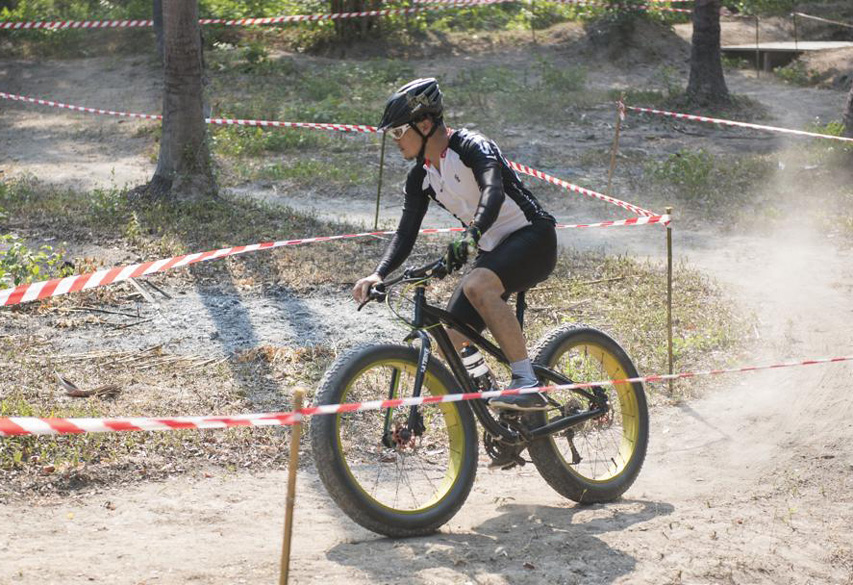 Regent Bike Park
Thanks to a recent revamp of one of the town's most luxurious five-star hotels, Hua Hin cyclists have been gifted with a brand new bike track they can use free of charge. Two muddy mountain-bike trails snake around the surrounding area of The Regent Cha-Am Beach Resort: one 3.5-kilometer track suited to everyone, and one more advanced track (4.5-kilometer) filled with tougher lumps and bumps.
Regent Cha-Am Beach Resort, 849/21 Petchkasem Rd., 032-451-240-9. Open daily 8am-5pm. regent-chaam.com
Hua Hin Bike Lane
Here's a little secret: though Hua Hin's local highway department has yet to officially cut the ribbon, Hua Hin's B157-million bike lane pilot project is already welcoming cyclists on its first five-kilometer stretch, which runs from the Khao Tao peninsula at the southern end of Hua Hin to the nearby town of Pranburi. Enquire with the Tourism Authority of Thailand (TAT) to plan your visit.
02-250-5500 (TAT)
The luxurious, sustainably-minded hotel Evason Hua Hin recently added an onsite "raw food" school from the US called Matthew Kenney Culinary. Take a one- or two-day weekend course to learn more about "plant-based" diets. Bright green smoothies, detoxifying salads, vegan "pasta," and even a dairy-free dessert made from chia seeds are all included in the one-day courses.
9 Moo 5, Ban Pak Nam Pran, Pranburi, 032-632-111.
---
STAY

SO Sofitel Hua Hin
The resort's tactile, organic walls of local stone were first envisioned by Bangkok's most highly regarded local architect, Duangrit Bunnag. Since then, it has undergone a modest revamp under the SO Sofitel brand, receiving a more playful, drift-woody vibe. Check-in to your 60-sq-meter room, take a quick nap on the contemporary four-poster bed, catch some rays by the shimmering turquoise pool, then get ready for the Beach Society beach club.
Hua Hin Marriott Resort & Spa
The folks at Marriott have transformed what was a dated terracotta pile into one of the most contemporary yet comfy resorts in town. Three-hundred-and-twenty rooms blend Thai touches like royal pikul flowers with crisp modern design. If you're looking for romance, the huge lagoon-shaped swimming pool even features an adults-only zone while its Quan Spa also has massage rooms for two.
107/1 Phetkasem Rd., 032-904-666, goo.gl/9Mtkx6.
---
WHERE Hot Spots 2016
lists the best new openings around Thailand. Explore the hottest restaurants, bars and hotels in Bangkok, Hua Hin, Phuket, Koh Samui, Krabi and Chiang Mai. Download your copy
here
.