HOTELS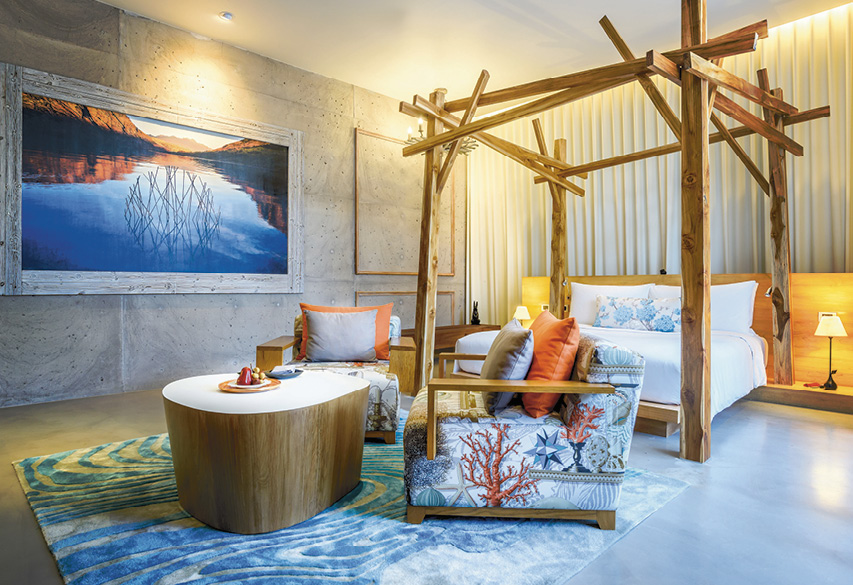 So Sofitel Hua Hin
Accor group's stark, modernist Hotel de la Paix Hua Hin, designed by celebrity architect Duangrit Bunnag, has been revamped and rebranded as SO Sofitel Hua Hin. Animal sculptures and art pieces now add a playful touch to the original lines created by Duangrit, as do the faux-driftwood four-poster beds in the SO Nature room category and the colorful paintings in the SO Arty rooms. There are three new F&B venues, too: White Oven, a restaurant serving Thai and international dishes; Hi-SO, a rooftop bar boasting panoramic views of Hua Hin's coastline; and Beach Society, a beach club that will host monthly parties.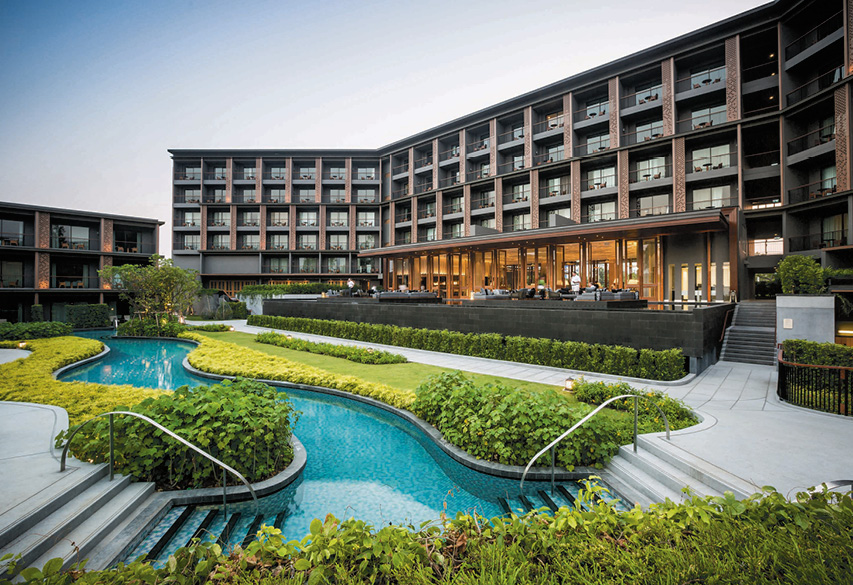 Hua Hin Marriott Resort & Spa
After a four-year absence, the Marriott brand has returned to the holiday town. Set right on the beachfront in town, the resort's 322 rooms blend contemporary design courtesy of A49 design firm with Thai touches referencing Hua Hin's long history. If you're looking for romance, the huge lagoon-shaped swimming pool even features an adults-only zone. Apart from the fresh-baked pastries at Siam Bakery, there are two main restaurants: Amber Kitchen, an all-day dining eatery serving Thai and international classics; and Big Fish, a beachside seafood and charcoal grill next to the Pool Bar.
The Regent Cha-am Beach Resort
This 30-year-old resort has also gone through a major, B100-million revamp. The old deluxe rooms have been spruced up with a colorful new look, while fresh landscaping has brought added style to the beachfront pool and Sky Terrace, a new beachfront alfresco function space for parties. The vast empty space that surrounded the hotel has also been put to good use as the new Regent Bike Park mountain bike trail (see page 8). Bike rental is B100 per day with a helmet.
---
Community Malls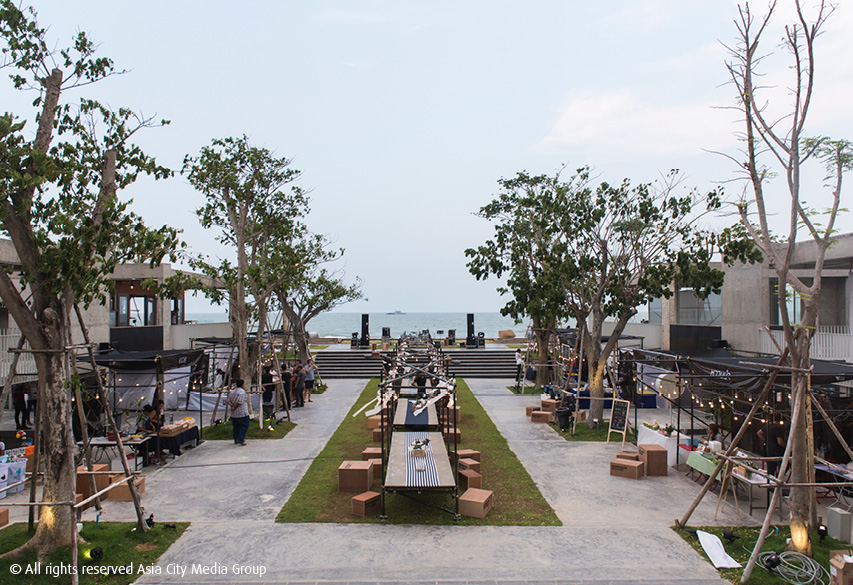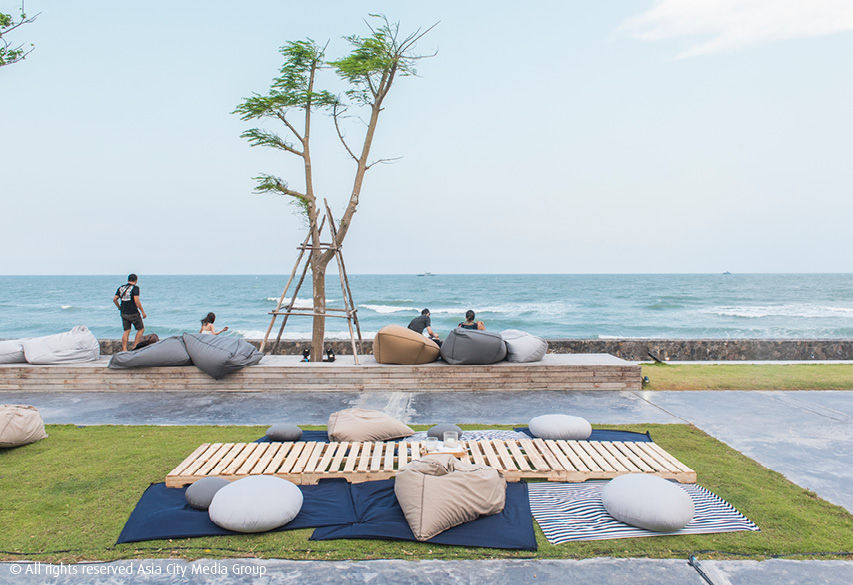 Seenspace
The beachfront Seenspace Hua Hin mall was designed by Akaradej Pantisoon-torn, the developer-slash-architect behind Thonglor's perpetually popular Seenspace. Spread over 7,200 sq meters, the modern design sees rectangular bare cement blocks topped with grass walkways and a criss-crossed rooftop. The mall promises the likes of Greyhound Original, plus Seek35 and Seek Happening. Lalalove London and Sretsis will join soon, too. Dining includes familiar Bangkok names like HOBS and White Shuffle, along with the likes of FIN seafood bar, Space Oddity and Cold Brew Bar. Architect Duangrit Bunnag will eventually join with his Nomad Bar by The Never Ending Summer, to be followed by his new hotel, Hotel Bocage, a six-room-only property set to open this September.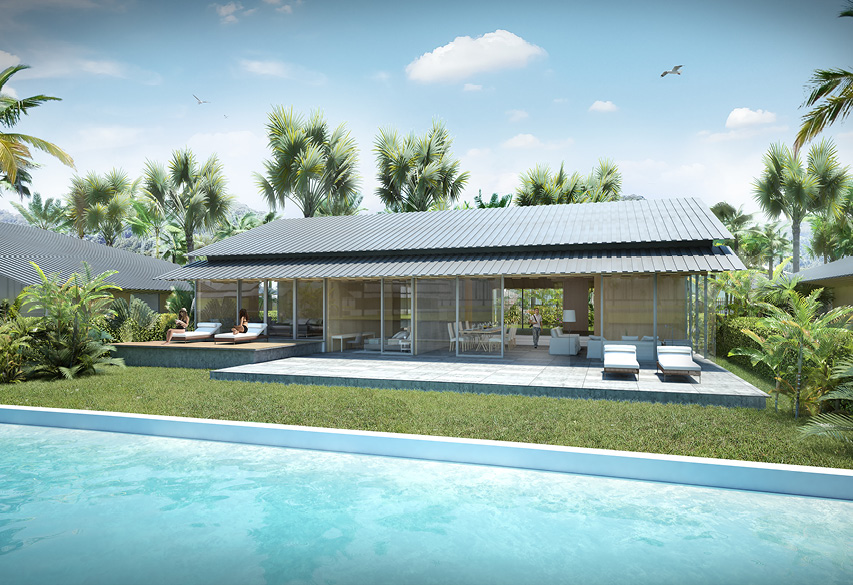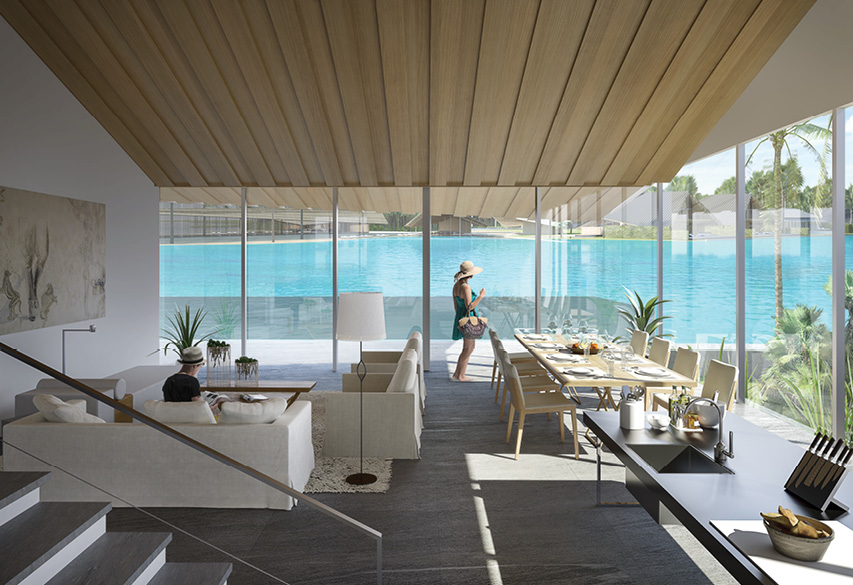 Mahasamutr Country Club
Hyped as the most ambitious and luxurious project Hua Hin has ever seen, this 130-rai country club from Pace Development came at a cost of B7 billion and features Asia's largest man-made private lagoon, surrounded by a beach and high-end villas. These start at B50-million a piece, but you can also buy lifetime membership to the club starting from B500,000 per individual (on top of a yearly fee of B24,000) or B1.5 million for corporate membership. The lagoon is so big you can even windsurf on it, or take out kayaks and paddle boards as well as learn to scuba dive. The club also comprises a sports complex with facilities for badminton, basketball, volleyball, tennis and an Olympic-sized 50-meter swimming pool.
Hua Hin Soi 112, 02-237-1414, 032-510-314. www.mahasamutr.com
---
Cafes & Restaurants
1d+ Day Artist
This minimal, tiny restaurant is the brainchild of designer couple Kornsorn Prakobkhong and Rossalin Sainimnual, who settled in Hua Hin more than a decade ago selling design products under the brand 100000d (san-d) at Cicada Market. Though they've brought their signature black-and-white aesthetic to the space, the Thai food is mouth-wateringly traditional, such as khao khai khon tom yam goong (rice with omelet top with spicy prawn soup, B95), laab moo tod (deep-fried minced pork with herbs, B85) and grilled pork spicy salad. Do try the stunning signature drinks as well, like the mango shake served with a half mango, or the chao guay smoothie (herbal black jelly, B95)-referencing black jelly shake. Get your caffeine fix with the espresso doppio served in a moka pot, or the coffee-flower tea. Good news if you're traveling with your pooch—the space is pet-friendly.
Tree House
The name tells you all you need to know about Supatra and Seksan Anuprai's cafe hidden deep in Hua Hin Soi 29. Filled with trees, ferns and other plants, the little oasis serves a compact list of dishes including Thai-style spaghetti like pla khem (salted fish), bacon and prik haeng (dried chili), and khee mao talay (spicy seafood with herbs). All cost at B150. The special of the day is determined by Hua Hin's fresh seafood catch. To drink, there's dark-roasted coffee, Italian sodas and local craft beer—stout, amber ale, pale ale and IPA—from Golden Coins Brewery, the same people who run Let the Boy Die beer bar in Bangkok. Note that service can be slow.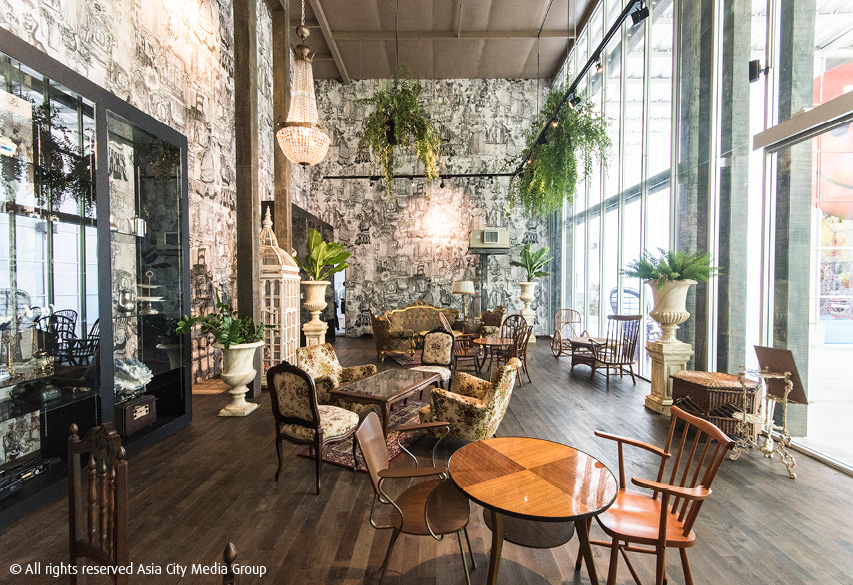 Thé Tea House
The latest addition to the giant FN outlet mall contrasts its shiny modern shopping mall surroundings with grandiose decor. An antique Indian wooden arched facade frames the tea counter, on top of which resides a prowling ostrich skeleton, while over in another corner stands a suit of armor. The beautiful wallpaper features pictures of European and East Asian landscapes, representing the historical tea trail between the two continents. They only serve tea from Paris's Mariage Freres, including the highlight Marco Polo, characterized by unique fragrances of Chinese and Tibetan flowers. A pot of tea is B190. To eat, order the pastries, made with French flour and butter, as well as the Red Rose finger cake (B140), whose strawberries also come from France.
White Home
Located on a dead-end corner of Naeb Khehat Road, this twee little dessert cafe specializes in homemade treats. Prajuab Khirikhan-native Supakarn Olatasanakul cooks up dishes including the White Alaska cake (vanilla ice cream with meringue and raspberry sauce. B120), cookie and cream (B120) and, her signature, the Thai snack kanom piah ping sai pla (grilled Chinese pastry with fish stuffing, B35 per piece). There are also some savory dishes which she promises to be free from MSG and drawn from her mother's recipes—who also helps with the cooking. Try the khao klook nam prik long rua song krueng (fried rice with shrimp paste served with vegetables, B95), stir-fried prawns with salt and chili with rice (B95) and minced pork omelet with salted seerfish and rice.
Row Hou8e Cafe
At this cafe, the focus is on cakes and toast as well as comfort dishes such as khao yam gai khai khon (fried chicken salad with omelet, B98) and eggy spaghetti carbonara (served with a torched egg on top, B129). The coffee comes from Chiang Mai beans as well as Zolito Italian brand. By the end of the month it will also serve brunch.
Neem Trees Thai Bistro
This roadside bistro in Phetkasem has proven a popular spot during weekends. There are two zones: one serves Thai and international food such as khao pad gak moo platu (stir-fried rice with mackerel and pork crackling, B135) and Valencia orange salad (B220) and spaghetti with prawns with cream sauce and prawn roe (B285); the other acts as a cafe serving homemade cakes like carrot cake and coconut cake. It also opens for breakfast.
Phetkasem Rd. (KM 207, before Dusit Thani Hotel), 032-442-066. goo.gl/kfZn9n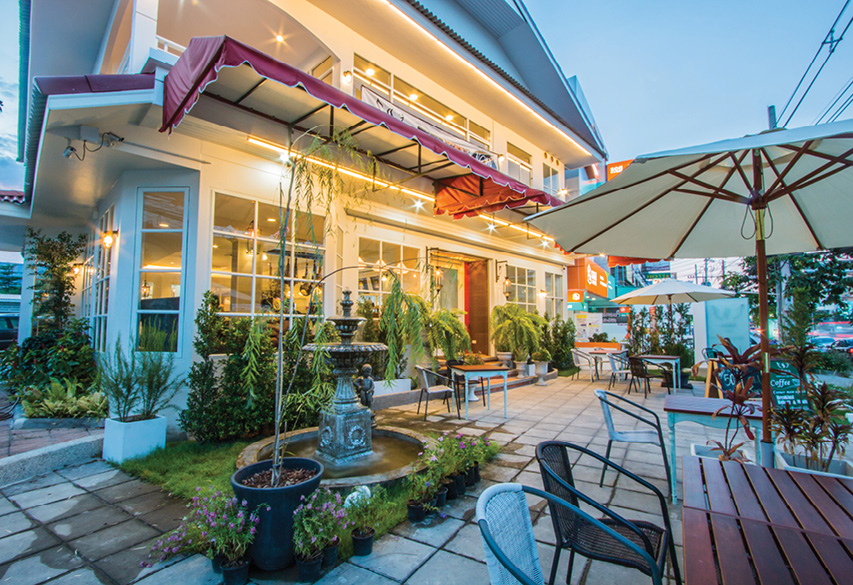 Bliss
This cafe and restaurant focuses on international dishes served in a homey, European atmosphere. From smoked salmon salads to ribeye baguettes and spinach-and-brie crostini, the menu reads like a perfect collection of lunch staples. Make sure you also grab some of the awesome bread to dunk in their Hua Hin seafood chowder. They are also a serious breakfast player as they go beyond eggy dishes to serve vegetarian bites.
Remix Dessert Cafe
On the ground floor of the hotel of the same name, Remix Photo House is the creation of Anuchai Secharunputong, an award-winning photographer from the Cannes Lions advertising festival. Dark gray walls, giant industrial lamps and an antique wooden coffee counter set a vintage-meets-modern atmosphere in which to enjoy espresso, latte, mocha and frappe, or lemon and Thai tea. Both the sour-sweet yogurt cake and nutella cheesecake are delicious.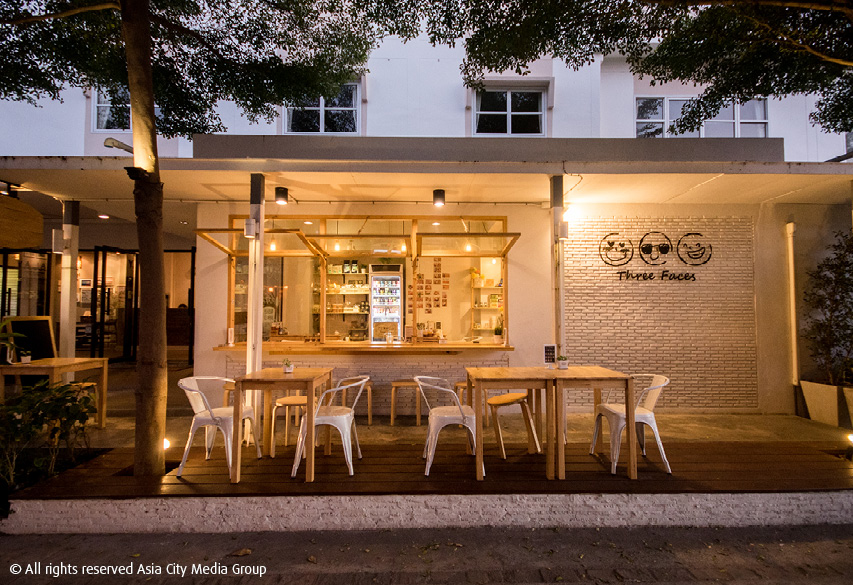 Three Faces Pizza
This little spot sits right on Cha-Am Beach and specializes in pizzas made using roti dough and topped with tomato, mozzarella, garlic, dried chili, onion and bacon. They also make a nice roti sandwich filled with tuna, crab stick and mayonnaise, as well as regular pizzas in flavors like pepperoni and smoked salmon.
Velo Cafe Hua Hin
This three-year-old cafe moved to a new space last year on Naeb Khehat Road and began offering house-roasted beans. Highlights from the coffee menu include the affogato (vanilla ice cream topped with espresso, B95) and piccolo latte (B55), while non-coffee drinkers are catered to with Thai milk tea (B45/55) and caramel milk (B50/60). Desserts rotate daily. On our last visit they were serving a creamy strawberry trifle and crispy apple cake.
43\21 Hua Hin Soi 53, Naeb Khehat Rd., 080-282-5156. www.fb.com/velocafehuahin
---
Seaside Eats
Big Fish
Hua Hin's newest seaside restaurant sits in front of the revamped Hua Hin Marriott Resort and Spa. Chef Mario Hofmann focuses on charcoal grilling seafood caught by local fishermen, like whole black garoupa grilled with Himalayan salt (B750). He also does some fine slow-roasted meats like the 20-hour-cooked Australian wagyu short ribs (B800). Before tucking into the grill, also be sure to order the iced seafood tower (B1,800), packed with oysters, prawns, mantis shrimps and green mussels, served with Thai-style green seafood sauce. The restaurant has ndoor and outdoor seating, both of which benefit from beach views. The outdoor section connects with the Pool Bar.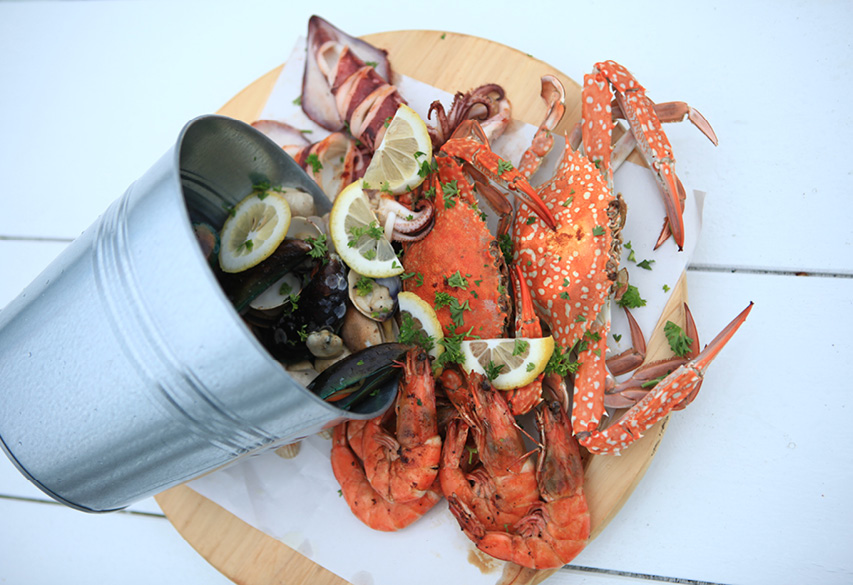 Credit: Laciana by the Sea
Laciana by the Sea
Hidden behind Hua Hin Soi 3, Laciana is a casual eatery serving home-style Italian food in hearty portions. This restaurant's outdoor area consists of country-style wooden furniture, worn brick paths and a rustic, birdbath-fountain to make for a particularly laid-back setting. Inside you'll find large tables, rustic bric-a-brac and couches. Highlights include mixed seafood spaghetti (B270), baked prawns with rosemary (B350) and pizzas (B320). Don't miss their ruam thalay phao seafood bucket (B899) which comes with grilled crab, mussels, scallops, squid and shrimps. They also offer Thai dishes like som tam served with deep-fried pork belly (B200).
Youyen Garden
Youyen Garden comes from the people behind long-standing Hua Hin restaurant Youyen Balcony on Phetkasem Road. This one offers a vast green space right beside the beach but still serves the same mix of Thai and international dishes as the original branch, such as mee krob phu wa (crispy noodle, B170), namprik khai pu (chili paste with crab egg, B180), khung morakot (prawns in pesto sauce, B425), soft-shell crab with black pepper sauce (B300) and prawns in tamarind sauce (B425). Their coffee house Baan Kafae Hua Hin still offers all-time favorite such as coconut cake (B110), Thai tea cake (B100), white chocolate cake (B100) and tiramisu (B140).
1417/4 Phetkasem Road, 032-653-013-5. goo.gl/mfh1TQ
---
Bike Lanes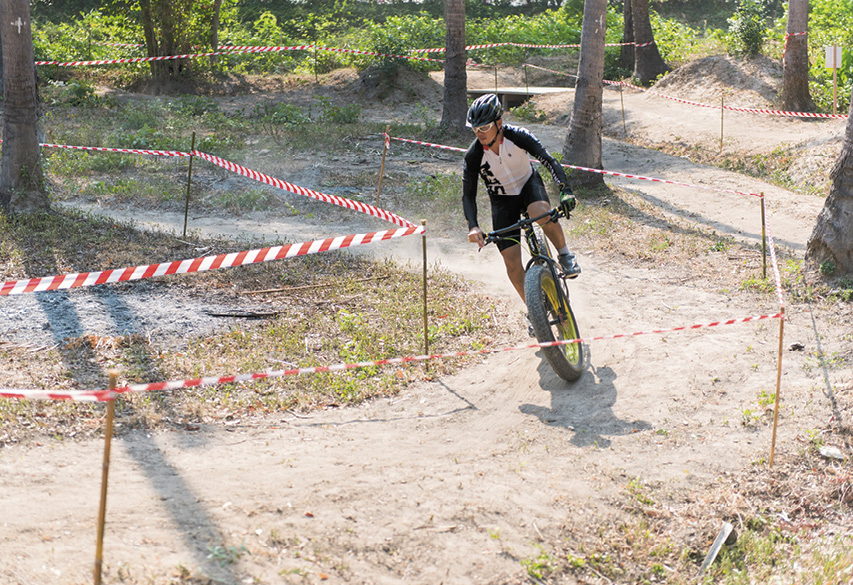 Regent Bike Park
Though set inside a hotel compound, The Regent Cha-am Beach Resort's bike route still welcomes members of the public free of charge. Regent Bike Park consists of two mountain bike trails: a 3.5-kilometer track for everybody and a more advanced 4.5-kilometer track featuring tougher lumps and bumps.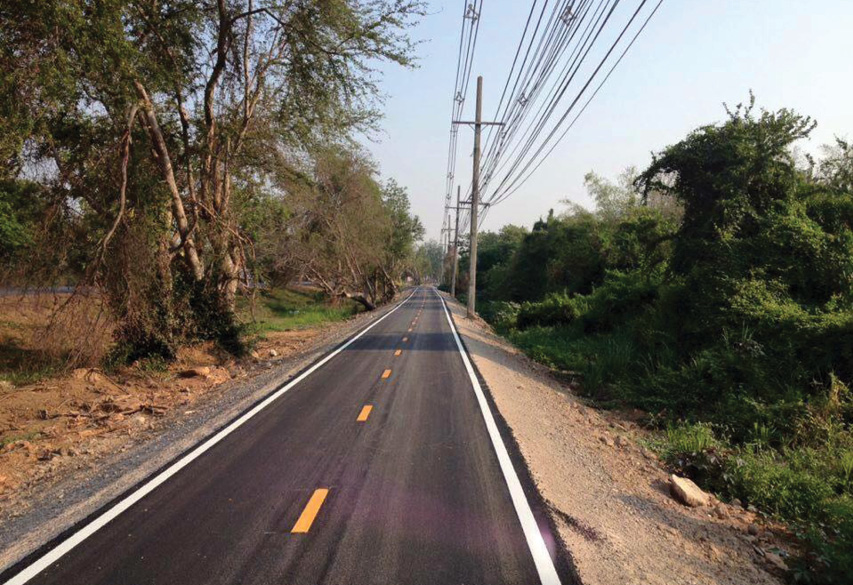 Credit: Bangkok Bicycle Campaign
Hua Hin Bike Lane
The first stretch of Hua Hin's B157-million bike lane pilot project has now opened, letting you ride the five kilometers distance from Khao Tao to Pranburi. Though the Department of Highways has still to officially cut the ribbon, cyclists are already welcome to use it.
From Hua Hin Soi 97 to Soi 101 before turn left to Khao Tao.
---
See & Do
Hua Hin Photo Festival
Hua Hin is currently hosting its first ever Hua Hin Photo Festival, a month-long celebration of photography that kicked off on Apr 29. And this is no ordinary exhibition. Featuring 30 Thai artists split over 30 venues along Naeb Khehat Road, the festival spans a very walkable 700 meters. Names involved include Tom Potisit, Anuchit Sundarakiti, 9d and Pop Fineart. Notable venues participating include famous dessert cafe Ban Tua Yen, White Home, Ban Klai Wang and Living Room. The event will run until
May 29. Keep up to date at www.fb.com/huahinphotofest.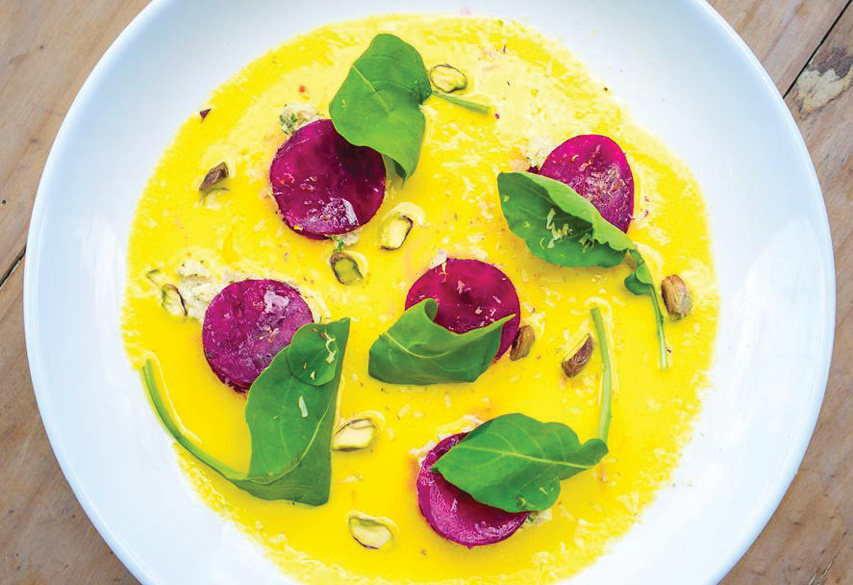 Evason Hua Hin
The luxurious, sustainably minded hotel recently added an onsite "raw food" school from the US called Matthew Kenney Culinary. Take one- or two-day weekend course to learn more about "plant-based" diets. Bright green smoothies, detoxifying salads and "pasta," and even a dairy-free dessert made from chia seeds are all included. One day courses are B8,000. Room rates start at B3,314.
Rhythm & Book & Friends
Hidden in the backyard behind Hua Hin Place on Naeb Khehat Soi 1, Rhythm & Book & Friends is a seriously small bookshop run by Panu Maneewattanakul, Thailand's reputed travel writer. Inside his tiny white home, there are small batches of Thai and international books curated by him which are about music, arts, food, drinks, history and sex, along with nice collections of vinyls which he has collected along his travel around the world. He regularly has some special items too such as posters design by Cuban artists or vintage pencil sharpeners.