The ultimate guide to what to do in Bangkok this weekend.
---
Thursday
The latest announcement for BAMM! (Bangkok Arts & Music Month) presents a double bill night of British electronic duo Bondax (pictured) and American hip-hop producer Mndsgn perform live.
May 3. 38/F, Anantara Sathorn, 36 Naradhiwat Rd. B990.
---
Friday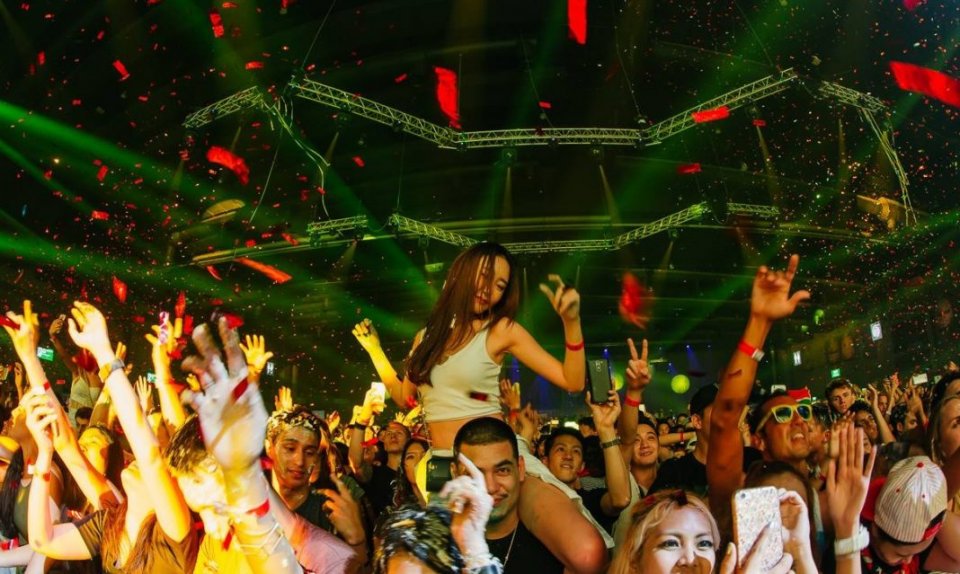 MUSIC FESTIVAL: Together Festival
Back for its 7th edition, the 2-day electronic music festival showcases headliners Alan Walker, Carnage, Hardwell and Marshmello.
May 4-5, 3pm. BITEC, 88 Bangna Trad Rd., 02-726-1999. B2,995.
CLASSICAL: Kom Wongsawat Trio
Pianist Kom Wongsawat showcases his chops in a live performance.
May 4, 9pm. FooJohn Building, 831 Charoenkrung Soi 31, 087-593-9973. Free.
LIVE: YOMOFO!
Rock the night away with live progressive rock tunes at the Patpong gogo bar.
May 4, 9pm. Black Pagoda, 5 Patpong Soi 2. B200.

ART: Origins - Chaos: Art Exhibition
Character artists Praphassorn Butphrom, Phuraphol Sotaiyin, Waranyou Changpradit, Kiattisak Rungrattanapattana, Chonlada Panpakdeediskul and Cherawit Kansomkhoy explore the hidden meanings behind their artwork.
May 4-30, 7-10.30pm. Kalwit Studio & Gallery, 119/14 Soi Ruamrudee, 02-254-4629. Free.
ART: Spiritual Lines - Translating Architectural Drawings
In an exhibition staged across three floors, Lemonot and Reminisce Tattoo Bangkok collaborate to deconstruct architectural drawings and sak yant (Thai sacred tattoos).
May 4-11. Cho Why, Soi Nana 17. Free

ART: Caravaggio Opera Omnia
HD digital reproductions of Baroque artworks by the great Italian painter Caravagio.
May 4-Jun 10, 10am-8pm. BACC, 939 Rama 1 Road, 02-214-6630. Free
THEATRE: Stand-up Comedy - Lars Callieou!
The Comedy Club presents the Canadian stand-up act.
May 4, 8:30pm, The Comedy Club Bangkok, Sukhumvit Soi 33/1, 087-5192-1821. B600 (B800 at the door).
---
Saturday

LIVE: Beat and Beyond: Chad Valley
The British artist performs his introspective pop music cuts with plenty of '80s synth and Balearic influences.
May 5, 8pm. NOMA BKK, 21/66 RCA Block C, 080-939-7899. B600.
LIVE: Beatbox Concert & Showcase and Workshop by Berywam
A live showcase by France's Beatbox Champions of 2016.
May 5, 7pm. Alliance Français, 179 Wireless Rd, 02-670-4200. B250.

NIGHTLIFE: G-Spot Theme Party - Burlesque
A Burlesque-themed party at the indoor "rooftop" bar.
May 5, 9pm. Vertigo Too, 60/F, Banyan Tree, 21/100 Sathorn Rd., 02-679-1200. B500 includes 2 drinks.
NIGHTLIFE: Sunset Vibes #7 - Vibe System
The boat party returns with another installment of good vibes from DJs Slum Disco, Tappu, Mizuyo, Sticky Keys Jimmy Shorts and Ralphy.
May 5, 3pm. Sabai Cruise, Ratburana Soi 23. B750 at www.eventbrite.com.
NIGHTLIFE: Tun Ten 002
A day-time riverside party with local DJs Sunju Hargun, DOTT, Elaheh and Junesis.
May 5, 4pm. Viva & Aviv The River, River City Shopping Complex, 23 Soi Rongnamkhaeng, 02-639- 6305. B250 includes 1 drink.
NIGHTLIFE: Rainforest Pavilion: Concrete Jungle
A charity party headed by non-profit organization VividKalimantan to raise awareness for the world's tropical rainforests with electronic music by DJs Nathan Jonson, Dan Buri and Alex Joy.
May 5, 10pm. Glow, Sukhumvit Soi 23, 086-612-3355. Free.
NIGHTLIFE: Transport | Jonna [Shadeleaf Music]
The UK DJ and label owner unearths house and disco gems till late.
May 5, 9pm. 12x12, 810/22 Thonglor Soi Thararom 2, 094-260-4713. B200.

NIGHTLIFE: Ambar Pool Party Ft. The "Base Bar Legends"
Escape the heat and party to DJs Jules Blons (France), 2C, Hasan Khan (GB) and Aneesh Medina (India).
May 5, 2pm. AmBar, 4 Sukhumvit Soi 15, 02-309-3000. B300 includes 1 drink.
NIGHTLIFE: Starlight Saturday Launch Party W/ Peter Herbert
Balearic/house DJ Peter Herber is joined by an array of support acts.
May 5, 9pm. Ce La Vi, 39/F, Sathorn Square Tower, 98 Sathorn Rd., 02-108-2000. B250.

MUSIC FESTIVAL: Paradise Fest
11 hours of rock and roll sounds from the likes of Silly Fools, Sweet Mullet, Brandnew Sunset and Bomb at Track.
May 5, 1pm. SHOW DC, 99/6-9 Rim Klong Bangkapi Rd., 02 203 1888.B700.
MARKET: Bangkok Farmers' Market
Shop organic natural food and goods from local producers.
May 5-6, 11am. Habito Mall, Onnut 1/1, Sukhumvit Soi 77, 02-136-5932. Free
NIGHTLIFE: Cinco de Mayo 2018
Celebrate the Mexican fiesta this
May 5
at any of the best Mexican restaurants in town. Check out our full roundup
here
.
---
Sunday

LIVE MUSIC: FKJ
The French house artist (also known as French Kiwi Juice) returns to Bangkok with his chill rhythm and blues.
May 6, 9pm. Moonstar Studio (Studio 8), Ladprao Soi 80, 02-539-3861. B1,790.
NIGHTLIFE: Summurgift from Tokyo: Yakenohara, Warara & Questionseqaka Piz?
Japanese DJ, producer and rapper Yakenohara mixes chill hip-hop and vapour wave.
May 6, 8pm. JAM, 41 Charoen Rat Soi 1, 089-889-8059. B220

ART: Ralph Gibson Public Lecture
Since the '60s, Ralph Gibson has been photographing elegant, black-and-white nudes. But while his work is often labeled "erotica," Gibson's use of shadow and light renders his photos virtually abstract. This May 6 you'll have the chance to pick the American art photographer's brains about his unorthodox process when he gives a talk at Leica Gallery (see page 22) to coincide with his exhibition Nude and Muses, which goes on show from May 8-Jun 25. Update: Registration for the lecture is now closed.
May 6, 3pm. Gaysorn Village, 999 Phloen Chit Road, 02-656-1149. Free.

MARKET: Sunset Society Feat. Vegan Market
A market which promises organic food along with live Balearic beats from Djs NK Chan, Alex Imix and Superstar Panda.
May 6, 1pm. Nowhere BKK, 6/F Tha City Loft Hotel, Ekkamai Soi 6, 099-394-4417. Free
---
Ongoing

Abstract Thai artist Somboon Hormtientong, who represented Thailand at the 57th International Art Exhibition – La Biennale di Venezia with his pieces in "Krung Thep Bangkok," presents 13 works of art dated between 2012-2017 that show off his expressive, organic and minimal style.
Through Jun 19. PT Gallery, 48-58 Charoenkrung Soi 30, 02-266-4344. Free.

Emerging artist Tae Parvit's debut exhibition features paintings, drawings, large-scale sculptures, animations and site-specific installations portraying recognizable objects and human figures in domestic scenes.
Through Jun 27. Bangkok CityCity Gallery, Sathorn Soi 1, 083-087-2725. Free.