As Bangkok businesses take a stand against disposable culture, refill stations—bulk stores where you take your empty containers to refill food, household and bodycare products—have been popping up across the city to help encourage Thais to kick their plastic habits to the curb. If you're thinking of jumping on the plastic-free bandwagon, here are seven places to get started.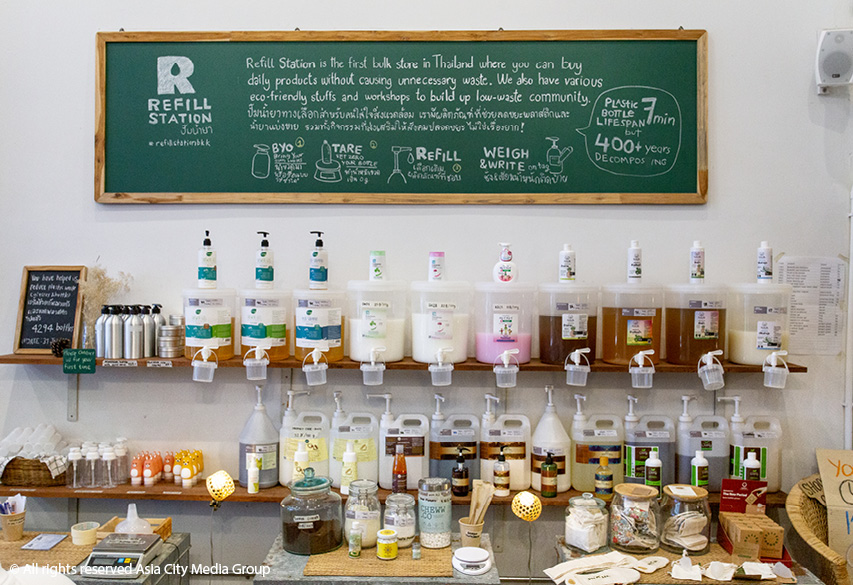 Refill Station is Thailand's first bulk store where you can refill your empty containers of shampoo, shower gel, detergent and more. Three friends are behind the project: Supatchaya "Ann" Techachoochert, a PhD candidate in biology at Mahidol University; Chanin "Nammon" Srisuman, a renewable energy project manager; and Papawee "Pear" Pongthanavaranon, co-founder of Better Moon cafe and guesthouse. The store carries an array of eco-friendly products, from reusable straws, silicone food bags and straw sleeves to foldable water bottles, bamboo toothbrushes and vegetable net bags—anything that curbs plastic use. They also support and advise others who want to open their own bulk store, as well as having the supply to help jumpstart your business.
Prices: B16/100g of dishwashing liquid; B32/100g of Baivan's coconut shampoo; B81/100g of Suanpana's facial cleansing gel.
Sukhumvit Soi 77/1, 062-491-5324. Open daily 8am-9:30pm. BTS On Nut. www.refillstationbkk.com
This eco-friendly lifestyle shop-slash-studio near Pak Khlong Talat is the brainchild of Normal Supattharachai—the founder of zero waste project Zero Factory—whose mission is to show people that it's not difficult to live a sustainable lifestyle. Step inside the humble space, and you'll be greeted with shelves displaying refill products from shampoo and shower gel to dishwashing liquid and toilet cleaners. Besides boasting a range of eco-friendly products, courtesy of Zero Factory's three main partners—Refill Station, Kinto (reusable tumblers) and IBagU (bags made from discarded materials)—the store also houses a ceramics studio and a small slow bar serving coffee and refreshing drinks (B120 for drip coffee; B150 for cold brew).
Prices: B16/100g of dishwashing liquid; B17/100g of fabric softener; B90/100g of shampoo and shower gel.
174 Asadang Rd., 089-208-8881. Open Tue-Sat noon-7pm. MRT Sanam Chai. www.fb.com/sunflowerstorebkk




Credit: www.fb.com/NormalshopRefill
As the name suggests, this bulk store's mission is to show people that it's not difficult or unusual to lead a zero waste lifestyle. A sister branch of the Chiang Mai store, this quaint little shop on Nanglinchee Road houses all the usual refill and environment-friendly products, including body wash, shampoos, laundry soap, reusable straws and bamboo toothbrushes. They also stock a good variety of dried organic food, such as cinnamon powder, crispy bananas, dried mangos and pineapples, as well as gardening supplies from Japanese soil, peat moss and coconut fiber to pincer leaves, organic fertilizer and vermiculite. You can catch the team hosting regular recycling and waste management workshops at Muji Samyan Mitrtown.
Prices: From B120 for shampoo bars; B80 for reusable straws; B0.7/g of natural antiseptic spray; B0.8/g of dried mangos.
95/14 Nanglinchi Rd., 092-942-6626. Open Mon 10am-5pm; Tue-Fri 8am-5pm; Sat-Sun 10am–5pm. BTS Chong Nonsi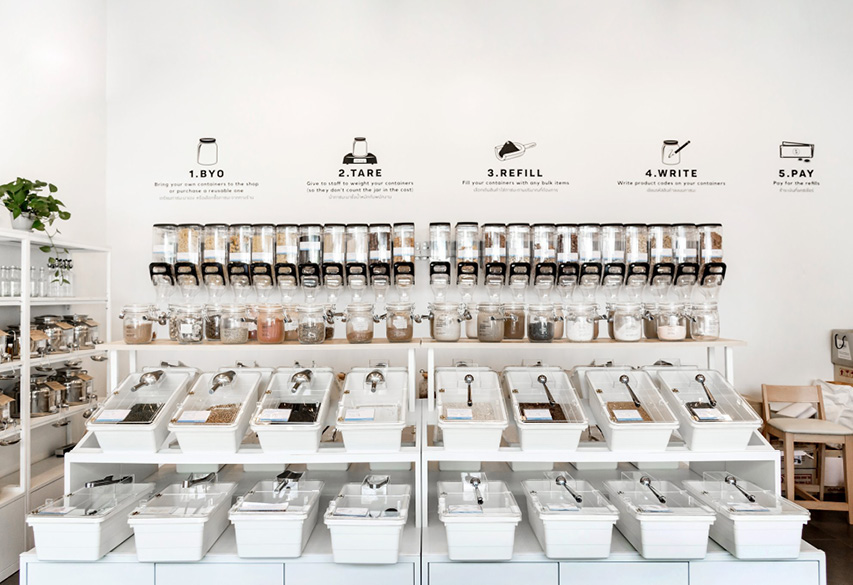 Credit: www.fb.com/zeromomentrefillery
ZeroMoment Refillery sells eco-friendly household goods alongside condiments, dried food, superfood and snacks. The owner, Ruedeechanok "Miew" Jongsatien, supplies an extensive range of products, from cleaning goods and personal care items like dishwashing liquid, tamarind scrub and shampoo bar; to herbs and spices like sea salt, garlic powder and cinnamon sticks; to superfoods like goji berry, flax seed and cacao nibs; to dried fruits like apricots, dates and black raisins. Customers are encouraged to bring their own containers to refill, but if you come empty-handed, know that the store does provide (clean) reusable ones to purchase. Other lifestyle products worth checking out include tote bags, bamboo straws, bamboo cotton buds and natural dental floss.
Prices: B16/100g of black glutinous rice; B24/100g of kitchen cleaner; B100/100g of dried chili.
@Home Residence, Ramkhamhaeng Soi 24, Yaek 20, 082-465-9262. Open Tue-Sun 10am-7pm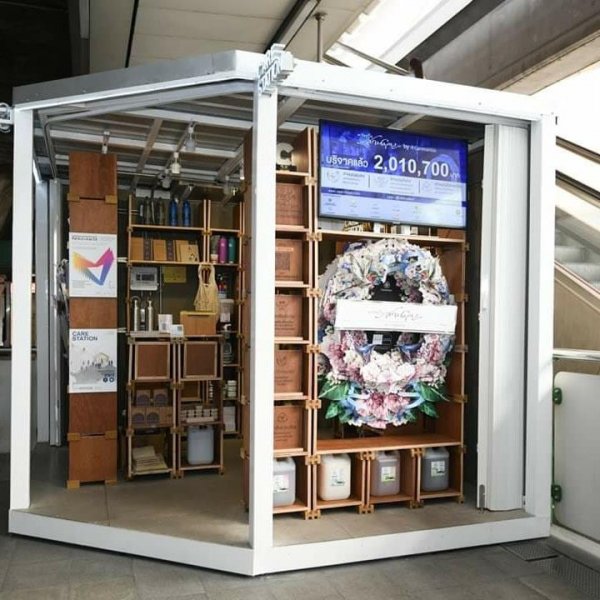 Credit: www.fb.com/refillstationbkk
Care Station
Care Station is the latest project launched by Refill Station, social enterprise Carenation and interdisciplinary group Pava Architects as an eco-friendly convenience store. Everything about this shop, located inside BTS Ekkamai, screams sustainability—from the energy-efficient, open-plan design and reusable plywood fixtures courtesy of Pava Architects to the green products supplied by Refill Station. Beyond the usual refill products and lifestyle items, like shampoos, conditioners, laundry detergents and silicone straws, they also sell flower wreaths made from recycled paper and paper from farmed trees—a project by Carenation. The proceeds from sales of those items go to different charities in Thailand, including Unicef, Ramathibodi Foundation and The Mirror Foundation.
Prices: B17/100g of fabric softener; B30 for straw cleaning brush; B79 for silicone straws; from B1,000 for paper wreaths.
BTS Ekkamai. Open daily 11am-9pm. www.fb.com/refillstationbkk




Credit: www.fb.com/atnesthostel
Atnest partners with Refill Station and doubles as a hostel and bulk store. Here, you can expect a smaller version of the OG refillery, where you can peruse reusable products such as bamboo toothbrushes, foldable coffee cups, collapsible stainless steel straws and chewable toothpaste tablets from Cheww.co. Refill products include household and body care. Think shower gels and hand soaps from big brands like Shokubutsu and Kirei Kirei, fabric softener, dishwashing liquid, green beans face scrubbing powder and body lotion.
Prices: B57/100g of shampoo; B75/100g of body lotion; B90 for bamboo toothbrushes; B450 for foldable coffee cups.
1039 Silom Soi 21, 02-227-0905. Open Mon-Sun 9am-5pm. BTS Surasak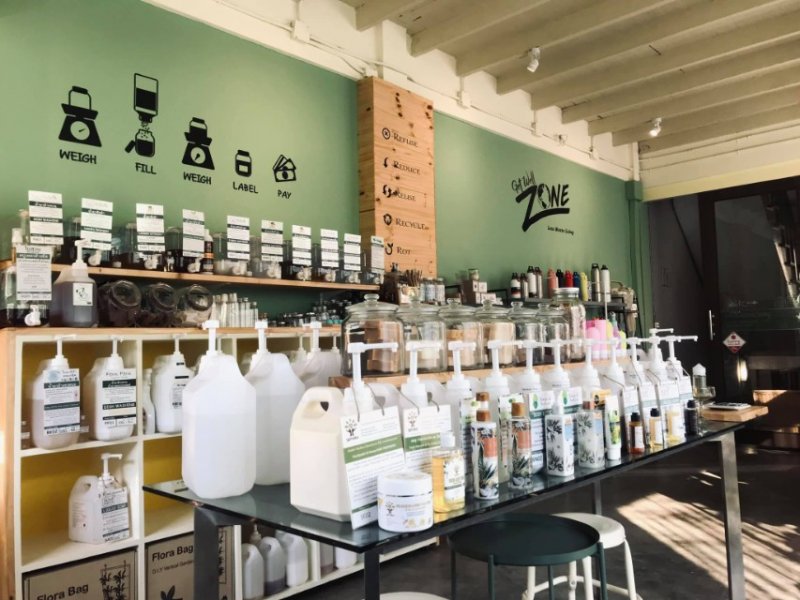 Credit: www.fb.com/getwellzone
Located on the second floor of Zakka Shop & Cafe in Ekkamai, this cute bulk store stocks a great selection of refill products, from laundry detergent, floor cleaner, bathroom cleaner and dishwashing liquid to shampoo, conditioner, face and body oil to hand sanitizers. Here, even your furry friends can get on the zero waste bandwagon—the store also offers refill products for pets, like organic shampoo for cats and dogs from Sixlegsandmore. For lifestyle items, take your pick from cloth wipes, tumblers, mini totes, cotton towels, soap bars, reusable cloth pads, lunch boxes (both pinto and bento styles) and lots and lots of straws (silicone, bamboo and stainless steel).
Prices: B22/100g of laundry detergent; B30/100g of floor cleaner; B90/100g of laundry soap; B150 for mini tote bags; B240 for reusable cloth wipes (six pieces per set).
2/F, Zakka Shop & Cafe, Ekkamai Soi 24, 085-908-1508. Open daily 10:30am-6pm. BTS Ekkamai