Thailand has promised to ban seven kinds of plastics between now and 2025. As we struggle to overcome our polyethylene love affair, these Bangkok businesses are helping to pave the way to a greener future.
Bangkok Soap Opera

Maria Kalita
Run by Ukrainian Maria Kalita, Bangkok Soap Opera recycles old cooking oil and everyday kitchen ingredients—anything that can become harmful waste—into eye-catching artisanal, handcrafted soaps and other skincare products, from sea salt scrubs to pink clay and rosella anti-aging masks.
Why did you start the business?
It was never planned as a business—it was literally a passion that I couldn't stop doing. Many years ago in Poland, I learned how to formulate natural cosmetics. My background is in holistic medicine; I was excited to apply old-fashioned herbal medicine to everyday products. Back then, no one wanted my soap or really understood what I was doing. But I was so passionate that I barely cared. Moving to Bangkok, my husband and I noticed a lack of quality affordable organic cosmetics. We weren't sure if Bangkok was a good place to start. We just had a feeling that we could give [people here] something different.

What's your message?
I find it heartbreaking that a huge part of the community doesn't have access to affordable, natural products. The only options are chemicals, which are harmful to health and to the environment. When we apply them to our bodies, they soak into our skin. When we take a shower, the chemicals get rinsed off into the city drains to the Chao Phraya, to the Gulf of Thailand, and then they return to us through the country's harvest and drinking water. We offer an alternative. We make affordable products that are safe for our skin and planet. But we also know that producing good stuff is not enough—so we teach people how to produce natural things with simple, edible ingredients at home.

What do you use?
Our main ingredients are botanicals, fruits and vegetables—in powder or dry form. These include turmeric, roselle and lotus roots, carrots, pumpkin, papaya, strawberries, lemongrass and coffee. All soap is made from oil—we use sweet almond, apricot, avocado and jojoba oils. We don't use synthetic fragrances or colors, so everything in the store is what nature gave us.

What challenges have you faced?
We were different, and we didn't speak Thai. That was strange to Thai customers. Some would say, "How do you know our local ingredients? Are you really good at what you do?" We'd explain and they still wouldn't buy anything, because they weren't convinced. But we're active on social media. We also do free events and workshops so people understand we're not just a brand or a business. We produce stuff from scratch, by hand, and we can explain every product from A to Z.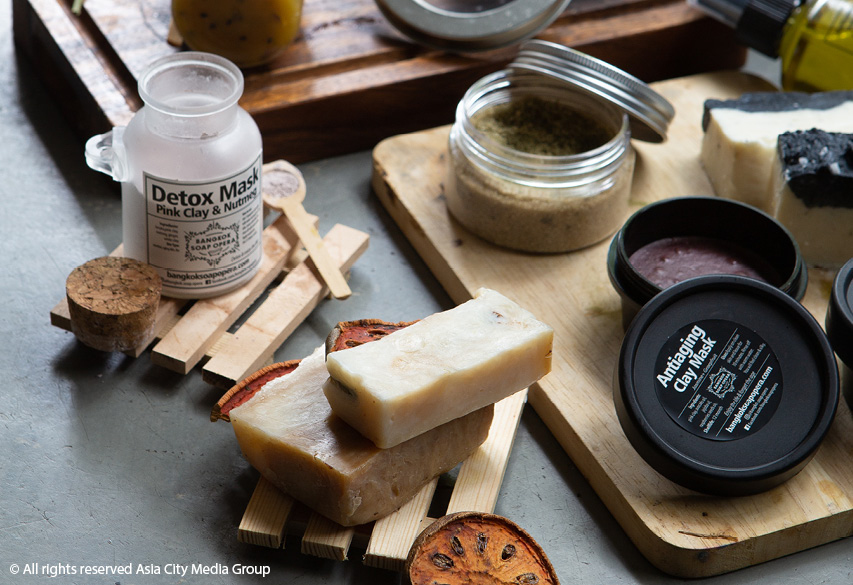 Who are your customers?
You'd think expats, but 80 percent are Thai. I'd separate them into three groups. Well-educated people who know how to treat themselves well, have a healthy lifestyle and diet, and are turning to healthier cosmetics. Another group has sensitive skin and is looking for alternatives. The third would be zero waste people. We cut all the bars by hand, which means every single bar is different in size. That lets us avoid unnecessary packaging, and that's how zero waste customers found us.

How often do you host workshops?
We host workshops on a weekly basis. The first weekend of each month, we lead workshops on recycling cooking oil into natural soap. We also do free monthly community events at The Commons, where you can learn to make soap in a fun and sustainable way. We use waste cooking oil donated by Roast at The Commons. We take the leftover oil and recycle it into liquid soap, which we then give back to The Commons for them to use in their bathrooms.

What's next for you?
We have branches in Kuala Lumpur, New Delhi and Ukraine. By the end of this year, we plan to expand to Singapore, the Philippines and Myanmar. We teach in countries around Southeast Asia and have many talented students helping us expand. In Bangkok, we want to open a workshop space in our store for making natural products. Online, we're planning to launch soap subscriptions. We'll send monthly soaps with seasonal ingredients.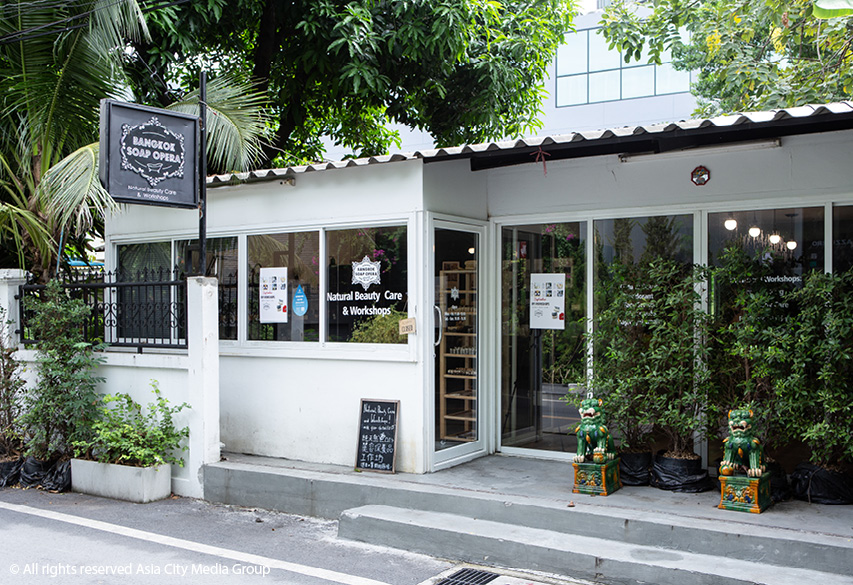 Bangkok Soap Opera, 46/3 Soi Phum Chit, 085-348-9791. Open Mon-Fri 11am-7pm; Sat-Sun 10am-2pm. BTS Phra Khanong
Cheww.co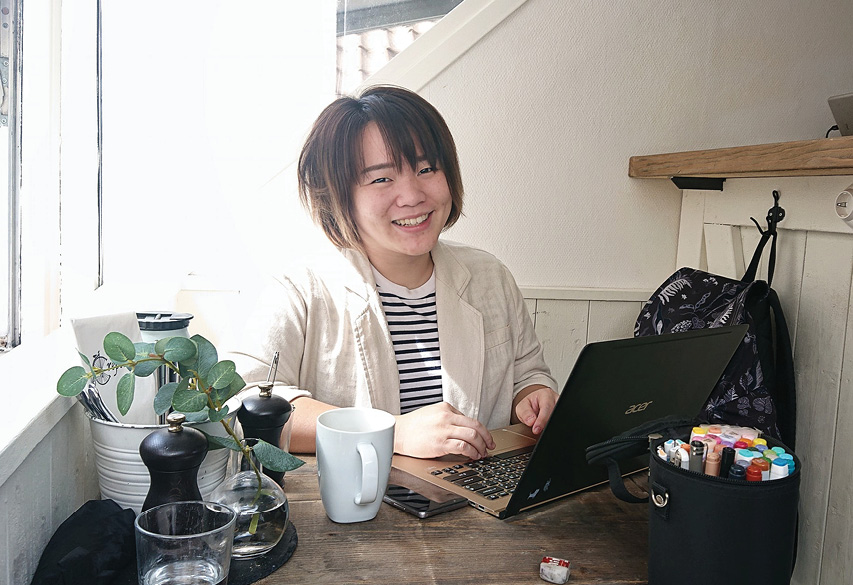 Kevalin "Liu" Saksiamkul
Launched in March this year, Cheww.co is Thailand's first plastic-free toothpaste tablet brand. Its mission? To see more Thais going tube-free with their toothpaste. The company is run by a team of five—two pharmacists, one logistics manager, one design researcher and one marketer, Kevalin "Liu" Saksiamkul. Liu talks to us about the ideas behind Cheww.co.
Why did you start the business?
My background is in design, but I still believe product design alone won't solve problems as complex as environmental issues. By applying systems design, I wanted to create a product to curb daily plastic use. There are already reusable straws, coffee cups, tote bags and bamboo toothbrushes on the market, but no toothpaste tubes. I looked at what resources I had around me and formed a team. That's how Cheww.co was born.

What's your message?
Solving waste problems requires whole systems thinking. We communicate through the three pillars of sustainability—economic, environmental and social. Our toothpaste tablets are made from ingredients that can only be produced in Thailand. We use water-free production processes to reduce wasted resources and recyclable glass containers as packaging, so our customers can reuse them. We also encourage customers to bring in their own containers to refill.

What are your products made of?
Our main ingredients are natural—sweeteners like sorbitol and mannitol, which can be found in root vegetables and berries; mint essential oils, which have antibacterial properties in the mouth; salt, which helps soothe your gums, and foaming agents extracted from coconuts. These ingredients come in powder form, and are then compressed into tablets by a GMP-certified manufacturer in Thailand.

What challenges have you faced?
Creating a paradigm shift among the general public. As a brand, we know we can't do this alone, so we're partnering with eco- entrepreneurs and eco-friendly stores, as well as media. I believe we can have a sustainable future if we all work together.

What has feedback been?
We're very small and niche, and we've had some difficulty reaching new groups, but we're on the right path and growing. We're still learning and adjusting, too—we've only been open six months.

What's next for you?
Currently, I'm [working on] a master's degree in Leadership to Sustainability at Malmo University in Sweden, but Cheww.co's team in Bangkok is still very active, and we're finding new ways to create a more sustainable future for Thai consumers. We're also in the middle of developing new products, which should be ready early next year.
Cheww.co, 51/75 Viphawadi Soi 66, 094-441-4622. Open Mon-Sat 9am-8pm.
Refill Station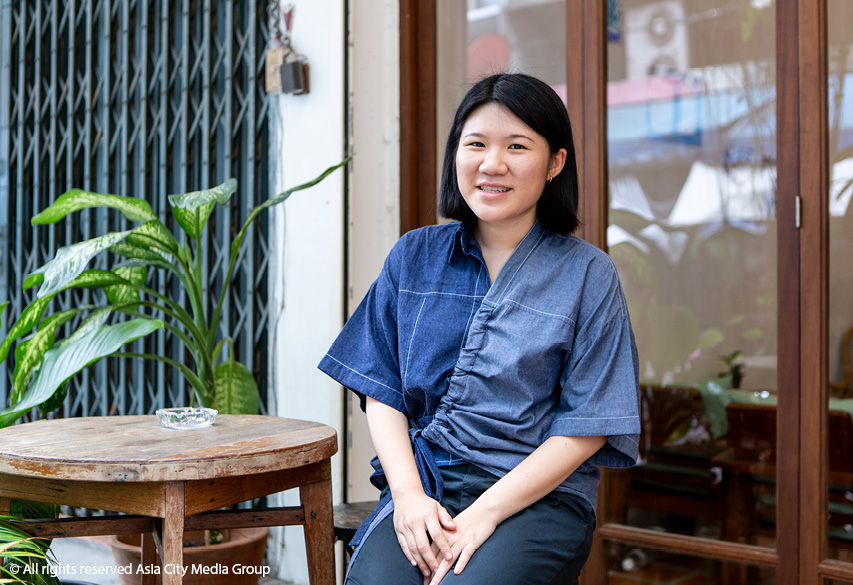 Supatchaya "Ann" Techachoochert
Refill Station is Thailand's first bulk store where you can refill your empty containers of shampoo, shower gel, detergent and more. Three friends are behind the project: Supatchaya "Ann" Techachoochert, a PhD candidate in biology at Mahidol University; Chanin "Nammon" Srisuman, a renewable energy project manager; and Papawee "Pear" Pongthanavaranon, co-founder of Better Moon cafe and guesthouse. Pear talks about how Refill Station was born.
Why did you start the business?
The idea came to us around two years ago. My friends and I have always been involved in environmental activities and thought, "Why can't we all start somewhere small?" When it comes to helping the environment, why do we always have to go to camps or join activities that are far away? We wanted it to be something of an everyday habit, so we were looking for several ideas that would work best. We saw how popular bulk stores are in many other countries. Nobody here had done one yet, so we decided to open our own.

What's your message?
Little things make great change. We used to get comments from people saying things like, "Not using just one plastic straw or one plastic bottle isn't going to change anything." We disagree. If we start making small changes every day, they will eventually lead to much bigger change.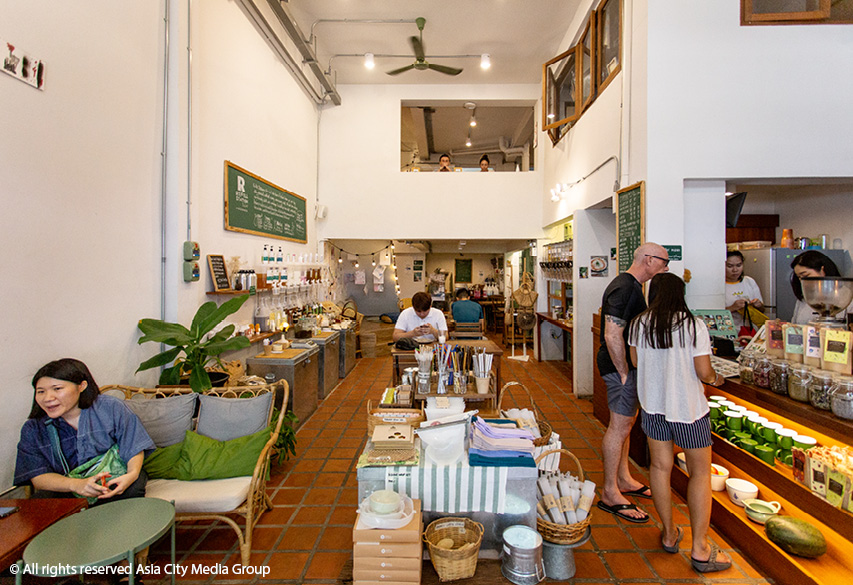 What products do you carry?
When people think of Refill Station, they think dishwashing liquid, laundry detergent and floor cleaners. But we have more variety. Reusable straws, silicone food bags, straw sleeves, foldable water bottles, bamboo toothbrushes and vegetable net bags—anything that curbs plastic use. We carry products from other brands, too, especially zero waste products.

What are your bestsellers?
Our collapsible coffee cups and brushes for reusable straws are quite popular. We also get regular customers coming in to refill their bottles.

What are some challenges you've faced?
In the beginning our idea was new and there was no one like us on the market. People didn't really understand what we were doing, so they would ask us, "So you're selling liquid pumps?" or "Why are your products not 100 percent organic?" Even my family wondered whether this was a good idea. Now people want bulk stores and ask if we're going to open a franchise.

What do you think of Bangkok's plastic use?
Most of our customers live the same way we do, which we think is fantastic. But the country as a whole is a completely different story. Reducing plastic use, recycling, educating, infrastructure—that's where we as a country are still behind.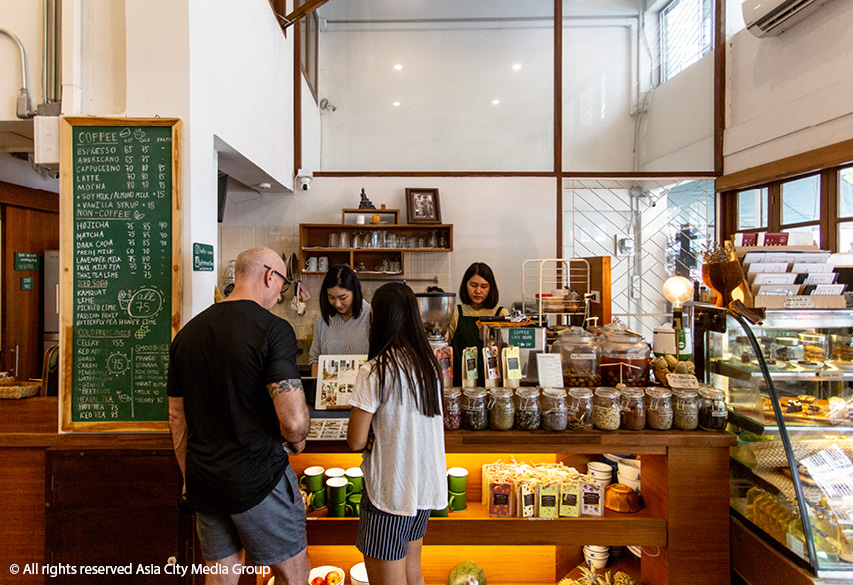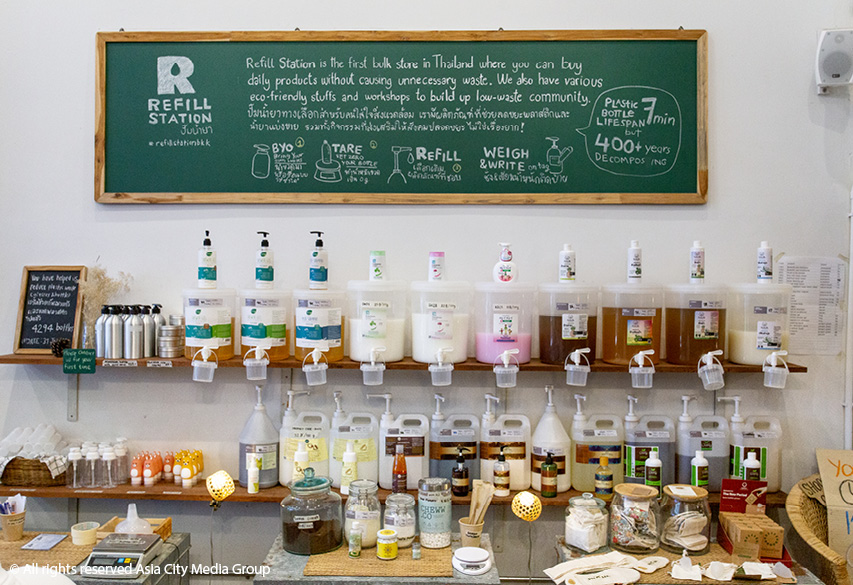 What else can people do to help?
Everyone can do something small. For example, at offices, there should be multiple bins for different types of trash, including a place where you can throw away the ice before tossing the plastic cups into recycling bins. It's the little things that count. The problem is some people think that what they do won't make a difference. We need to stop that way of thinking. We need to raise awareness and [build] knowledge, because that's what Thailand lacks right now.

What's next for you?
Besides running the store, I want to do more community and educational projects to change people's plastic consumption habits. My true goal is to help the community reduce the use of plastic. Other than that, I'm also open to give support and advice for people who want to open their own bulk store. Right now we have supplies to help you jumpstart your business.
Refill Station, Better Moon, Sukhumvit Soi 77/1, 062-491-5324. Open daily 8am-9:30pm. BTS On Nut
Swap 'Til You Drop!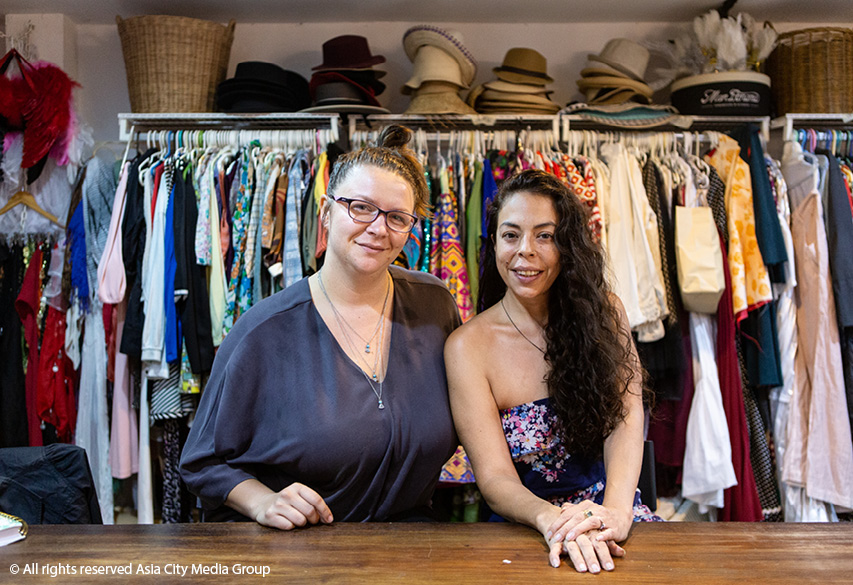 Jessica Teal and Carla Soledad Rivera
American expats Jessica Teal and Carla Soledad Rivera organized Swap 'Til You Drop to encourage women to trade clothes they no longer wear. Their message? For women to be mindful about fast fashion and more aware of how much waste we create.
Why did you start the business?
Jessica: Six years ago, I went to a clothing swap at Attic Studios and thought, "This is so amazing!" I'm originally from California, and there are so many secondhand shops there. I've always loved the concept of clothes swapping and thought I could try it from my house and see how it goes. I had a clothing swap right after the Nepal earthquake in 2015, where we donated most of the collections to Nepal for the victims. A few days later, Carla contacted me about the donation and we made a connection. Eventually, the swap became too large to handle at my house, so I moved it to The Home BKK, which Carla had founded.
Personally, starting the swap was a way to meet other like-minded individuals. It was also a way for me to have more access to Western sizes and decrease my own shopping. It's almost too easy to shop in Bangkok. Before, I shopped four to six times per month; now it's four to six times per year. It's a more sustainable way of life, and it's mindful of the fast fashion industry and the effects it has on our environment.

What's your message?
Carla: Creating consciousness on consumption and awareness of how much waste we create. My philosophy has changed as a fashion designer. My design perspective became more service-based over product-based. I started asking, where do the clothes go afterwards if they're not bought?
Jessica: It's also about not contributing to consumerism. It's hard to avoid it, but this is one way that you can contribute to a more sustainable society and circular economy.

How does the clothes swap work?
Jessica: It's all very casual. You show up with your items, follow the signs and exchange whatever you want. Clothing, shoes, accessories—there's no limit. One time, 60 girls came and we had 144 kg of leftover clothes. You'll always find something to take home. We also do free-flow sangria.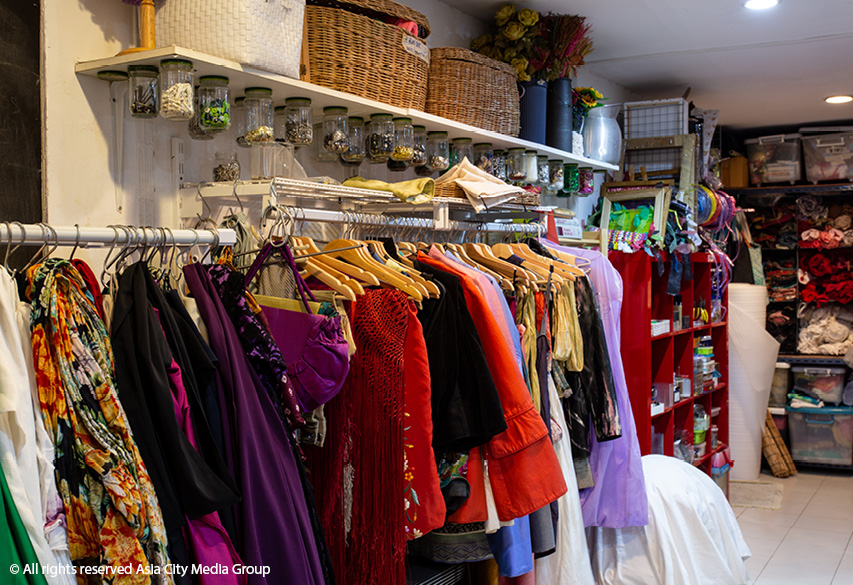 What happens after the swap?
Jessica: We've experimented with different situations. We got excited for leftover fabrics and started making bags, dreamcatchers and accessories. But that was too much to keep up. So now, after every swap, the Scholars of Sustenance charity picks things up. Na Projects also redistributes the collected items to less fortunate neighborhoods.

What challenges have you faced?
Jessica: The number of people. Sometimes the area gets overcrowded, and so we're always troubleshooting on the spot. Another problem is getting people to bring the right items.
Carla: Some people misinterpret swapping as dumping. You don't want to know what we've seen!
Jessica: We're not a dumpsite. Clothes swapping is not for you to get rid of stuff you can't use anymore. It's a place to bring things that you can exchange with other people, to keep life going in that item.

How often do you host swaps?
Jessica: We do it on the third week of every month from 7pm-10pm [the day varies]. In October, we'll swap at Aesop's Greek restaurant the day before Halloween. We're telling people to bring purples, blacks and oranges, so they can create Halloween looks from the swap.

What's next for you?
Jessica: Swaps at different locations to test different scenarios. I'd like to bring in more men and do swaps for holidays like Halloween. I'd also like to collaborate with more organizations and charities to bring life to leftover items. We're connected with Eco Beasts (ecobeastsbkk.com), a sustainability campaign program that connects international schools in Bangkok. I'm designing a mini swap, so students can run their own at the end of the year. I'd love a secondhand shop as an affordable and accessible version of the swap. Maybe do swaps for furniture and home decor. I could base my whole life on hand-me-downs.
Carla: As a designer, definitely continue to utilize waste through workshops. I want to focus more on the service side, and work towards upcycling and recycling through design.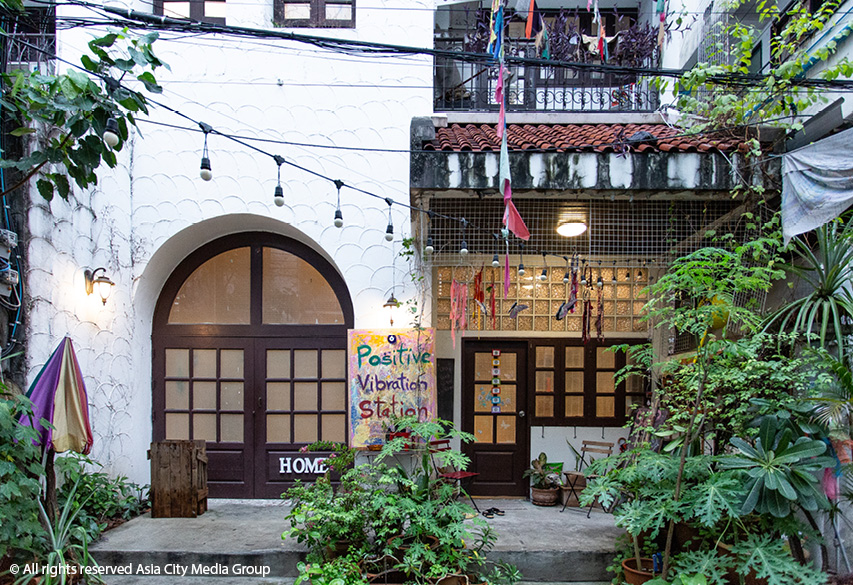 Swap 'Til You Drop, The Home BKK, 120/18 Sukhumvit Soi 23 (Soi Prasanmit), 082-495-2121. Open Mon-Fri 11am-6pm. BTS Asok
---
Bulk Up

Zero waste shopping is the way forward. Here are four more bulk stores and refilleries to kick your plastic habit to the curb


@Home Residence, Ramkhamhaeng Soi 24, 082-465-9262. Open Tue-Sun 10am-7pm


Seenspace, Thonglor Soi 13, 02-185-2728. Open daily 11am-10pm


Silom Soi 21, 02-227-0905. Open daily 9am-5pm


Nanglinchee Rd. Open Tue-Sat 8am-7pm; Sun 11am-7pm