The Attic
#04-146A, Far East Plaza, 14 Scotts Rd., 6732-3459. Open Mon-Sat 3:30-9pm, Sun 3:30-7:30pm
Tucked away on the fourth floor is this dimly lit shop crammed with treasures from the past. With all of its walls adorned with authentic vintage items and trinkets, you'll definitely find something worth taking home.
Books Actually
9 Yong Siak St., Tiong Bahru, 6222-9195. Open Tue-Sat 11am-9pm, Sun-Mon 11am-6pm
Embrace your inner bookworm at this indie bookstore specializing in fiction and literature, also stocking the widest collection of Singapore literary publications including some out-of-print titles.
Déjà vu Vintage
#01-70 Millenia Walk, 9 Raffles Blvd., 6338-8013. Open daily 11am-9pm
If you haven't got a big budget but still want those designer togs, this is the perfect place for reasonably priced designer vintage clothes from the US and Europe.
Granny's Day Out (#03-25 Peninsula Shopping Centre, 3 Coleman St., 6336-9774. Open Mon-Sat 1-8:30pm, Sun 1:30-6:30pm)—Here you will find a fashionable and colorful collection of women's dresses and men's tees, sourced from the US and Japan.
Past Image
#03-08 Excelsior Shopping Centre, 5 Coleman St., 6339-3985. Open Mon-Fri 11am-6pm, Sat 11am-4pm
Filled with collectible toys, vinyl players, movie posters and magazines from the 70s-90s, this shop will help quell those feelings of nostalgia.
View Point Trading & Collectibles
#02-09 China Square Central, 18 Cross St., 6327-8063. Open daily noon-7pm
Looking for that old Tiger Beer bottle or other 70s/80s drink paraphernalia? Look no further.
Stevie General Store
93 Club St., 6536-8590. Open Tue-Sun 2-8pm
A collectibles store and fashion boutique under one roof, you will find loads of arts and antiques, such as books, eyewear, lamps, tin toys, watches, silverware and every other item imaginable.
The Heritage Shop
#01-01, 93 Jalan Sultan, 6223-7982. Open daily noon-7pm
This shop brings you as far back as the 1930s with items like rare old lamps, typewriters, vinyls, signboards, radios, books, photographs, postcards and tin cans.
Junkie's Corner
94 Jalan Senang, 9791-2607. Open daily noon-7pm
Located in the East near Kembangan MRT, this space is filled with a veritable selection of antique furniture, artworks, toys and signboards.
Roxy Records & Trading
#02-15 Excelsior Shopping Centre, 5 Coleman St., 6337-7783. Open Mon-Sat 11am-9:30pm
Forget about HMV or That CD Shop because this is simply the perfect place for music collectibles.
Top 12 Flea Markets in Singapore
Check out some of our cool buys at pg 2.
Cool buys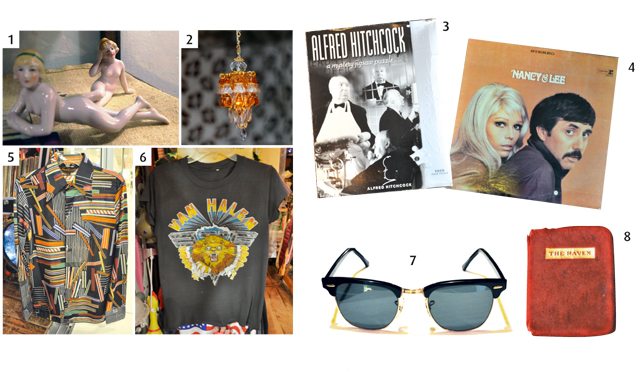 1. Antique miniature German Art Deco Bathing Beauties figurines circa 1920s. $300 from Stevie General Store.
2. Handmade miniature chandeliers featuring glass beads and Swarovski crystals. $160 from Stevie General Store.
3. Collectible Alfred Hitchcock jigsaw puzzle, which also serves as a clue to a murder scene when assembled. $30 from Past Image.
4. Rare original Nancy & Lee vinyl from the 70s, featuring gems like "Jackson" and "Some Velvet Morning." $30 from Past Image.
5. Slim-fitting David Harrison retro long-sleeved shirt featuring silkscreened motifs of tumbling books. $180 from The Attic.
6. Collectible Van Halen Tour tee circa 1980s. $250 from The Attic.
7. Original mint Raybans circa 1980s. $190 from The Attic.
8. Antique miniature The Raven book by Edgar Allan Poe circa 1900. $200 from Stevie General Store.