Supaksorn Jongsiri, whose family has roots in the southern region of Thailand, draws his recipes from his grandma's cookbook to produce powerful and memorable dishes. Most of them are flavorful and really bring the heat. Our favorites include gaeng luaeng pla sam lee (a spicy sour soup with black-banded trevally fish and fermented young bamboo shoots, B180) which is an impressive combination of sour and spicy, and the gaeng tai pla (another firey soup with fermented fish entrails and Thai herbs, B160), which packs huge flavor but should be eaten with a side of rice.
Somerset Building, Sukhumvit Soi 55, 02-381-6441. Open daily 11am-10pm. BTS Thong Lo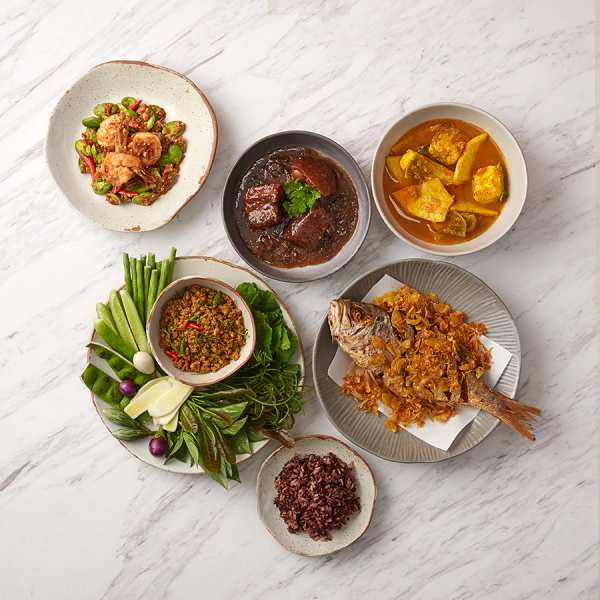 This family-run Southern Thai specialist is a sensation. The boisterous dining room can result in a long wait, but the persistent crowds show that the food makes it all worth it thanks to the kitchen's uncompromisingly volcanic levels of spice and deft cooking of fresh ingredients. We like the gaeng leung yod maprao pla grapong (B240) with the real texture of Southern curry that should be thick with spices, and the spicy and pungent sataw pad prik gang kiew goong (stir fried stink beans with prawns and Southern green curry, B240).
21/32 Sukhumvit Soi 23, 02-259-5189. Open daily 11am-10:30pm. BTS Asok
Exclusively for Citi credit card members: :
Get a complimentary Khua Kling Moo Sab valued THB 180 when spending THB 2,000 or more /sales slip or get a complimentary Moo Hong valued THB 240 when spending THB 3,000 or more /sales slip (limit 1 dish /card /table /sales slip) Today - 31 Dec 18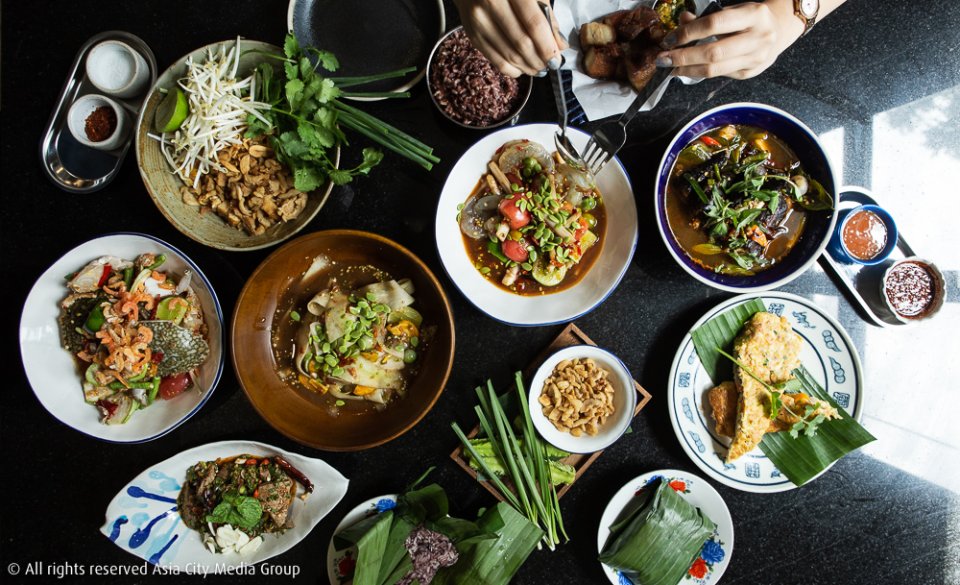 With its 24 seats booked out night after night, Phed Phed is one of the most buzzing Isaan restaurant in town. Here, the menu boasts more than 20 varieties of somtam, all with an eight-chili-pepper heat level as the baseline—yes, eight—meaning there are some tough choices to be made. Try somtum pu plara (B60), which comes topped with a plentiful supply of kratin beans for a burst of freshness to balance out the fermented fish, and tum pol-mai quinoa (B105), a creative twist featuring fresh fruit, quinoa and dried shrimp. We're also in love with moo tok crok (grilled pork neck salad, B110), which get a dose of crunchy peanuts and pork crackling on top.
Phahon Yothin Soi 8, 098-263-5715. Open daily 11:30am-8pm
(Credit: www.facebook.com/seouljupudeong)
Seoul Ju Pu Deong
Located at J Avenue mall, this restaurant oozes out fun vibes with its neon pink walls, rose gold trimmed shelves and purple underbar light. The menu contains Isaan dishes with Korean flare such as somtum kimchi pu talay (B645)—a spicy papaya and carrot salad served with spicy pickled crab, and spicy mango salad with raw shrimp (B475) replete with tangy kimchi.
J Avenue, Sukhumvit 55 Soi 15, 090-959-6565. Open daily 11am-10pm. BTS Thong Lo
Exclusively for Citi credit card members: :
Get 5% discount on food only when spending THB 1,000 or more /sales slip (except crab marinated menu) Today – 31 Mar 19



(credit: www.facebook.com/Somtamandchardonnay)
In a bright, elegant space combining white marble and slate gray, Som Tam & Chardonnay offer variations of the spicy papaya salad staple alongside a number of wines to cool off the heat. We recommend classic Thai style (crispy shrimp, long beans and tomatoes, B250) and the creative pu-nim plara (B280)—green papaya salad with Thai anchovies and tempura soft shell crabs. Don't forget to opt for the wine pairing recommendations, like Cranswick Estate Chardonnay 2014 (B295/glass, B1,420/bottle) with tropical fruity notes and an acidic finish.
88/333 Sukhumvit Soi 55 (Thonglor), 020-909-052. Open daily 5:45am-11pm. BTS Thong Lo
Well-executed Isaan food in a more polished setting isn't a groundbreakingly novel idea, but few places do it as well as this friendly eatery that brings the strong, vibrant flavors of Khon Kaen to Bangkok. The standouts include tam sua Sakon Nakhon (B65), with freshwater crab and kratin beans, and the tam pla tu khao man (B85) served with mackerel and a comforting side of rice cooked in coconut milk.
5/5 Sala Daeng Rd., 02-632-4499. Open daily 11am-2:30pm, 4:30-10pm. BTS Sala Daeng
Exclusively for Citi credit card members: :
Get 10% discount on food only Today – 31 Oct 19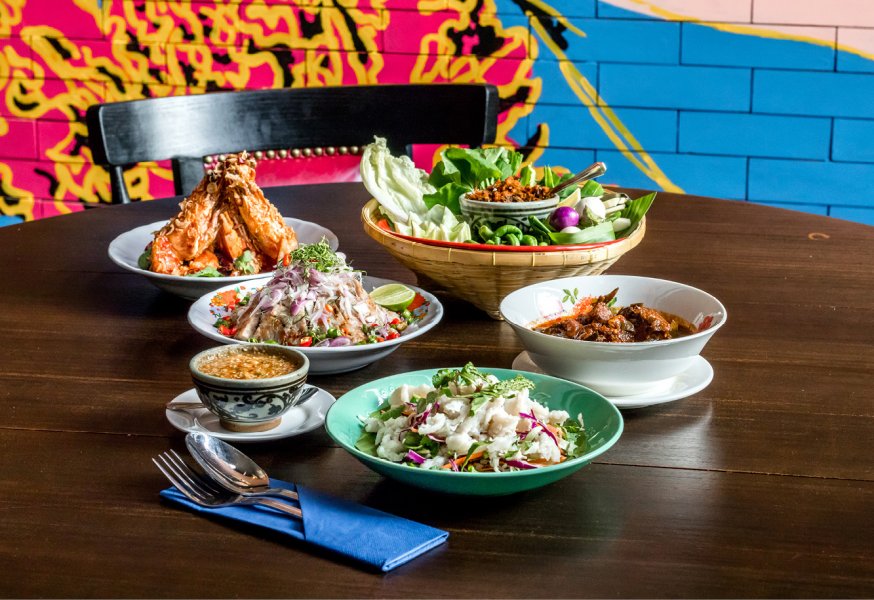 Step inside this luxurious room of azure, button-backed leather sofas and louvered wooden panels to get delicious-yet-underrated Eastern Thai dishes with such a flavorful taste. We recommend the stir-fried crab meat with yellow chilli and stink beans (B450), the spicy sea bass soup (B220) with sweet tones from salacca, and lon pu kai (B540)—a creamy chili dip made with a whole mud crab, Laos coriander and fresh local vegetables.
90 Sukhumvit Soi 33, 02-088-0968. Open Wed-Sun noon-11pm; Mon noon-11pm; Fri-Sat noon-1am. BTS Phrom Phong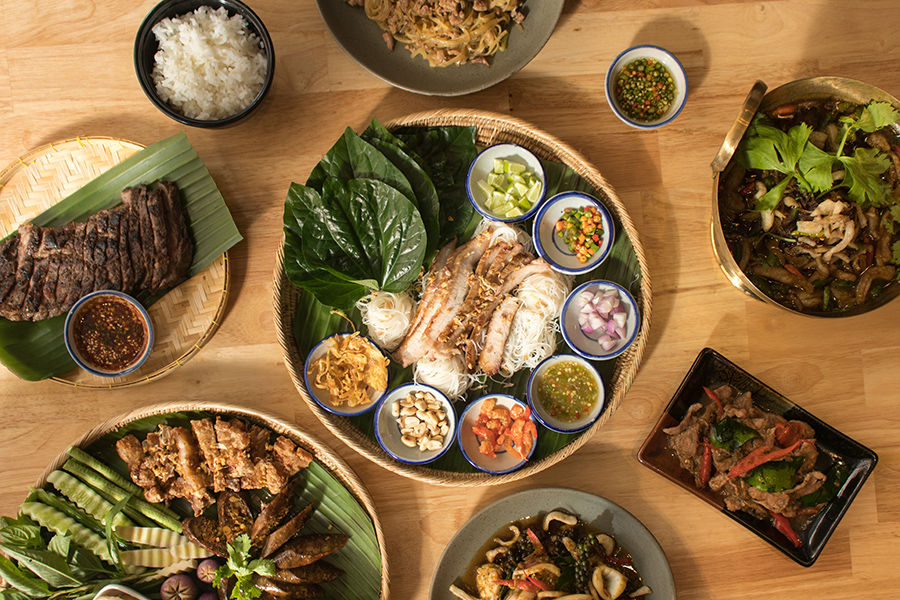 From the owner of La Monita and Osito. Tuck into this cozy space with high ceilings and deep blue pillows to order the signature gaeng leung pla kapong (spicy sour curry with seabass and fermented bamboo shoots, B250), and the crispy Thai omelet with pork cracklings and chilli paste (B120). The drinks menu also features creative cocktails such as fah lun (rum, triple sec, creme de cacao, mango, and lime, B390) served in cold jar.
888/28-29 Mahatun Plaza, Ploenchit Rd., 02-044-1010. Open Mon-Sat 11.30AM - 10PM. BTS Ploenchit
Exclusively for Citi credit card members: :
Get 10% discount on food only when spending THB 1,200 or more /sales slip Today – 31 Aug 19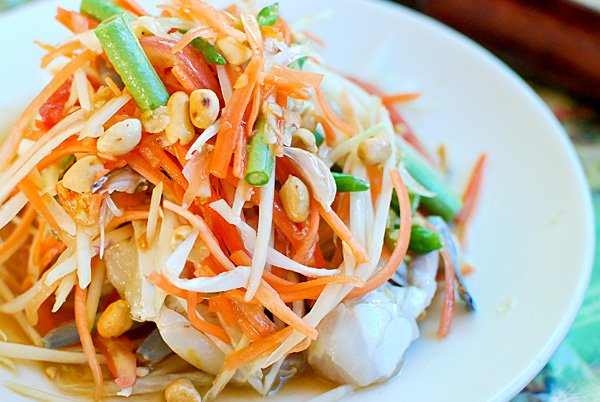 Zabzaded
Not far from the bustle of Asoke's main road, this Isaan restaurant has been a go-to spot for the neighborhood's office crowd for decades. It's all about Thai staples here, from spicy somtum like cow pea and crispy pork somtum (B50) and blue crab somtum (B60), to baby pork rib spicy soup (B80) and fried red tilapia sitting fish in tamarind sauce and chilli (B170). If everything seems too spicy for you, just order grill chicken thigh (B40) with crispy skin to tone it down.
Asok Montri Rd., Sukhumvit Soi 19, 02-664-0606. Open daily 10am-10pm. BTS Asok
Exclusively for Citi credit card members: :
Get 10% discount on food only Today – 28 Feb 19
South Tiger
Other than good service and chic decor (dark blue walls matched with chandeliers, wooden floors and patterned tiles), what keeps us coming back to this Thai bistro are its flavorful Southern dishes that blast the tongue with heat. The best-in-class here are the curries, like the spicy smoked pork curry with Raing nuts (B200), salmon and pineapple in spicy and sour soup (B250), and baby pork rib in Garcinia cowa soup (B220). A side portion of rice is highly recommended for all.
6/F Emquartier, Sukhumvit Rd., 02-003-6314. Open daily 10am-10pm. BTS Phrom Phong
Exclusively for Citi credit card members: :
Get 10% discount on food only Today – 30 Jun 19
---
This native ad was created by Asia City Studio. We use storytelling to help brands of all sizes influence and connect with people who matter. Visit us online: studio.asia-city.com

Sponsored by: