Baan Khanitha The Heritage
With colonial-style decor and an outdoor terrace overlooking the Chao Phraya, Baan Khanitha sticks to its roots by serving authentic Thai cuisine with some dishes that even locals are struggling to find. Appetizers like the bu nga pana lai (edible Thai flowers wrapped in thin rice paper and served with zesty fruit dipping sauce, B250), and moo sarong (minced pork wrapped in noodles before deep frying, B240) are real highlights. While main options include comforting dishes like gang kheelek pla yang (B320)—red creamy curry with cassia leaves and grilled fish—and fermented rice noodles with crab curry (B420).
4/F, IconSiam, 02-288-0414. Open daily 11am-10:30pm
Exclusively for Citi credit card members:
Get 10% discount on food only and get a complimentary welcome drink valued THB 190 when spending via Citi credit card (limit 1 glass /card /table /sales slip)
1 Mar '20 – 28 Feb '21
This is one of the Chao Phraya River's most recommended spots due to a stunning riverside alfresco terrace, the Mandarin Oriental's iconic Author's Lounge in the background, and classic Italian dishes with re-interpretations. Appetizers like Burrata (B490) comes accompanied with vine tomatoes and arugula, while the vitel tonne (B670) is served with creamy tuna chunks, anchovy, mayonnaise, and seasonal greens. Pasta highlights include the paccheri e polpo (B630) which is paccheri pasta with red wine braised Mediterrenean octopus, taggiasche olives, and sun dried tomatoes.
Mandarin Oriental Bangkok, 48 Charoen Krung Soi 40, 02-659-9000. Open daily 5-9:30pm
Pull up a seat on the restaurant's outdoor terrace to enjoy full view of the riverside's star attraction—Wat Arun (the Temple of Dawn)—while indulging in elegant Thai classics like the pla sam rod (fried white snapper with crispy batter and served with caramelized garlic, sauteed onions peppers and coriander leaves, B595) or regional specialties like kao soi gai (Northern Thai's spiced soup of boneless chicken thighs and soft noodles topped with crispy noodles and pickled vegetables, B345). The river bar also features a vast selection of wines, crafted beers, and cocktails to round out your romantic meal.
Sala Rattanakosin Hotel, Maharaj Rd., 02-622-1388. Open daily 7-10:30am; 11am-4:30pm; and 5:30-10:30pm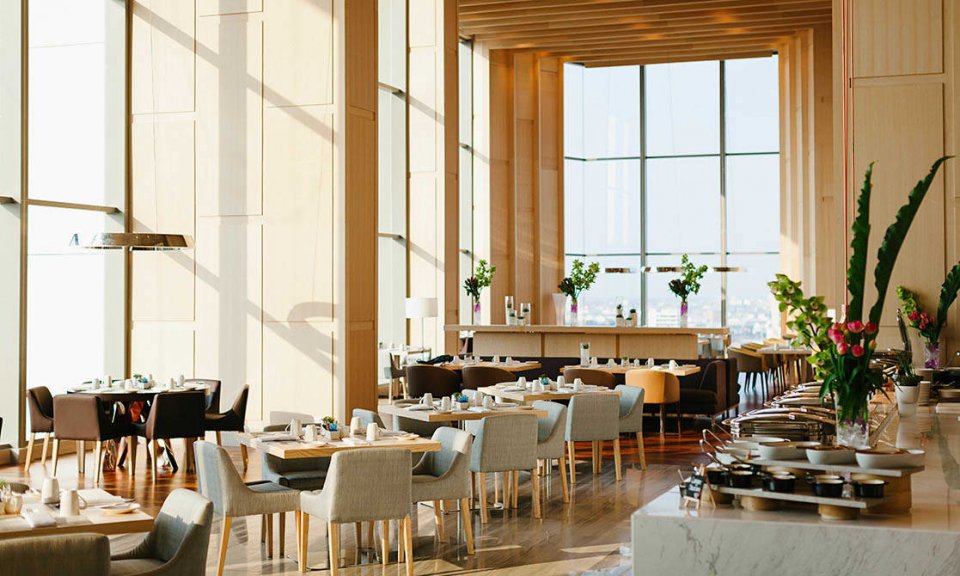 Skyline
Head up to the 11th floor of Avani Hotel to take in an awesome view of the river and indulge in a bunch of healthy food made with certified organic herbs and greens sourced from the hotel's 2,800-square-meter hydroponic farm on the roof. The menu ranges from comfort dishes like homemade beef burgers served with hydroponic greens (B380) and mains with imported produce like the pan fried Norwegian salmon with tomato salsa and zucchini coulis (B460), to aromatic curries like the lamb rogan josh (traditional Indian lamb curry with fried shallots, tomatoes, fresh herbs, served with naan or basmati rice, B350).
11/F, AVANI Riverside, 257 Charoennakorn Rd., 02-431-9100. Open daily 6am-10pm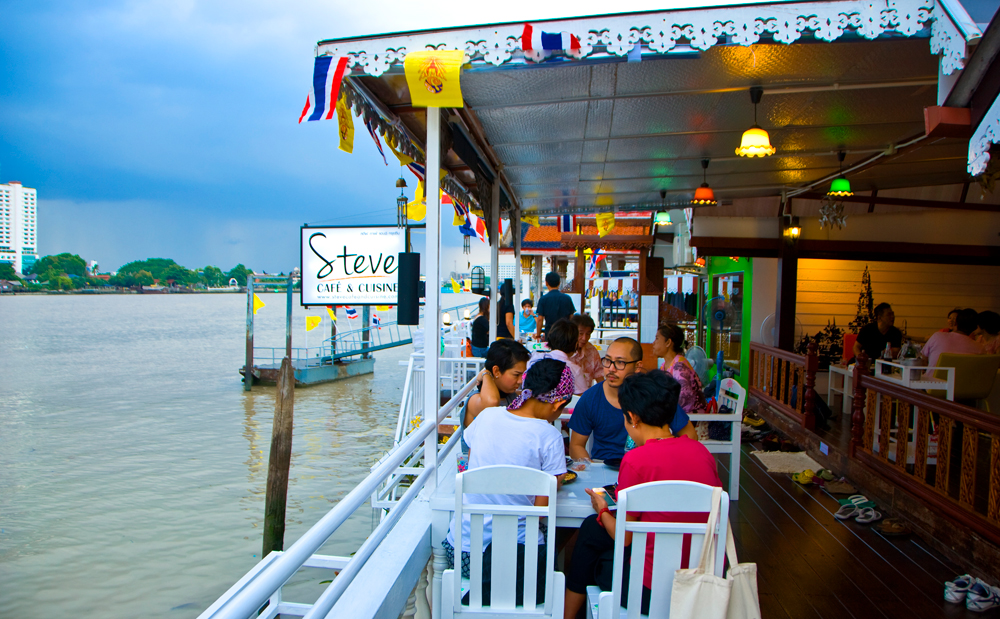 Located in the small community behind Wat Devaraj Kunchon next to Thewet pier, Steve boasts river views and wooden house along with authentic Southern Thai dishes. Signatures include the pungent gaeng luang sai bua gung (Southern sour soup with lotus stems and prawns, B210), gaeng tai pla (Southern style fish curry, B210), and pad sam men (stir fried stink beans and climbing wattle with pickled garlic and minced pork, B190). For less fiery fare, try the lemongrass salad (B160), and deep fried prawns with tamarind sauce (B180).
68 Sri Ayutthaya Soi 21, 081-868-0744. Open daily 10:30am-10pm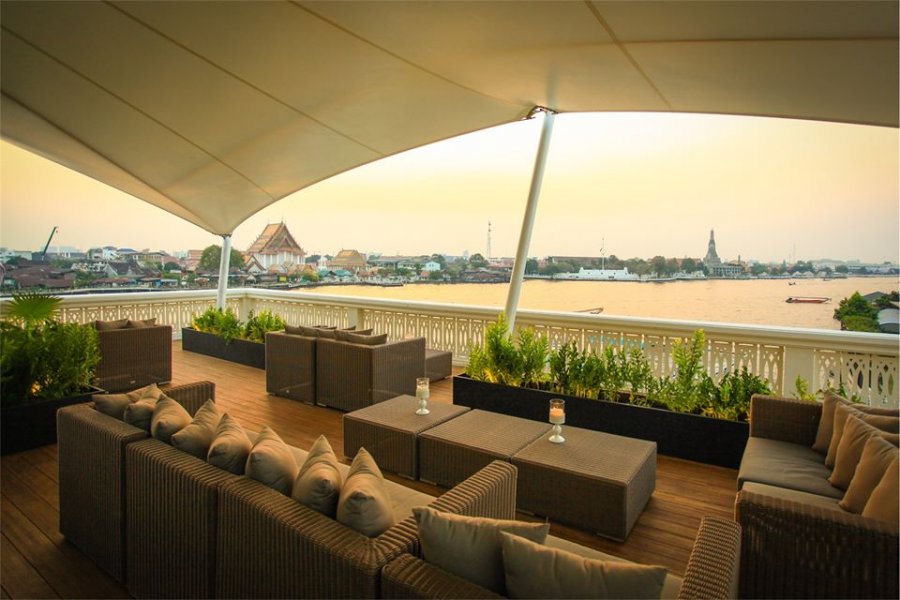 Mango Tree on the River
Situated at the riverfront, the restaurant offers a magnificent view of the river and Bangkok's signature landmarks, like the Temple of Dawn. Choose to be seated indoors or the al fresco terrace to enjoy the sunset view along with yum som oh goong sod (pomelo salad with prawns, B190), and panang kor moo yang (yellow curry with grilled pork, B220). The rooftop bar presides over crafted beers on tab and cocktails, with highlights like the Pt. Tom-Yam (Thai herbs infused vodka, lychee liqueur, coconut liqueur, lime, and syrup, B295).
240 Yodpiman River Walk Shopping Paradise, Atsadang Rd., 02-110-0820. Open daily noon-9pm
Exclusively for Citi credit card members:
Get 10% discount on food only
1 Nov '19 – 31 Dec '20
Supanniga Eating Room
Sitting on the riverside deck of Tha Tien's Riva Arun, this Thai restaurant has built its reputation on delicate traditional plates bursting with strong, authentic flavors. Alongside familiar staples, three-generation-old recipes highlight the underappreciated dishes of Thailand's east. We like the standout moo cha muang (zesty curry with pork and Guttiferae tree leaves, B257) whose wonderfully rich and dried chilli paste is a revelation. For spicier options, try the stir fried crab meat with yellow peppers (B642) which the succulent crab meat blend wonderfully with Southern spicy curry paste.
392 Maha Rat Rd., 02-015-4224. Open daily 11:30am-10:30pm
Exclusively for Citi credit card members:
Get 10% discount on food only when spending THB 500 or more /sales slip
1 Feb '20 – 28 Feb '21

HOBS
Along with a menu packed with comfort food, classic drinks on tap and craft beers sourced internationally, the restaurant's latest branch at IconSiam also provides panoramic views of the Chao Phraya River. Opt for hearty dishes like deep fried calamari (B160), nachos with cheese (B220) served with chicken or beef sauce, and Belgian fries (B200) with your choice of dips—mayonnaise, curry, pesto, alioli, wasabi, and tomato sauce. Heavier options include the rib eye beef burger (B380).

6/F IconSiam, 095-197-1905. Open 10am-midnight
Exclusively for Citi credit card members:
Get 10% discount on food only when spending THB 1,000 or more /sales slip 1 Nov '19 – 31 Oct '20
Sponsored by: