Tired of your run-of-the-mill Coca-Cola? Try pickled plum- or ponzu-flavored cola, courtesy of
Wasteland
and the
Okura Prestige
hotel.
With alcohol off the table—and its brick-and-mortar location at Bo.lan closed for good—the sustainability-focused bar is turning to remote craft soda-making and collaboration.
For the Okura Prestige, the bartenders-turned-soda makers have made three flavors available only at the hotel's venues: Sakura Soda, Ponzu Cola, and Umeboshi Lemonade.
Savory-fruity Sakura Soda is made with sugar, lime, cherry blossom, and sea salt; Ponzu Cola is made with a unique spice blend, ponzu, and brown sugar; and the fruity, tart Umeboshi Lemonade is made with lime, sugar, rock salt, and pickled plum.
The hotel suggests drinking them straight-up, adding them to cocktails, or pairing them with food, ranging from seafood and pastries (Sakura Soda) to grilled meat (Ponzu Cola) and salads or steamed dishes (Umeboshi Lemonade).
All are available for takeaway and delivery from any of the hotel's food and beverage outlets (B150). Orders can be made via Line (@okura_prestige_bkk).
This isn't Wasteland's only collaboration, though.
The newly nomadic bar crew recently partnered with bean-to-bar specialists
Kad Kokoa
to make a cacao root beer infused with surplus cacao husks, coconut molasses from the sustainable, UNDP-backed Plean Yod Tarn coconut farm, and vanilla grown on the Granmonte estate in Khao Yai (B70 bottle/B200 for three; available via Line).
They've also teamed up with Pridi Cacaofevier to produce a cacao cola made with surplus cacao husk, lime grown on a closed loop farm, and a special spice blend (B70 bottle/B200 for three; available via Line).
All these partnerships play into the bar's stated mission of reducing waste, minimizing the food and beverage industry's carbon footprint, and introducing Bangkok palates to different flavors through their drinks.
Wasteland is the brainchild of Bangkok bartenders Suchada "Fahbeer" Sopajaree (formerly of
Find the Locker Room
) and Kitibordee "Gov" Chortubtim (
Backstage Bar
) and Dharath "Tot" Hoonchamlong, formerly the environmental manager at Bo.lan. The bar was previously located within Bo.lan but has lacked a physical space since the restaurant closed.
Since Bangkok first banned the sale of alcohol in bars and restaurants at the beginning of the year, Wasteland has dabbled in soda-making, adding exciting new variety to a megabrand-dominated non-alcoholic beverage scene.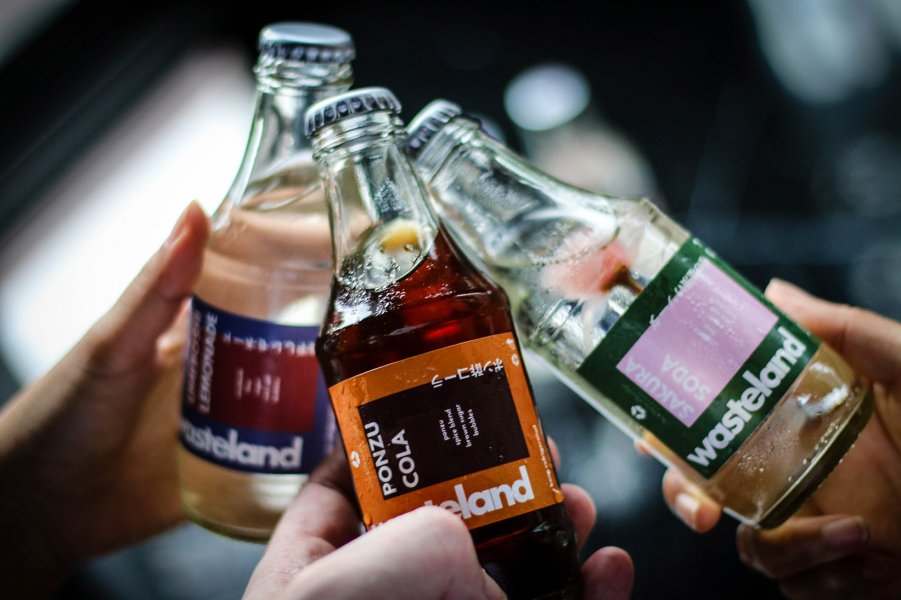 Image courtesy of The Okura Prestige Bangkok and Wasteland