Credit: facebook.com/Another-Day-Desserts-290706031597874/
Another Day Desserts
An eye-catching combination of brick walls with arch frames, white neon signs, and a wall fully adorned with purple and white roses make this pancake specialist quality Instagram fodder. Keep it simple with the original premium pancakes stack (two spongy pancakes topped with fresh whipped cream and vanilla ice cream, B225). Other desserts include the pistachio rose bubble waffle (B275)—a Hong Kong style egg-based waffle filled with strawberry ice cream, pistachio, and fresh strawberries.
G/F The Glass Quartier, Emquartier, Sukhumvit Rd., 085-565-6298. Open daily 10am-10pm. BTS Phrom Phong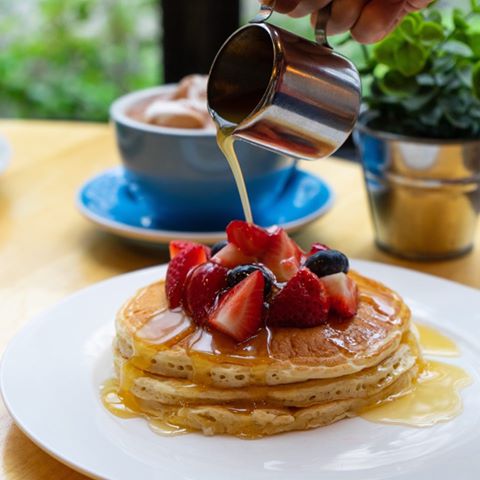 Credit: facebook.com/CHU.BKK/
Chu Chocolate Bar & Cafe
This all-day dining spot is a dessert oasis in the center of jam-clogged Asoke with its cozy vibe and hilarious food quotes. Their light and fluffy pancakes steal the show–try the berry pancakes, topped with fresh strawberries and blueberries and warm maple butter sauce (B240). For desserts option, opt for Banana & Salted Caramel Waffle (B240), oozing chocolate lava cake served with vanilla ice cream (B220), churros with a chocolate dip (B100) or the show-stopping creamy, velvety, dark hot chocolate (B120-140).
Room 204-206, 2/F, Exchange Tower, 388 Sukhumvit Rd., 02-663-4554. Open Mon-Fri 7:30am-9pm; Sat-Sun 8am-9pm
Exclusively for Citi credit card members:
Get 10% discount on food and non-alcoholic beverages when spending THB 600 or more /sales slip
1 Jan – 31 Dec '20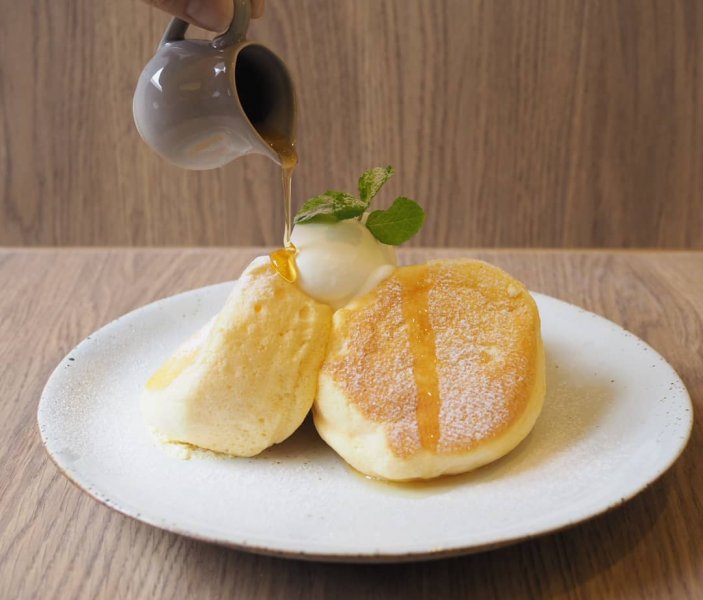 Credit: facebook.com/Fuu.Soufflepancake/
Fuu.Soufflepancake
From Chiang Mai to Ari's latest community mall GUMP's, this cozy cafe specializes in the homemade souffle pancakes that are as spongy as its name (fuu means spongy in Thai). Settle in among pastel yellow walls and photogenic rattan chairs to enjoy the desserts like the Strawberry White Christmas (B245)—a stack of three fluffy pancakes served with vanilla cream sauce and strawberry sauce. For other dessert options, we recommend the basque burnt cheesecake (B110) whose the burnt top adds the flavor depth to its moist and buttery slices.
GUMP's, 25 Ari soi 4. Open daily 10am-10pm. BTS Ari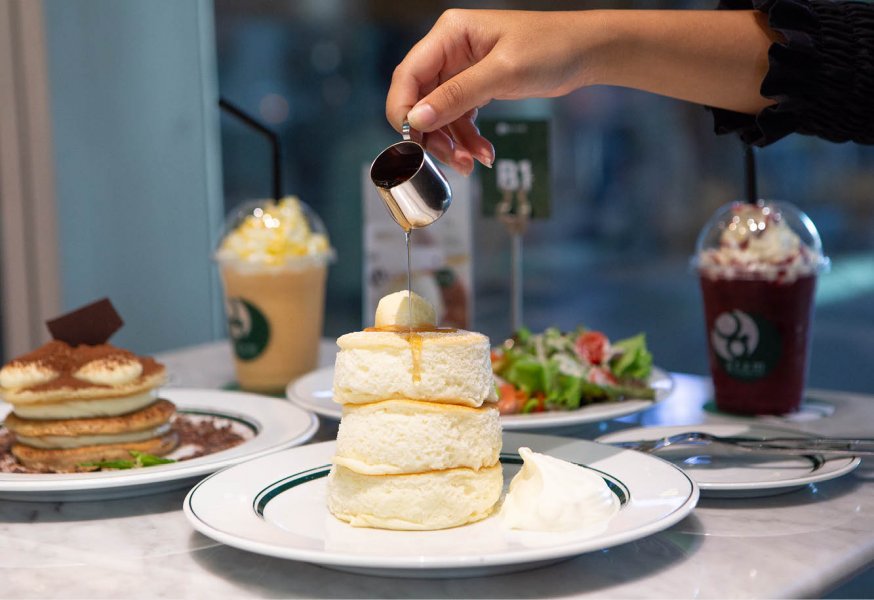 Osaka's much-hyped souffle pancake specialist is popular for its 4cm-thick premium fluffy pancakes (B295), which come in stacks of three layered with Nama cream (maple syrup, butter and whipped cream). These wobbly wonders are the stuff of Instagram dreams and the flavors also don't disappoint. Other must-try dishes are the tiramisu pancakes (B275) combining the two dessert favorites to perfection, and the pancakes with bacon and scramble eggs (B275), which is perfect if you are craving something a little heavier.
G/F, Siam Paragon, Rama 1 Rd., 061-469-6745. Open daily 9am-9pm. BTS Siam
With more than 1,600 locations across the US, Canada, and Asia, this American powerhouse serves buttermilk batter pancakes that are cooked to half-inch fluffiness but still dense enough to sponge up the syrup. The New York cheesecake pancakes (B195) have satisfying chunks of cheesecake mixed into the batter and are topped with cloying strawberry jam and a dollop of deflated whipped cream. The menu is also packed with light bites like sandwiches (B240), salads (B240) and sweet varieties of crepes (B195), waffles (B195) and French toast (B170-195).
4/F, Siam Paragon, 991/1 Rama 1 Rd. Open daily 7am-10pm. BTS Siam
Exclusively for Citi credit card members:
Get Complimentary Cannoli OR Mexican Tres Leche valued THB 195 when dine at THB 600 or more/sales slip (limit at 1 dish/card/table/sales slip)
1 July - 31 Dec '20
Get Complimentary Strawberry Banana OR Double Blueberry valued THB 195 when dine at THB 600 or more/sales slip (limit at 1 dish/card/table/sales slip) (limit 500 dishes /month /all branches)
1 Jan - 30 Jun '21
Iwane U
This café offers a delightful take on Japanese patisserie. There is one reason we'd recommend repeat visits to Iwane U: its pancakes. Choose from the spongy and delicious classic ricotta pancakes, served with ricotta cheese, maple syrup and fresh bananas (B220) or the soft ricotta dinner (B200), a pile of three thick pancakes served with caramelized banana and whipped cream. The venue also has a large selection of bread and bakeries (cakes, brownies, donuts, and cookies, B45-150).
7/F, Helix Quartier, EmQuatier, 064-165-6232. Open daily 10am-9:30pm
Exclusively for Citi credit card members:
Get 10% discount on food only
1 Feb '20 – 31 Mar '21
Credit: facebook.com/PancakeCafeThailand/
Pancake Café
This cafe is dedicated solely to pancakes. The fluffy, super-thick, souffle-like hotcakes are made from their own special recipe, which stars ricotta for a light and creamy texture. Choose between the madagascar vanilla and macadamia (B265)—two fat hotcakes completely covered in thick Madagascar vanilla-spiced custard sauce, a light drizzle of caramel sauce and a sprinkle of cookie crumbs—or the banana maple butter (B265) featuring caramelized bananas and topped with maple butter sauce.
G/F, Siam Paragon, Rama 1 Rd., 02-610-7662. Open 11am-10pm. BTS Siam
Sponsored by: