BANGKOK RESTAURANT
IHOP
The American breakfast specialist is now in Bangkok.
After keeping us waiting for several months, the Bangkok branch of American breakfast specialist IHOP has finally opened its doors.
Known for its breakfast items served all day with extra-long hours (some branches even stay open 24/7), the IHOP chain has more than 1,600 locations across the US, Canada and Asia.
Sticking to Siam Paragon's opening hours (10am-10pm), this open-plan space in the mall's new dining zone (G/F) only serves up light bites like sandwiches (B240), salad (B240) and omelets (B170-175) and sweet varieties of pancakes (B180-195), crepes (B195), waffles (B195) and French toast (B170-195).
The staff tell us construction is ongoing at another IHOP outlet on Paragon's fourth floor, where breakfast plates and heavier meals will be served in a few months.
IHOP got a mobbed reception when it opened back in June 2017. The International House of Pancakes has since opened a second store on the fourth floor, that sports the same glossy decor unrecognizable to anyone familiar with the fast-food fluorescence of the 24-hour U.S. counterparts.
The pancakes, though, are American standard: a buttermilk batter that's cooked to half-inch fluffiness but still dense enough to sponge up that "old-fashioned" syrup. No complaints there.
The more ambitious iterations of pancake are a mixed bag. The New York Cheesecake pancakes have satisfying chunks of cheesecake mixed into the batter but are topped with cloying strawberry jam and a dollop of deflated whipped cream (B195). The chocolate chip pancakes were strangely salty taken bare, but went OK with the topping of chocolate chip ice cream, chocolate sauce and whipped cream.
On the savory end, there's the breakfast platter (B240) spread of two runny eggs, dry sausages, almost-crunchy bacon and crispy-but-oily hash browns or potato wedges. We'll give them points for authentically American quantities of butter in everything, including the steak omelet (B220 cut it with the chili sauce), the sides of mashed potatoes and garlic bread, and the fish florentine that comes on a tide of alfredo sauce and is saved only with a muscular squeeze of the lemon wedge.
Pair all this with a banana hazelnut chocolate smoothie (B125) that's almost more syrup than milk and the meal leaves you feeling guilty, sinking into the seat cushion, a mood that's not helped by the tuna salad (B240) because of its watery and sweet ranch dressing.
There are things that recommend the restaurant, like its chipper service and the airy, relaxed vibe. But the truth is that Bangkok's IHOP holds too true to the American originals: neatly-executed junk food that's saved only by a serious pancake hankering or your desire to experience a genuine post-American-diner grease coma.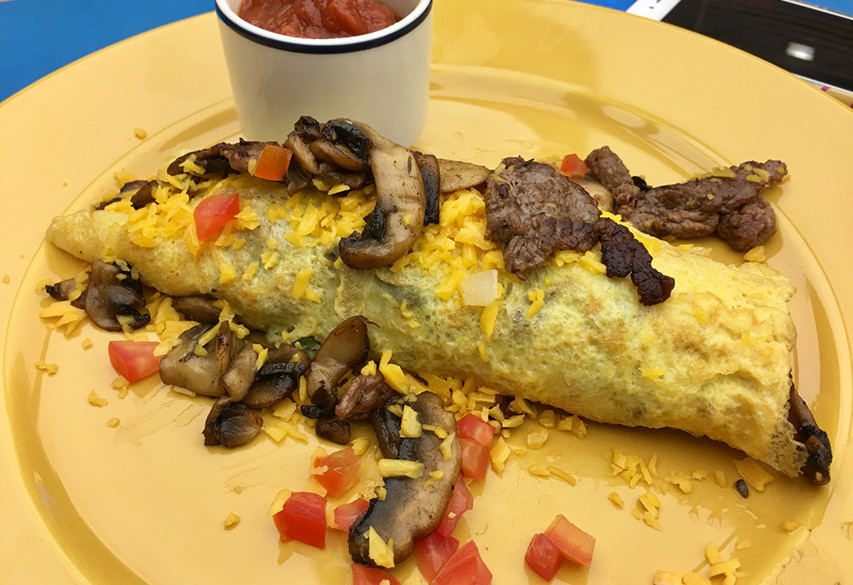 ---
This review took place in March 2018 and is based on a visit to the restaurant without the restaurant's knowledge. For more on BK's review policy, click here.
Venue Details
Address:
IHOP, 4/F, Siam Paragon, 991/1 Rama 1 Rd., Bangkok, Thailand
Area:
Siam
Cuisine:
Cafe
Price Range:
BB -

BBB

Open since:
June, 2017
Opening hours:

daily

9am-9pm

Report a correction