Crisp skin, oh-so-moist meat—there's no denying the simple pleasure fried chicken can provide. Whether paired with beer or doughnuts, these buzzing spots have you covered for your fix of insanely tasty fried chicken.

Proof that the Nanglinchee neighborhood is well and truly on the up comes in the form of this tiny but classy diner doling out juicy fried chicken, doughnuts and other comfort-food staples. Singaporean Cong Wen (former head chef at Prelude) marinates his free-range birds in a spicy yogurt mixture before giving them a 10-minute hot oil bath and tossing in a blend of 17 spices. The resulting fried chicken (B260 for a quarter chicken with one side and a sauce; B1,050 for the "Whole Freakin' Bird Combo" with two sides and two sauces) bursts with flavor. Just as impressive are the five house-made sauces: the pungent green herbs, tomato chutney, garlic butter, fermented chili and garlicky mayonnaise. We recommend the Big Chicken sandwich (B260), layered with made-to-order coleslaw and thinly sliced pickles.
76/10 Nanglinchee Rd., 093-596-2465. Open Wed-Sun 11:30am-2:30pm, 6-11pm; Mon 11:30am-2:30pm, 6-11pm

The people behind the Thai bean-to-bar chocolatier, Malai Chocolate, have just launched this spot dedicated to classic American comfort food—namely fried chicken and donuts. Alongside Malai's usual coffee and chocolate drinks (from B50), they will now be serving up Nashville-inspired hot chicken, ranging from BareNaked (simple, no heat) to Shittin' Fire, a heady mix of habanero chili, Carolina reaper and Trinidad scorpion, among others. The chicken is brined and doused in a secret recipe that contains over 30 different spices. Go all-American with the Clucking Wings (B220)—crunchy and golden on the outside, piping hot and juicy on the inside—or go wild with the giant and very shareable Clucking Chicken Sandwich (B220). Try your chicken with their donuts, which are made fresh in-house daily and have a cake-like texture.
11/33 Petchaburi Soi 47. Open daily 11am-8pm.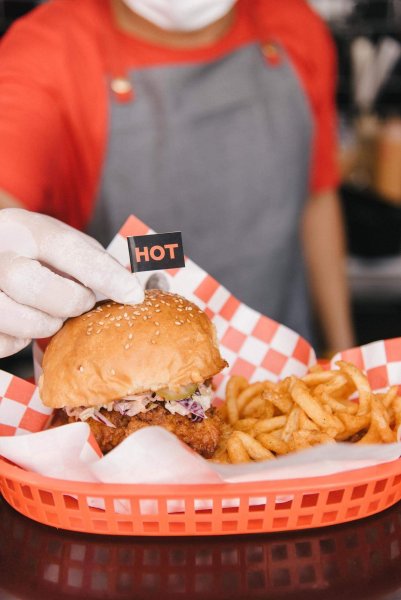 Joining the influx of newcomers to Soi 11, Fowlmouth's second branch builds on the Thonglor original with a new "secret menu" to accompany their fried chicken signatures and a fresh selection of beers that'll have you torn on which branch to run to. They go big on Nashville hot chicken, a Tennessee-hailing specialty of the deep-fried, cayenne pepper-seasoned variety that gets treated to a slathering of spicy paste. At Fowlmouth, they offer different heat levels ranging from the compassionate mild to the scorching Death level—beware of contact with your skin! Those in the know will go for the classic Little Fowl (B250), which sets a perfectly crisp quarter chicken with pickles atop classic white bread, which absorbs all the juices and flavor.
1-2/F, Eleven, Sukhumvit Soi 11, 097-047-9457. Open Tue-Sun noon-10:30pm.

Bringing a dash of beach vibes to the backstreets of Sathorn, Saucey Chicken and Beer Bomb is all about chicken drenched in six saucy flavors. Have your bird slathered in the signature (chili paste, garlic, shrimp oil); original (soy sauce, palm sugar); African teriyaki (teriyaki, wild honey, aged ginger); Isan jaew bomb; Seoul sauce (Korean chili paste); or hot BBQ (tomato paste, dry chili, vinegar). Go for the lunch set (B159), which comes with five pieces of chicken, sticky rice, coleslaw and pickled vegetables, or head there after work for vodka slushies and happy hour beers (buy-two-get-one-free) on their beachy, turquoise, palm-fringed terrace.
44/6 Sathorn Soi 8, 02-297-0393. Mon-Thu 11am-10pm; Fri-Sat11am-midnight.