Limited-edition menus from some of the top chefs in town.
Top Tables Champions—BK Magazine's new dining series with the award-winning chefs of Top Tables—is open for pre-booking! We've partnered with over 20 of the most highly regarded restaurants in Bangkok to offer diners amazing offers on fixed price menus and other culinary experiences from Mar 21-Apr 7.
Just how good? Prix fixe menus start from just B1,500++ per person at restaurants where at other times of the year you could be waiting months to book.
Below we've rounded up all the amazing Thai food menus on offer during Top Tables Champions. Booking is now open, so you better be quick!
The place: From a warm, rustic space just off Charoenkrung, chefs Chalee Kader (Surface, Holy Moly) and Randy Noprapa (Fillets) reward diners for taking the plunge into the world of local offcuts. Drawn heavily from Isaan and the north, dishes like the beef entrails in spicy soup and charcoal-roasted bone marrow really make you question all the fuss over premium meat—and have you coming back for more.
The event: 100 Mahaseth Tasting Menu 2019
Price: 1,500++/ person
Date: Mar 22 - Apr 02
80/20 [SOLD OUT!]
The place: 2019 saw Charoenkrung's hipster hangout go upscale: kitchen bar seats, tasting menu, wine pairing and craft cocktails. Fermentation remains at the heart of chef Napol Jantraget's 13-course menu, whether it's a sinfully crisped slice of pork belly topped with infused mushroom and served with a fermented chili sauce or a tangy coconut cream with smoked goby fish. Desserts by Japanese pastry chef Saki Hoshino forego sweetness in favor of sublimely challenging new flavors.
The event: Chef Napol & Chef Saki's Personal Reinterpretation of Thai Food and Seasonal Ingredients
Price: 2,200++/ person
Dates: Mar 27, Mar 29 - 31
The place: Chef Thitid Tassanakajohn (of the one Michelin-star Le Du) retreats from the modernist culinary techniques he learned in New York in favor of homey, everyday Thai meals. Co-run by his younger brother Chaisiri, Baan dishes out unpretentious meals which prove chic, high-quality dining can be delivered at pocket-friendly prices—and in a strikingly modern yet inviting space.
The event: Baan's special Top Tables Champions sharing set menu
Price: 1,500++/ person
Date: Mar 25, Mar 27 - 31
The place: Unique, daring an challenging, Front Room defies labels. Chiang Rai-born head chef Fae Chummongkhon graduated culinary school in Denmark before working the top New Nordic kitchens (Noma included). Waldorf put their faith in Fae's tasting menus that don't just rely on imported expensive ingredients. Her egg yolk with rich mussel veloute is a must-eat.
The event: Chef Fae's Nordic-Thai Tasting Menu
Price: 1,500++/ person
Date: Mar 25 - 31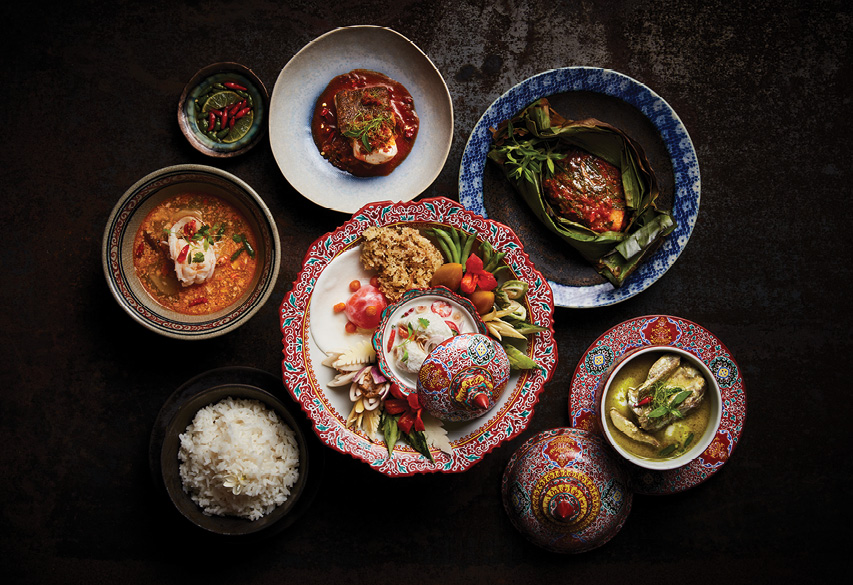 The place: R.Haan is the new Thai fine-dining operation from celebrity chef Chumpol Jangprai, which is all about seasonal ingredients in a traditional setting reminiscent of the early Rattanakosin era. Set menus feature charcoal-grilled chicken with chili sauce, hard-to-find dishes like coconut-smoked pork sausage served with ground fish, roasted rice and coconut milk, and royal Thai cuisine highlights like crispy rice noodles with sweet and sour sauce made from bitter orange peels, and aromatic kaffir lime in sweet and refreshing syrup.
The event: 4-course Set Menu with Amuse Bouche
Price: 1,800++/ person
Date: Mar 22 - 26, Mar 29
The place:
Sorn is the latest to try and remedy Bangkok's insatiable hunger for southern Thai cuisine—and it's not to be missed. This spot sees Supaksorn Jongsiri, the owner of
Baan Ice
, go back to his roots once more in a refined and elegant setting. Sourcing ingredients fresh daily from across 14 southern provinces, his approach to cooking focuses on traditional techniques, from charcoal and clay pot cooking, to pressing and squeezing fresh coconut juice. The menu offers five courses which take on the customary Thai sharing style; the yellow curry with young mangosteen and gu fish is fresh and fragrant, whilst the morning glory with coconut rice and baby shrimps is a must-try.
The event: Lunch Set Menu with Amuse Bouche
Price: 1,500++/ person
Date: Apr 2-7