Broccoli quinoa charcoal burger at Broccoli Revolution (B250)
BK PICK!
This stylish vegan restaurant made its name off the strength of this spectacular burger. The black bun makes it a social media star while the trending quinoa also grabs attention. The result doesn't disappoint. Firm and flavorful, the broccoli quinoa patty gets help from mango-tomato salsa and dill spread, all sandwiched between a cranberry charcoal bun.
899 Sukhumvit Soi 49, 02-662-5001. BTS Thong Lo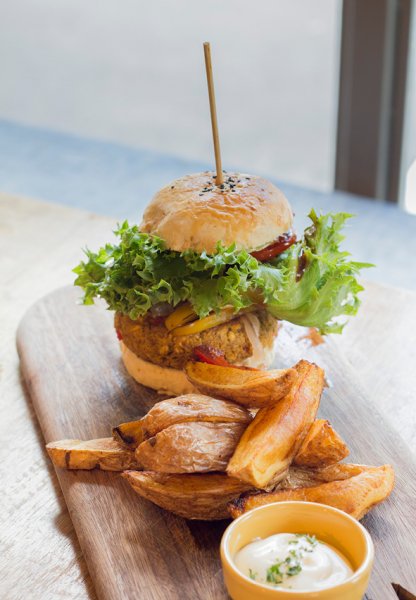 Pumpkin burger at Chomp (B180)
The vegetarian-friendly Chomp offers a range of veggie salads, sandwiches and burgers. The pumpkin burger stands out with its thick pumpkin patty, stacked up with roast bell peppers, feta cheese and sundried tomatoes. Impossible to eat without getting dirty.
63-65 Samsen Soi 1, 02-629-2026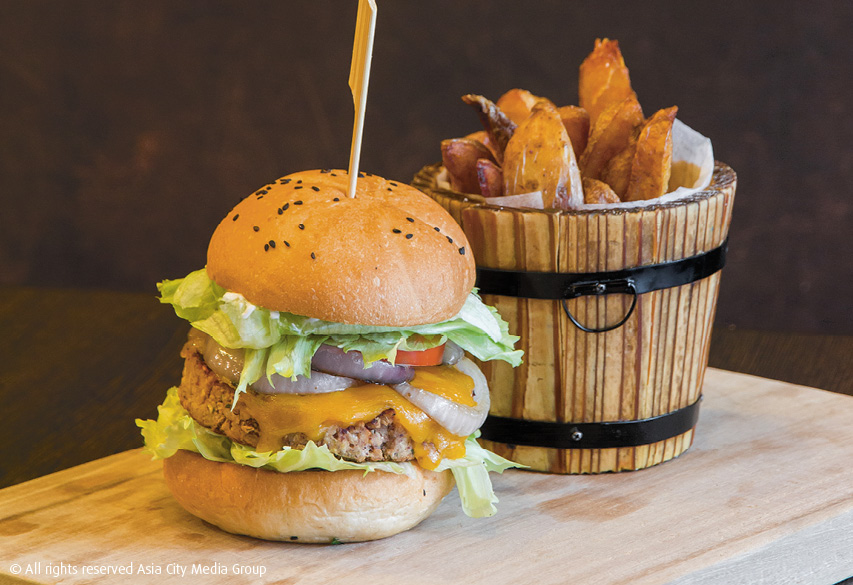 Veggie burger at Firehouse (B315)
BEST PATTY
One of Bangkok's burger institutions doesn't leave non-meat eaters behind. The bean-based patty has a near-perfect texture, and features a long list of other ingredients including mushrooms, peas, garlic, cheese and plenty of seasoning.
33/26 Sukhumvit Soi 11, 02-651-3643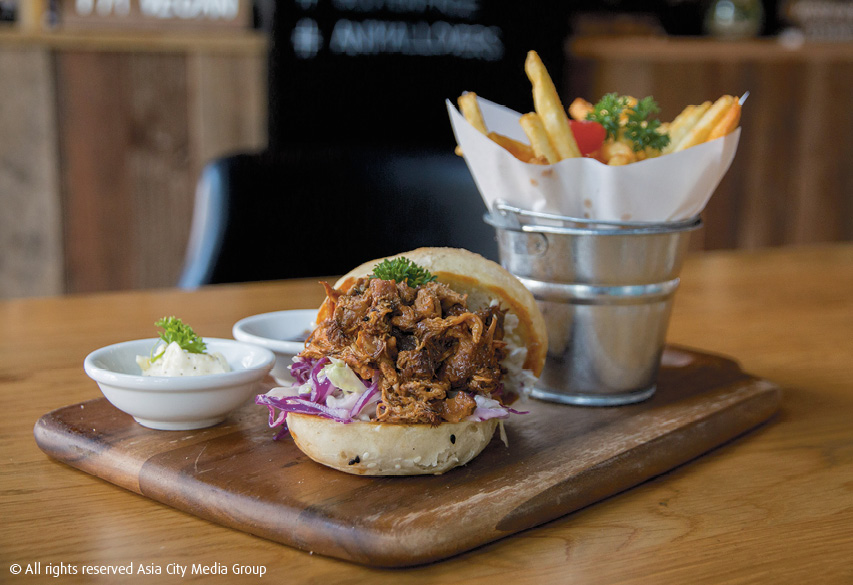 The fashionable vegan restaurant offers its own takes on dishes which would normally contain meat. Filled with deliciously smoky mushrooms, the vegan version of this classic sandwich looks quite like a regular pulled pork burger, but the taste is something completely different. You'll have to chew a bit more. But that also means enjoying it longer.
35/2 Soi Methi Niwet, Sukhumvit Rd., 02-258-8489. BTS Phrom Phong
Veggie burger at 25 Degrees (B210)
BEST BUN
25 Degrees' veggie burger hides in the "craft your own burger" section on the menu. It's made with broccoli, onion, carrot, oatmeal and tofu, among other ingredients, and you can see traces of greens and grounded veggies in the burger. It's also perfect for those with midnight burger cravings as the bar-restaurant stays open 24/7.
G/F, Pullman Bangkok Hotel G, 188 Silom Rd., 02-267-5272

Portobello mushroom burger at Beef & Shake (B155)
We love this small burger joint by BTS Chong Nonsi for its mushroom burger, made from nothing but a big, whole Portobello mushroom cap, marinated in balsamic vinegar, fresh herbs, olive oil and garlic. Health-conscious eaters can opt to have it grilled instead of batter-fried.
93 Narathiwas Rd., 095-949-2646. BTS Chong Nonsi
May's veggie burger at May Veggie Home (B159)
BEST VALUE
Served between an English muffin, the non-mushy bean-based patty has a crispy crust—the best in this list—while inside, chopped mushroom imitates the feeling of munching on grounded meat. We also like the subtle flavors of sesame and curry.
8/3 Sukhumvit Soi 16, 097-247-6925. BTS Asok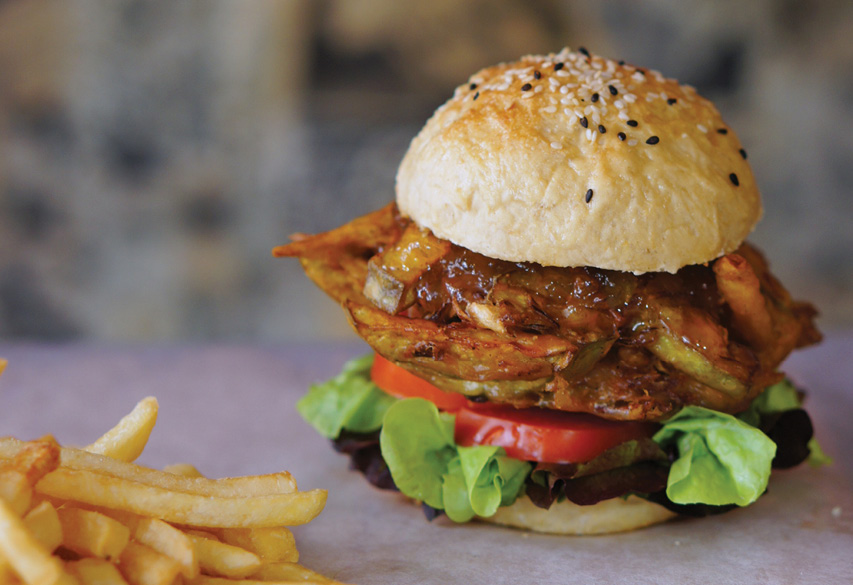 Veggie burger at Jam (B120)
There are no health pretensions with the veggie burger at this arty bar in Surasak. The patty is a heavily spiced mix of eggplant, mushroom, cabbage, carrots and onions that's battered and then deep-fried—an idea the chef owes to her mom, who devised it as a way to get her kids hooked on veggies. A dab of pineapple jam adds a welcome tinge of sweetness to the crunchy bite.
41 Charoen Rat Soi 1, 083-5451-833. BTS Surasak
Pumpkin, sweet potato and feta burger at Steps with Theera (B190)
The heavier focus on food at this new spot by Theera results in many savory dishes including this veggie burger. Served in a wholewheat bun, the chef makes this egg- and soy-free dense patty with pumpkin, sweet potato and feta cheese, and dressed with honey balsamic sauce. There are also pumpkin seeds to chew.
29/8 Ekkamai Soi 10, 02-381-6590 (Thai), 086-582-1774 (Eng)