Calling all culinary hotheads! Clear your calendars for the end of May because the Kimpton Maa-Lai Bangkok is hosting the country's first ever "Chilli Fest." Taking place at Kimpton's lush outdoor Urban Oasis, the event is for those with the boldest of taste buds.
Chilli Fest Guests will be able to sample street food classics from countries around the world that are known for turning up the heat (think: Mexico, China, Chile, Indonesia, India, and of course, Thailand) and that have been prepared by talented (we're talking Michelin-caliber) chefs behind some of the finest culinary establishments across Asia, including Bangkok.
So who's already confirmed on the line-up? Why, we're glad you asked.
Chef "Ton" Thitid Tassanakajohn of Baan and one Michelin-star Le Du fame will be dishing up the Thai classics that his restaurants have become famous for, specifically, their signature khao soi gai and khao ka pao nua. Another Thai Michelin-starred eatery, Saneh Jaan, who is best known for incorporating fresh seasonal produce across their award-winning menu under the helm of Chef "Toi" Pilaipon Kamnag, will be serving their famous gung pad prik ki nu suan that's been stir-fried with bird's eye chili, and one of the spiciest khao mun som tums you'll ever taste. Chef "Golf" Phukvarun Watchmon from the Sindhorn Midtown Hotel Bangkok, Vignette Collection will also be offering a Thai staple in the form of her stir-fried cowslip flowers with glass noodles and grilled pork neck.
Photo: Saneh Jaan
Next, from Iron Chef Thailand Season 9 contestant Chef "Tap" Supasit Kokpol who is also the man behind the fusion Thai-Chinese Restaurant Coda Bangkok, guests can expect juicy hiramasa fish balls, charcoal-grilled cuttlefish, and (easily the most intriguing option on the menu), mango burnt chili shaved ice.
Photo: Kimpton Maa-Lai Bangkok and Restaurant Coda Bangkok
Hong Bao, one of Thailand's most popular Cantonese restaurant chains, will be representing China with their steamed shrimp wontons with red chili oil, and a crispy sze chuan-style chicken stir-fried with dried chili.
Photo: Hong Bao
From another Asian nation (Indonesia, to be specific), Chef Rangga Perdana Putra of InterContinental Bandung Dago Pakar has decadent lobster balado, sate lilit Bali, and nasi goreng buntut cabai hijau on his menu.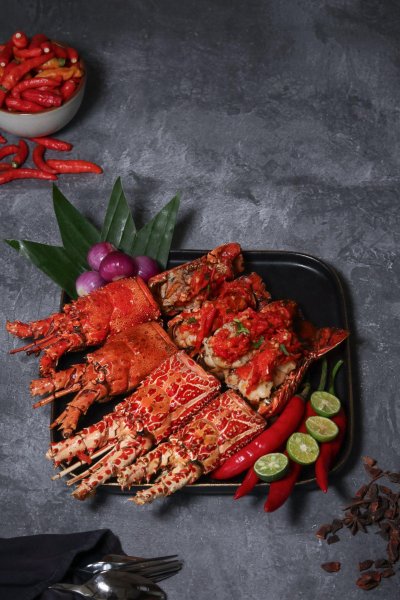 Photo: InterContinental Bandung Dago Pakar
For Bangkok's own Haoma, whose "neo-Indian" menu has garnered them a Michelin star, Head Chef Deepanker Khosla has devised a tiger prawn madras curry with dried shrimp pulao, banaras ki chaat, and lahori chicken ribs.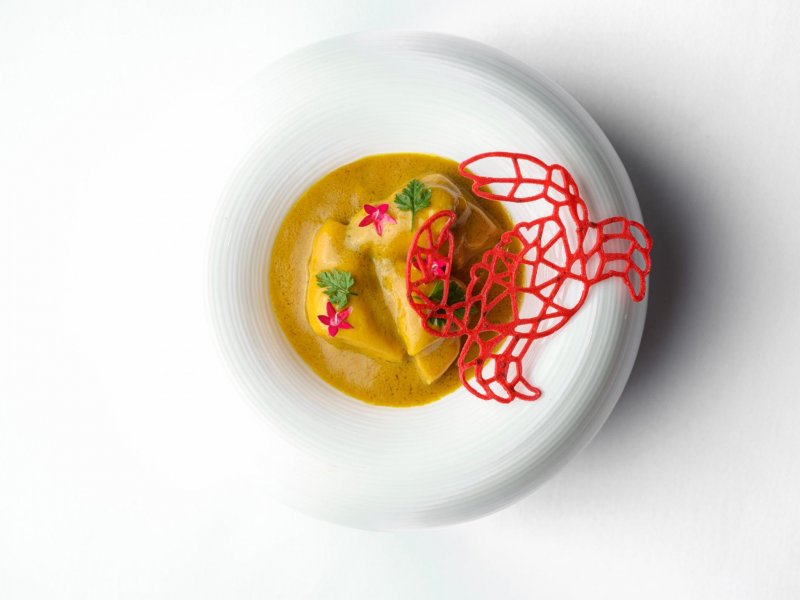 Photo: Haoma
Latin American cuisine fans are also in for a real treat. The dynamic female duo of Chefs Megan Leon and Gaby Espinosa Real (whose combined resumes include a slew of impressive stints at Bangkok eateries like Bo.Lan, Eat Me, Nahm and Ms. Maria & Mr. Singh) will be feeding diners potato flautas with homemade avocado crema and spicy red salsa, and a tangy aguachile with shrimp and chorizo.
Photo: Chefs Megan Leon and Gaby Espinosa Real
Another pair of chefs with Latin American roots, Chef Jaime Rojas from Hotel Indigo Bangkok Wireless Road in collaboration with Kimpton Maa-Lai Bangkok's Executive Chef Lamberto Valdez Lara is bringing Mexican cuisine staples to the event: quesabirrias and tacos al pastor. At the same time, the Chilean chef Rodrigo Martinez from the InterContinental Saigon is preparing Peruvian fish ceviche, chupe de jaiba, and Chilean salmon tiradito.
Photo: Kimpton Maa-Lai Bangkok
To cool down after all of that heat, try out some delicious homemade ice-cream courtesy of "Two to Tipsy" by Roast, including (obviously) a special chili flavor.
But the food isn't all that'll be on display. Guests who want to bring some of that firepower home can purchase a wide selection of gourmet hot sauces from That Daeng Sauce and Firepower Hot Sauces. Aspiring home chili growers will be able to wander through the "Hot House" — a unique greenhouse that was built specifically to grow the various chilies that are used throughout the Kimpton's various kitchens. A fire show and entertainment by some of the city's finest DJs and live bands will be taking center stage throughout the event. For the real chili enthusiasts, local tattoo shop California Ink Bangkok will be on-site to ink small chilis onto your skin — for free!
Photo: Two to Tipsy by Roast
Oh, and we didn't even tell you about the main event yet: a chili-eating competition that will see brave contestants downing increasingly hot chili peppers, with the final pepper measuring a whopping 2,200,000 Scoville heat units (for context, Tabasco sauce comes in at approximately 30,000-50,000 units on the Scoville heat scale!). The winner of the competition (assuming they're still standing to claim their prize) will receive a cash prize of B10,000. The first and second runner-ups will receive dining vouchers worth B7,000 and B4,000, respectively.
Feel like coming back for seconds? Kimpton will also be hosting a Chilli Fest-inspired brunch the next Sunday at their trendy in-house eatery, Stock.Room.
The Kimpton-Maa-Lai Bangkok's Chilli Fest takes place on Saturday, May 27. Early bird tickets are priced at B100, include a complimentary drink, and are available for purchase now with a portion of the proceeds donated to charity.
Sponsored by: