Italian cuisine courtesy of one of Bangkok's most lauded chefs, a riverside alfresco terrace and the Mandarin Oriental's iconic Author's Lounge in the background make this one of the Chao Phraya River's most easy-to-recommend spots. It's more casual than the other restaurants at Bangkok's oldest, most formal hotel (though they'll still shoo you away if you turn up in shorts), dishing out Italian staples like pappardelle with tender Ferrara-style spare rib stew as well as wood-fired pizzas.
Mandarin Oriental Bangkok, 48 Charoenkrung Soi 40, 02-659-9000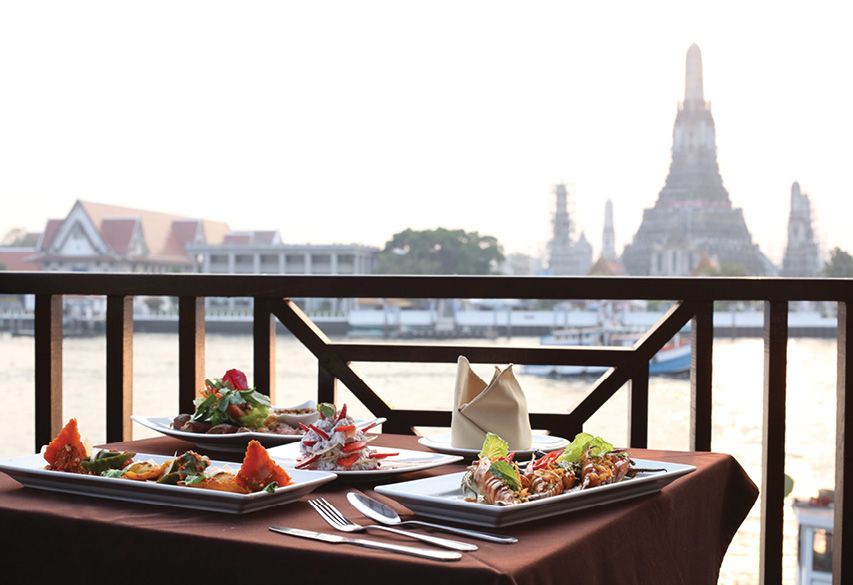 Book in advance to get one of the best spots at this hotly in-demand restaurant right across the water from the Chao Phraya's star attraction, Wat Arun. The menu of classic Thai dishes like beef massaman curry with roti and pad Thai is of a bankable standard, but you can also trust in their European grill dishes such as the New Zealand tenderloin or roasted rack of lamb. Spread over two alfresco stories, we recommend you request the top tier to get the perfect river view as the backdrop to your meal.
Arun Residence, 36-38 Soi Phatu Nokyung, Maharaj Rd., 02-221-9158/9
Exclusively for Citi credit cardmembers:
Get 10% discount on food only Today – 31 May 17
This stylish, so-called "restaurant with guestrooms" sits on the prime spot that lets you enjoy the splendid view of Wat Arun (Temple of Dawn) across the river. Grab a spot on the spacious deck or get more comfy and enjoy the better view of Wat Arun from the air-con second floor. You can enjoy long list of classic Thai recipes with a few twists like the twice-cooked crispy pork belly which is cooked in a Western style but with Asian flavors courtesy of a tamarind glaze and the accompanying pad pak bung (stir-fried morning glory). This really is a great place for a drink, especially on the rooftop.Try the signature drinks like The Rooftop Punch (light rum, dark rum, Grand Marnier, Cointreau, lime juice and fruit punch).
Sala Rattanakosin Bangkok, Maharaj Rd., 02-622-1388
Exclusively for Citi credit cardmembers:
Get 10% discount on food only Today – 31 Dec 16
Set in one of those charming wooden houses you pass as you ride the express boat along the Chao Phraya, the restaurant is tucked down a little alley behind Wat Pathumkongka (where you can hardly park your car). The place feels halfway between a gallery and a friend's house, brimming as it is with personality: expect to find colorful vintage furnishings, all sorts of cat-related curios and paintings hanging on the wall. The tasty Thai cuisine is augmented by Japanese touches since some of the owners hail from Japan. We particularly love the tofu dishes like the tofu gratin which has a delicate but firm texture and a nice brown crust and the plar tao-hu (fried Japanese tofu with shrimp in spicy herbal sauce).
1612 Songwat Rd., 02-639-6853, 086-978-9331
Credit: AVANI Riverside Bangkok Hotel
Skyline
Head up to the 11th floor of AVANI Riverside hotel for awesome views overlooking the river. The kitchen puts the focus on simple and healthy food, made from certified organic herbs and greens sourced from the hotel's 2,800-square-meter rooftop Hydroponic Farm. Head there daily from noon-2:30pm for their all-you-can-eat buffet, which you can complement with a varying menu from Monday-Friday.
AVANI Riverside, 257 Charoen Nakorn Rd., 02431 9100
Exclusively for Citi credit cardmembers:
Come 4 Pay 2 on buffet (Monday – Friday, 12.00 – 14.30hrs.)
Located in the small community behind Wat Devarajkoonchon, next to Thewet Pier, the venue is a 60-year-old house that's been made bright and bold with a few licks of paint and the addition of some wooden furniture. The food is mostly typical Thai dishes served on plain dinnerware; it's not the most authentic, but it's very pleasant and comforting. Try the highlight kua gling moo (stir-fried minced pork with herbs). Steve's casual and simple vibe makes for a relaxing experience—one that's only enhanced by the sunset views and sounds of the river.
68 Sri Ayutthaya Soi 21, 081-868-0744, 02-281-0915
Exclusively for Citi credit cardmembers:
Get free Spicy Pomelo Salad when spend THB 1,500 or more/sales slip (limit 1 dish /card /table /sales slip) Today – 31 Dec 16
---
Brought to you by