Ari
Back in Dec, 2016, a member of the "I Love Ari! Aree Bangkok" Facebook group posted that the end was near for Ari's stalls: "The khao mun gai stall on Ari has just informed me that all food stalls on Soi Ari have been ordered to move on by Mar 8." The post caused an outpouring of grief, but was followed by slightly better news on Feb 6 that some of the food stalls would, in fact, be moving to an alley between Soi 1 and 2. Now it looks like all changes are off the cards, for the time being. We visited the area and stall-holders told us they're allowed to stay put. "We were going to have to move out by Mar 8," said the auntie who runs the fruit stall at the start of the soi. "But we've since been told it's OK to continue selling around here." The owner of the orange juice stall expanded on the subject: "I heard they [the government officials and police] called off the order for us to move...But who knows when the next order will come." Read more here.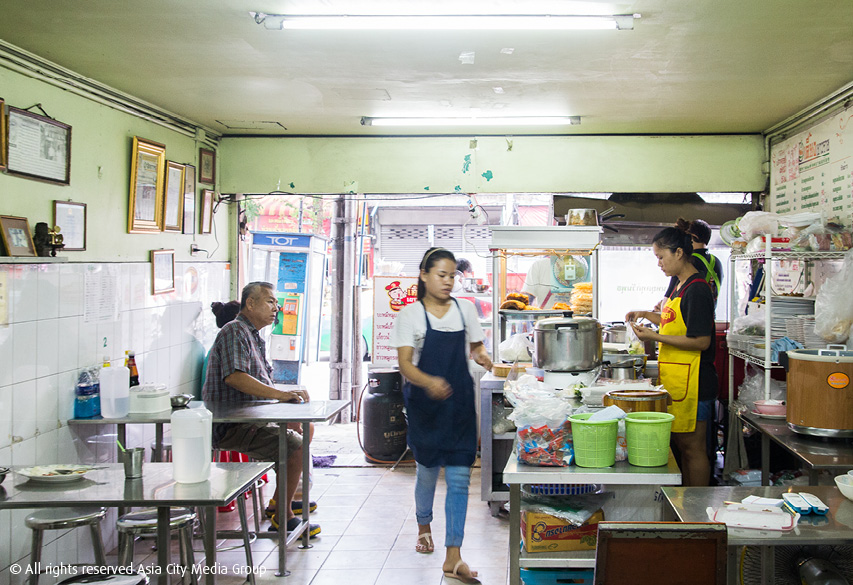 On Nut
Back in Oct 2015, the On Nut night market had to close. The building which takes its place is now around half finished, with signs out front stating it'll be a Century Mall, complete with cinema, shopping area and condominium component. Despite this, a number of stalls are still trying to make a living on the footpath in front of the construction site. The new On Nut market is located in Sukhumvit Soi 81, about a 10-minute walk into the soi or B15 motorbike ride. It has been there since the end of the original On Nut night market but definitely isn't as popular. You'll also still find the bar with a big projector for sports matches here, popular with Bangkok's rugby community. Read more here.
Samyan
Chula students flocked to the cheap street-food of Samyan market for some 50 years before it began its relocation process in the early 2000s. The move was officially completed in 2013 with a new market properly set up in an alley between Chula Soi 32-34. However, while it has been given a cleaner and more modern revamp, there has been a visible hit to its popularity. Kanoknan Prapapan, 53, a pork butcher at the new Samyan Market, says, "The new market isn't as good as the old one, which customers could access so much more easily from Rama 4 Road. Most people don't even know there is a new market here. I was even in debt for the first two years I moved here. The expenses are too much, and I don't know how much the rent will go up to—it keeps getting higher every year."
Sukhumvit Soi 38
What was once a cheap, casual street-food hub was cleared in Jan 2016 after a government campaign to organize the city's sidewalks. While many of the stalls were forced to move away or shut down entirely, several of them (including the khao mun gai, pad Thai and moo ping vendors) have moved to outside the Sutti Mansion apartment complex at the start of the soi, and still serve up delicious food despite the atmosphere being noticeably quieter. The famous Joke Moo Jao Gao Thonglor has also set up camp in the alley between Soi 38-36, not too far from the original site. The arrival of popular new cafes and restaurants like Toby's, Schnitzels and Hands and Heart have meanwhile reinvented the soi into a more upscale food destination.
As of Apr 17, 2017, all stalls have been ordered to cease working on Thonglor, Ekkamai and Pridi Banomyong (Phrakanong) Roads. "Around the beginning of Feb, over 10 tessakit officers [city hall's official sidewalk police] came to visit us with an announcement paper," one street-food vendor outside a pharmacy near the BTS end of Thonglor told us. "Without even giving me any chance to read, they made me hold it and snapped a photo. A week after that I received that announcement paper stuck on my cart." A couple of shop-houses up from her, the loog chin ping (grilled pork balls and hot dogs) vendor told us he was forced to move from under the BTS station around Jan. Exactly where Thonglor and its surrounding street-food vendors will go after Apr 17 remains uncertain. City officials arranged a meeting with vendors recently, but no solutions were offered. "They said they won't allow any stalls on the footpath both during the day and night times," said the owner of a somtam stall opposite SCB Bank. For now, the only stalls which will be allowed to remain are those which do not take up sidewalk space. Read our full story here.