Beef just tastes better when your steak weighs 1.5kg. That's a fact.
Brought to you by


The steakhouse goes for a solemnly-lit mood thanks to chandeliers draped in dark fabrics, violet leather- and velvet-upholstered armchairs and paneled walls. Book a private room (of 6-10 people) for additional views overlooking Langsuan. The brief menu is really focused on beef, all of which has a marbling score of 4-5. The main attraction is the grainfed Australian beef, namely cuts of Sher wagyu (from B1,800/200g tenderloin), Jack's Creek black angus (from B1,600/250g rib eye) and Stranbroke Cattle (from B1,800/300g T-bone). Don't miss the Stranbroke's grain-fed tomahawk (B4,200/1kg).
19/F, Hotel Muse Bangkok Langsuan, 55/555 Lang Suan Rd., 02-630-4000
Exclusively for Citi credit card members:
Get 40% discount on a la carte menu for lunch or get 20% discount on a la carte menu for dinner (blackout dates apply). (Please present Citi credit card when making reservation or before ordering.) Today – 30 Dec 17

Taking over a stately old home on Sathorn's tiny Soi Goethe, this Italian restaurant has well-heeled crowds going gaga for its low-key vibe, wine list that's arguably the best in town, and polished yet rustic dishes. Expertly seasoned, the tomahawk (B3,900/1.5kg) is everything you want in grilled meat. Complete the meal with some wines from their extra long wine list, sold at some of the most reasonable prices in Bangkok.
2 Sathorn Soi 1 Yaek 2 (Goethe), 02-287-2402

A huge rotisserie oven imported from France dominates this warm, rusticated space, telling you everything you need to know about Cocotte's food: simple, on the bone, portioned for sharing and heavy on the meat. You'll want to visit Cocotte with a big group of friends, or at least a big appetite, as the star dishes here revolve around hefty portions of meat and poultry, be it a rotisserie-roasted half chicken (B490) or a Perigourdine-style stuffed chicken with foie gras and truffle (B1,890/1.4kg). Of course, the Australian wagyu tomahawk (from B3,750/1.4 kg up to B5,250/2 kg), which is served with three sauces of your choice, too.
Exclusively for Citi credit card members:
Get 10% discount on food only (Today – 31 Dec 17)

The proper sit-down spin-off of Bangkok's favorite burger truck, Daniel Thaiger, not only serves some darn great handfuls (don't miss the Mediterranean Lamb burger, B420). The real highlight looms as the tomahawk steak (B250/100g, pre-order only), from which the restaurant takes its name (seau rong hai, or crying tiger beef): a juicy slab of Australian grilled beef served with spicy jim jaew sauce. This no-frills signature dish is also available as lamb (B580) or pork chop (B420).
27/1 Sukhumvit Soi 51, 097-052-8861
The hidden restaurant-slash-gallery on Soi Convent continues to draw big crowds even 10 years after its opening. Though not widely known for steaks, this regular on the Top Tables and Asia's 50 Best Restaurants lists serves up some very good grilled items on the menu. In particular, the Australian wagyu tomahawk (B4,600) comes perfectly grilled and seasoned, served with grilled asparagus and potato chips.
1/6 Soi Phiphat 2, Convent Rd., 02-238-0931
Set in a beautiful old villa on Rama 4 Road, this Italian grill restaurant stores some of the best beefs in Europe here, with names like Spanish Rubia Gallega, French Limousin and Italian Chianina. From the dining room, you can look through a window to see chefs Luca Appino and Nelson Amorim firing up the wood-fire grill and cook your slabs of meat. Their Australian wagyu tomahawk with marbling score of 5 is yours at B450/100g.
1098/2 Rama 4 Rd., 02-286-8833

The steakhouse serves a variety of premium cuts from the US, Japan, Australia and England prepared by owner Itthi Voranate, a Le Cordon Bleu-trained chef. The highlight has to be the Australian grain-fed tomahawk steak (B2,950), a 1kg bone-in rib cut which serves at least three. Other picks are the platter of five different cured meats (B500) and lobster mac'n cheese (B420). Dessert include a cup of double chocolate brownie with marshmallow cream (B280), while drinks range from TWG tea (B150) and coffee (from B85) to French house wine (from B200/a glass, B980/a bottle).
Exclusively for Citi credit card members:
Get 10% discount on food only when spending THB 1.000 or more /sales slip (Today – 30 Sep 17)
Gaggan Anand's Meatlicious sees the 2015, 2016 and 2017 winner of Asia's 50 Best Restaurants steering away from the delicate and high-tech cuisine of his Langsuan restaurant in favor of a beef-heavy menu cooked using only wood and coal. Of course, the focus falls on meat, where the star tomahawk (300B/100g, expect 1.5kg) puts its competition to shame thanks to a crisp, pepper-encrusted char and a heart that is deep red, yet warm, the blood trapped in the meat. Do try their MF burger (B490), a mix of terderloin and Miyazaki beef fat burger with smoke chili salt.
Exclusively for Citi credit card members:
Get a complimentary burnt ice cream for two people valued THB390 when spending via Citi credit cards (Limit 1 dish /card /table /sales slip) Today - 31 Dec 17

We all know Peppina for its great pizza, made in the proper Neapolitan way (it's even certified by the Associazione Vera Pizza Napoletana). The fluffy and flavorful crusts with fresh toppings have bee talk of the town for a few years now. But the grilled meats here are also a must-try. The tomahawk (about B3,200 for 1.2kg) is one of the best sharing steaks we've had in Bangkok for anywhere near this price.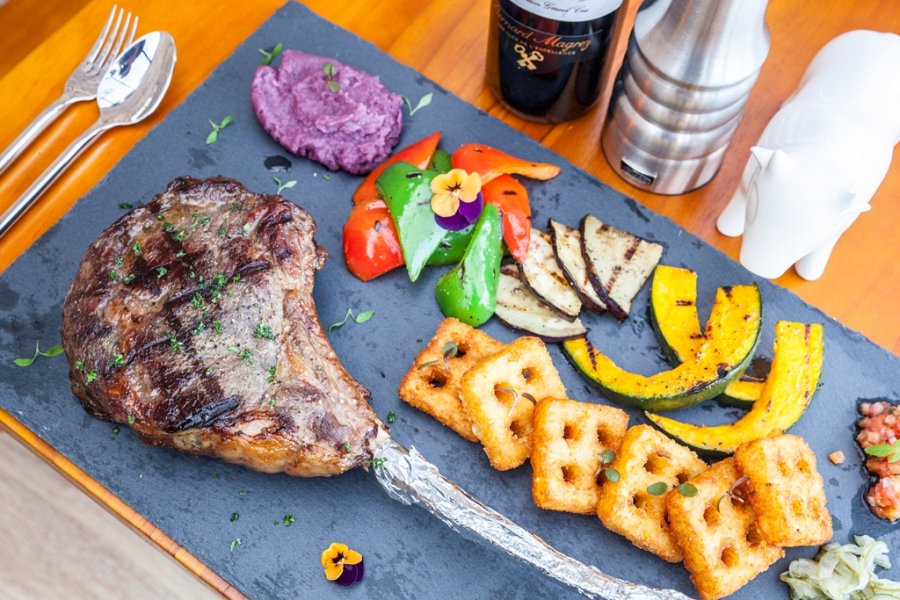 Wua
This brick-dominated steakhouse offers views over Ekkamai's Cubic 63 complex along with serious slabs of meat, grilled to your preference. Australian Angus and wagyu beef are
available in three cuts, including striploin (from B650), ribeye (from B750) and tenderloin (from B750), with sides like mashed purple sweet potato and sauteed onion. Otherwise,
opt for a huge-portioned rack of lamb (B1,790) or Darling Downs wagyu tomahawk (B3,890/1.5kg) to share. On top of steaks, chef-partner Chavanan Urasyanandana also rolls out French classics like onion soup (B180), foie gras (B590) and braised beef cheek (B270).
Exclusively for Citi credit card members:
Get 15% discount on food only for Citi Ultima, Prestige, Preferred, and Select or get 10% discount on food only for other card types (Today – 30 Nov 17)