---
= open before 8am
Ari / Chatuchak

Just a stone's throw away from Chatuchak Park, this laidback cafe whips up espresso (B70), iced yuzu long blacks (B130), and matcha lattes (B75) with flair. Inside, the cafe sports a chilled out retro vibe with light-accented wood furniture and comfy chairs. Serious about sustainability, they use biodegradable cups and offer a discount for bringing your own.
1058/104 Phahon Yothin Rd., 080-071-2123. Mon-Fri 7:00am-3:30pm; Sat-Sun 7:30am-3:30pm
Image courtesy of Eggtisan.
Eggtisan

NEW
Run by the same folks as the Common Room x Ari, this vibrantly red spot is for the true egg master, whipping up all possible variations of egg-based dishes in Ari. Try the scrambled eggs (B170) served alongside smoked salmon toast or a runny eggs sandwich (B195). The venue has a high standard for their coffee, and basic drinks start at B90; special drinks like espresso on milk cream go for B125.
106 Phahonyothin Soi 5, 084-441-6899. Open daily 7am-4pm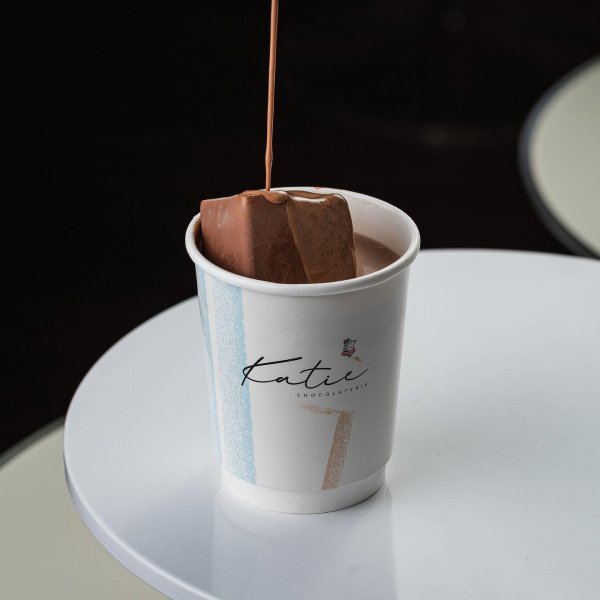 Image courtesy of Katie Chocolaterie.
Katie Chocolaterie

NEW
Next to Ari's buzzing bakery Kenn's Coffee and Croissant is its sister cafe focusing on chic chocolate creations. The concept is simple: Enjoy their chocolate without unnecessary table manners. Their hedgehog (B245) sees hot chocolate topped with pointy chocolate bars, while Spicy Katie (B265) arrives in a margarita-like drink rimmed with chili and spice on the glass. There's also a crispy cookie shot (B85) with either single origin or special blend cacao.
1/5 Ari Soi 2, 061-401-9141. Open daily 8am-6pm.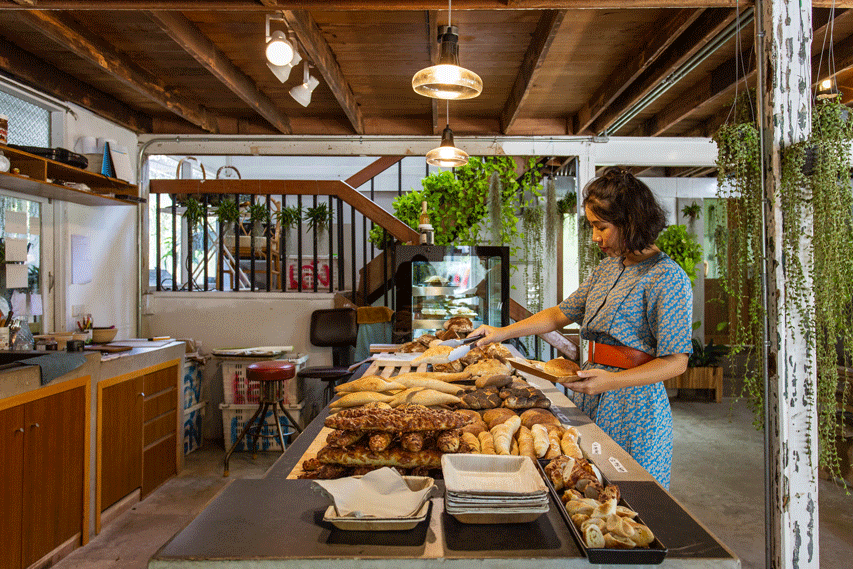 This German-slash-Austrian bakery is known for its exceptional bread and pastries fresh out of the concrete and steel oven. Start your day with a simple open breakfast sandwich (B150), piled with fluffy scrambled eggs, spinach tomatoes, and mushroom, or get an Austrian classic: slightly burnt cheese bread sticks (B45). There's a cute garden made for lazy days, which can be enjoyed with a piping hot Americano (B60) or a frothy cappuccino (B70).
18 Phahon Yothin Soi 5, 086-889-9210. Open Tue-Sun 7am-7pm
This adorable retro cafe in Ari Soi 4 runs with the concept of "nothing but avocado" and reimagines simple dishes with avocado surprises, like their pad kaprao served with deep-fried avocado or avocado-bacon pancake topped with a giant, fluffy egg (B235). There's also an ultra thick avocado smoothie made fresh every day.
1/1 Ari Samphan Soi 4, 090-986-4779. Open Thu-Sun 9am-9pm; Mon 9am-9pm; Tue 9am-9pm
The brains behind zen-like teahouse Peace Oriental are now getting into the croissant game at this spot in Ari Soi 1. With its unique blends of Japanese flour and butter, Qraft draws massive crowds for its light, flaky, buttery croissants. The plain starts at B75, while special fillings like savory miso caramel and koicha will set you back B145.
5/7 Ari Soi 1, 061-387-1578. Open daily 8am-10pm
Image courtesy of Katie Chocolaterie.
Yellow Lane Cafe
Set in a renovated complex on Soi Ari 1, Yellow Lane Cafe is arguably one of Ari's best breakfast spots. The sandwiches are the real highlights, with simple, tasty combinations like the sourdough chicken sandwich (B350) or smashed avocado on toast, topped with refreshing greens and poached eggs. Not that hungry? Just sip the iced Americano (B90) or hot cappuccino (B100) in the airy landscaped garden.
92 Phahonyothin Soi 5, 065-123-8378. Open daily 9am-5pm
---
Nana / Asoke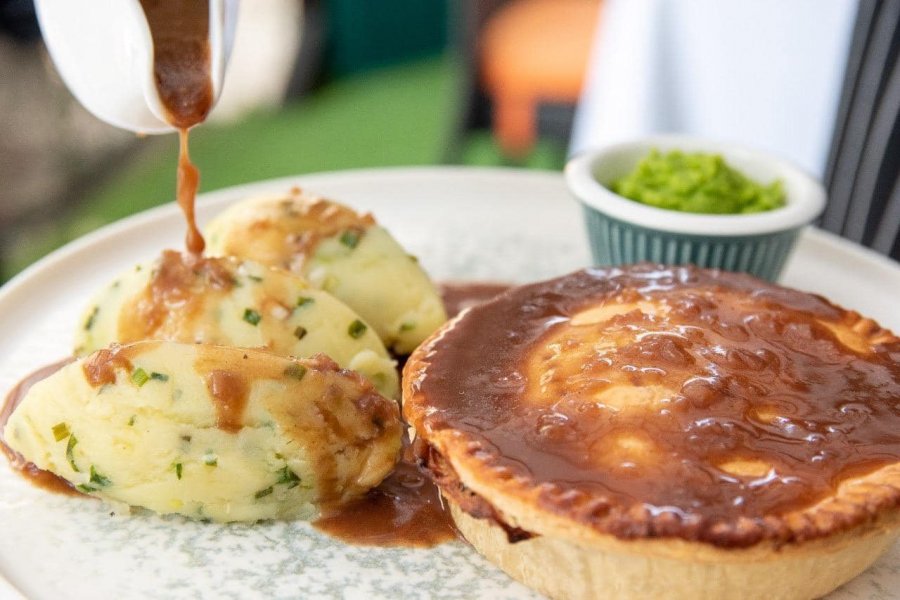 Image courtesy of Blarney Stone.
Blarney Stone
If you're on Soi 4 at 8am then it might be time to start rethinking your life choices. Still, there is a proper full Irish breakfast (B360) to be had. You'll get eggs, bacon, pork sausage, mushrooms, black pudding, tomato, fried potato, and baked beans. If you're not that hungry, they've also got the Flying Start with eggs, bacon, and sausage (B119) or a stack of fluffy pancakes (B220).
21, 1 Sukhumvit 4 Alley, 02-003-9499. Open daily 8am-midnight

One of the newest on this list, open just a few months ago, this is the "little sister" version of the popular Gigi Dining Hall and Bar. For breakfast, the cafe offers a range of fresh croissants from vanilla cream (B120) to speck and scamorza (B160). If your breakfast turns to brunch, one of the more interesting dishes will be the salmon pancakes (B410), ricotta pancakes topped with home-smoked salmon, burrata, and salmon roe.
28 Soi Sukhumvit 19, 061-995-6060. Open daily 8am-midnight
Hemingway Bangkok
It's a bar with good wings and a party vibe, but it also does a brekkie now. In addition to pancakes and waffles (starting at B280) and smoothie bowls (starting at B290), Hemingway features a standard Hemingway Big Breakfast (B390) and a Hemingway Garden Breakfast for the veggies. If you're tired of the standard breakfast food, hit up the baked shakshuka eggs (B320) or the huevos rancheros (B340).
Soi Sukhumvit 11, 02-653-3900. Open daily 9am-midnight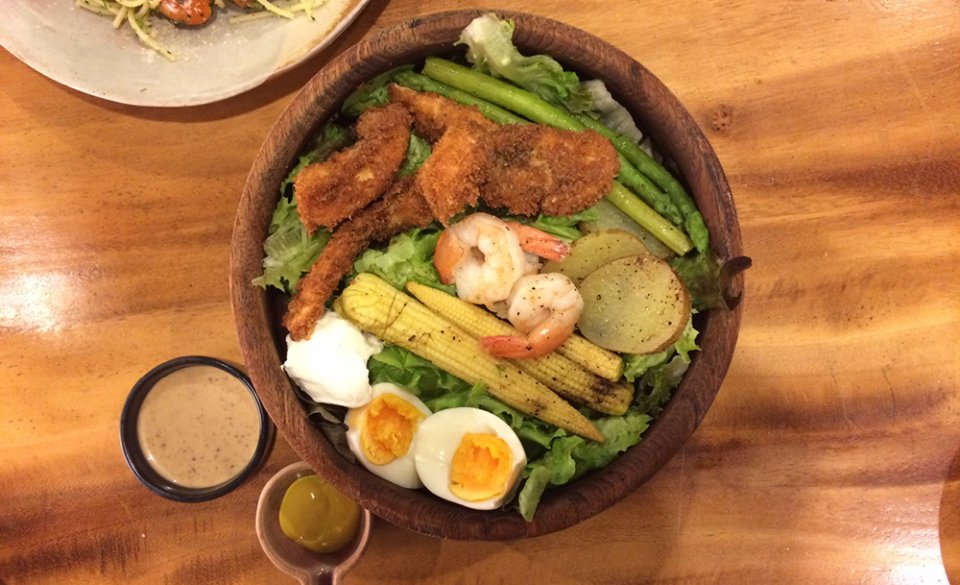 Open since 2011, Iwane Goes Nature is still knocking out healthy breakfasts in Asoke. A great spot for a lazy morning garden breakfast, the uber-fluffy pancakes are a constant favorite—try the indulgent Marron Five (B220), served with candied chestnuts and chestnut chiffon cream. Lean into the Bulletproof coffee (B130) with coconut oil and butter, said to facilitate a gradual and intense release of caffine.
14 Sukhumvit Soi 23, 02-664-0350. Open daily 7:30am-11:30pm
Alright, you late breakfasting Nana vegans, this one's for you. For the all-day breakfast, we're talking high-protein pancakes (B240), sweet banana roti (B95), and butterscotch hotcakes (B240). And, of course, there are the ubiquitous smoothie bowls. Mango Bowl (B240) is refreshing, and for something a little heartier, the Crunchy Monkey Bowl, boasts cacao, peanut butter, banana, blueberry, granola, and dark chocolate (B240)
171 Soi Sukhumvit 11, 02-123-8699. Open daily 9:30am-10pm
---
Old Town / Charoenkrung

Set inside a renovated 60-year-old jewerly's shophouse is Charoenkrung's latest sweet tooth treasure trove. Open a little late for most breakfasters, inside, you'll find Chutima "Ae" Bovonratanachote from much-loved cafe Sweet Pista baking spellbinding treats like fruit parfaits and tartlets. The highlight, however, is her lemon posset (B165), arriving in a half sliced lemon served with crispy shortbread, a nod to her baking lab's theme.
1107/2, Charoenkrung Rd., Open Tue-Sun 10am-6pm
A 127-year-old European-style building in the old quarter that once printed the Royal Gazette opened its doors as a cafe, serving both quality coffee and cocktails. Netnapa's team have taken over the building to serve caffeinated drinks with highlights including Mocha Yuzu (B150), Dirty (B125), and spiced latte (B145) using beans grown at home and abroad and roasted in-house. To go with the drinks, the cafe makes a walnut pie (B135), creamy chicken pie (B150), and banana cake (B135).
Bumrungnukulkit Printing House. Bamrungmuang Rd., 085-820-4010. Open daily 7:30am-6pm
There's something comforting about the level of effortless minimalism in this Japanese cafe. Roughly translated as "bread is here," Kokopan promises a calming cream and wood escape from Sathorn's bustling streets. Try the kinako (roasted soybean flour) toast with Japanese black honey syrup and vanilla ice cream, paired with yuzu citrus coffee, or get the homemade mini-croissants toasted at your table.
118 Soi Chula 8, Room, 923 A, 095-654-4560. Open Mon-Fri 8am-5pm, Sat-Sun 9am-5pm

On Lok Yun
For those wanting something a little more old-school to start their day, this cafe is at least eight decades young—still counting and going strong. Diehard fans come for its kanom pang sankaya (bread with Thai style egg custard B28) and Thai-style American breakfast (B65) with two eggs. Go for the grub, stay for the history. Coffee starts at B35.
72 Charoen Krung Rd, 085-809-0835. Open daily 6am-2:30pm
Punjab Sweet
Tired of our typical breakfasts? This Indian coffee shop in Phahurat is a fresh change of pace. There's no resisting the mouth watering array of sweets on display. Order a bite of barfi (B15) while sipping freshly brewed chai tea (B15). If you have more room for breakfast, try their spiced paneer dosa (B100), which comes crispy and packed with Indian spice flavors.
Chakkraphat Rd., 02-222-6541. Open daily 8:30am-6pm
A 130-year-old former tram station close to the Golden Mount has found second life as a charming hideaway. Part vintage cafe and part photography studio, Rue De Mansri serves its signature iced marocchino (B85), an indulgent mix of chocolate, milk, and espresso, or a refreshing Black Coco Mint (B80). Order freshly baked pastries to pair up with your drinks—think ham and cheese or almond croissant (B45) made using dough sourced from Chiang Mai's enduringly popular Nana Jungle.
417 Bamrung Mueang Rd., 083-158-9999. Open Tue-Sun 8am-4:30pm
---
Siam / Chidlom
You'd be hard pressed to find a better bagel in Bangkok: quality ingredients, good bagels, and a fun menu. Have your choice of a dozen bagel types (B50) and schmear (B50), but for us the best brekkie choice is the Breakfast Epic with Bacon (B215) with a choice of gruyere, gouda, or cheddar. For something a little more fulsome, try the Lock, Stock, and Bagel (B250) which features house-cured salmon.
518 Maneeya Center, 3 Phloenchit Rd., 022-54-8157. Open daily 7am-5pm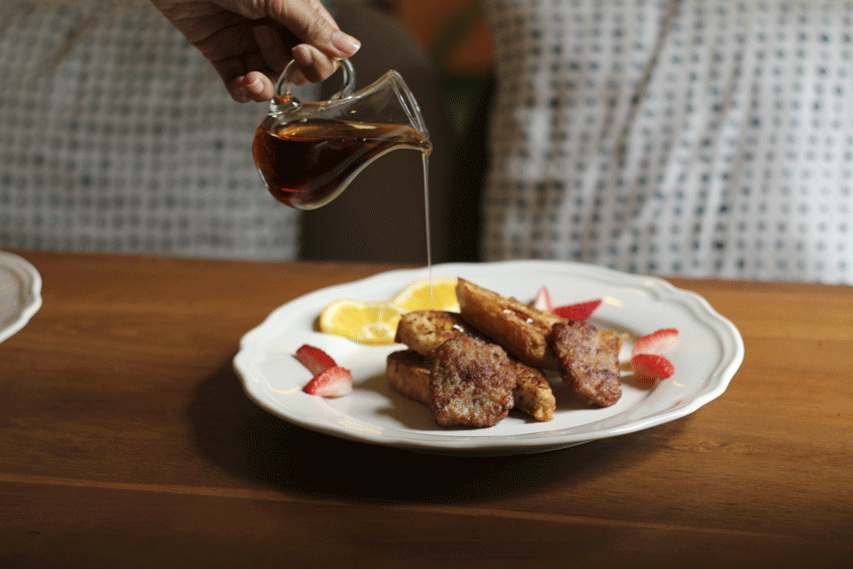 Found in the sois east of Lumpini, this singular dine-in gem opens for the breakfast crowd who want their morning meal on a quiet street. There is, of course, the American Breakfast (pancakes, bacon, sausages, and eggs, B250) but try the increasingly popular shakshuka (B240) or the Baker rice bowl (B210), a spicy chicken salad topped with a fried egg. To drink, try the Cafe Club Con Miel (B100)—coffee with honey and cinnamon.
Polo 3 Alley, 081-855-7090. Open Thursday-Monday 9am-5pm.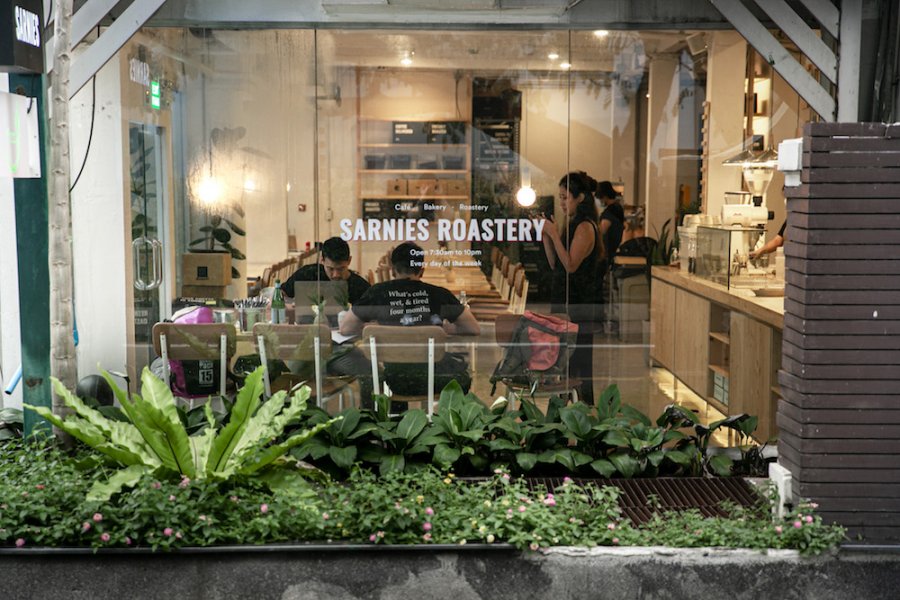 Sarnies has been rolling roughshod over Bangkok's coffee scene since 2019, and their 2021 Sarnies Roastery on Soi Tonson is open for breakfast in a sun-dappled, cafe-like atmosphere. Sure, there's an all-day brekkie with avocado toast (350) and Turkish eggs (320). But, come on, it's Sarnies. You want the Pimp my Breakfast: choose your own bread, spread, jam, meat, and veg and get breakfasting.
34 1 Soi Ton Son, 02-003-7592. Open daily 7am-10pm.
It's hard not to get hungry shopping with the great and the good in Central Foodhall, but if you want to sit down, the Flour Shoppe breakfast includes your standard rise-and-shine staples and a few surprises. A treat here is the breakfast biscuit with bacon, egg, and cheese (B180), and you can have an English muffin instead if you're opposed to the crumble. For something a little more filling there's the steak and eggs (B650) and the eggs benny with smoked salmon (B290).
Central Chidlom Foodhall, 1027 Ploenchit Rd., 091-229-0764. Open daily 8am-10pm. BTS Chidlom
---
Ploenchit / Langsuan

For the early riser, Cafe Tartine is a perennial favorite, open an hour earlier on the weekdays. It's a family friendly, French, breezy atmosphere. The continental spread (B99) comes with coffee or juice, and you can opt for a croque monsieur (B200) or eggs Benedict (B240).
65 2 Wireless Rd., 02-168-5464. Open Mon-Fri 7am-5pm; Sat-Sun 8am-5pm
Samantao
Soi Somkid's Samantao is an easy stop for something away from the usual cafe fare. Skip eggs and bacon for an outdoor seat, heritage coffee, and creative toast. Top of the list are the kai kratai (fried egg with toppings) (B95) and the toast with chili paste and dried shredded pork (B65). Toast and steamed bread options abound, but for your java, don't miss the heritage black coffee with custard cream (B75).
Nai Lert Park Heritage Home, Wireless Rd., 097-140-5176. Open daily 7am-5pm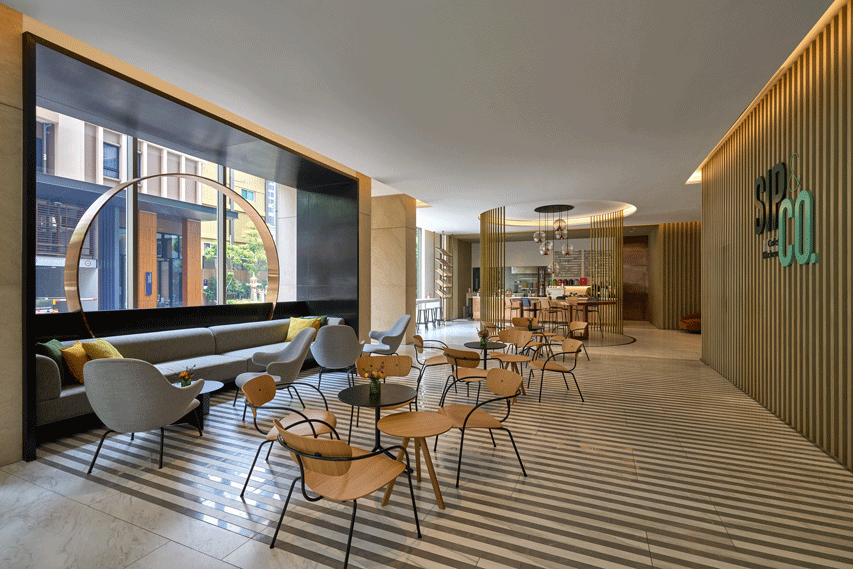 With the charm of a chic co-working space, Sip & Co is an early grab-and-go breakfast sort of space attached to the Sindhorn Midtown Hotel, with around 40 sit-down spots. The bites are mid-range and open at 6am, starting at B90 for coffee. The baked goods are fresh, and dining options range from smoothie bowls to walnut and banana pancakes (B130).
6565 Soi Langsuan, 02-796-8888. Open daily 6am-7pm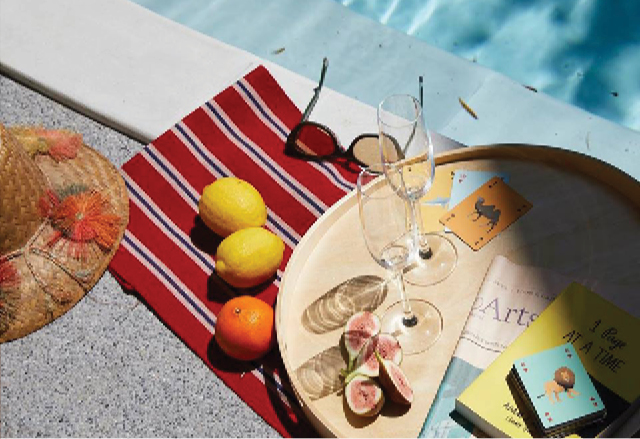 Siri House has quickly gained a reputation as one of the better high-end eateries north of Ploenchit, hosting a triumvirate of Quince, Jaqueline, and Luka. While the brunch gets all the attention, before the bubbly crew gets their claws in, pop around to Luka to crunch into their Raclette (290 baht), but the must-have here is the Luka Breakfast Burrito (B330).
Siri House, 2 Soi Somkid, 094-868-2639. Open daily 8am-5pm

Tempered is Bangkok's latest cacao obsessed cafe, all the dreams of a passionate couple. The space on Soi Ruamrudee 2 is a renovated five-storey office featuring creative baked goods. Opt for the almond croissant (B140) with light, crispy layers oozing almond cream or the generously-sized ham and cheese croissant (B165). For a creative and very sweet start to the day, try the Not a PBJ (B215) with peanut butter, jam, and a chocolate brownie.
59 Prim Raumrudee Soi Ruamrudee 2, 092-828-5444. Open daily 8am-6pm
Velaa shopping mall has no shortage of breakfast options. The hero at Coffee Academics is, you guessed it, the joe. For foodies, you can dig into a hearty eggs benny with Paris ham (B340) or Nori avocado toast (B280), but if you want the full experience, the Academics Breakfast (B480) features baked beans, cumberland sausage, roasted mushroom, salad, and a sunnyside egg. To start the day off sweet, the french toast with espresso caramel comes with a dollop of vanilla mascarpone (B200).
Velaa Sindhorn Village Langsuan, 87 Soi Langsuan, 02-164-2500. Open daily 7am-10pm. BTS Ploenchit. (Another branch in Central World)
---
Phrom Phong

Aroon Cafe

NEW
Half furniture showroom, half cafe, Aroon's owner is the third generation of a furniture-making family, so his cafe is decorated with his own brand. If you like what you see, buy it. But it's not just the furniture, try their signature coffee creations, like the Lanna Tonic Espresso (B135) that mixes blended coffee with tonic water and longan syrup, or the Aroon Sunrise (B145), an affogato that uses Thai tea ice cream. For something to fill your stomach, have the cruffin, a croissant and muffin, (B145).
Sukhumvit Rd. (top of Sukhumvit Soi 28), 062-126-4025. Open Mon-Fri 7:30am-5:30pm; Sat-Sun 8:30am-6:30pm

This all-day breakfast spot is definitely underrated, serving higher quality bites than their prices. Whatever you want for breakfast—whether it's a full greasy breakfast for your hangover (Brainwake Big Breakfast, B400), or a comforting Thai choice like khao tom (B155). Coffee starts at as little as B55 baht for an espresso, but we really love their Piccolo Latte (B65). Don't forget to try their homemade baked goods or gelato—that's not on the menu.
27/1 Sukhumvit Soi 33, 02-005-0026. Open daily 7am-6pm

American breakfast dreams come true at this homey, intimate all-day-dining spot perched above a craft beer bar. Let the tantalizing scents from the open kitchen guide you through their extensive line-up of morning classics, like buttery pancakes drenched with maple syrup (B250 for full stack); three egg-omelets loaded with cheese (B260), Classic Canadian Poutine (B260); or a slice of New York Cheesecake (B140), and all day self-serve American drip coffee (B90)—all available until late.
2/F, Hair of the Dog, 593/27 Sukhumvit Rd., 02-258-1461. Open daily 7am-11pm

The new location is better and bigger, including an outdoor yard for kids and dogs to run around. You don't get many places in Bangkok brave enough to serve chicken and waffles, but Chu is one, try them with whipped butter and topped with bourbon-spiced honey (B300). Not your cup of tea? Try the Egg White Frittata (B320) that comes with smoked salmon, mozzarella, cherry tomato, balsamic onion, and rocket. Coffee starts at B90 for an espresso or B120 for a flat white.
18/1 Sukhumvit Soi 31, 091-545-4847. Open Wed-Sun 8am-9pm; Mon 8am-9pm
Known for its mile-long lists of seafood, charcuterie, and French desserts, El Mercado in Phrom Phong brings a cozy cafe vibe rather than the busy French restaurant feel at their old location. Hidden on the small road right next to EmQuartier, this cafe-slash-grocer has all your artisanal needs covered. If you're eating in, you can have everything from bacon quiche (B149) to Mountain Crepe, a savory crepe filled with Raclette cheese, speck ham, and potato (B199). There's also a range of El Mercado jars stuffed with homemade tomato sauce (B129), house kimchi (B259), and more.
15/8 M Tower, Sukhumvit Soi 35, 02-011-1712. Open daily 8:30am-10:30pm
---
Sathorn / Silom

Breathing new life into the well-preserved 90-year-old wooden house once owned by Coffee Craftsman, this open-early cafe is all about highly-caffeinated specialties like Happy Day (B200) coffee with candle-smoked coconut milk, along with the Super Star All-day Breakfast, which sees homemade toast with ham and cheese served alongside sausages and vegetables (B350).
Yarden, 30 Yen Akart Rd., 02-249-0182.Open daily 7am-7pm

This airy, two-storey restaurant serves wonderfully comforting combinations of egg-focused dishes, decorously poured coffee, and fresh cold-pressed juice in a daytime-friendly dining room. Try their Moroccan-style egg skillet with richly spiced tomato sauce accompanied by some deliciously fluffy bread for dunking (B320).
75/1 Sathorn Soi 10, 02-635-3464. Open daily 7am-6pm. BTS Chong Nonsi
Tokyo Roaster
The name has nothing to do with the capital of Japan; this latest cafe is all about putting a new spin to Thai street snacks. The place rolls out khanom tokyo (a flat thin pancake rolled and stuffed with varieties of fillings) and fills them with unusually surprising combinations—think salmon and truffle cream (B105)—while the standard flavors like Thai custard cream and pandan cream run B60. Pair them with dirty (B90) or yuzu espresso (B150) to get your day going.
Yen Jit Soi 8. Thung Wat Don. Tel. 063-615-5283. Open daily 8.00-18.00
At first glance, this cramped Chinese spot in Nanglinchee may not look like much, but once you see all the awards and certificates hanging around the walls, you'll realize you've come across one of the city's proper dining gems. Hong Kong-born chef Yip brings a ton of experience and expertise from his days at Shangri-La Bangkok's Shang Palace and serves his shumai and xiao long pao piping hot each day. Long queues are typical for Tuan, but they run fast.
2029/9 Charoenkrung Rd., 089-603-0908. Open Wed-Sun 6am-3pm (subject to availability.)
---
Thonglor

Bartels has people queuing up for its fresh-baked sourdough bread. Opened by a Scandinavian baker, the bakery has an airy, minimalist Nordic feel. Stop by for sourdough loaves (B250), baguettes (B100), and breakfast rolls (B50), as well as cafe favorites like the Blue Heaven, a smoothie bowl that consists of blue spirulina, banana, pineapple, and mango (B250). Heartier bites include the sweet ham and brie baguette sandwich (B200) and the open-faced Pestocado (B250), packed with pesto, avocado, cucumber, tomato, and kalamata olives .
760/1 Sukhumvit Rd., 061-745-2121. Open daily 7am-6pm
Moo ping and sticky rice are a common Thai breakfast, and for over 30 years Fat Bro's stall has been making lines around Silom late into the night, but now you can also grab these meat-on-sticks in Thonglor during the day time. On top of his original moo ping (B15 per stick), he has expanded his selection to beef (B28 per stick), chicken (B18 per stick), and chicken liver (B18 per stick). Don't forget to grab the sticky rice (B10), too.
The Fox Thonglor, 209 Sukhumvit Soi 55 (Thonglor), 092-886-2121. Open daily, 24 hours

From the same owners of the minimalist, Hands and Heart coffee shop comes H Dining. The kitchen is overseen by young chef Kanta "Toiting" Siddidharm, who has a CV packed with stints at fine-dining stalwarts like Gaa, 80/20, and Noma. Considering her background, the food is a mix of Thai and Nordic touches. Heartier dishes include the pork sandwich and kimchi (B260) and burnt onion pasta (B320) with miso sauce and pickled mushrooms. For coffee, try their filter of the day (B160).
4 Sukhumvit Soi 38, 02-058-2699. Open daily 8am-10pm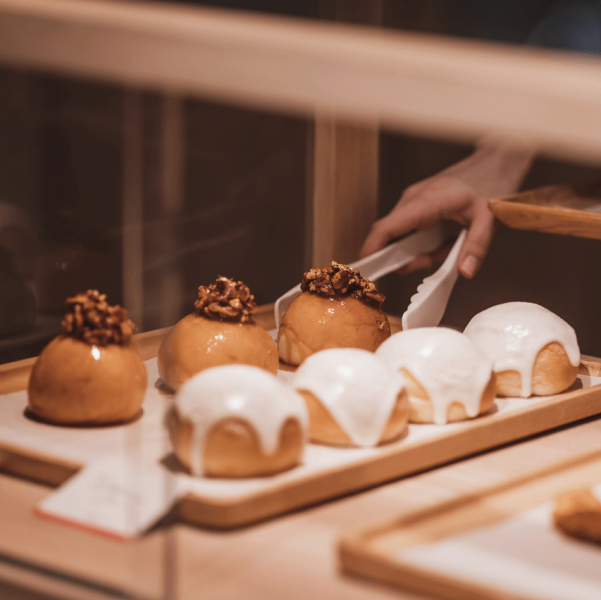 Image courtesy of Nico Nico
Nico Nico

NEW
There are countless cafes in Thonglor but this cute, new Japanese spot is impressive. Nico Nico in Japanese means "a smile", and this cafe serves food that will make you do just that. Decorated in a mix of Japanese and Scandinavian, you'll find fusion comfort breakfast dishes like curry scrambled eggs (B260) with soft bacon and homemade bread. For something lighter, try their wasabi crab toast (B260) combining chunks of crab meat with wasabi mayo. Try their Signature No.1 (B110), an espresso shot made with beans from Chiang Mai mixed with icy cold milk.
555 Sukhumvit Soi 55 (between Thonglor Soi 19 and 21), 097-054-6827. Open daily 8am-6pm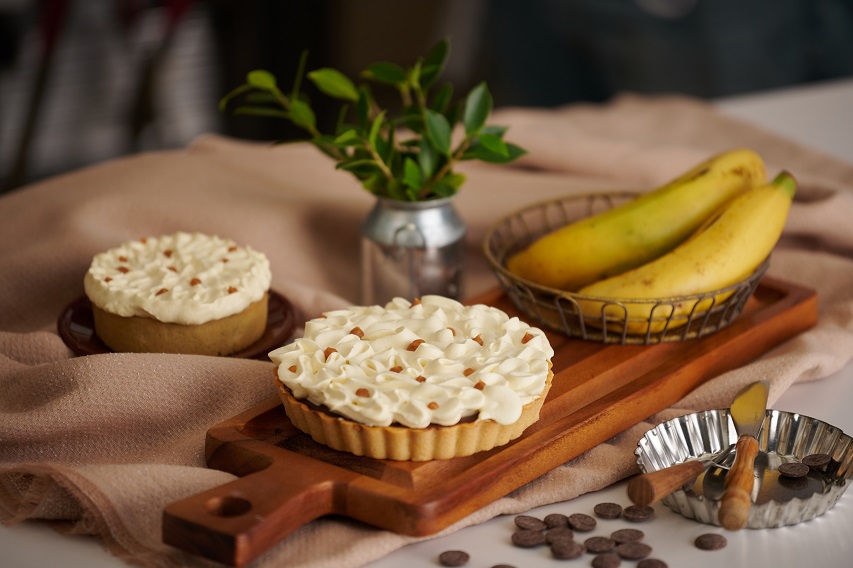 Located in a standalone house in the heart of Sukhumvit Soi 24, Nine Pastry specializes in sourdough and pastries with Mediterranean influences. Baker-slash-owner Nir Netzer spent over two years baking and experimenting in his home kitchen to come up with an extensive line of vegan-friendly sourdough loaves, like the classic (B200), multiseed (B220), and olives and herbs (B220). The result is a natural and earthy flavor with a moist texture and crisp crust. You can also grab sweets like tahini cookies (B350/10 pieces) or chocolate fudge and sea salt cookies (B350/10 pieces).
68/1 Sukhumvit Soi 38, 02-712-1774. Open daily 9am-5pm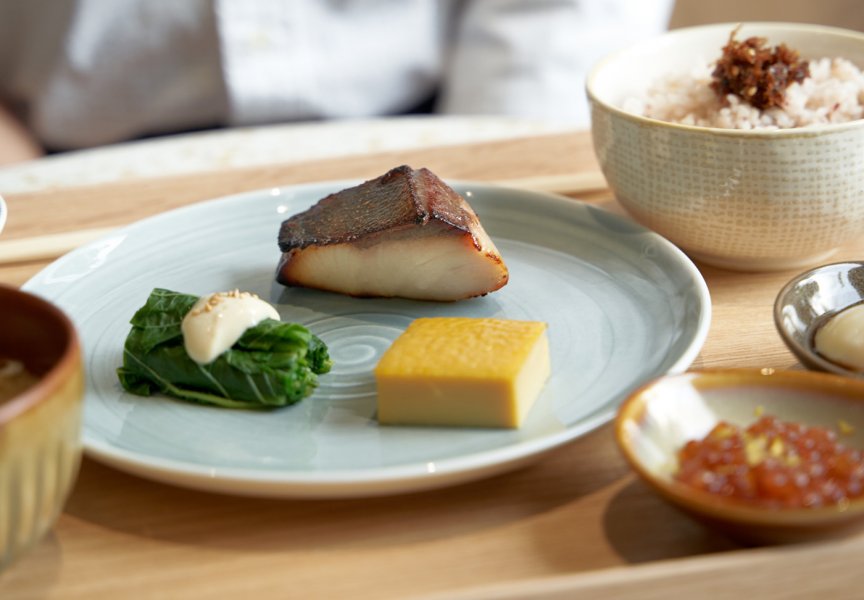 For a distinctly Japanese brekkie, hit the two-floor Okonomi. There are two types of ichiju sansai options (B550 each): Misozuke Hamachi, featuring miso-marinated hamachi (amberjack), and Konbujime Madai, with red seabream in a seaweed marinade. Each comes with a soup, pickled vegetables, rice, and tamago (Japanese omelet). To drink, choose from a selection of tea-based drinks, like a hot matcha latte (B140) made with Uji green tea or an iced hojicha latte (B140), as well as unique riffs like the kuromitsu macchiato (B140), made with black sugar syrup. Cashless payment only.
2/F, Hair of the Dog, 593/27 Sukhumvit Rd., 02-258-1461. Open daily 7am-11pm
Popular Hua Hin shopping center Plearnwan came to Bangkok with Plearnwan Panich. The vintage and industrial hints courtesy of galvanized steel and reclaimed wood don't detract from a pretty polished feel overall. The food is old-school: Thai snacks and breakfast bites such as khai luak (half boiled egg, B40), steamed bread with egg custard (B60), or roast duck in a bun (B110).
Plearnwan Panich, Thonglor Soi 13, 084-541-4565. Open daily 6am-7pm
Roast remains high on most brunch-goers' checklists, which means that, come the weekend you can face some crazy queues. It's with good reason, too. On top of the great coffee (starting at B80 for an espresso), the menu packs genuine crowd-pleasers like the Crab Cake Benedict (B360) and smoked salmon with rosti matched with lemon creme fraiche (B320).
The Commons, Thonglor Soi 17, 02-185-2865. Open Mon-Thu 10am-8:30pm; Fri-Sat 9am-11pm; Sun 9am-8:30pm
Tang Meng
Get off at BTS Thonglor, and walk past Broccoli Revolution to a family-run shophouse that sells the slightly unusual combination of khao mun gai and noodles. The proprietor—a woman known as Auntie Kim, who's usually found sitting in the corridor overlooking the business—notes that her family has been feeding people for over 60 years. The must-try dishes are yentafo (B50), khao mun gai (B50), and longan juice (B15).
887 Sukhumvit Rd., 02-258-7202. Open Mon-Sat 8am-5pm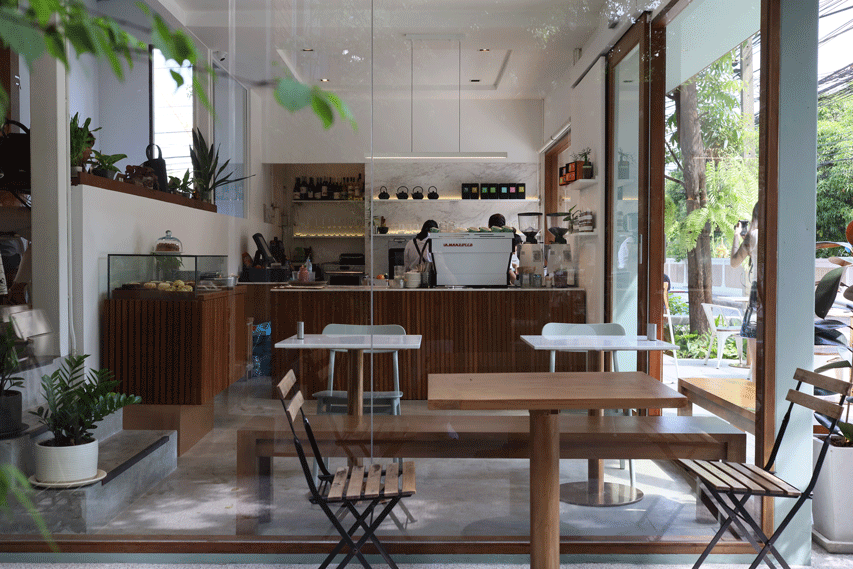 This mid-2015 opening is one of Bangkok's very best brunch spots. Crowds pack out the airy, sun-drenched spot for flat whites (B100), cold-pressed juices (B180), and egg-centric fare, all prepped with good produce and an eye for detail. Try the Egg Mikado (B320), sourdough topped with two poached eggs, cured salmon, and yellow hollandaise sauce. Pro tip: if you don't want to be hangry, avoid weekend mornings as they tend to get pretty crowded.
68/1 Sukhumvit Soi 38, 02-712-1774. Open daily 9am-5pm
---
Ekkamai

Australian Michael Conkey's farmers' market favorite turned hidden Ekkamai enclave is the perfect spot to start your day with a daily-baked crusty baguette (B120) or buttery brioche (B380). What sets the place apart from your Amantees and your Maison Jean Phillipes, however, are unbeatable Aussie staples like sausage rolls (B120) and meat pies (B180). We're also partial to the plump meatballs (B180/4pcs)—perfect for sandwiching between a ciabatta (B160). Keep an eye out for recurring picnics.
72 Ekamai Soi 22, 083-040-5911. Open Tue-Sun 9am-5pm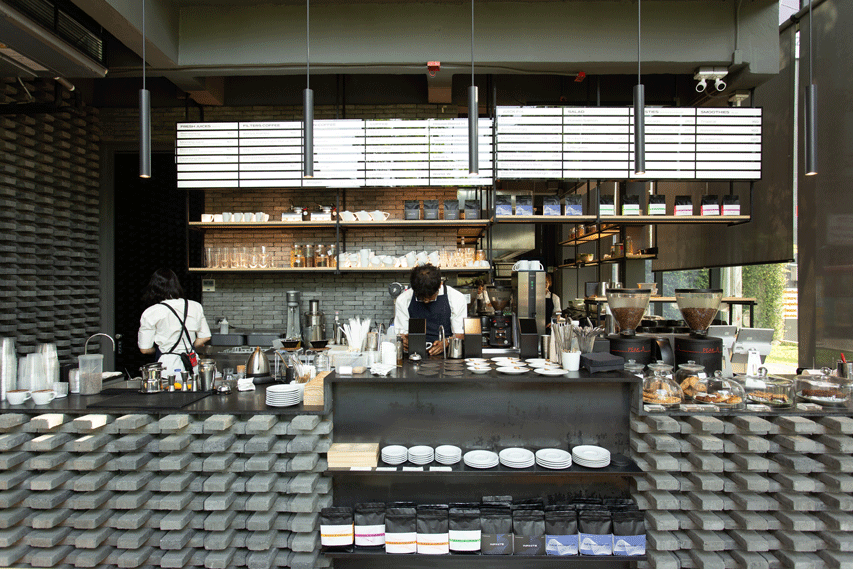 Ekkamai's white-flushed home of Melbourne-style coffee culture relocated just up the road from its former home in Tai Ping Tower. Now with its very own standalone spot, the white decor and scientific coffee prep remains—try Single Origin of the Day (B150)—but cakes and pastries are now all made in-house. Cure your hangover with their Home Full Breakfast (B360) that comes with scrambled eggs, feta, grilled mushroom and bacon, baby cos, tomato, and avocado.
6-7/888 Sukhumvit Soi 63 (Ekkamai), 098-831-6009. Open daily 7:30am-4:30pm
This new cafe took over an old house with a stone backyard in Pridi Banomyong Soi 25, turning it into a homey eat-and-chill space. Of course, with such a beautiful space comes a lot of Instagramers. However, the food and coffee here are actually pretty decent, unlike some other Instagram cafes we could mention. An iced Americano will set you back B100. Our favorite, chicken liver pate (B165), comes with cream cheese, strawberry jam, and sourdough.
155 Pridi Banomyong Soi 25, 065-098-8974. Open Mon-Wed 8:30am-5:30pm; Fri-Sun 8:30am-5:30pm