One of Bangkok's most tranquil neighborhoods is as good as ever.

This two-story wooden house oozes rustic charm with its hanging ferns and all-wood furniture. The big menu covers something for everyone. There's classic Thai favorites like pad Thai (B180), sharp-flavored yum tuo poo (wing bean salad, B220) and stir-fried morning glory (B150), but also homey international dishes like ham and mushroom pizza (B350), the signature AKART pasta with beetroot sauce and truffle bread (B280) and Australian black Angus tomahawk (B3,000/1.2kg). For dessert, try Thai custard toast (B90) with custard choice ranges from butterfly pea, Thai tea and pandan.
30 Yen Akat Rd., 02-249-0182. Open daily 10:30am-10:30pm
Exclusively for Citi credit card members: :
Get 30% discount for Lobster AOP Pasta menu Today – 31 Dec '18
A bounty of fresh seafood, cheeses and simple French comfort dishes line the chalkboard menus of this rustic bistro. Start with the foie gras on a soft brioche with onion marmalade (B490) or a tartine of roasted pears, goat cheese and walnuts (B290) as you sip on a nice glass of Fleur de France bubbly (B250). Then tuck into the "seafood bouquet," including oysters, mussels, whelks, cockles and prawns (B990). Still not full? Try the French classics such as beef tartare (B590) and a heart-warming cassoulet (B710).
15 Yen Akat Rd., 02-249-1684. Open Tue-Sun 11:30am-2:30pm, 6-10:30pm

This 70-year-old wooden house from the Rama 7 era will wow from first glance. The cafe highlights beans by local micro roasters with two house signature blends: the Artisan (Thai, Colombian and Guatemalan) and the Craftsman (Thai, Brazilian and Ethiopian). The menu includes various avo-toast options with some decent pizzas to boot, like the chorizo and portobello mushroom (B220/B390) and eggplant pizza (B250/B350). If you are craving some caffeine-free refreshment, try the Craftsman juice (B105) made from fresh fruit.
30 Yen Akat Rd., 02-249-0180. Open daily 7am-7pm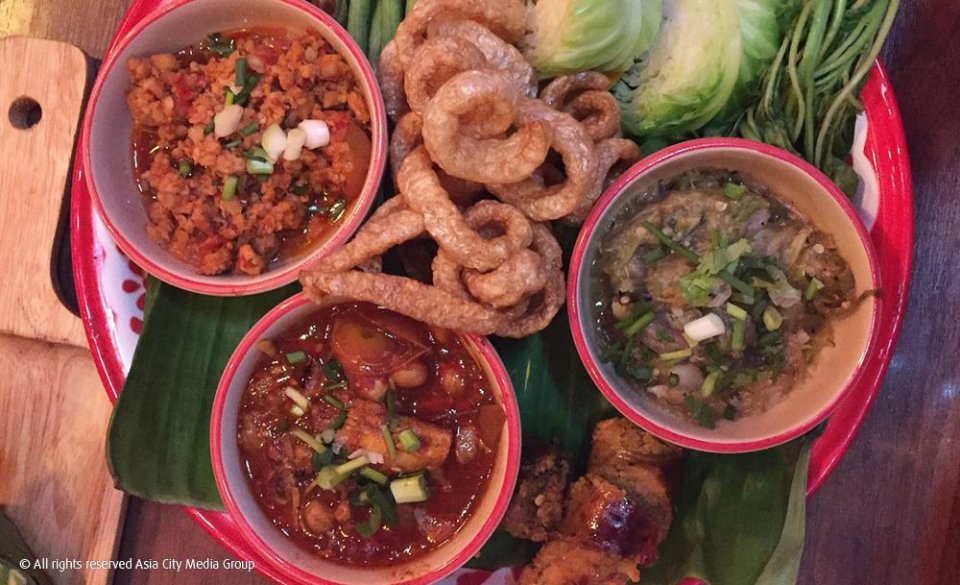 From street stall to shop-house and now four-story townhouse, this Northern Thai street-food specialist serves traditional recipes from Phayao province with the occasional premium ingredient or fusion flourish. Some might say this is the home of the best khaosoi (Northern curry noodles, B90/B120/B280) in town. Other mainstays include nam prik noom (young green chilli dip, B100), khanom chin ngam ngiaw (a smoky, pungent noodle of Shan origin, B80) and the delicious gaeng hang lay (spicy pork belly curry, B120).
5/4 Yen Akat Rd., 097-265-6410. Open Wed-Sun noon-midnight; Mon noon-midnight
Set in hotel U Sathorn, J'aime is all about refined, classic French dishes with a few modern touches. For a taste of their updated menu, try the special Gillardeau oysters served with rye porridge, lettuce puree and crepes (B970), Kamui beef fillet served with carrot and apple puree alongside rosemary jus (B2550), pan-seared veal sweetbread "a la Grenobloise" with a brown butter emulsion and caper powder (B1890) or the pan-seared fillet of venison served with a cream of hazelnut & butternut squash, mustard and amaranth (B1990). They also preside over an extensive list of wines from both new and old worlds, mostly sold in bottles starting at B1,600.
U Sathorn Bangkok, Sathorn Soi 1, 02-119-4899. Open Wed-Sun noon-2:30pm, 6-10pm; Mon noon-2:30pm, 6-10pm
Exclusively for Citi credit card members: :
Get 15% discount on food only (except lunch set menu and special menu by Chef Jean-Michel Lorain) Today – 31 Dec 18
Everything about Sensi is on an exceptional level, from the humble and approachable service to the beautifully plated food with the occasional flourish. Opt for the generous a la carte portions or—and we highly recommend this option—the five-course tasting menu. Either way, you'll get to sample some incredible produce. They recently introduced all-new a la carte dishes alongside a new seven or nine Course Carta Bianca—a bespoke concept that sees head chef Stefano Merlo craft custom meals based on diners' tastes.
Narathiwat Ratchanakarin 17 Yaek 5, 02-117-1618, 02-676-4466. Open Mon-Sat 5:30pm-midnight
Exclusively for Citi credit card members: :
Get a complimentary dessert valued THB 340++ when spending via Citi credit cards (limit 1 dish /card /table /sales slip, except special events and blackout dates are applied) Today – 31 Jan 18
The number one restaurant in Top Tables 2017 and 2018 is strikingly homey yet also refined. The setting in a generously portioned mid-century home round the back of Yen Akat Road retains its residential charm, but also adds a striking open kitchen where the brothers work to the constant flicker of open flames. The chefs aim to introduce diners to a different perspective of German food that's not just about hearty chunks of pork knuckle, sausages and sauerkraut—though these classics do make the occasional, playful appearance. The menu breaks down into two tasting menus, Klassikier (a selection of past and present classics, B3,400) and Erlebnis (the chefs' latest inspirations, B4,400). Both divide into three chapters—finger snacks, starters & mains, and desserts. From Monday to Thursday you can also cherry-pick the restaurant's a la carte menu.
No. 10, Yenakart Soi 3, Chongnonsi, Yannawa, 02-287-1799. Open daily 5:30-9:30pm
Exclusively for Citi credit card members: :
Get a complimentary extra serving valued THB 400 when spending via Citi credit cards (limit 1 dish /card /table /sales slip and advance reservation and Citi credit card presentation is required before receiving service) Today – 31 Dec 18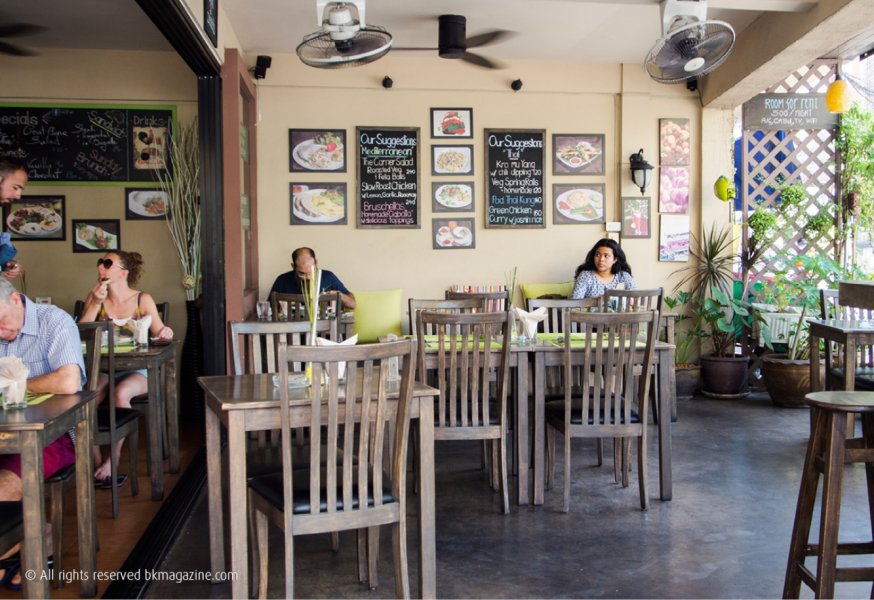 Located in a guesthouse of the same name, the decor is very much a casual, slightly rustic affair, with dark wooden furniture, splashes of green on the menu board, table mats and a small bar. The menu rolls out Mediterranean dishes using local and organic produce. Almost everything is homemade from bread to sausages. Try the house favorites like Mediterranean trio (B240)—pita bread serve with hummus, falafel and baba ghanoush, and the slow roasted chicken with fried potatoes and rosemary (B260).
27/39 Soi Sribamphen., Sathorn Rd., 02-679-8438. Open daily 7:30am-11pm
Sponsored by: