Bonsai
Named after the famous Japanese art form of stylizing mini-trees to look like their full-sized counterparts, Bonsai is a jack-of-all trades in the Japanese food game—offering omakase menus made with seasonal produce from Tokyo's Toyosu fish market, teppanyaki and premium a la carte creations. The inside has all those peaceful zen vibes, too, with shoji (Japanese sliding doors) partitioning off various sections and bonsai murals tastefully placed along the walls. Make sure your try the unagi foie gras don (steam rice topped with Japanese eel and foie gras, served with miso soup), and the Aki sashimi set which concludes otoro (meat from tuna's belly), chutoro (medium fatty tuna), akami (red meat tuna), red clam, yellowtail fish, seabeam, spot prawns, and sea urchin.
M/F of Sexy Cow restaurant, The Millenia Tower, Langsuan Rd., 095-208-0216. Open Mon-Sat 11am-2:30pm; 5:30-10pm. BTS Chidlom
Exclusively for Citi credit card members:
Get 15% discount on a la carte menu only
1 Dec '19 – 31 Dec '20
Here, chef Randy Noprapa—a protégé of Iron Chef's Masaharu Morimoto—serves modern interpretations of traditional sushi with some East-meets-West combinations. Using fresh imports, including top-grade Milky Queen rice from Japan's Ibaraki prefecture, Chef Randy crafts some of the most authentic sushi in town. A la carte options available with highlights such as a fancy sushi set (B1,900) with foie gras, Wagyu, botan ebi (spot prawns), uni, tuna and truffle, tuna, and salmon roe.
3/F, Portico, 31 Lang Suan Rd., 02-041-6056. Open Sun-Fri 10:30am-1:30pm; Sun-Thu 5-10pm; Fri 5-11pm. BTS Ploen Chit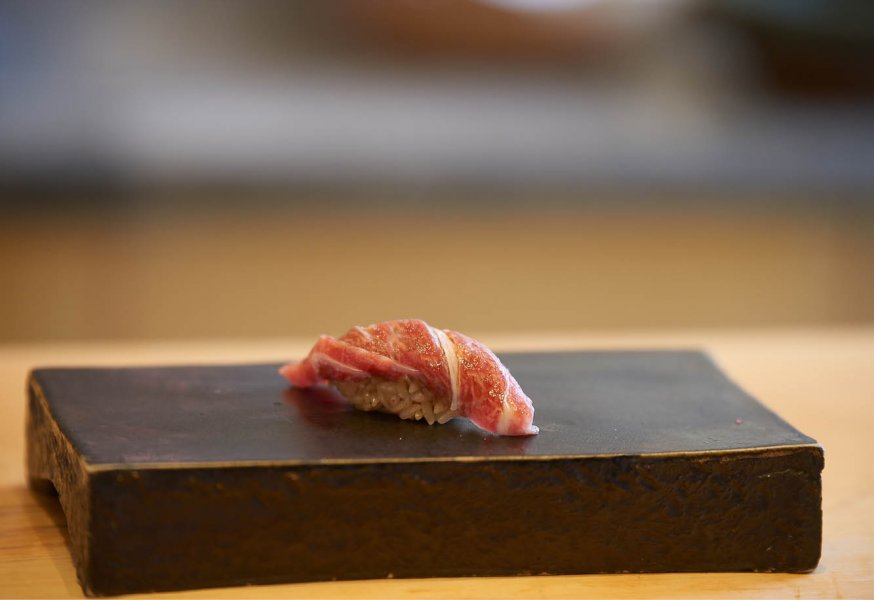 This is not the first restaurant in Bangkok to claim it flies its fish straight from Tokyo's Tsukiji Market, but it is the first to say that, no matter what day you dine, the fish will have been at the market less than 24 hours before service. Snag inventive dishes like the Hokaido Taraba Crab (B4,500)—kani miso (crab brain) steamed rice topped with uni and fish roe. Drinks menu featuring a solid list of sake (starting B390) and some Old/New World wines (B230 per glass).
LG/F, Erawan Bangkok, 494 Phloen Chit Rd., 02-250-0014. Open Tue-Sat 11am-1:30pm, 5-10pm; Sun 5-1:30pm, 11am-9pm
Exclusively for Citi credit card members:
Get 10% discount when spending THB 10,000 or more /sales slip for lunch or get 10% discount when spending THB 17,000 or more /sales slip for dinner
1 Nov '19 – 31 Dec '20
Credit: facebook.com/InTheMood.Bangkok/
In the Mood for Love
Inspired by Wong Karwai's movie under the same name, this restaurant is bursting with romantic vibes thanks to its leather chairs, peony embroidered pillows, and Chinese-style wooden screens. The menu is packed with all manner of Japanese cuisine. Our favorites include the Happy to Get Her (B400)—sushi rolls with scallops, fish roe and crab meat—stir-fried scallops with butter sauce (B375), and Forbidden F roll (B835) with foie gras, prune, and mango puree. You can also opt for an Omakase option if you like.
9/9 Sukhumvit soi 36, Sukhumvit Rd., 02-392-8477. Open 11:30am-3pm, 5:30pm-midnight. BTS Ekamai
Ekkamai is one of the most competitive places in town for sushi restaurants, especially a la carte all 'rounders. Joushitsu hits a sweet spot here, with high-quality produce imported from Hakkaido mixed with a casual and comfy setting that won't have you feeling like your tie should be done up to eleven. The menu includes highlights like engawa (flounder's fin), shrimp, scallops and uni (sea urchin), and even some non-sushi items like grilled snow fish with soy sauce (B390). One thing we should add is that Joushitsu seems to regularly offer 30-50% discounts, so don't forget to check their current promotions before visiting.
20/2 Ekkamai Soi 2, 02-714-3984. Open daily 10:30am-1:30pm, 5-9:30pm. BTS Ekamai
Exclusively for Citi credit card members:
Get 20% discount on food only
1 Apr '19 – 31 Mar '20

The sushi arm of this sushi-and-yakiniku specialist lets you try premium-level sushi at a fraction of the usual cost, along with a la carte made with ingredients came in from Japan three times a week. Highlights including Jyo Bara Sushi (B1,560) which is a bowl of vinegar marinated rice topped with, well, a portion of random sashimi, Ana Kyu Maki (sea eel with cucumber roll, B350), and Negi Toro Maki (chopped tuna belly with spring onion roll, B420). Drinks menu contains syochu, sake, and beer.
3/F Centralworld, Ratchadamri Rd., 065-731-4844-5 Open 11am-10pm. BTS Chidlom
Exclusively for Citi credit card members:
Get a complimentary Appetizer valued THB 200 when ordering Omakase 13 Courses for Citi ULTIMA, Prestige, Premier, Mercedes, ROP Preferred and Select (limit 1 dish /card /table /sales slip)
1 Oct '19 – 31 Mar '20

Credit: facebook.com/SushiHanaThailand/
Sushi Hana
With seven branches located around the city, this is a go-to sushi chain for Bang Na locals when they want the comforting stuff at a decent price, like soothing nabe (Japanese hot pot) and awesome sushi. The inside is replete with slick granite floors and an open kitchen buzzing with activity. There are some fun fusion things going on here, too, like the Hana Wagyu sushi (BTK)—grilled Wagyu slices topped with salmon strips and salmon roe—black Angus beef teriyaki (BTK), and the hearty Niku Yawara curry nabe (BTK) made with 8-hour stewed beef.
G/F Mega Bangna, 089-569-1212. Open daily 11am-9:30pm
Exclusively for Citi credit card members:
Get 10% discount on food in main menu only
1 Oct '19 – 30 Sep '20



Sushi Masa is known for its very reasonable price and a quality that is on a par with places lots of Japanese expats frequent. With big picture menus, relaxed staff and cheerful chefs behind the counter (who might even let you taste some grilled tuna tendon for free in a quieter moment) the vibe here is definitely laid-back. Try the Matsu set (B1,480) with four pieces of Matsusaka beef sushi, salmon sushi, and salmon roll, or the Masa Toro (B1,200)—a sushi set with four toro sushi and three salmon.
G/F Siam Sawana Hotel, 359/1 Phaya Nak Rd., 083-701-7627. Open Mon-Thu 9:30am-9pm; Fri-Sun 9:30am-10pm.
Exclusively for Citi credit card members:
Get 5% discount on food only
1 Sep 19 – 31 Aug '20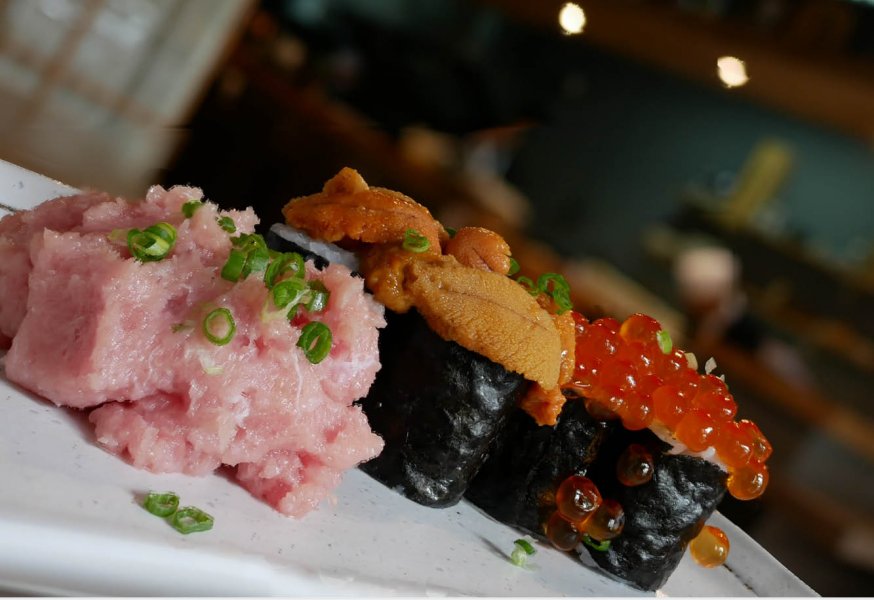 Credit: facebook.com/YUZUKIsushibar/
Yuzuki Izakaya & Sushi Bar
Tucked inside Sukumvit soi 26, the venue's classic hinoki wood counter, partitions, noren (a Japanese-style sign made out of fabric) and red lantern hanging in front give it a distinctly Tokyo feel. Its menu spans sushi, sashimi, and Izakaya-style bar bites. Opt for the buffet (B1,765) to get dishes like Yamagata—a sushi set with uni, chopped otoro, and marinated salmon roe, hotate (Japanese scallop), foi gras, and juicy pieces of otoro topped with uni and caviar.
G/F The Twenty Six, 34 Sukhumvit soi 26, 091-840-2899. Open Tue-Sun 12am-2pm, 5-10pm. BTS Phrom Phong
Sponsored by: