Tucked away inside Ratchadapisek Soi 17, this Hong Kong restaurant serves some of the best honey roasted BBQ pork in Bangkok, at very affordable prices, too. The sweet, thick honey-glazed pork radiates deep, rich flavors and tantalizing sweetness. Downsides? You have to book your char siu one day in advance.
Good for: Families who want to find a place to satisfy the generation-gap.
Ever felt like there's never enough sauce for your char siu? Then head to Talat Phlu's narrow alley, and you'll find a much-loved noodle stall that has been selling juicy roasted pork for over a century. Here, they sell a bowl of noodles topped with fatty charcoaled char siu where you can pour over all the sauce you like. Head there early; otherwise, you won't get a seat.
Good for: Adventurous eaters who don't mind chowing down on the streets or long queues.
Ari's chic Cantonese joint, after its major facelift last year, is another serious contender with its roasted char siu, using pork belly roasted with Chinese liquor and khao mak (red fermented rice) instead of fermented bean like any other places. The texture is luscious, almost gelatinous. Wash it down with their mala milkshake.
Good for: Cool kids who want to have a good meal in a photogenic setting.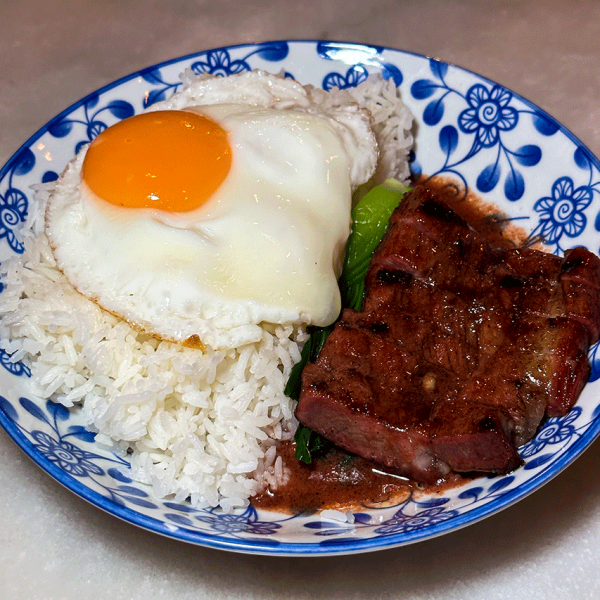 Another budget-friendly Cantonese joint on our list is the new addition to Michelin's Bib Gourmand. Originally kicked off as an online delivery platform, the now-massively popular Tanjaiyang captures people's hearts with its charcoal-grilled char siu made fresh by order. Go for their charcoal-grilled char siu over rice (B165) that comes with the gooey khai dow. The taste may lean toward sweet for the uninitiated, but that's what char siu should be, right?
Good for: People looking for quality meals but still want a nice spot in the air-con.
Fans of char siu and frequent visitors to Hong Kong may not need any more explanation for why this Hong Kong restaurant is so beloved and praised for its sumptuous roasted Iberico pork (B1,680) with yellow honey. Though we have heard some mixed feedback about the place, it's still somewhere you should check out.
Good for: If you don't have to worry about money, head here.