BANGKOK RESTAURANT
Mott 32
Spicy xiaolongbao, quail egg black truffle shumai, and classic Peking duck shine at The Standard's latest opening.
The buzz: Mott 32 has been in the front of the Bangkok foodie brain for a while. Not just a world famous Chinese eatery with five other award-winning locations around the world, its fortunes have been tied to the long-awaited The Standard Hotel in Bangkok's Mahanakhon. Well, it's finally here—and booked out until at least next month.
The vibe: There's two sides to the second-floor Mott 32, the more glitzy dining area and more intimate dining rooms in the speakeasy style—dark, sexy, and sharp with hidden corridors. Sure, it's got the gold tinge and front-of-shop bar, but there are plenty of dark corners to add ambience. It might not have the views of its Standard sister shop up at Ojo, but everywhere a Mott 32 lands, it brings style. The terrace isn't quite open yet—but keep an eye out.
The food: Dealing up the dimsum and duck is head chef Lee Man Sing via Hong Kong, and it wouldn't be a Mott 32 without that special Canto touch, but you can expect more Chinese flavors than that on your plate (or bamboo steamer). Just talking dimsum, for example, you're going to want to try the soft quail egg sui mai with pork and black truffle as well as the crispy sugar-coated bbq iberico pork bun—a simple but secret favorite. The juicy xiaolongbao here comes with a spicy kick. For a little something different there's the fish maw jelly with goji berry and mint and a Chinese marinade sauce; it looks trippy, but it's a savory little bite. Conversely, the fried abalone was a surprisingly simple addition and one we hope to see a lot more of in the future. For something heartier, you've got the smoked black cod and crab casserole, but let's be honest: you're here for the Peking duck. Not wanting to cause a riot, there are a lot of ways to do Peking duck. Here, you'll find a very traditional apple wood roasted duck with crispy skin and just the right amount of fat; it's the "signature Mott 32 cut" and that cut can come at the table—all part of the ambience and drama of Mott 32. As the experienced Peking ducker knows, skin goes with the sugar, and meat goes with the rest in the pancake. For an added bit of style, the duck sauce comes with a special little swirl (you'll see).
The drinks: Do you drink for the Insta? Then this might be the place for you—think edible flowers, bright colors, and Chinese twists. The five spice sherry (which does what it says on the tin) is refreshing, but we recommend the rare mix of whisky and gin in the Hanami. If you want to do Mott 32 sober and live that chai life, then there are more than half a dozen teas to choose from; give the Puer tea a go.
Why we'd go back: There was a great deal of hype leading up to this opening and Mott 32 has a lot to live up to. We'd like to go back for another crack at the dimsum options and to snaffle a few desserts.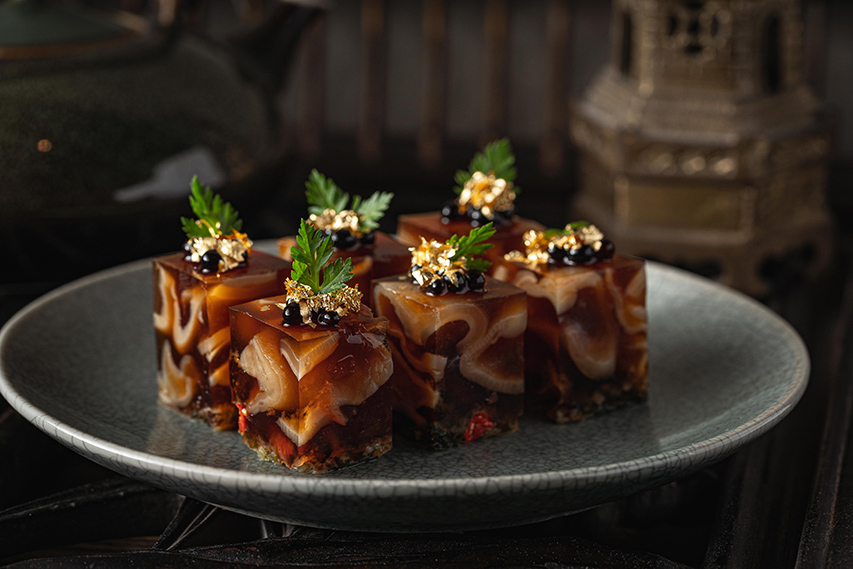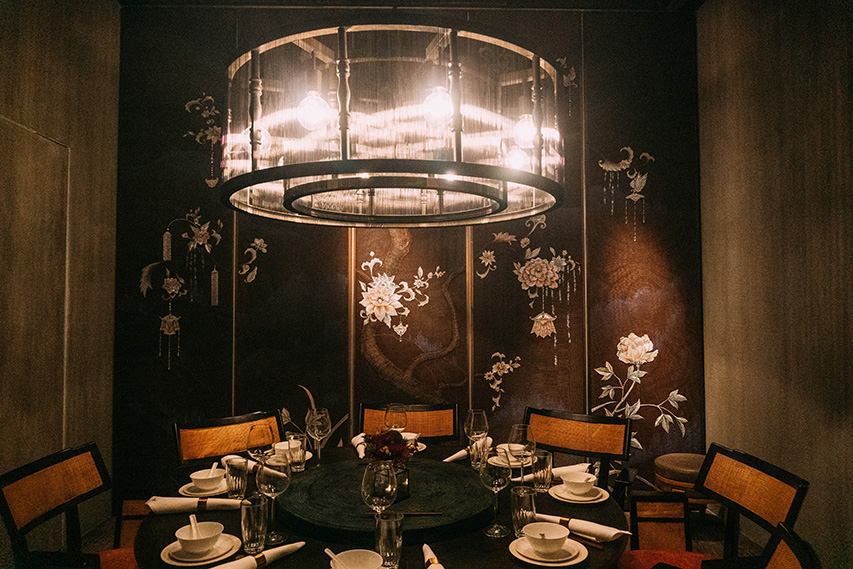 Venue Details
Address:
Mott 32, 2/F, The Standard, Mahanakhon, 114, Silom, Bang Rak, Bangkok 1 Naradhiwas Rajanagarindra, Bangkok, Thailand
Phone:
02 085 8888
Area:
Silom
Report a correction