Embassy Room – Catalan Cuisine (Catalanian) NEW

Catalonia is an autonomous community of Spain that draws big influence from the West Mediterranean, so expect fresh ingredients with no-frills preparation and presentation. One of the big highlights of the five-course dinner menu is the pop a la catalana, an octopus dish served with sofrito sauce and finished with picada (a pillar sauce of Catalan food). Considering its location, the prices are friendlier than you might think. You can get a glimpse of what Catalan cuisine is all about through the three-course lunch set menu for B1,400. The restaurant will be open to the public from Oct 1, but you can start booking now.
9/F Park Hyatt Bangkok, 88 Wireless Rd., 02-011-7430.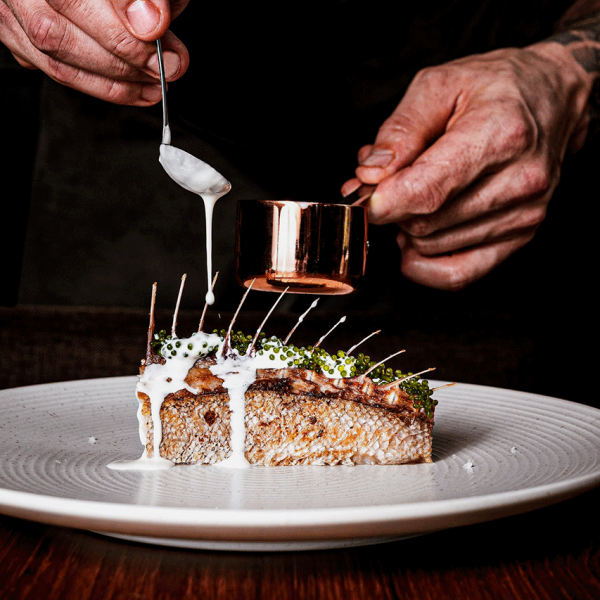 After closing his Thonglor outpost, Latvian chef Aleksandrs Nasikailovs has returned to Bangkok's food scene with his latest fine-dining experience in Klong Toey. At White House, cuisines collide: Alex steers from one destination to the next through theatrical presentations stemming from his 15-year culinary journey—rack of lamb from Australia, grilled mackerel from Satun, and hand-dived deep-sea scallops from Brittany are just an example of the eclectic medley of star ingredients.
Sukhumvit 16, Klong Toey., 097-694-9898. Open Tue-Sun 10am-6:30pm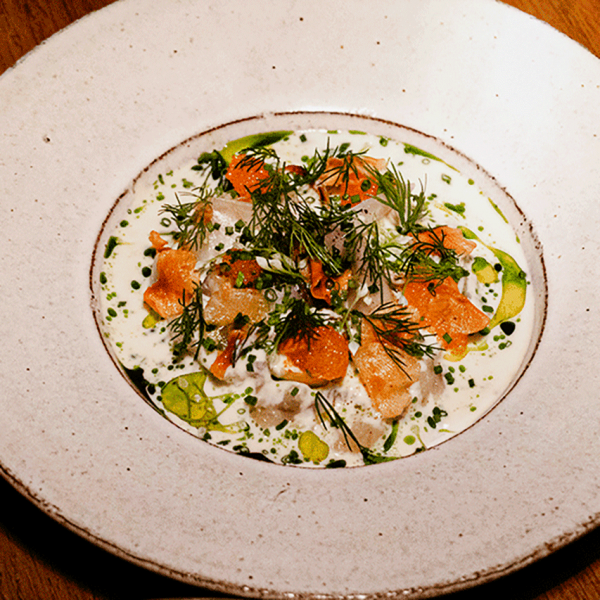 Culinary wizard Björn Frantzén brought a portion of the eponymous restaurant empire the Frantzén Group to Thailand in 2022, rekindling the Nordic dining scene in Bangkok once again. The two Nordic-style villas—one for the restaurant and the other for the cocktail lounge—in Soi Yen Akat are complete with a lush green garden. At Villa Frantzen, the food sees modern Nordic blended with a touch of Asian influence, from cauliflower chawanmushi (a steamed egg custard in yeasted mushroom tea) and morels to the fiery Szechuan pepper ice cream with mala pepper.
7 Soi Yen Akat 3, 087-344-8222. Open Tue-Sun 5:30-11:30pm; Sat-Sun 12:30pm-11:30pm
Avra (Georgian and Greek)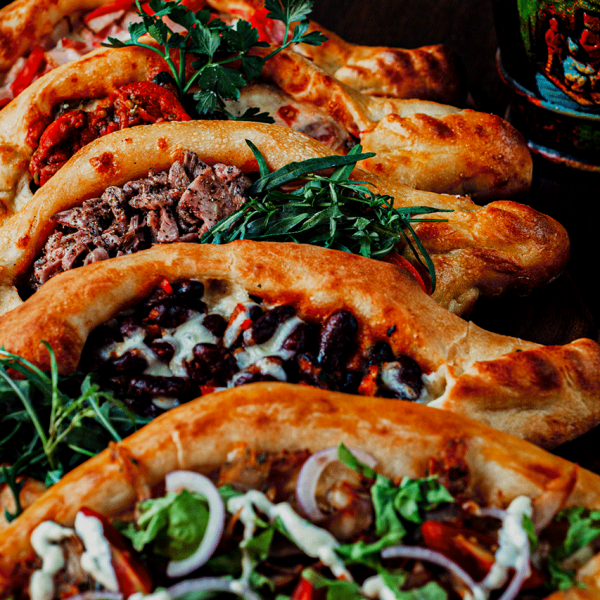 When it first opened way back in January 2016, Avra was primarily known strictly as a Greek restaurant. That's not the most uncommon cuisine in Bangkok, but in the years that followed the owners and chef started adding Georgian touches to the menu—a country that's not very close to Greece geographically but does have a similar spice palate. Inside the venue you will find a charming mix of whitewashed stone walls and hanging earthen pots that doesn't overstep the line into kitsch. The Georgian dishes are definitely worth a try, especially the traditional khinkali (large dumplings filled with meat and spices with twisted tops, B310), khachapuri (a very famous style of Georgian baked bread with a cheese and egg filling, from B365)
G/F, Lotus Hotel, Sukhumvit Soi 33, 02-258-2877. Open Tue-Fri 6pm-11pm; Sat-Sun noon-11pm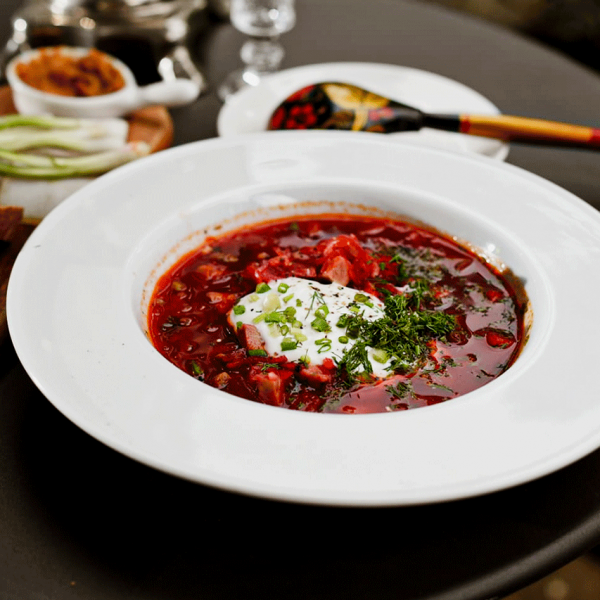 This was billed as the first real-deal Russian deli in Bangkok when it opened in Phra Khanong years ago, and despite a lot of fanfare and a move to the trendy Soi Suan Phlu it remains the only game in town to get your hands on authentic Russian eats. The concise menu offers authentic homespun classics, from pelmeni (pork and lamb-filled dumplings, from B330) and vareniki (potato-filled dumplings, from B290), to borscht, a classic Russian beet and vegetable soup, available with either pork stock or veggie kidney bean stock (B260). For something heartier, opt for the classic beef stroganoff (sauteed beef and noodles with a dollop of sour cream, B490).
67/30, Suan Phlu, 063-203-9322. Open Wed-Sun 5-10pm
Taye (Ethiopian)

After moving out of its cramped shophouse digs in Soi Nana to a much larger and more comfortable set-up across the street, Taye remains a favorite among fans of Ethiopian food for its springy injera bread (similar to a French crepe, but used to grab food and mop up juicy stews) and combo platters that make for perfect sharing plates. On a first visit, go for the veggie combo (a collection of five or six stews, vegetables and salad, B300) or the Ethiopia meat combo (a collection of meat stews with yogurt and salad, B450).
40/1-3 Sukhumvit 4, 084-930-3250. Open daily 11:30am-11pm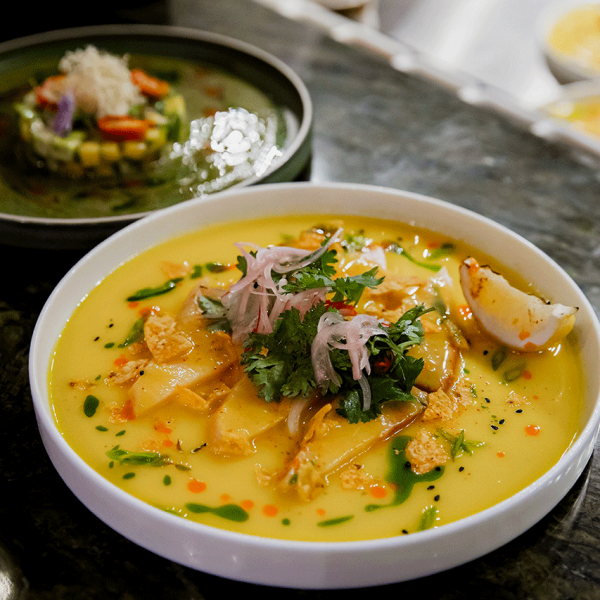 Apart from Mexican cuisine, there is a major dearth of Latin American food in Bangkok, so the addition of Peruvian specialist Guilty in 2022 was a welcome one. Since opening, the restaurant has been drawing the fun, casual crowds to Anantara Siam. Try chef Carlos Rodriguez's (previously at Gaggan, Penthouse Bar and Grill) flavorful jicama mango salad or the "toda la vida" ceviche.
G/F Anantara Siam Bangkok, 155 Ratchadamri Rd., 02-365-9110. Open Tue-Sun: noon-2:30pm; 6pm-midnight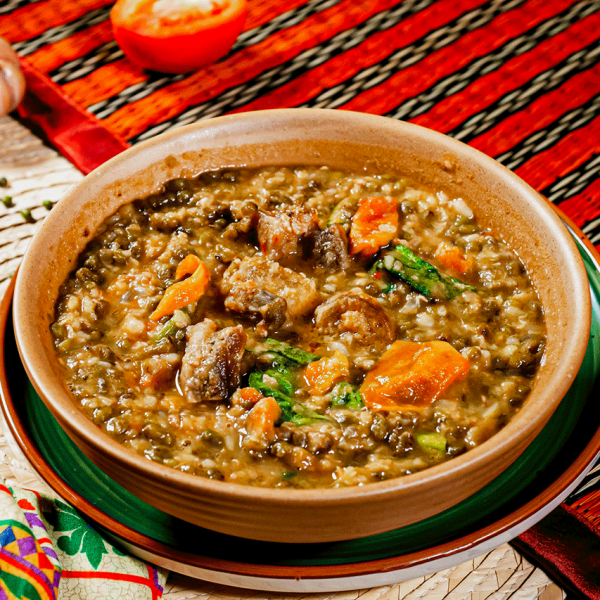 Seems weird to call Filipinio cuisine "uncommon" in Bangkok considering how close we are to the great island-filled archipelago, but the food is indeed tough to find around these parts. A good place to look is Lola's Kitchen, unsurprisingly located just across the street from the Embassy of The Philippines on Sukhumvit. The menu is packed with classics, from pork adobo flavored with soy sauce, garlic, vinegar and bay leaf, to bulalo a beef shank soup with sweetcorn and bok choy, and ginisang monggo, a mung bean stew with shrimp and crispy pork. Don't miss desserts like the Brazo de Mercedes, a Filipino-style meringue rolled with custard, or the hazelnut "sans rival" cake.
891 Sukhumvit Rd., 064-614-4075. Open daily 10am-9pm
For a taste of Cairo without having to travel, check out Arabesque, an Egyptian restaurant nestled towards the far end of Sukhumvit Soi 2. Inside, everything from the doors, windows and mirrors to the seats and pillars are decorated in arabesque patterns, all beneath dim lighting. What distinguishes Egyptian cuisine from other Middle Eastern fare—say, Lebanese and Persian—is that it doesn't rely on a huge amount of spices; instead, it is simpler, with a heavy emphasis on beans and vegetables, although here the food draws from across the region.
68/1 Sukhumvit Soi 2, 02-656-9440. Open daily 11-2am


With the arrival of Tibet Kitchen in Aug 2016, Bangkokians with adventurous palates were spared the need to trek 4,000 meters above sea level for a taste of delicacies like momo (steamed or fried dumplings) and thukpa (noodle soup). The menu here is a mix of Tibetan staples and those from neighbors Nepal, China and India. The one thing that'll keep you coming back are the momo, not only because they're delicious but also due to the sheer variety.
627 Sukhumvit Soi 22, Bangkok, 095-519-0532. Open Tue-Sun 11am-10pm
Kalyana Restaurant (Burmese)

The city is packed with Japanese, Korean, Chinese, and Western cuisine, but Kalyana brings something different to the table with its authentic Burmese fare. Located in Ratchaprarob, this Burmese restaurant serves everything from hin thote (B60), fresh chives wrapped in rice flour served with peanut, garlic, chili oil, to tofu nway (B80) a popular breakfast in Shan state, seeing silky tofu swimming in soup made with split peas and rice noodles, all topped with red peanuts, pickled mustard greens, and fried garlic. You'll also find classic dessert mong lat saung (B60), the homemade ice treat with rice noodle and jaggery syrup topped with shredded coconut and sesame, as well as Burmese ice tea (B45)
10 Ratchaprarob Rd., Phayathai. Open 11am-11pm. Tel. 094-809-8885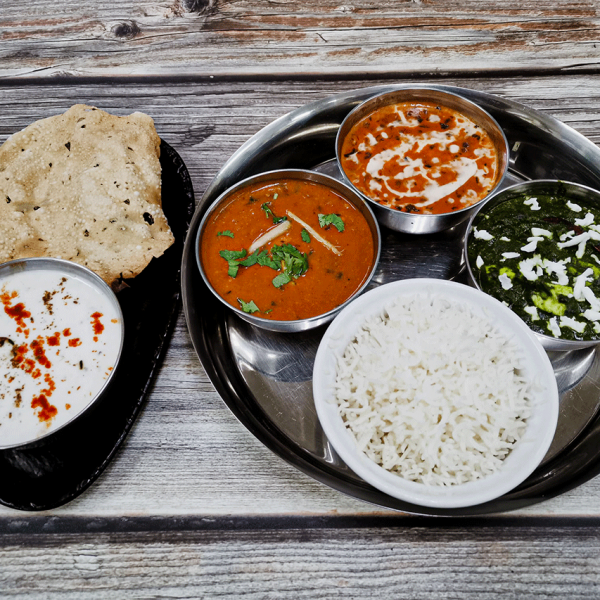 As the name implies, this humble spot serves up Himalayan cuisine (focusing on dishes from Nepal, Bhutan and Kashmir) with loads of vegetarian options. The room is filled with floor seating, mountain photos and prayer flags, an evocative setting for food that's humble and super-comforting. Highlights include the vegetarian and chicken momos (small dumplings with chili sauce) and aloo achar, a simple, spicy potato curry.
122, 16 Ratchaprarop Rd. Open daily 11am-10pm. Tel. 02-060-4778
Restaurant Odessa Pattaya (Ukrainian)

Ukrainian food may not be well-known in Bangkok, but if you travel to Pattaya, you'll find a wonderful hidden gem to whet your palate. Located near Jomtien Beach, Restaurant Odessa churns out classic Russian-Ukrainian dishes that many people wouldn't have heard of before. Start with the basic salo (B120), a Slavic-style cured bacon served with fresh garlic and sourdough, or the pelmeni (B150), the Russian version of dumplings with a range of fillings to choose from (pork, cheese, chicken, and potatoes). Feeling more adventurous? The place also makes kholodet (B200), Ukrainian-style savory beef jelly—it's wobbly, gelatinous appearance might seem unsettling at first, but pair it up with vodka and mustard and you get a surprisingly good combination. Wash it all down with vodka shot (starting at B50), or order sochnik (B60) Ukrainian crispy cookies filled with cottage cheese instead.
356, 89-90-91 Bun Kanchana Alley, Pattaya City, Amphoe Bang Lamung, Chonburi. Open Tue-Sun 10am-10pm