This global chain has become local's favorite for its non-greasy fried chicken that comes with crunchy batter holding up marvelously against the restrained slathering of spicy and flavorful meat on the inside. Other dishes are also as good. We like the pork bulgogi wrap (B140)—a DIY dish involving slices of pork cooked in soy sauce, sesame and spring onions—and the Soondubu (B200) which is Korean style tofu soup with zesty kimchi and your choice of toppings from pork dumplings, sausages, bacon, tobokki, seafood, and oyster.
5/F Terminal 21, Sukhumvit Rd., 02-005-1455. Open daily 10am-10pm. BTS Asok
Exclusively for Citi credit card members:
Get a complimentary Bonchon fries valued THB 120 when spending THB 1,000 or more /sales slip and get 10% cash rebate when redeeming Citi Rewards Points equivalent to net spending amount and spending THB 1,000 or more /sales slip (please check promotional details at point of sales) (limit 1 dish /card /table /sales slip)
1 Nov '19 – 31 Jan '20
Tucked in Nanglinchee neighborhood is this tiny but classy diner doling out juicy fried chicken, doughnuts and other comfort-food staples. Brassica immediately stands out from other old-school shop-house surrounded due to its vintage Parisian cafe vibe from its dark woods facade, off-white wall, and burgundy furnishings. Here, the fried chicken (B260 for a quarter chicken) is served with five house-made sauces: the pungent green herbs, tomato chutney, garlic butter, fermented chili and garlicky mayonnaise. We also recommend the Big Chicken sandwich (B260), layered with made-to-order coleslaw and thinly sliced pickles.
76/10 Nanglinchee Rd., 093-596-2465. Open Wed-Sun 10:30am-1:30pm, 5-10pm; Mon 10:30am-1:30pm, 5-10pm.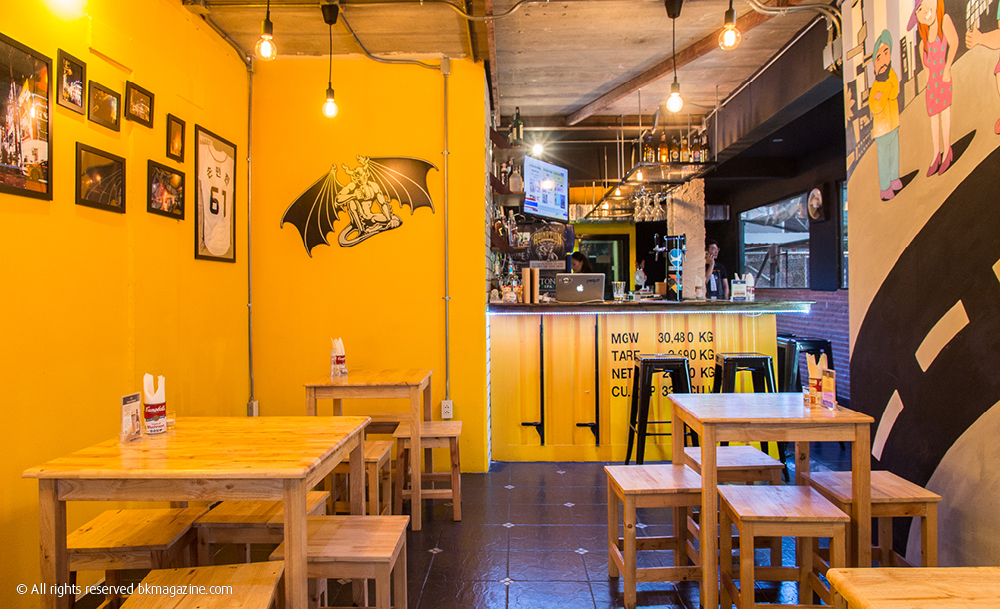 This cozy, little yellow-painted craft beer bar tucked next to MRT Petchaburi pairs top Thai and international craft beer selections with "KFC"—Korean fried chicken. If you're thinking of something like Bonchon, you're wrong. The bar's Korean owner Ted Ahn wants to bring a taste of "real" traditional Korean fried chicken to Bangkok, the kind that he eats back at home: crisp, juicy, spicy. Choose between half (B220) or full chicken (B400), as well as straight-up comforting classics like Korean ramen (B120). Pair your meal with Thai craft beers from labels like Eleventh Forth and Beat Brewing (B220).
37 Asoke Din Daeng Rd., 092-251-8661. Open Mon-Sat 5pm-midnight. MRT Petchaburi
This Koream-born chain is known for its adventurous take on chimaek (Korean word of pairing chicken and beer). Its fried chicken is available in various options, with highlights like garlicky—chicken coated (B260/B490) with spices and carried the allure of fried garlic—served along with potato wedges and fried topokki (fried rice cake). For something sweet yet savory, try the honey butter chicken (B260/B490) which comes rolled in almonds and cranberries. Drinks also comes with creative, like the Chir cream beer (350ml/B169 and 650ml/B269) which is Singha topped with freshly whipped cream.
5/F Siam Square One, 02-252-2204. Open daily 10:30am-10pm. BTS Siam
This restaurant dedicated itself to classic American comfort food—namely fried chicken and donuts. Menu packs with Nashville-inspired hot chicken, ranging from BareNaked (simple with no heat) to Shittin' Fire—a heady mix of habanero chilli, Carolina reaper and Trinidad scorpion. Go all-American with the Clucking Wings (B220) whose crunchy and golden on the outside but piping hot and juicy on the inside, or try your chicken with their donuts whose made fresh in-house daily and have a cake-like texture.
11/33 Petchaburi Soi 47, 064-871-9002. Open daily 10am-7pm.
Enlivened by loud bursts of red and brightly colored murals painted by a local artist Jayoto, this diner focus on Nashville hot chicken—a Tennessee-hailing specialty of cayenne pepper-seasoned variety that gets treated to a slathering of spicy paste. Those in the know will go for the classic Little Fowl (B250), which sets a perfectly crisp quarter chicken with pickles atop classic white bread. Other options include Fowlmouth hot chicken burger (B250) combines crispy chicken, dill pickles, creamy coleslaw and homemade sauce, served with a side of curly fries.
872 Mahatun Plaza, Phloenchit rd., 097-047-9457. Open Mon-Sat 11am-9pm. BTS Phloenchit
Exclusively for Citi credit card members:
Get 10% discount on food and non-alcoholic beverages when spending THB 500 or more /sales slip
1 Dec '19 – 31 Oct '20
Hailing from Korea, Kyochon import their sauces and main ingredients from Korea, making for a more authentic and traditional taste. Choose from signature flavors such as soy garlic, red hot, and the honey option; and slather it atop wings, drumsticks, or even a half or whole chicken. Not enough for one meal? Heavier options include kimchi fried rice (B250), butter garlic fried rice (B50), and french fries (B85), or pay B495 to design your own combo featuring 12 wings or half chicken, salad, side dish, 2 rices, and 2 drinks.
1/F Centerpoint of Siam Square, Rama 1 Rd., 02-623-4166. Open daily 10am-9.30pm. BTS Siam
Exclusively for Citi credit card members:
Get 10% discount on food only
1 Jul '19 – 31 Dec '19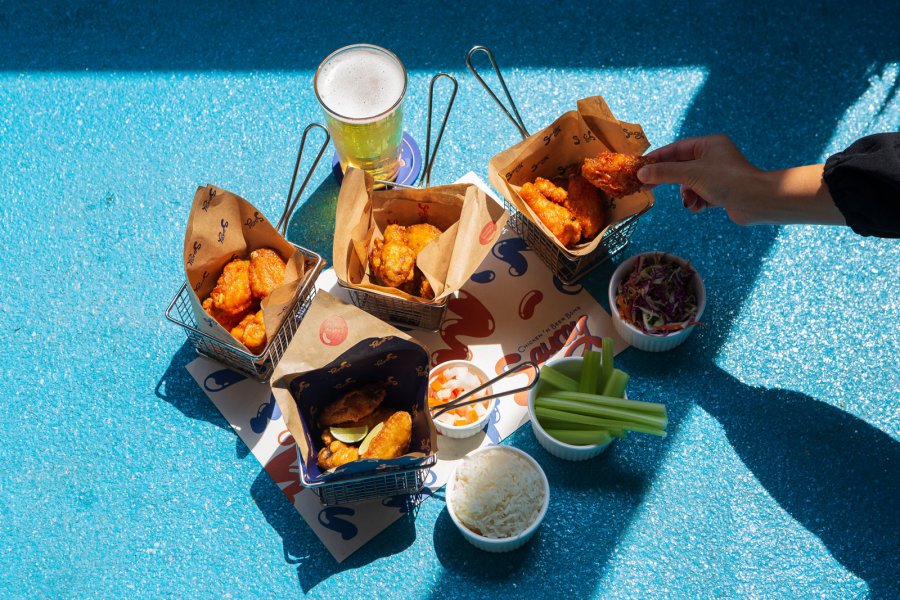 Bringing a dash of beach vibes to the backstreets of Sathorn, Saucey is all about chicken drenched in six flavors: the signature (chili paste, garlic, shrimp oil); original (soy sauce, palm sugar); African teriyaki (teriyaki, wild honey, aged ginger); Isan jaew bomb; Seoul sauce (Korean chili paste); and hot BBQ (tomato paste, dry chili, vinegar). Go for the lunch set (B159), which comes with five pieces of chicken, sticky rice, coleslaw and pickled vegetables, or head there after work for vodka slushies and happy hour beers (buy-two-get-one-free) on their beachy, turquoise, palm-fringed terrace.
44/6 Sathorn Soi 8, 02-297-0393. Open Mon-Thu 10am-9pm; Fri-Sat 10am-11pm. BTS Chong Nonsi
Exclusively for Citi credit card members:
Get a complimentary Strawberry Panna Cotta valued THB 129 when spending THB 500 or more /sales slip (limit 1 dish /card /table /sales slip)
1 Oct '19 – 30 Sep '20
Sponsored by: