Ah Nam
There is a nice, funky Chinese vibe here thanks to neon signs twisted with traditional characters, bare brick walls, and carved partitions made from red metal. Ah Nam lets you cram everything you want—from stir-fried noodles to shabu—all in one pot at the center of the table. Start with the chicken pot (B599) and the staff will stir fry it with leeks in a shabu pot right before your eyes. Follow with broth and a hotpot beef set (B289) and enjoy tasty slices, plus octopus, meatballs, tofu, vegetables and more.
2/F J Avenue, 091-461-4962. Open daily 11am-10pm. BTS Thong Lo
Exclusively for Citi credit card members:
Get a complimentary fried chicken tendon valued THB 95 when spending THB 600 or more /sales slip (limit 1 dish /card /table /sales slip)
1 Jul '19 – 31 Jan '20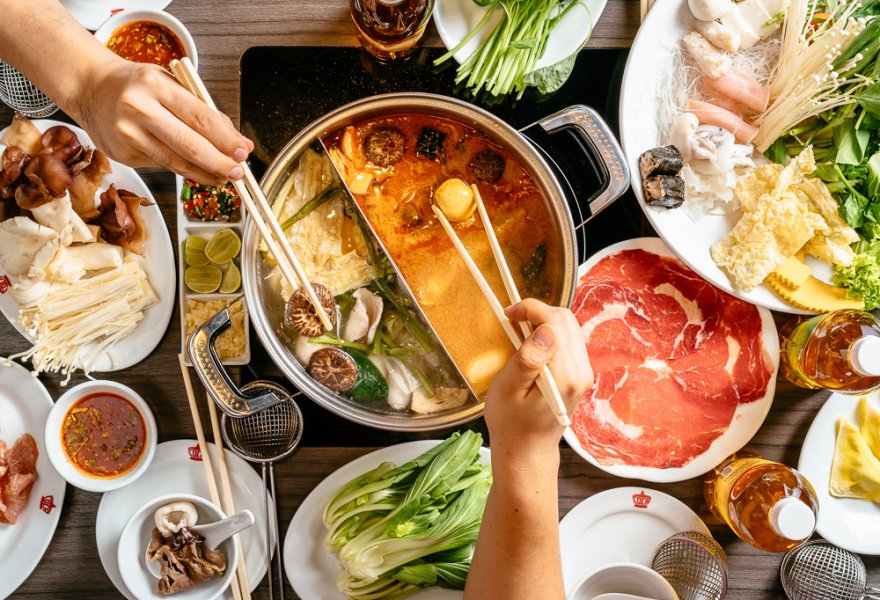 Coca
This neighborhood favorite has been one of Bangkok's go-to spots for classic Chinese hotpots for the better part of 60 years. It's got some serious 1960s Hong Kong vibes going on inside with carved wooden floors and door frames, and painted scrolls hanging from the walls. Start things off with the ribeye beef (B495), the crunchy bamboo stuffed with minced shrimp, and fresh mud crab—if you want to do your hotpot extra hi-so style (yes, you do). The dim sum more than holds its own, and is worth a visit as well. Other highlights include stir-fried turnip cake with XO sauce, and tender pork ribs drenched in black bean sauce.
Siam Square Soi 7, Henry Dunand Rd., 02-251-6337. Open 11am-10pm. BTS Siam
Exclusively for Citi credit card members:
Get 10% discount and get additional 10% discount when using Citi Rewards Points redeemption equivalent to net spending amount
1 Jan. 19 - 31 Dec. 19

Because of its large buffet and impressive range of soups and sauces, Evaime is a popular hotpot destination among university students. Don't leave without ordering the sake-marinated meat set (B460). It includes 12 slices of pork, plus meatballs and vegetables. The presentation is beautiful and photo-worthy, and the milk soup is a real dark horse on the menu—something you might not usually try, that will nonetheless keep you coming back.
4/F, Siam Paragon, Rama 1 Rd., 02-129-4576. Open daily 10am-10pm. BTS Siam
Exclusively for Citi credit card members:
Get 10% discount on food only
1 OCt '19 - 30 Mar '20



Fufu Taiwanese Shabu
Situated inside Sathorn's Empire Tower building, Fufu is well known for its huge range of shabu toppings, as well as ice creams from Haagen Dazs and Movenpick. A buffet will set you back B499, and comes packed with all the good stuff—beef, marinated pork, meatballs, crab, salmon and shellfish. For a Taiwanese tongue-singeing extravaganza go for the mala soup—shabu broth, made with Sichuan peppercorns and chili peppers. It's a savage kick.
3/F Empire Tower, South Sathorn Rd., 063-389-1666. Open daily 11am-8pm. BTS Chong Nonsi

Kagonoya is the place to go for authentic Japanese buffet experiences, especially with large parties at lunch or dinner (B459 for pork, B499 for beef and B1,199 for both). You can grab a pile of premium meats to go with your shabu set, or dig into mounds of fresh salmon, mussels, sashimi, sushi and tasty ramen and katsu options—if your stomach is bottomless enough.
2/F, Market Place Thonglor, Sukhumvit Soi 55, 02-392-5189. Open daily 11am-10pm. BTS Thong Lo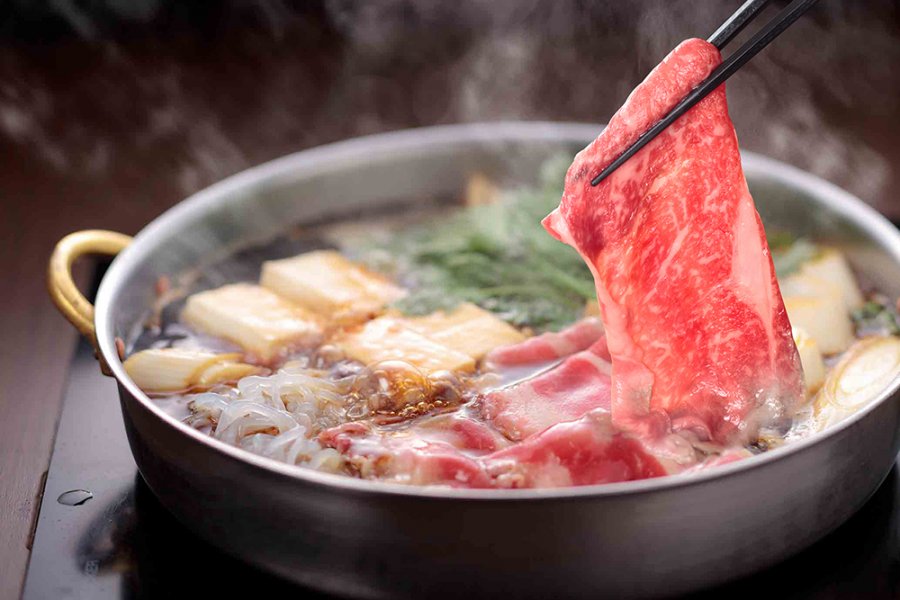 Mo-Mo-Paradise
Across all of its Bangkok branches—and there are more than a few—Mo-Mo is consistently excellent. It is always a solid bet for fresh quality produce, aromatic dipping sauces and rich Japanese shabu-shabu and sukiyaki broth. The 1.5-hour buffet will set you back B616, and includes meat options like Australian beef sliders, duck fillets, bacon, marinated chicken, and kurobuta pork. Desserts like charcoal ice cream and daifuku—we recommend strawberry and red bean—also hit the spot.
7/F CentralWorld, Rama 1 Rd., 02-646-1055. Open 10am-10pm. BTS Chit Lom

Chef-owners Randy Noprapa and Chalee Kader add to their burgeoning portfolio—together they're responsible for Fillets, Surface and 100 Mahaseth—with a vibrant blend of Chinese-U.S. hotpot culture. Here, broth comes separated into three flavors: a hearty pork bone stock bursting with peppercorn; rich Japanese nabe with red wine; and an herbaceous chicken turmeric soup. Toss in some thinly-sliced mixed pork set (B280), beef (B520), and tender cheese lava meatballs (B50)—and you're in business. The real secret weapon is pickled egg and soy sauce—the perfect sweet and sour duo.
3/F, The Portico Building, 31 Lang Suan Rd., 02-052-2214. Open daily 11am-11pm.

A spinoff of the much-loved sukiyaki chain Mo-Mo-Paradise, this high-end brand goes all-in on the finest ingredients; served in sets or as all-you-can-eat (B2,600). Opt for shabu-shabu soup with meats like kurobuta pork, omi wagyu and the highly-praised Taraba King Crab. Lunch sets are also available on weekdays, with highlights such as the gyu mabushi set (B950), which includes a bowl of rice topped with juicy beef slabs, miso soup, and a soft drink.
5/F, Central Embassy, 1031 Phloen Chit Rd., 02-160-5623. Open daily 11am-10pm. BTS Phloen Chit
Exclusively for Citi credit card members:
Get 5% cash rabate when spending THB 4.500 or more /sales slip (limit THB 225 cash rabate /card /table/ sales slip /promotion period) and get a complimentary Taraba Japanese Omelet value THB 650 when spending THB 4,500 or more /sales slip (limit 1 dish /card /table /day)
Redeem up to 15% cash rabate (Central Embassy branch only) 15% for Citi ULTIMA , 12.5% for other Citi card types when using Citi Rewards Points equivalent to net spending amount
15 Sep - 15 Dec '19
This restaurant goes beyond usual hotpot like suki and shabu, as they offer different soups inspired by the favorites of each region in Thailand: Northern tom naem, Southern gang lueang (Turmeric Soup), Northeastern jaew hon and Central region gao lao (Thai boat noodle soup). Sets of meat and vegetables are paired properly with each soup such as the seafood set go with gaeng lueang. Other highlights include sai oua (Northern sausage) and Southern dried shrimp chilli paste.
8/F, Emquartier 693 Sukhumvit Rd., 02-003-6282. Open daily 11am-10pm.
Exclusively for Citi credit card members:
Get 10% discount on food only
1 Aug '19 – 31 Jul '20



Suki Masa
Operated by the team behind Sushi Masa, this restaurant specializes in crowd-pleasing sukiyaki and shabu, along with other Japanese dishes like sushi and gohan (rice topped with meat and raw egg). You can't go wrong with the sukiyaki soup and highlight kurobuta pork set (B480). There's also the A5 Wagyu beef set (B1,500)—if you really want melt-in-your-mouth texture. The a la carte menu includes lots of good bites, too. Snag the tender beef gyudon on rice (B480) if you aren't feeling the hotpot vibe.
111/1 Sukhumvit Soi 55, 02-392-4769. Open 10:30am-11pm. BTS Thong Lo
Exclusively for Citi credit card members:
Get 5% discount on food only and get a complimentary Salmon Tataki valued THB 270 or Wagyu Beef Shigure-ni Gohan valued THb 350 when spending THB 3,000 or more /sales slip
1 Sep '19 – 31 Aug '20
Sponsored by: