Bonsai
Named after the famous Japanese art form of stylizing mini-trees to look like their full-sized counterparts, Bonsai is a jack-of-all trades in the Japanese food game. While it might be best known for its omakase menus made with seasonal produce from Tokyo's Toyosu fish market, the sukiyaki here is not to be missed, either. Sticking with the uber-premium theme, you can expect meats like imported Australian wagyu, kurobuta pork, a wide selection of veggies, and complimentary sides like rice porridge. The inside has all those peaceful zen vibes, too, with shoji (Japanese sliding doors) partitioning off various sections and bonsai murals tastefully placed along the walls.
M/F of Sexy Cow restaurant, The Millenia Tower, Langsuan Rd., 095-208-0216. Open Mon-Sat 11am-2:30pm; 5:30-10pm. BTS Chidlom
Exclusively for Citi Credit Card members:
Get 15% discount on Shabu-Shabu course
1 Jan - 30 Jun '21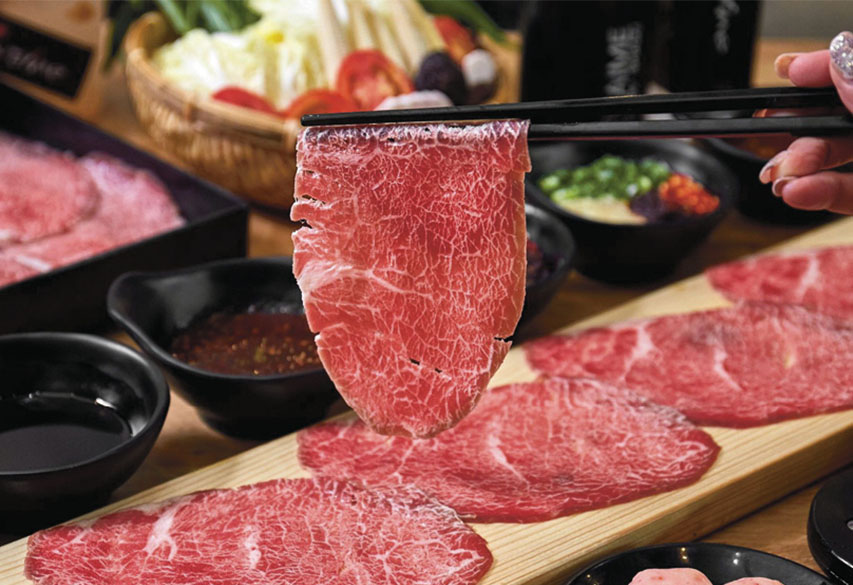 A popular hot pot destination among university students because of its reasonable prices, large buffet and impressive range of soups and sauces. First-timers shouldn't leave without ordering the signature meat spread—a one-meter slab of wood with 12 slices of pork or beef layered on top. That will get you whipping out your phone, but the black soup is the dark horse on the menu that will keep you coming back. You can get a refill on menu items starting at B299 (the team will let you choose a preference between wagyu beef or seafood, too).
4/F, Siam Paragon, Rama 1 Rd., 02- 129-4576. Open daily 10am-10pm. Four other branches in Bangkok
Exclusively for Citi Credit Card members:
Get 10% discount on a la caret menu
(Excluding beverages and dessert)
1 Jan – 30 Jun '21
Fufu Taiwanese Shabu
Situated inside Sathorn's Empire Tower building, Fufu is well known for its huge range of shabu toppings, as well as ice creams from Haagen Dazs and Movenpick. A buffet will set you back B499, and comes packed with all the good stuff—beef, marinated pork, meatballs, crab, salmon and shellfish. For a Taiwanese tongue-singeing extravaganza go for the mala soup—shabu broth, made with Sichuan peppercorns and chili peppers. It's a savage kick.
3/F Empire Tower, South Sathorn Rd., 063-389-1666. Open daily 11am-10pm. BTS Chong Nonsi
Exclusively for Citi Credit Card members:
Get 10% cash rebate when using Citi Rewards Points equivalent to net spending amount and have spending THB 300 or more /sales slip
1 Mar - 30 Apr '21



Mongkok Sukiyaki
Self-described as the "heaven on earth" buffet, Mongkok might not be too far off if you are a fan of sweet bubble teas, mountains of ice cream, and a seemingly endless supply of premium meats and seafood to dip in steaming pots of sukiyaki broth. The collections of ingredients to add to your sukiyaki platter are so vast here that parts of the restaurant feel more like a grocery store than a traditional buffet—huge, multi-layered aisles are crammed with everything from wagyu beef to whole crabs.
G/F, Mercury Ville, Phloen Chit Rd., 02-252-9989. Open daily 11am-10pm
Exclusively for Citi Credit Card members:
Get 13% cash rebate when spending THB 2,500 or more /sales slip or
Get 10% cash rebate when spending THB 1,200 or more /sales slip
One-time registration is required: Type MKK (space) followed by the last 12 digits of your credit card number and send to 4712228 (THB 3 /SMS)
1 Mar - 31 May '21
Mo-Mo-Paradise
Across all of its Bangkok branches—and there are more than a few—Mo-Mo is consistently excellent. It is always a solid bet for fresh quality produce, aromatic dipping sauces and rich Japanese shabu-shabu and sukiyaki broth. The 1.5-hour buffet will set you back B616, and includes meat options like Australian beef sliders, duck fillets, bacon, marinated chicken, and kurobuta pork. Desserts like charcoal ice cream and daifuku—we recommend strawberry and red bean—also hit the spot.
7/F CentralWorld, Rama 1 Rd., 02-646-1055. Open 10am-10pm. BTS Chit Lom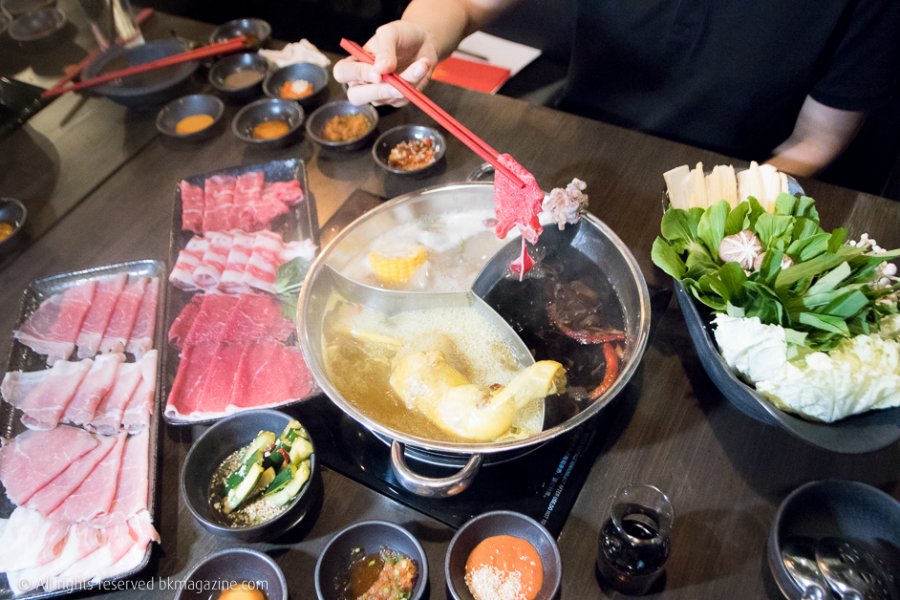 Chef-owners Randy Noprapa and Chalee Kader add to their burgeoning portfolios (together they're responsible for Fillets, Surface and 100 Mahaseth) with this vibrant melting-pot of Chinese-US hotpot culture. Your broth comes separated into three flavors: a hearty pork bone stock bursting with peppercorn; a rich Japanese nabe–with red wine; and a herbaceous chicken turmeric soup. Add some thinly sliced pork or beef and you're in business.
3/F, The Portico Building, 31 Lang Suan Rd., 02- 052-2214. Open daily 11am-11pm.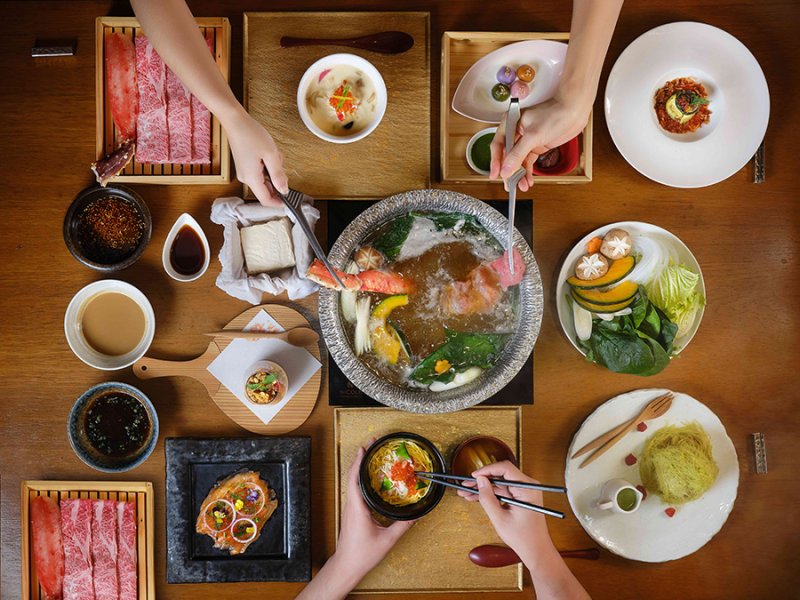 A spinoff of the much-loved sukiyaki chain Mo-Mo-Paradise, this high-end brand goes all the way to the finest ingredients, served in sets as opposed to all-you-can-eat. Diners can opt for either sukiyaki or shabu shabu soup and a star meat, ranging from kurobuta pork, wagyu beef to oumi-gyu beef (one of the top 3 rated kinds of beef in Japan) and the highly-praised Taraba king crab. You'll also get to fill yourself up with delicate appetizers, a choice of a rice or noodle meal, and refillable veggies before dessert. Lunch sets are available on weekdays (10am - 2:30pm).
5/F, Central Embassy, 1031 Phloen Chit Rd., 02-160-5623. Second branch at 3/F, Gaysorn Tower, 02-253-8394. Open daily 10am-9pm.
Exclusively for Citi Credit Card members:
1st privilege Get 5% discount when spending THB 4,500 or more /sales slip
2nd privilege Get 5% cash rebate when spending THB 4,500 or more /sales slip
One-time registration is required: Type NBZ (space) followed by the last 12 digits of your credit card number and send to 4712228 (THB 3 /SMS)
1 Feb -31 Jul '21

This restaurant goes beyond usual hotpot like suki and shabu, as they offer different soups inspired by the favorites of each region in Thailand: Northern tom naem, Southern gang lueang (Turmeric Soup), Northeastern jaew hon and Central region gao lao (Thai boat noodle soup). Sets of meat and vegetables are paired properly with each soup such as the seafood set go with gaeng lueang. Other highlights include sai oua (Northern sausage) and Southern dried shrimp chilli paste.
8/F, Emquartier 693 Sukhumvit Rd., 02-003-6282. Open daily 11am-10pm.

Siam's laboratory-style restaurant, Shabu Lab, treats sukiyaki like a science. Here among test tubes and beakers you're encouraged to create the perfect broth by mixing and matching flavors like tom jaew (sour), ma la (salty), sukiyaki (sweet) and kimchi (salty and sour). You can also experiment with different dipping sauces, namely suki, seafood, ponzu, sesame, Chinese and lemongrass, which you can alter by adding more chili, lemon or green onion. We recommend mixing in one of the onsen eggs, prepared at 62.5 degrees Celsius, for a super-silky texture. An unlimited feast here costs B379/person featuring chuck and brisket beef imported from Australia and sliced right before you. Should your flavor fall short of perfection, you can ask for a new pot and start all over again.
430/11-12 Siam Square Soi 10, 02-251-7558. Open daily 11am-8pm.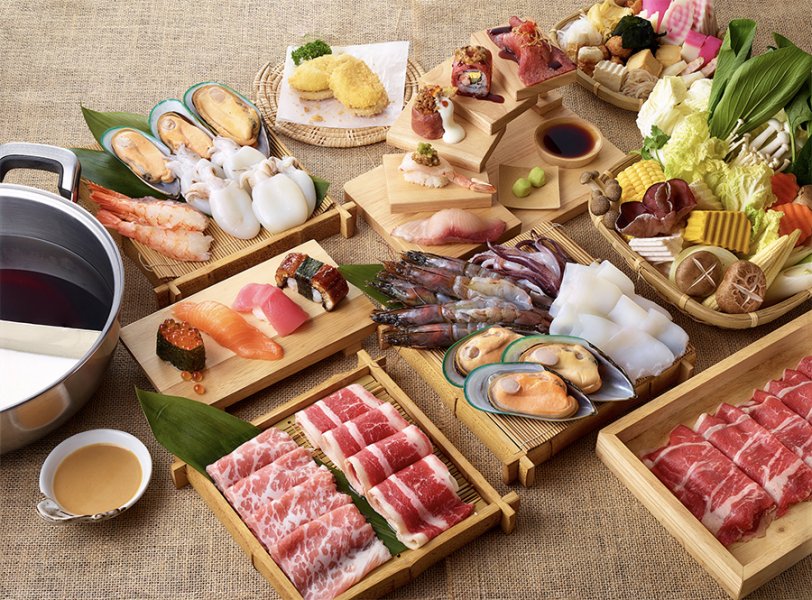 Shibuya Shabu
Owned by the mighty King Kong restaurant Group — made up of self-professed Japanese food fanatics — Shibuya Shabu focuses on a buffet-style shabu experience that allows you to mix your hot pot offering with sushi dishes as well, if you want a change up every bite or so. Both the original and superior packages dish out more food in two hours than The Mountain could eat, with the latter upping the ante a bit with more premium sushi rolls instead of just nigiri.
707 Charoen Nakhon Rd, 02-437-0997. Open Mon-Fri, 11:30am-9pm; Sat-Sun, 11am-10pm
Exclusively for Citi Credit Card members:
Get 13% cash rebate when spending THB 2,500 or more /sales slip or
Get 10% cash rebate when spending THB 1,200 or more /sales slip
One-time registration is required: Type SHBY (space) followed by the last 12 digits of your credit card number and send to 4712228 (THB 3 /SMS)
1 Mar - 31 May '21
Sponsored by: