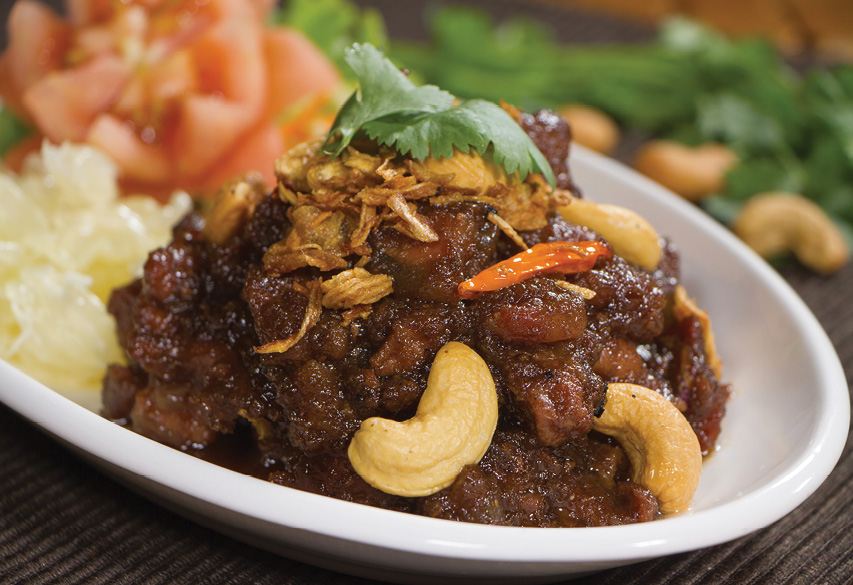 Inside tip for anyone who can't get a table at Sorn: Supaksorn Jongsiri's other restaurant, Baan Ice, boasts just as much flavor and at wallet-friendly prices. His family has roots in the southern region of Thailand, with recipes drawn from his grandma's cookbook. His pad sataw kapi goong (stir-fried prawns with sataw beans) and gaeng luaeng pla sam lee (spicy sour soup with fermented bamboo shoots) are notable for their uncompromising sourness and heat.
115 Sukhumvit Soi 55 (Thonglor), 02-381-6441. Open daily 11am-10pm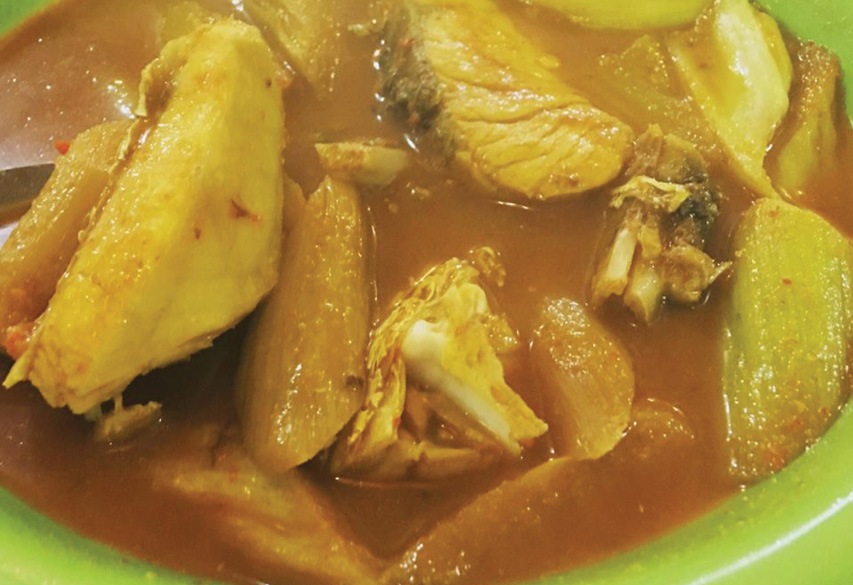 Chef Poonsri Sarikarn, aka Auntie Baew, hails from Surat Thani and her reputation reaches all the way to Chiang Mai, where she has another branch. Auntie Baew refuses to season her dishes with sugar to accommodate us wimpy Bangkokians. Order her gaeng luang with a huge crab (priced by weight), but make sure you have plenty of rice at hand because this soup is all about saltiness and spiciness.
273/4 Ramkamhaeng Soi 21, 02-319-1128/9. Open Tue-Sun 11am-10pm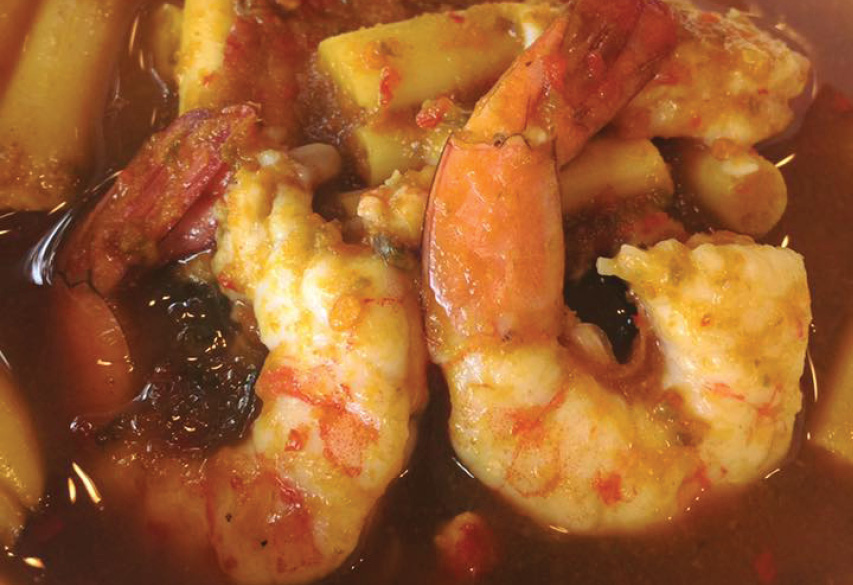 Khao Jao's simple grey modernist building extends above and behind the restaurant. Expect all the Southern classics—a wonderfully aromatic kua kling (dry herbal minced stir-fry) and gaeng lueang (spicy soup with shrimp and turmeric) with velvety bamboo shoots—both are the real deal.
Thonglor Soi 17, 02-712-5665. Open daily 10am-8:30pm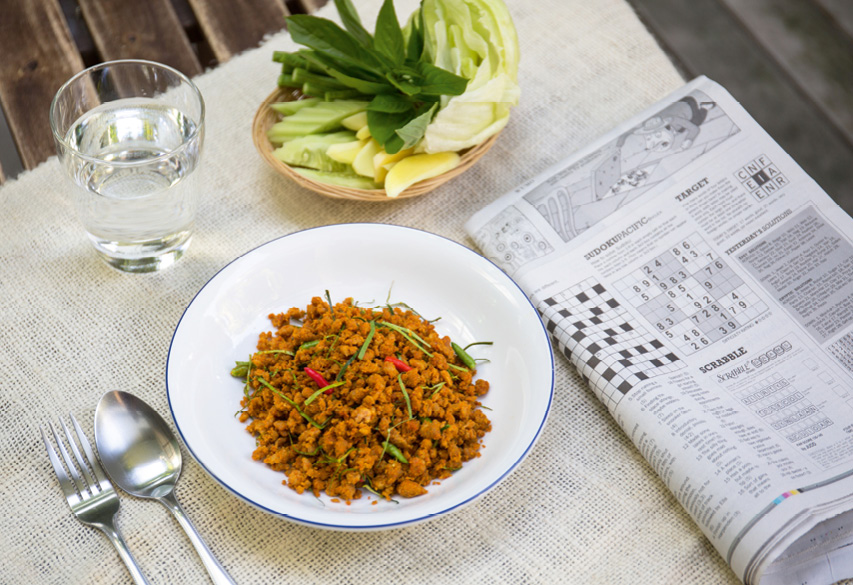 The southern restaurant by which all other southern restaurants in Bangkok are measured. The list of must-order dishes ranges from crab curry with khanom jeen and braised pork belly in Chinese five-spice, to stink beans with shrimp and namesake kua kling—meaning many dining partners are essential if you're to finish.
21/32 Sukhumvit Soi 23, 02-259-5189. Open daily 11am-10:30pm. Other branches: Ari; Sukhumvit Soi 53; Surawong.
Run by a Chumpon family, this modish young restaurant dishes out authentically fiery southern flavors, using produce imported from the south—think nam prik kapi (fermented shrimp paste) and Gulf of Thailand mackerel fillet. Don't miss the pad neua klang suan; a stir-fried beef shank in coconut milk with chili paste and Thai basil.
143 Sukhumvit Soi 22, 061-615-6576. Open Tue-Fri 11am-2pm, 6-10pm; Sat-Sun 11:30am-10pm
Exclusively for Citi credit card members:
Get a complimentary ice-cream valued THB 65 when spending THB 500 or more /sales slip 01 Aug '19 - 31 Jul '20
The second-generation owner of Soi Convent's Naj serves century-old recipes for beef in spicy herbal soup (gang run juan) and spicy yellow curry amid antiques and old photos showcasing Thailand's rich heritage.
32-32/1 Sukhumvit Soi 23, 02-664-0664. Open daily 11:30am-2:30pm, 5:30-11:30pm.
The cute, bright shophouse welcomes people with huge windows and wooden front doors, transporting guests to the colonial southern town's Old Quarter. But the food is the real star of the place, with classic Phuket dishes like kai thod kamin (fried chicken with turmeric), khanom jeen nam ya poo (rice vermicelli with crab curry) and stir-fried sataw with shrimp.
Thonglor Soi 4, 02-714-9402. Open daily 10:30am-10:30pm
Phuket's celebrated southern cuisine specialist has a reputation for full-powered southern flavors. Here you'll find kua kling that grows with a slow burn, and a yellow crab curry chockfull of big crabmeat chunks. About the only thing that's not authentic is the pastiche interior.
59 Sukhumvit Soi 8, 02-253-5556. Open daily 10:30am-10:30pm
Exclusively for Citi credit card members:
Get 10% discount on weekdays only when spending THB 1,000 or more /sales slip 01 Aug '19 - 31 Jul '20
This mall-dwelling chain of southern restaurants makes up for its inauspicious locations with one of the finest gaeng luang (yellow curry) sour soups in Bangkok. Authentic spices blend with flaky fish and juicy bamboo shoots in the best possible ways. Also try the deep-fried seabass in turmeric with plenty of garlic, and the stir-fried sataw in shrimp paste.
999/1-4, The Nine Center Rama 9, Rama 9 Rd., 02-056-7888. Open daily 10am-10pm
Exclusively for Citi credit card members:
Get 5% discount on food only 01 Apr '19 - 30 Jun '20
The latest endeavor to try and remedy Bangkok's insatiable hunger for southern Thai cuisine sees Supaksorn Jongsiri, the owner of Baan Ice, go back to his roots once more in a refined and elegant setting. He sources ingredients fresh daily from 14 southern provinces, and his cooking approach focuses on traditional techniques, from charcoal and clay pot cooking, to pressing and squeezing fresh coconut juice.
56 Sukhumvit Soi 26, 099-081-1119. Open Tue-Sun noon-2pm, 6-11pm
---
Put on your stretchy pants, forget about the macros and tuck in to BK Best Eats 2019. This is the Bangkok dining that ignores fancy restaurants and 10-course tasting menus and goes straight for the comfort food—steaming bowls of fat-rich ramen, triple-decker burgers, all-you-can-eat dim sum buffets with an extra helping of pork buns. In other words, the stuff most of us eat out, most of the time.
Download your PDF copy of the guide here.