You're probably familiar with Upper Silom, which stretches from Rama 4 Road to the Narathiwat Ratchanakarin intersection, with BTS Sala Daeng at its heart. We work there and there's not much to like about the area, except for its fine-dining (D'Sens, Indigo, Ruen Urai) and, of course, the very gay Soi 2. But we're spending our evenings increasingly often in Lower Silom, which stretches from the Narathiwat Intersection to Charoen Krung—an area we seldom frequented in the past except for its excellent galleries: H, Kathmandu, Tang and Thavibu.
Things started to change with the Dean & Deluca at the Mahanakorn Tower site. By the way, that's scheduled to re-open in the first quarter as a full-blown market with cooking stalls and a Joel Robuchon restaurant. Then came the re-opening of the Sofitel Silom as the Pullman G and the arrival of the W. Their respective after-dark hangouts, Scarlett and Woo Bar, breathed a new kind of cool into the area. Maggie Choo's really bluffed us too, for packing in the crowds in a location that wasn't exactly known for its nightlife. Following in their footsteps, here are the places that opened in the past year.
Signature Restaurant (Ku De Ta)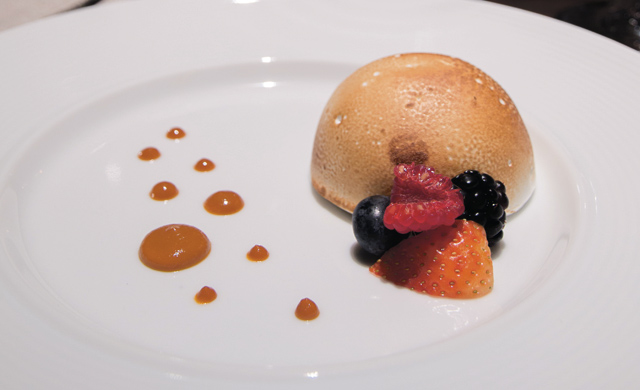 Just like in Singapore, Ku De Ta's Signature Restaurant cooks up modern Asian fine-dining, with sweeping views to boot. The kitchen is led by Chef Jonathan Maza, who's had stints with Nobu in many countries, and delivers a brief menu packed with creative dishes that show off the team's modern techniques and elaborate presentation. The aromatic yellowtail is jazzed up with cilantro vinaigrette (B500), and the addictive asparagus tempura (B300) comes with truffle soy and edamame puree. The mains include madai shiso (Japanese sea bream with dried miso and shiso lime vinaigrette, B500) or, for those on expense accounts, try the strip loin steak (B3,000) with a marble score of A5 from Omi Prefecture in Japan. The restaurant is serious about its sweets, too, whipped up by Chef Jason Licker. Our fave, the Thai S'mores (B360), combines marshmallow with praline and Thai tea ice cream. And if you want to continue drinking, you should head to Ku Bar for their equally intriguing cocktail list. For those who work in the area, the next door restaurant, Izakaya, offers more reasonably-priced lunch sets starting from B350.
39/F, Sathorn Square Bldg., Sathorn Rd., 02-108-2000. BTS Chong Nonsi. Open daily 6-10:30pm
The folks behind Rocket have just expanded their cafe next door. The welcoming Lady Brett, however, dips its toes into nightlife with its interior inspired by the 20th century taverns of New York. Things are kept very cozy thanks to the wooden bar and window frames, while the menu is focused on simple and natural flavors. Mains range from fire-roasted mustard chicken (B360/B675, hanger steak (B795) and braised lamb shank (690), courtesy of Chef Rene Michelena, formerly of Hong Kong bar and restaurant Lily & Bloom. Sides include baked zucchini with onion and cheddar and grilled buttered corn (B120). The bar which serves up lots of sexy infusions with ingredients like chamomile and ginger. Our picks: the the Crisp n' Cloudy (rum, pear, ginger and cocoa) or Paloma (tequila, grapefruit and soda) both B330. Upstairs is a small lounge, dubbed U.N.C.L.E., which serves premium spirits.
149 Sathorn Soi 12, 02-635-0405. Open Tue-Sun 6pm-1am
ASK A LOCAL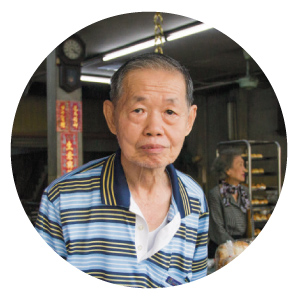 Suppakij Pucharoensilp, 74, owners of D.K. Bakery, open for nearly 70 years.
What was Silom like in the old days?
There was a canal right where the road is now. We even had trams running from Charoenkrung to Saladaeng. I really deplored it when the government decided to cover the canal to make the road and removed the tram. There were many big trees. It would have been nice to preserve this atmosphere.
What it's like to live here now?
I don't like the car fumes when the traffic gets bad. It's also hard to find a taxi, because the drivers hate the traffic here. I have to offer them an extra B20 to persuade them to take me home.
What are your favorite places around here?
I love Fu Mui Kee as they've served delicious food for so long. My favorites are the pork chop, beef stew and tod mun goong (fried shrimp cake). Too bad that Silom Restaurant just closed down and the original Yen Ta Fo Wat Kaek has gone. The new one just isn't as good. I also love to walk to Prachum market which is just opposite my shop. It's really convenient as it has everything and I've known the sellers for ages.
Sat in Niu's Concerto's old space, 661 Silom is the new baby of the team behind Le Beaulieu. Climb up to the 2/F to try Meat, which serves up high-quality New York-style steaks prepared by Chef Cyril Cocconi, previously of Elements (The Okura Prestige) and the kitchen of super-chef Joel Robuchon. Downstairs is the bar, Meet, home to the fancy Dom Perignon lounge, which also serves breakfast and coffee during the day.
661, Silom Road, 02-266-8661. BTS Surasak. Open daily 5pm-midnight.
Run by two young Thai chefs, Thitid "Ton" Tassanakajohn and Worathon "Tae" Udomchalotorn, who graduated from the Culinary Institute of America (CIA), Le Du is offering Asian-flavored dishes made with modern techniques and local ingredients, like the cold charred leek soup with frozen parfait, which is jazzed up with sunflower seed and cowslip creepers (B160). You can try the four-course set dinner for B990 (B1,980 with booze) but, particularly if you work in the area, the lunch menu makes for a less fancy but satisfying option with some pasta and salad dishes.
Silom Soi 7, 081-562-6464. BTS Chong Nonsi. www.ledubkk.com. Open Mon-Fri 11:30am-2:30pm; Mon-Sat 6-11pm
ASK A LOCAL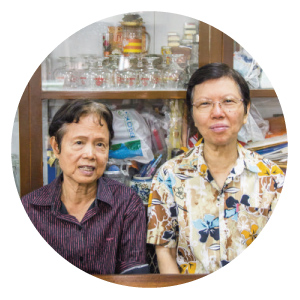 Lerdluck and Lalida Tabloga, 69 and 66, owners of the legendary 80-year-old restaurant Fu Mui Kee
"The buildings here used to be very elegant when we first moved in but now they're pretty shabby. But I like it the way it is. I love the slow life here as our neighborhood is mostly residences. It's good that we're down a small soi, too, so it's not too crazy. And Wat Khaek market is better than at the bigger Bangrak market." —Lerdluck
"We've got many memories here, especially of the big floods back in 1986. Luckily our 80-year-old wooden furniture is made from teak. Though I like the calm atmosphere here, it would be great if it could be busier." —Lalida
Dan Bahadur, 55, of Mashoor Sweet and Indian Food
How long have you worked here?
It's been about 10 years. I came from Shan State in Myanmar to open this shop 10 years ago. I worked as a gem dealer in Myanmar, but I changed my mind to sell sweets and food here.
Do lots of Thais come here?
Yes. People love to buy sweets to present to gods at the temple as well as take home to eat, as we believe these sweets can bring us good fortune.
What do you like about living here?
I feel so blessed to live near the temple, as I feel it brings us prosperity.
Where do you eat out?
My favorite is Krua Aroi Aroi opposite the Wat Khaek entrance. They sell delicious Thai street food.
NIGHTLIFE
Move past the small noodle shop, with its Chinese paper umbrellas on the ceiling, into the dimly lit main room filled with button-tufted leather couches and an old-school casino cashier counter. The heavy steel doors that guard the private vaults and ladies in chongsams recreate a 1930s speakeasy atmosphere, while the cocktails (B360) come courtesy of old-hand Joseph Boroski.
Underground of Hotel Novotel Bangkok Fenix Silom, 320 Silom Rd., 02-635-6055. Open Mon-Sun 7pm-2am
Self-proclaimed "party hotel" Mode Sathorn is home to this colorful, 60s-style vision of the future. The space is decked out with a theatrical-inspired pop decor marked by a vivid floor with flower-shaped backlights which continually change color, mask-shaped sofas and eye-catching white fabric sphere lamps that serve as film screens for vintage flicks throughout the evening. Resident DJs take turns spinning different nights, with house and progressive the staple sounds. Try their Hollywood-themed cocktails like Jennifer Aniston's Margarita, Johnny Depp's Bourbon Sour, Sex and the City (Metropolitan) and Pretty Woman (Grand Marnier, cranberry juice, orange twist and sparkling wine), which go for B280.
10/F, Mode Sathorn, 144 North Sathorn Rd., BTS Surasuk. 02-623-4555. Open daily 6pm-2am
Ku Bar (Ku De Ta)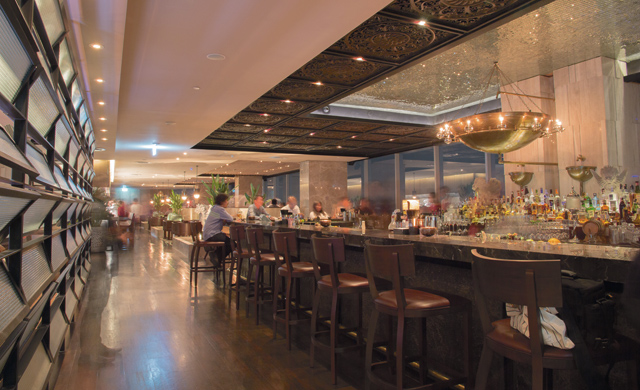 The Japanese-inspired Ku Bar is located on the 39th floor, between restaurants Izakaya and Signature, and serves Japanese aperitifs for those waiting to be seated or a pre-drinking venue for those gearing up for a big night. The dimly lit bar carries plenty of sophisticated touches, like the black granite countertop, while their signature cocktails focus on Japanese spirits and Asian ingredients, with flavors to suit Bangkok's climate, like the Storm Cooler (B360) with passion fruit, lime, honey, and vodka and the Hurricane Lychee (B360) with lychee, egg white, soda and gin.
39 & 40/F, Sathorn Square Complex, 98 North Sathorn Rd., BTS Chong Nongsi. 02-108-2000. Open Sun-Tues 11am-11pm, Wed-Sat 11am-late
The Roof @ 38th Bar
The latest bar to arrive at Mode Sathorn might be just the place to see the whole picture of Lower Silom, thanks to its panoramic rooftop view that includes three bends in the Chao Phraya River and three bridges. The venue itself occupies a square-shaped balcony, so to take in the whole 360-degree views, you might need to strut a few laps. Otherwise, just opt for one of the cozy sofas facing out from the pavilion. As for dishes, they offer everything from Mexican and Moroccan snacks and cold cuts to inventive dumplings and fusion sushi.
38/F, Mode Sathorn, 144 North Sathorn Rd., BTS Surasuk. 02-623-4555. Open daily 6pm-1am
ASK A LOCAL
Manit Sriwanichpoom, artist and owner Kathmandu Gallery on Pan Road
How long have you been around here?
My wife and I actually loved to visit Sri Maha Mariamman Temple (Wat Khaek) so we're familiar with this area, even though we live on Sukhumvit. I was lucky that I bought this building at a cheap price seven years ago and decided to open the gallery here.
What do you like most here?
I love that it's such a melting pot of culture here. There are Hindus at Wat Khaek and if you cross the road, there is Masjid Mirasuddeen where Muslims from here and abroad come to pray. Further towards Sathorn, there is a Catholic church and Chinese communities. It's really diverse.
There are lots of new condos being built in the area; how will this change the character of the place?
I'm afraid that it will lose its charm as a close-knit community. When there are problems, people help look out for one another, but those who live in condos barely know each other. They just live between their own walls. Another problem I've noticed in recent years is Wat Khaek. Now the district heavily promotes it as an attraction, which detracts from its spiritual significance.
What is your favorite place?
Well, I love the Indian sweets shop opposite my gallery [Mashoor Sweet and Indian Food]. The guy sells really original versions of Indian desserts. Another place is Yen Ta Fo Wat Khaek and a tam sang (made-to-order) restaurant where I always go for lunch. The best Thai food here, Taling Pling, just moved to a new spot at Baan Silom on Silom soi 19. But Opus, on my soi, is another favorite for when I'm craving Italian food.