With the temperature rising, it's time to tuck into the seasonal favorite of khao chae. These spots will deliver right to your door.
How to enjoy khao chae: pour the jasmine-scented water in a bowl of rice, add a couple cubes of ice. Always start with the savory side dishes and nibble some fresh vegetables along the way. Don't put the side dishes in your bowl! They will overpower the fragrant water.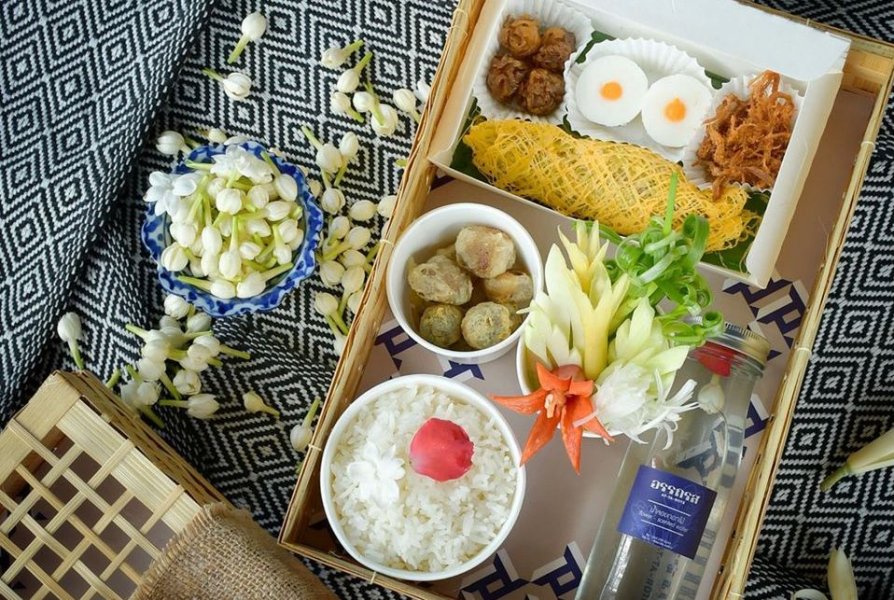 Serving royal Thai cuisine in a contemporary setting, this Phrom Phong spot is currently doling out Mueang Phra Nakorn-inspired khao chae (B590). Each set consists of seven savory and sweet side dishes, like pork-stuffed sweet pepper, fish-stuffed shallots, shredded pork, sweet chai poh (preserved radish), fried shrimp paste balls, salted egg and an array of vegetables.
Order via: Line @attarote_thai, 064-249-4244 or 02-262-0178 (free delivery on orders over B1,000).
59/3 Sukhumvit Soi 39
Overseen by renowned chef Vichit Mukura, this Michelin-starred restaurant whips up house special khao chae (B790) featuring nine delicate side dishes: fried shrimp paste balls, sweet dried fish floss, golden Thai shallots stuffed with smoked pounded snakehead fish, caramelised pork jerky topped with fragrant sauteed onions, pla salid chaab (crispy and peppery gouramy fish), pickled turnip dressed with coconut cream, stuffed pepper, fried egg yolk, cucumber and raw mango.
Order via:
Line @khao and
Facebook
for free delivery in Ekkamai, Thonglor, Lang Suan, Wittayu, Tonson and Chitlom, or Lineman
15 Ekkamai Soi 10. Other branch: Piya Place Tonson, 34/1 Soi Tonson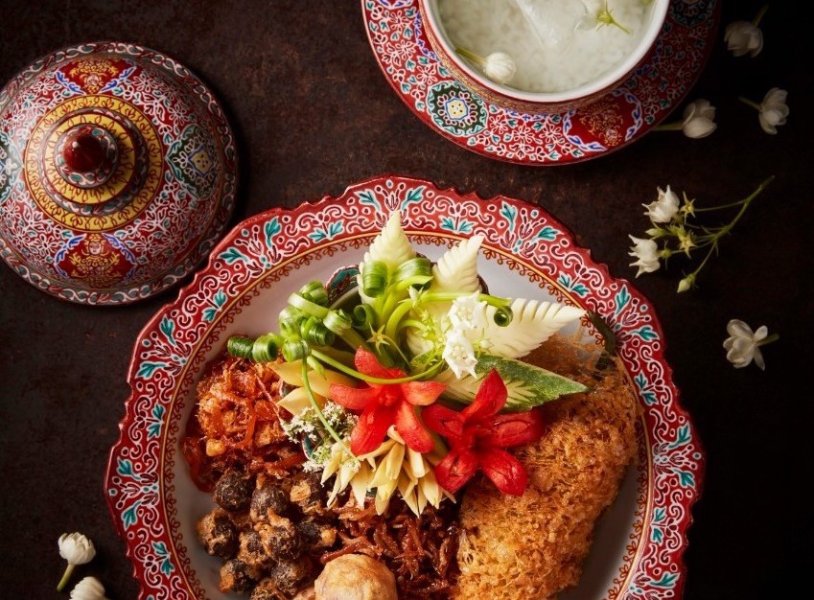 The khao chae (B912) at celebrity chef Chumpol Jangprai's Michelin-starred restaurant is served in aromatic mineral water packed with tons of wholesome herbs, such as lemongrass, which is said to reduce the growth of bacteria and lower blood sugar levels, and galangal, which combats inflammation. Other traditional dishes on their "Royal Summer A La Carte Menu" include gaeng run juan (shrimp paste curry with river prawn; B450) and kanom jeen sao nam (rice vermicelli with pineapple, dried shrimp and fish balls in coconut milk; B420).
Order via: Line @ironstarchef2go or 095-141-5524
131 Sukhumvit Soi 53
This tourist-favorite spot is offering a khao chae set with unique duo-tone rice, six authentic side dishes and the sought-after khao niew mamuang (mango sticky rice). Their khao chae comes in two forms: the tote bag set (khao chae, lemongrass juice and a tin of snacks; B590) and a tiffin carrier wrapped in patterned Jim Thompson fabric (khao chae, lemongrass juice and two tins of snacks; B1,350).
Order via:
02-612-3601 and
Facebook
(free delivery to Kasemsan sois one-to-three)
6/1 Kasemsan Soi 2, Rama I Rd.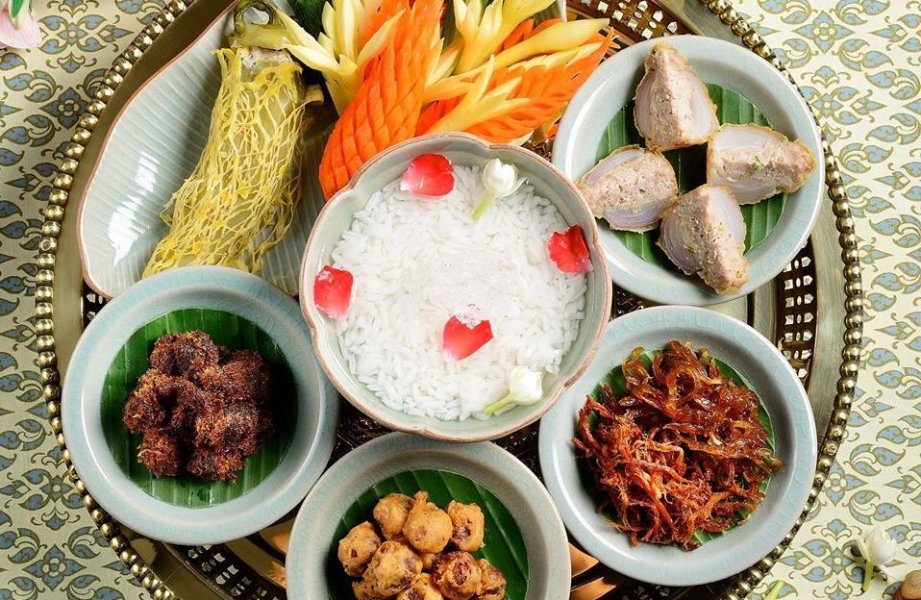 With four branches across Bangkok, this restaurant cooks up Thai fine-dining in a traditional setting. Its khao chae is made up of six full-flavored side dishes, like fried shrimp paste balls, stuffed shallots and stuffed sweet pepper. You can choose from three different containers: normal (from B490), wooden basket (from B650) and wooden tiffin carrier-like basket (from B670).
Order via: Line @baankhanitha
36/1 Sukhumvit Soi 23, 089-489-2858. Other branches: 31 Sukhumvit Soi 53 (084-929-4123; free delivery); 69 South Sathorn Rd. (083-297-5467); Asiatique the Riverfront (084-762-5267)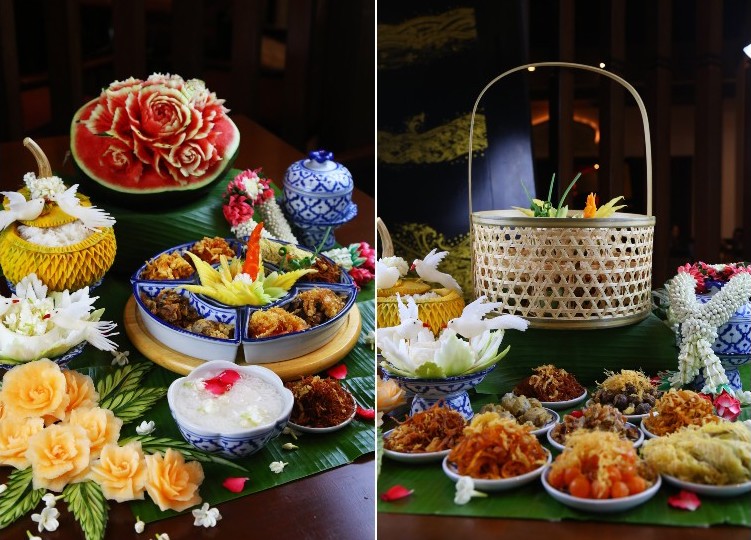 If you live out in Ladkrabang, you can still get a khao chae set (B990) delivered to your home thanks to this hotel. The hefty set features nine side dishes: kapi balls (deep-fried shrimp paste), salted egg yolks, stuffed shallots, stuffed sweet peppers, shredded sweetened beef or pork, stir-fried sweet pickled Chinese turnip with eggs, stir-fried salted pickled Chinese vegetables, and sweetened snakehead fish. It also includes fresh greens and herbs like raw mango, cucumber, wild ginger, chilies and sweet spring onions.
Order via:
Call 02-131-1111 or fill out
this order form
. Free delivery within 15 kilometers when purchasing three sets.
999 Suvarnabhumi Airport, Nongprue, Samut Prakan