Bangkok tends to trail global trends—the latest to top the agenda: sustainabilty. While zero waste cocktails are nothing new to Bangkok, they're starting to proliferate. But how much impact do these creative concoctions really have? We spoke to some experts to find out how and why they're utilizing products most of us would throw in the trash.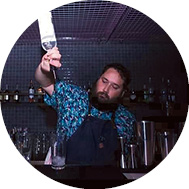 "When I first came here three years ago...no one cared about waste."

Mark Lloyd, a chemist turned mixologist and F&B consultant who's been bartending for over 20 years in the UK, New York and Europe, is spreading the zero waste ethos across Asia by designing menus for bars and boutique hotels in the region. At last year's Wonderfruit festival, he ran a "zero waste" bar that utilized trash from other vendors. Although "zero waste" might be a misnomer—is it really zero waste when there's still compostable waste produced and ice used in the build?—Lloyd's pop-up bar gave us cocktails like "All About the Pineapple," which made use of the entire fruit—juice, pulp, skin and all.

Lloyd's other pearls of wisdom offer solutions to common wastage issues. "Citrus is the biggest waste item at any bar," he tells us. To avoid this, he suggests replacing the sourness from citrus with a shrub—a vinegar-based syrup made from fruit, like pineapple cores. For another ingenious homemade mixer, he suggests roasting watermelon skin and blending it into juice. "It results in a grassy flavor that works really well with gin," he says. "You can also take the seeds, roast them and grind them into powder, which can be infused into vodka for a savory taste."

"Zero waste cocktails are a great marketing mechanism."

Aaron Feder, an F&B consultant who until recently managed the bar at Phrom Phong's new Ivy 47, hits the nail on the head here. How much of the "zero waste" approach is all show and no substance? As he acknowledges, we're fighting against an unerring tide of waste from big businesses. "You save 10 kilos of trash in a bar and use bamboo straws, but there's Foodpanda, where you send out 3,000 plastic boxes every day," he says.

Yet the approach, he notes, has deep roots in kitchen culture. "In any good French kitchen, there will be what's called a 'utilization shelf,' where any byproduct that might be usable is placed," Feder tells us. "Good restaurants have always turned waste into profit. It's a modern name applied to a very old culinary technique. At Ivy 47, for example, the egg whites are used for drinks, while the egg yolks are sent to the kitchen on the floor below." Zero waste, it seems, is great for business, and the environment happens to benefit from it, too.

"People are lazy. It's easy to take the shortcut."

Fabio Brugnolaro, formerly of SulBKK and Vogue Lounge, shared with us the influence that zero waste has had on his new opening, Copper Bar Bangkok. After recently competing in Thailand's first ever zero waste cocktail competition, his eyes were opened to new opportunities. "After the competition, I was super happy because I discovered how to save money," he tells us with unusual candor. But being green doesn't just refer to the extra cash the globe-trotting Brugnolaro is pocketing. "As with food, everything tastes better fresh. For example, the crème de menthe you buy at stores can sometimes taste manufactured. But if you make it fresh, using the mint stems, the smell is stronger and better."

He also notes that mint is something you can grow at home, "but people are lazy. It's easy to take the shortcut. But for people who own their bar, it can save money and reduce trash. You can take sparkling wine that's expired or lost its bubbles and mix it with vodka, mint sticks, leftover ginger cuts, orange and apple peels to make it into vermouth. The options are endless," he says. Zero waste cocktails are fresher, they yield a little extra spending money and, hey, they're good for the planet. Wins across the board.
---
Zero in on these waste-conscious Bangkok bars

At his new experimental bar, craft cocktail guru Fabio Brugnolaro creates a plethora of elements—spirits, vermouths, syrups, garnishes, liquors, you name it—from just one ingredient, ensuring nothing goes to waste. Watch out for the new menu coming in October, which Fabio promises will be packed with complex zero waste creations. A sneak peek: "Undead #2" (a twist on a classic Corpse Reviver #2) will mix zero waste amber vermouth made from flat sparkling wine and tonic and the remainder of unused red and white wines, "fake absinthe"—a blend of herbs and spices that would usually be thrown out—and homemade orange Curacao.

A collab with ties to familiar names like Rabbit Hole, Canvas, Backstage and Tropic City, this bar is ahead of the curve when it comes to creativity. The second section of their menu is dedicated entirely to byproducts from the first section. For example, Sao Rong Ngarn (B390) blends the shells of cacao beans and corn husks into vermouth.
---
How to turn trash into treasure at home

Infusion
Utilize the parts of fruit you'd usually throw out (apple cores, peels, etc) to transform a cheap bottle of gin into gold dust. Just put them in a jar of gin, shake it up and leave it in a cool, dark place for a month. Strain it for tasty shots or to make some fruity G&Ts.

Dehydration
Dehydrated fruits last for ages and make bar-quality garnishes. Just cut your unused fruit into quarter-inch slices, put them in the oven on the lowest setting for six-to-eight hours and
voila
!
Fermentation
With just a few days, a jar and some water, you can turn pineapple tops, cores and skins into Mexican tepache—a mildly alcoholic fermented drink.
Homemade vinegar
Play reverse Jesus (or something like that) by turning your off wine into vinegar and reductions for drinks or sauces.