Key: Rooftop Garden Spots Riverside Good Music Terraces Community Malls
Rooftop
As well as live bands and a good list of local and international DJs playing indie pop/rock, dream pop and electro, this laidback bar on the top of Opus Building also has a decent everyday playlist. It's decked out in a slightly industrial style, with bare cement and steel as well as long wooden tables and gentlemanly leather sofas. The spacious outdoor terrace is great for shisha.

33/F, Fraser Suites Sukhumvit, 38/8 Sukhumvit Soi 11. 02-207-9300. Open daily 6pm-2am.
On top of its great views of the city skyline, another thing Above Eleven has going for it is its adventurous menu. While most other rooftop venues play it safe with homogenous international dishes, here the focus is on Peruvian-Japanese fusion cuisine (aka Nikkei cuisine). In small plates like acebichado rolls (seabass, ika karage, avocado, B360) and skewers of anticucho beef heart (B240) you've got a wonderful accompaniment for the views, bettered only by their signature Pisco Sour (B350).

47/F, United Center, Silom Rd. 091-889-9600. BTS Sala Daeng. Open Mon-Sat 5pm-midnight.
Formerly home to the Heineken GreenSpace, this rooftop has welcomed drinkers for years. Now a permanent rooftop bar, it's one of the few places so high up with a distinctly Thai character. Towers of draught beer (from B600) and Absolut smoothie (B1,280, mixers B60) accompanied by drinking snacks are not your average rooftop fare. There's also a more upscale wine zone with "flying angel" hostesses on harnesses—if that's your idea of upscale.

Piman 49, opposite Villa Supermarket, 46/12-13 Sukhumvit Soi 49. Open daily 10am-midnight.
Top-Loader at Grease is one of the few open-air rooftop bars attached to a club. Come early to enjoy dinner and shisha or simply head up late in the evening for a break from the EDM DJs downstairs. Drinks focus on Johnny Walker Gold Label Reserve, with cocktails starting at B260 or a whole bottle for B2,600.

29/F, Sofitel So Bangkok, 2 North Sathorn Rd., 02-624-0000. Open daily 5pm-1am (Bar).
The painfully trendy Sofitel So's fine dining restaurant leads out onto a rooftop serving killer cocktails and lounge tunes. The restaurant is excellent, and currently offers a five course menu (B2,900) featuring highlight dishes from this year's So Amazing Chefs event, as is the pretty unique view looking out over Lumpini Park. There's also a small mezzanine one level up called HiSo Cabana, open for group bookings and the hotel's regular parties.

32/F, Sofitel Bangkok Sukhumvit, 189 Sukhumvit Rd. (between sois 13 and 15), 02-126-9999. Open daily 7pm-midnight. www.sofitel.com
The top-floor fine-dining venue of the Sofitel Bangkok is about as lofty as they come. Looking to embrace the Gallic roots of the hotel chain, the décor makes you feel like you're dining in a grand Parisian apartment thanks to the parquet flooring, stately fireplace and wood paneling. But we say head to the outdoor balcony for an impressive panorama of Sukhumvit.
Garden Spots

The Grass, Thonglor Soi 12, 02-714-9292/-3. Mon-Sat 6pm-1am.
The second branch of this growing fine-dining empire, which opened in the heart of nightlife central Thonglor, quickly made a mark on the dining scene with its restaurant serving a maximum of 10 diners per night an exclusive and expensive multi-course set menu. For something a whole lot more affordable and relaxed we like to hit up the adjoining wine bar, which features a charming outdoor terrace, a menu of creative cocktails courtesy of Italian mixologist Mirko Gardelliano and a cellar containing over 370 labels. Live music on the weekend further helps liven up the laidback mood.

99 Rama 9 Soi 41, Seri 9 Rd., 02-300-4339. Open Tue-Sun 11am-11pm.
Located well off the beaten track, in a small street near Rama 9, this lovely house and garden is managed by the team behind the artsy Tamarind Village in Chiang Mai and Rayavadee Resort in Krabi. The décor is country chic, so you don't feel any pressure to fully dress up, but it still works for dates and special occasions. A beautifully landscaped garden hugs a high-ceiling pavilion, complete with wood furniture, floor-to-ceiling framed windows, striped cushions and royal blue touches. Chef Cyrille Keyser creates international cuisine with highlights such as the oven-roasted lamb rack served with potato gratin and ratatouille (B1,290).

45/F, Marriott Bangkok Sukhumvit, Sukhumvit Soi 57, 02-797-0000. Open daily 6pm-1am.
The split-level bar's trendy-but-mature vibe is accentuated by striking views from the top floor of the Marriott Sukhumvit hotel. The first level features a long balcony filled with sculpture-like sofas, above which are a couple of private rooms and a third tier with 360-degree views around a circular bar. DJs play nottoo- loud funky house to a crowd of young executives and hotel guests drinking classic cocktails with slight twists. The food focuses on Asianthemed bar snacks.
Riverside

39 Soi Ta Tien, Maharaj Rd. 02-622-1388. BTS Wongwian Yai
Sala Rattanakosin calls itself a restaurant with guest rooms, and half of the renovated four-story building isdedicated to fine wining and dining. The design keeps remaining traces of the original building and accompanies them with a minimal blackand white theme. Chef Tony Wrigley whips up some pretty impressive Thai food on the riverside terrace, and there's also a rooftop bar where you can sip excellent cocktails with a view.

River City Complex, 23 Yota Rd., 02-639-6305. Open daily 11am-midnight. www.vivaaviv.com. Sri Phraya Pier.
Viva & Aviv has long been the best riverside tip for a spot of daytime drinking. Soak up the river view and breeze while watching the tourist boats plying up and down the river, and enjoy the range of inventive cocktails along with the funky house soundtrack spun by Thai and international DJs.
1612 Songwat Rd., 086-978-9331,02-639-6853. Open Tue-Thu, Sun 4pm-midnight, Fri-Sat 4pm-1am.
Tucked down a little alley behind Wat Pathumkongka in a charming old wooden house, Samsara makes a charming first impression. The place feels halfway between a gallery and a friend's house, brimming as it is with personality: expect to find colorful vintage furnishings, all sorts of cat-related curios and paintings hanging on the wall. Most of the tables are set out on the terrace and reservations are a must for the ones with the best views. The tasty Thai cuisine is augmented by Japanese touches since some of the owners hail from Japan.

5/f, River City Shopping Complex, Charoen Krung Rd., 084-928-6161. Open Tue-Sun, 7pm-2am.
Balco is located in the same shopping mall as Viva & Aviv, yet offers a dramatically different view from its rooftop location. Situated in a bend of the Chao Praya, it allows you to look down two of the river's watery boulevards at the same time, and all the surrounding five-star hotels, of course. The décor isn't much—a mix of black rattan sofas set, TVs showing sports, and private rooms with pool tables—nor does this hard-to-find venue often get crowded. But did we mention the view?
Good Music

24 Ekkamai Soi 21, 02-108-9550. Open daily 5pm-1am.
The third creation of the Cosmic Café crew, Moose might not have a huge outdoor space, but the small terrace makes for a frightfully hip place to shoot the breeze. If you're looking for a top soundtrack covering all the bases from Britpop, 60s-80s rock to electro-pop, as well as regular live bands, spicy Thai-inter fusion dishes and simple but tasty cocktails, this is your place. Make sure you drop by for their daily happy hour deal of buy-one-get-one-free on house wine, Asahi draught and classic cocktails from 5-8pm.

Lad Phrao Soi 8 (Yak 3), Lad Phrao Rd., 081-173-3616. Open daily 5:30pm-2am. MRT Phaholyothin (Exit 1).
Since its transformation from the long-standing Budda Bar a year ago, Play Yard By Studio Bar has made a big mark on the Bangkok underground music scene. On top of the ever-intriguing lineup of top indie bands from labels Smallroom Records, Parinam Music and Panda Records, the bar also has a pretty sizeable outdoor zone that just calls for ordering a tower of draught beer while watching the live English Premier League on the huge screens every weekend.

17-19/F, Zen, CentralWorld, Ratchadamri Rd. 02-100-9898. Open daily 5pm-1am. www.zensebangkok.com
After closing for renovations, the Zense rooftop restaurant reopened to a bit of buzz at the end of last year bringing a touch of the nightlife back to CentralWorld. The place offers a pleasant middle-ground between serious dining covering Italian, Thai, Indian, Japanese and desserts, and just chilling out on the balcony with views of the cityscape. One floor above, you'll find Shintori, an upmarket izakaya with branches in Shanghai, Taipei and Beijing. With its minimalist, Zen-inspired décor, the venue plates up classic Japanese dishes with some fusion options. For those who want to keep things private, book the reservation-only outdoor terrace. That's not all. Climb up another floor to reach Horizon, which occupies the space which belonged to Green Space a couple of years back. Horizon does also do food (Thai-international fusion) but the real emphasis is on nightlife. Order some molecular technique-inspired cocktails and head straight for the outdoor space where DJs spin electro.

39 Soi Ta Tien, Maharaj Rd. Open daily from 5pm-1am.
Sala Rattanakosin is a relatively new addition to the Chao Phraya riverside, offering a stunning view of Wat Arun (even if the temple is currently covered in scaffolding). Boasting a restaurant, rooftop bar and a small number of guestrooms, half of the renovated four-story building is dedicated to fine wining and dining, courtesy of Chef Tony Wrigley, who whips up some pretty impressive Thai food. The highlight for us though is the rooftop bar where you can sip great house-blended cocktails.
Terraces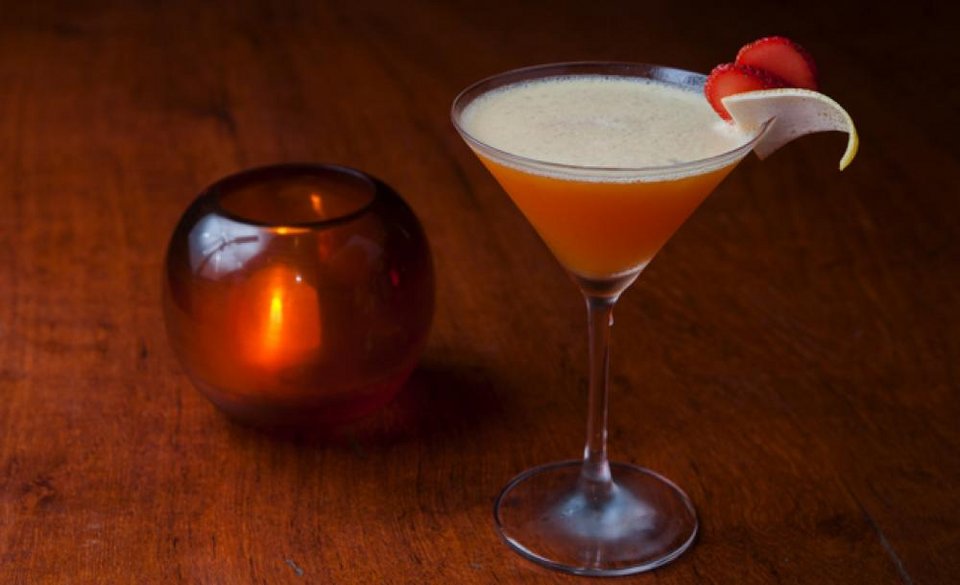 G/F, Athenee Office Tower, 63 Witthayu (Wireless) Rd., 02-168-8220-3. Open Tue-Sun 11:30am-2:30pm, 6:30-11:30pm
Le Bar is more than just some outdoor seating for adjoining restaurant Le Beaulieu, which topped our Top Tables 2014 restaurant guide. Day beds and gazebos provide an atmosphere that evokes the beach club of a luxury resort. Warm orange lighting glows upwards onto the beige, minimal surfaces of the bar, and reflects off a massive glass case showcasing champagnes and wines. Here, you can order some of Chef Herve Frerard's culinary magic in bite-sized portions from the tapas menu. The cocktails ain't bad either, with a seasonal menu.

Next to J-Avenue, Thonglor Soi between Soi 15. 02-712-7288. BTS Thong Lo. Open daily 5pm-1am.
Head out back and you'll find a sizable courtyard with plenty of seating. The menu focuses mainly on Thai food, much of it given heavy twists both in terms of ingredients and presentation, but we find the simplest items the best. Try the nam prik ong (Lanna-style fried chili paste) served with papadum (B150). As for cocktails, expect plenty of Thai herb-infused vodka and prices between B200-300.

Thonglor Soi 15, 02-185-3093. Open daily 4pm-1am.
Gossip serves stiff drinks and excellent food courtesy of seasoned chef Julien Lavigne (formerly at D'Sens, now at Oskar and Gossip). But it also enjoys a large terrace, which despite being protected from the rain, is most definitely open-air. This winter, we'll definitely be plonking ourseleves on the puffy bean-bag-like sofas out front with a Sky Ice Tea (Dreyberg liquor, Smirnoff vodka, tanqueray gin and elder flower) in hand.
24 Ekkamai Soi 21, 02-108-9550. Open daily 5pm-1am
The third creation of the now-defunct Cosmic Café crew, Moose might not have a huge outdoor space, but the small terrace makes for a very hip place to shoot the breeze. If you're looking for a top soundtrack covering all the bases from Britpop and 60s-80s rock to electro-pop, as well as regular live bands, spicy Thai-inter fusion dishes and simple but tasty cocktails, this is your place. Two-forone cocktails from 5-8pm.

482 Praditmanoontham Rd., 02-515-1232-3. Open daily 4pm-midnight
This place may be quite far from the city center, but it's a pretty easy drive if you take the Ramindra expressway, and totally worth the mileage. The open-air restaurant and bar has a European village theme and offers a wonderful variety of imported beers, including all the now-expected craft ones. Arsenal fans also get one drink on the house when their team wins.
Community Malls
Seenspace
251/5 Thong Lor Soi 13, 02-185-2728/9. Open daily 5pm-1am.
When it comes to drinking outdoors, it's hard to beat the variety at this community mall. Gathered around a central courtyard, you've got Brew for beer and cider, the Oyster Bar for seafood, Fatr Gut'z for cocktails and comfort food, and Clouds for shisha. It tends to attract a lot of very drunk dek inter, but that's because it's one of the few places any group of friends can all agree upon.
Penny's Balcony
Thonglor Soi 16. BTS Thong Lo. Open daily 5pm-1am.
The Penny's Balcony shopping arcade is one of the very first mini-malls in Bangkok and is also the home the original branch of HOBs, which really built up the Belgian beer trend in Bangkok. (Who doesn't serve Hoegaarden these days?) But in spite of growing competition, we like the variety here, whether it's the laid back (and very girl-friendly) She Bar, the sophisticated and wine-centric Divino Wine Bar or the ever-hip Mellow Bar and Restaurant, which singlehandedly revived the whole mall.
Rain Hill
Sukhumvit Soi 47. 02-260-7447. www.rainhill47.com BTS Phrom Phong/ Thong Lo. Open daily 5pm-1am.
Opened earlier this year, Rain Hill has a lot of nondescript Japanese restaurants from Ramen Kio and Marugame Seimen and cutesy dessert joints like Penguin Likes Chocolate. But with plenty of balconies and terraces, it's also got an abundance of outdoor drinking options. You can opt for the Wine Connection chain, or try the trendy cuisine at Shuffle. Here too, you'll find a HOBs, which took over 2046's terrace.

Ari Soi 4, 02-619-6886. Open Mon-Sat 5pm-midnight. Reservations Recommended
A dining room made of glass and concrete, a wooden house and a yard packed with outdoor seating (as well as cool Ari locals) still make Salt the most elegant outdoor drinking spot in the neighborhood. Try the Salt Swinging cocktail which comes with sparkling wine, cranberry and mandarin juice (B280). Unlike most outdoor bars, the solid playlist thankfully skips on popsanova, too (at least most of the time).

11 Ekkamai Soi 6. 084-466-4686, 02-714-1812. Open daily from 5pm-1:30am. Parking available
You might get a distinct déjà vu feeling here—think Spring and Summer without the beanbags. This place manages to stand out from the others, though, thanks to the sheer size of the outdoor space and the garden's collection of mature trees. Sangsom whisky (B366) is most popular but those a little more flush with cash can go for a pint of Hoegaarden (B266). There's also the option of smoking sheesha out on the garden bench.
231/2 Sukhumvit Soi 31, 02-662-1779. Open Mon-Sat 5pm-midnight. Parking available, Reservations Recommended, Live music
This two-story house remains a firm favorite and is often fully booked. The décor sees an eclectic mix of comfy vintage sofas, low-rise tables and decorative bric-a-brac. Start from the lightest Virgin Tiger (with light rum, B160) to the most potent Tiger Down (B180). As for the food, we say opt for the fiery Thai dishes like yam horapha nuea krob (beef salad with sweet basil leaves B160).

44/4 Cheua Plerng Rd., under Rama 4 Expressway, 02-249-0222-3. Open daily 5pm-1am.
With its rather mysterious location by a train track and under an expressway, Indy Trees Bar has that exclusive, in-the-know vibe. Decked out in a retro style, the bar has three different zones (there are even karaoke rooms), but we recommend the canopied garden where you'll be treated to some ear candy by a mellow band. Drinks start at B130.