For many of us, Wonderfruit's incredible feasts are the highlight of the annual festival. Typically held in December, the celebration of art, food and music is still a way off, but its organizers at Scratch First are offering a teaser in the form of Fruitfull—an offshoot that connects food, storytelling and music.
Originally conceived of as a standalone food festival, the event will kick off with a "Lockdown" series designed for the Covid age. Launching this Friday, Apr 24 (7pm), with a seven-course progressive Thai dinner by Bo.lan (B3,000, inclusive of delivery), the food delivery will be accompanied by a live-streamed interactive show.
Diners will be encouraged to reflect on the origins of their food through interviews, live cooking demonstrations and conversations with the chefs and farmers, accompanied by music from molam-enthusiast DJ Maft Sai. Highlights include sour orange curry with fish, mixed vegetables and cha-om omelet; and stir-fried chicken with bottle gourd and shrimp paste. In line with the series' focus on sustainability, all packaging will be zero-waste and reusable.
Virtual dinner parties will be held every Friday, with proceeds donated to Covid Relief, a Bangkok-based charity bringing food, masks, and sanitary solutions to some of the city's most vulnerable during the pandemic.
On May 8, Bangkok's Gaa will be whipping up creative "Neo-African Eurasian" hampers (from B3,900) with drink pairings, created in collaboration with chefs around the world. Dishes include slow-cooked pork ribs with pomegranate created by Garima Arora of Gaa; smoked jollof rice developed by Jeremy Chan of London's Ikoyi; kombu ice cream with hazelnut oil and Oscietra caviar developed by Kristian Baumann of Copenhagen's 108; and more. The international chefs will collaborate from a distance via video call, while the meal will be accompanied by music from British DJ and BBC Radio 3 broadcaster Nick Luscombe.
On May 15 ,chef Prin Polsuk of Bangkok's Samrub for Thai will lay on a Korean-Thai feast overseen by chef Cho Hee-sook of Hansikgonggan in Seoul, South Korea, while on May 22, Yusuke Takada of two-Michelin-starred La Cime in Osaka, Japan, will be curating innovative Japanese bento boxes. Delivery is available in Bangkok, within a 15km radius of the restaurants. Book your spot via Ticketmelon.
Chefs Duangporn "Bo" Songvisawa and Dylan Jones of Bo.lan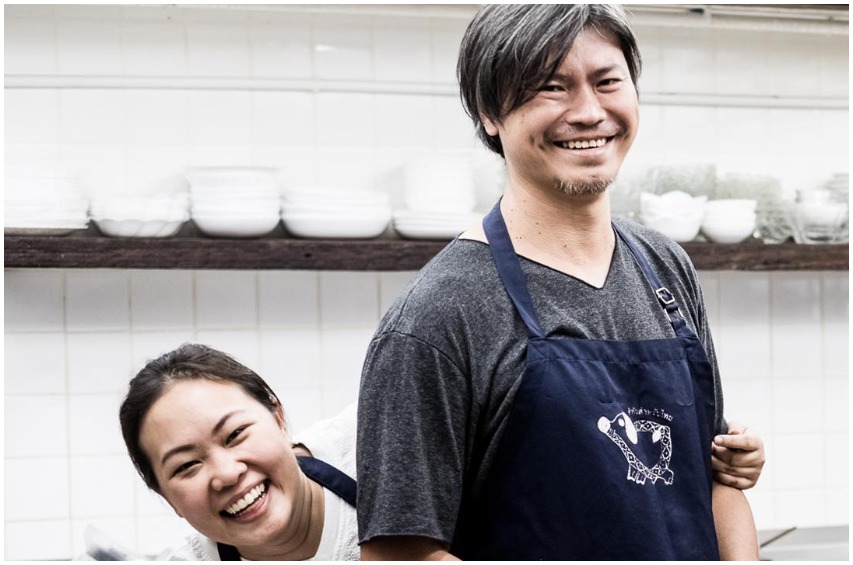 Chef Prin Polsuk of Samrub for Thai