Gym rats and fitness lovers, meet the "Airbnb of fitness." FitTripper, a Bangkok-based startup, has launched an app that helps you find the right gym for you at discount prices.
With a subscription-free model for daily, weekly, monthly and three-month passes on a pay-as-you-go basis, the app lets you search and filter gyms based on location, price, equipment (dumbbells, boxing gloves and muay Thai bags), amenities and classes, right on down to the opening and closing hours and pass duration. Long-term six-month and annual passes will be available soon.
To get started, select the city you'd like to explore before choosing your pass duration from the ticket icon on the upper right side. Then, have a scroll through the gym and fitness options via the Listing view or Map view. Click "Filter" to pin-point just what you're looking for, and when you find what's right, click "Book Now." When you arrive at the gym, simply show your confirmation number and start your workout.
FitTripper now partners with over 45 gyms across Thailand, including big names like CrossFit Ten500, Roots8 Yoga, Elite Fight Club and RSM Academy Muay Thai. In addition, the startup also partners with some four- and five-star hotels to offer pool and spa access for users via the FitTripper pass.
The FitTripper website was launched in Bangkok in March 2019 and now has more than 200 gyms and fitness centers across eight countries and 14 cities worldwide in its portfolio. In Southeast Asia, the platform is currently available in Thailand (Bangkok, Chiang Mai, Pattaya, Hua Hin), Bali and Cambodia (Phnom Penh and Siem Reap).
Available on iOS and Android. Find out more at fittripper.com.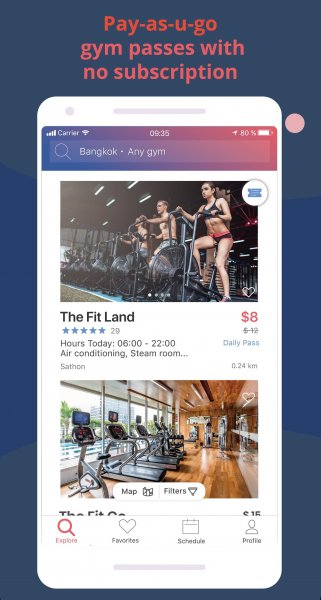 ---