New venues, passes, programs and more to help you get in shape.
1. A place to ride your bike without getting hit by a car
Located in the Kaset-Nawamin neighborhood, the 10-rai Peppermint Bike Park offers two bike paths that occasionally intersect; the blue track is paved with asphalt and suited to beginners, while the black track is ideal for mountain bikers offering a full range of obstacles such as horseshoe turns and elevated sections. While the paved course is only about one kilometer in length, you can alternate between the two tracks for a varied ride. Day biking is B150 and night biking is B200, while annual membership (B200) gets you a B50 discount each visit.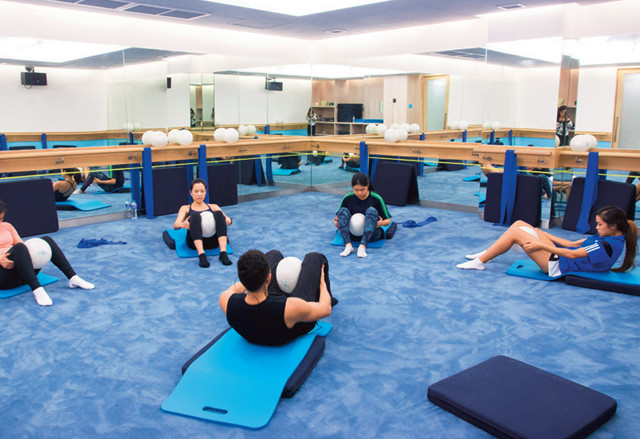 2. The arrival of New York's hottest fitness craze
The popular barre fitness studio from New York, Physique 57, known for its celebrity clients like Demi Moore and Emmy Rossum, has opened its second international branch in Bangkok. The studio promises quick results after eight sessions of its ballet-inspired, barre-based, 57-minute workout, which combines intervals of cardio, strength training, stretching and recovery. Beginners can learn the fundamentals before tackling the level one class and the additional moves of level two. No membership is necessary, with prices charged per class (B950/class).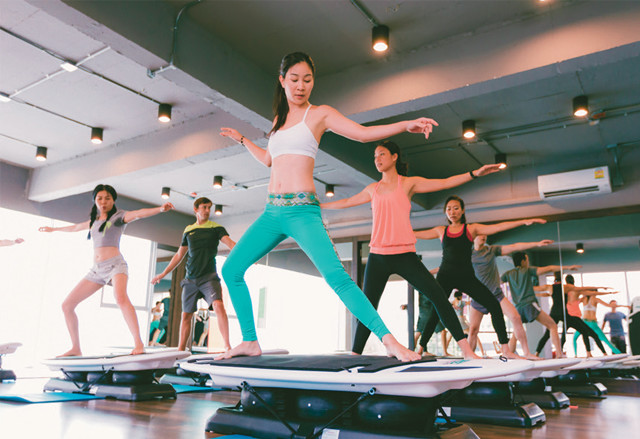 3. A new workout inspired by surfing
Surf Set, the surfing-inspired indoor workout studio from the States, has arrived in Bangkok. The brainchild of Mike Hartwick, a former American hockey player and long-time surfer, the program combines techniques from surfing with other workout practices. There are four classes on offer: Balance (yoga-inspired workout, focusing on slow movement and balance), Burn (cardio workout, focusing on fast movement), Build (muscle building using resistance bands) and Blend (a combination of all the workout programs). A drop-in class is B700, while packages start at B3,780/6 classes. There's also a monthly unlimited pack for B9,000.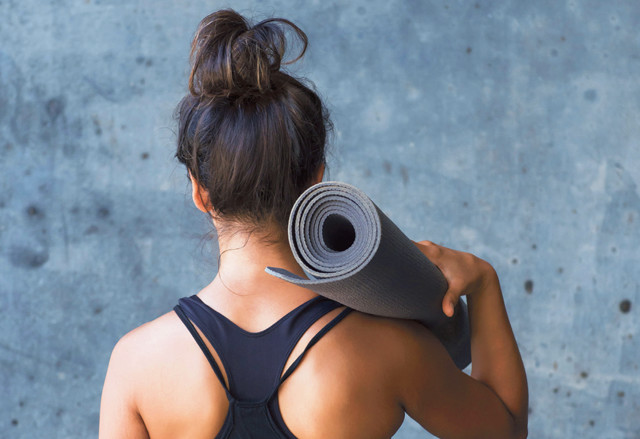 4. This all-access gym membership pass
After success in Singapore, Dubai and Shanghai, the fitness subscription service GuavaPass is here. Priced at B2,500/month, the all-access pass grants you the chance to try yoga, Crossfit, indoor cycling, Pilates, dance, muay Thai and fitness training classes at more than 20 studio partners across town, including big names like Yoga Elements, Pilates Station, CrossFit Ten500 and Flow House.
The pass is in the soft launch period and will officially launch in August. Sign up now at guavapass.com
5. The next-generation of self-tracking watches
OK, selected models have been available in Bangkok for a while, but Fitbit's official launch has brought with it two new versions of the popular fitness tracking device: the Charge HR (B5,550) and the Surge (B8,940). On top of the basic features, these two also track your heart rate for a more accurate reading of your daily activity and sync to your phone's caller data. The Surge comes with GPS tracking so you can record your running trails, as well as a screen displaying incoming calls and controls for your music playlist.
Available at iStudio, Jay Mart and Power Buy.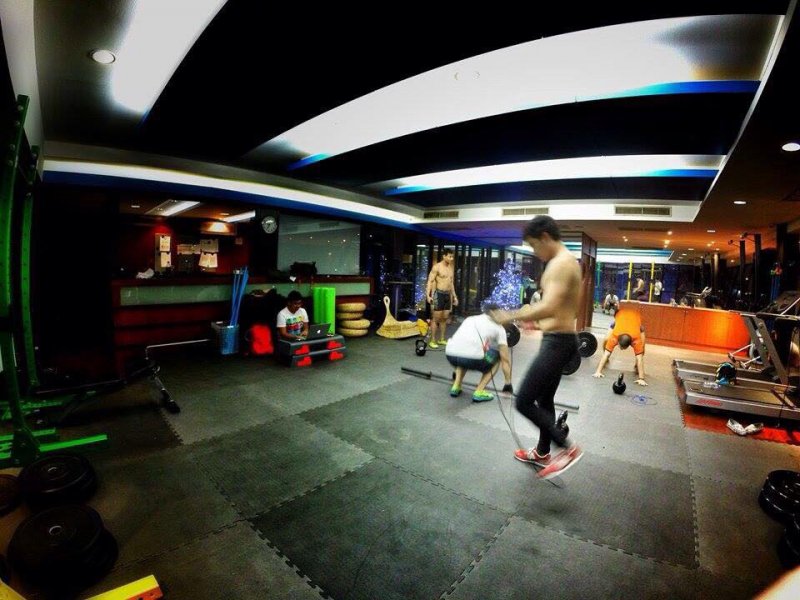 photo credit:

www.facebook.com/hititgym
6. An alternative high-intensity training program
Hit It gym has introduced a new alternative burning program: HIIT, or High Intensity Interval Training. Run by professional trainers, HIIT is an intense exercise regime that helps you burn/break down fatty acids by alternating high and low intensity exercises including jump rope, weightlifting and running. It's also aimed at improving metabolism and increasing oxygen uptake.
3/F, Methawattana Building, 27 Sukhumvit Soi 19, 085-449-9654. Open Mon-Fri 6am-10pm and Sat-Sun 8am-8pm
photo credit: www.facebook.com/AsiaParkour
7. This professional free-running training facility
Bangkok's parkour community, led by the Ghost Tower-conquering Team Farang, has never been stronger. Now, there's a gym that harnesses the power of free-running into a movement-based workout. Asia Parkour offers a Ninja Kids course for children aged from 9-15 years old and Parkour Spirit for adults, which builds up from the basics to outdoor classes. You can also start with personal training, or private group classes, to build up your confidence before joining others. Prices start from B500/person for a 45-minute drop-in.
8. Nike's DIY personal trainer app
Compatible with both Android and iOS, the five new app Nike+Training Club (N+TC) lets you exercise at home as though with having a personal trainer. There are four main training programs: Get Lean, Get Toned, Get Strong and Get Focused. The four-week programs personalize your daily training schedule according to your selected goal. You can also share your work-out experiences with other users. For something more specific, there's also the Nike+ Running app. Free.
9. The second collection from Pharrell Willams x Adidas
Missed out on your favorite color of Adidas Supercolor by Pharrell Williams? Here's another chance to grab some fruits of their collaboration. The rapper-producer has again teamed up with the sportswear giant for a collection dubbed Dear Baes Tour Pack, designed in tribute to his dancers The Baes. Items include the basic crop top (B1,190), shorts (B2,590) and jogger pants (B2,590), available in four shades: red, blue, mustard and purple.
Available at Adidas Concept Store, 1/F, CentralWorld, Ratchadamri Rd., 02-613-1490. BTS Chit Lom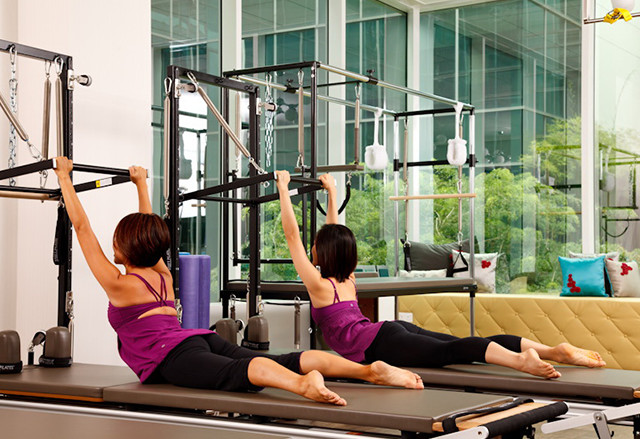 10. The new Pilates machine at Yoga&Me
Yoga & Me, a yoga studio that specializes in flying yoga and Pilates, this month unveiled a new machine, dubbed the V2Max, which is said to offer a more varied style of Pilates training. The new class starts at B1,200/class and B3,900/5 classes.
Only available at The Walk, Kaset-Nawamin, 02-001-9577/9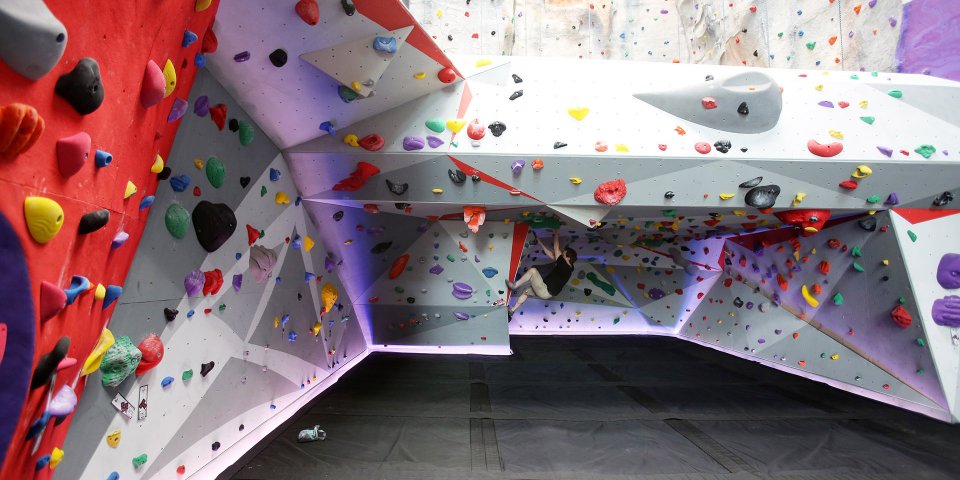 11. The Racquet Club's bigger and better new climbing wall
The renovation of the rock climbing studio at The Racquet Club on Sukhumvit Soi 49 took longer than expected (it was initially scheduled for Sep, 2014), but the wait looks to have been worth it. The studio finally reopened in April this year with a new name, Urban Playground, and a partnership with climbing wall manufacturer Entre-Prises Climbing. If you're a first-time climber, fear not, you can request a personal belay service, climb with an auto belay device or sign-up for climbing courses. Prices start from B425 for a one-day non-member pass to B4,280 per month for membership.